Five Thoughts: Aston Villa 3-1 Fulham
Written by Cameron Ramsey on 5th April 2021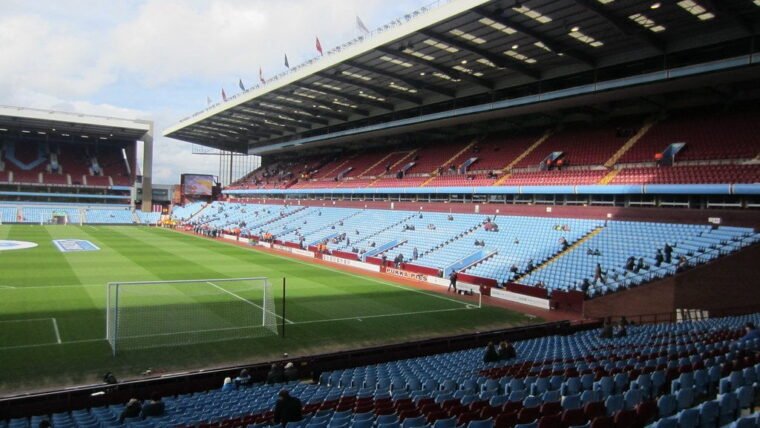 Scott Parker's "Putney River Rats" were drowned out in the closing stages by Dean Smith's resilient European contenders and with Newcastle United scrounging a last-ditch draw against Tottenham Hotspur, salvation is still marginally out of reach, shelved by a north African assailant and an England debutant at Villa Park. It all went a little wrong for the visitors, jeers soon muted cheers and on Easter Sunday, a day of sweet rejoicing and diabetes, a sour taste loitered in the mouths of Fulham's gobsmacked disciples.

We've now lost 4 of our last 5 outings, we've played one more game than the Toon and are still 3 points behind but with a slightly favourable goal difference, hope is eminent. Both the Magpies and the Whites have toilsome run-ins to endure, neither road is without its obstacles and with 4pm, May 23rd upon the horizon, the footballing Gods are scheming to concoct a judgement day showdown at Craven Cottage between two foes that are currently separated by one lone victory. This relegation scrap is going to be tastier than your da's charred leg of lamb, believe that.
Trézéguet Triggers Implosion
Embed from Getty Images
For 78 minutes, just 12 minutes from claiming a hard-earned victory on the road, Fulham's defensive shape and composure was commendable. A clean advertisement to the fortitude and togetherness Parker's striving to instil into his camp, we were hanging onto a slender lead as Villa retaliated but one lapse, one solitary mistake from Tosin Adarabioyo proved to be costly and from then onward, the Whites' resolve turned to shit. It appeared that as proceedings neared completion, and as Villa's desire for an equaliser increased, we lost sight of just how close we were to escaping the drop zone, defensively, Fulham have been one of the division's sturdiest in weeks gone by, so the manner in which we imploded, as Tosin allowed possession to stray, is reprehensible and significant, because while we've burgeoning leaders in Joachim Andersen and Harrison Reed, we were powerless to resist the hosts' detectable passages, an unnerving recount to our early-season fragility. Admittedly, Villa's goals were cutely crafted and executed to perfection, but it's nothing Fulham couldn't handle. We've been pressed and probed harder before, although Trézéguet's energy unsettled the Whites' composition at the back and we had no answer to the Egyptian's impulsiveness.
At 1-1, Fulham were clearly rattled, we were holding a deeper line as Villa regained territory and with no viable outlet, the Villans constrained and inflicted further misery, expertly. Hospital passes from both Joa and Tosin compromised security and Villa identified the pairing's insistence to live life a little too dangerously as an exploitable weakness. Ollie Watkins, backed by John McGinn and Bertrand Traore amongst others, hunted in packs, isolating Fulham's passing lanes and as it's too easy for the Whites to simply play it safe in times of impending jeopardy, Villa goaded errors and intercepted meticulously. 15 minutes of sheer pandemonium ensued, Fulham capitulated abruptly, structured defensive lines dissipated and within a mere quarter of an hour, the Whites degraded from a prepared, equipped collective to a periled, shell-shocked rabble, barren of cause, endurance and objective. Football isn't always a straightforward, predictable narrative and as we unceremoniously rediscovered, the game will abuse and manipulate if a side, like Parker's on Easter Sunday, refuses to heed ominous warnings. Clear your lines under duress, pick your passes wisely and when the going gets tougher than you'd bargained for, respect the threat and uphold a defiant discipline. Heading into our meeting with Wolverhampton Wanderers, Parker has to reassemble his men and get back to basics.
Mitro Is Risen
Embed from Getty Images
Scoring 5 goals in 3 games for his nation during the March international break, Aleksandar Mitrovic became Serbia's all-time top goal scorer with 41 goals, a befitting gong for a striker of immeasurable proficiency, although his season in a Fulham shirt, as we know too well, has flattered to deceive. He hadn't netted since September, his outings hit rock bottom and he was ultimately cast out of Parker's plans but amid conjecture, speculation and suspicion, Mitro showcased a desire to set the record straight in Birmingham and, though his opportunistic opener wasn't a match-winner, the rejuvenated hitman, adorning international supremacy, endeavoured to reignite an all-but extinguished fire on the domestic stage. Donning a trim fresher than his new-found amore for the dark arts, Mitro tested Emiliano Martínez's target early, spinning and striking venomously on the parameter of the 18 and with that sudden expulsion of improvised menace, the 26-year-old's brow dipped as his courage soared.
The predator, exiled from top-flight conversation and debate, was alive and kicking. Tyrone Mings and Ezri Konsa's partnership at the heart of the Claret and Blues' defence has attracted plaudits, with some saying it's practicability could benefit Gareth Southgate's national set-up but I'm not entirely convinced. Mitro thrives on jugular confrontations, locking horns is innately attributed and the baleful marksman had Villa's central duo on Hovis. His presence alone apprehended, Konsa buckled in the physical duels and Mings thrashed at routine passes and in a game where independent faults shaped the result, the imposturous England representative was solely accountable for the game's opener. Lurking, poised, Mitro seized Mings' flaccid dab and homed in on the target and with an onrushing Martinez to neutralise, the attacker's shoulder sunk and his left foot swung the ball into an unsupervised net. The customary "speaker box" celebration made its long-awaited return, a grin of relief curled from cheek to cheek and regardless of what eventually happened to the Whites after he tallied his third of the campaign, Mitro relished his overdue shot at redemption. Chances were in short supply, we're still failing to utilise his brutish services to full effect but I'm adamant that for the remaining 7 fixtures, Serbia's king amongst men is going to rule unsuspecting defensive departments tyrannously, as he seeks to restore his tarnished reputation to its revered status in SW6. He, our rightful saviour, is risen.
RLC's Sharpened Awareness
Embed from Getty Images
Every once in a blue moon, an ice age or a millennia, Ruben Loftus-Cheek switches on to the occasion and becomes a combative element, prepared to graft under pressure and sharp-minded under similar circumstances and behind Mitro, whilst being loosely marked by Douglas Luiz and Morgan Sanson, the Chelsea loanee initiated counter attacks and sparked alluring sequences instantaneously. RLC was aware, enlivened and invigorated in custody of the ball, sharper, stronger than he has been in recent months so I've no shame in eating my words, backtracking previous criticisms because in England's "second city", the former Three Lions international was unmistakably first-rate.
Running with possession, we don't see it nearly enough, at all, from Loftus-Cheek and I was thrilled to witness the 25-year-old retrieve and siege, marauding through oncoming dispossessors and slaloming deceptively, traits of which have been dormant since his arrival at the Cottage from the Bridge. At long last, RLC used his frame to his advantage, buffeting markers, shielding and prolonging Fulham's limited spells on the ball and if he somehow manages to incorporate strength and invention, the scapegoated midfielder's potential is boundless. He won fouls, he lured infringements and he carried counters with an insurgence. It's a tall ask for RLC to miraculously morph into the man that won himself a plane ticket to the 2018 World Cup Finals, but we have caught glimpses, albeit fleetingly, of his underlying ability and the reason we, as Fulham fans, are so gravely peeved by the inconsistent prodigy of yesteryear is precisely that. He's doing himself a disservice, not just our club, and if he's really going to muscle his way into Thomas Tuchel's Blues next term, if he's going to truly reinstate his credibility as a unique, one-of-a-kind innovator, he's got to promote himself compatibly for the remainder, emulating his accomplishments at Villa Park.
Lemina's Reckless Judgement
Embed from Getty Images
He either serves up solid 8/10 performances or, as it was at Villa Park, Mario Lemina drops deplorable 3/10 clangers. Average, ordinary outings are unfamiliar to Lemina, the 27-year-old scales the brink of competitive assertion and curtailing clumsiness and throughout, as he scrambled haplessly in retreat, the Gabon international conceded multiple set-pieces, bulldozing into commonplace altercations and, I get it, a sufficient, competitive midfield department requires an instigator, an antagonist, but that's all the awkwardly uncoordinated rabble-rouser was good for and his foolhardy exploits stunted our momentum and invited the hosts to grow in confidence.
Reed patrolled standardly, RLC aimed to construct whereas Lemina, who's blown hot and cold for the duration, hamstrung our control and judgement. Taking his preservative duties maybe a bit too seriously, nobody was safe, not even his teammates, when he thrust into action. Lemina's exertion's were erratic, untimely and persistently reckless. The jury's still out in relation to Villa's penalty shout, VAR's footage suggests that Lemina did in fact make contact with the ball milliseconds before Watkins tumbled from the follow through but that particular episode in Lemina's eventful afternoon summarises the Southampton loanee impeccably – he either wakes up craving cooperation, or he rolls out on the wrong side baying for blood. There's no need for him to plunge into anodyne instances, leaving a little extra on his man isn't always necessary and for me, though other notable names also spring to mind, the one predominant insidious villain that sticks in the forefront of my recollection is Mario. His over-animated compulsions meddled with an equilibrium that was already highly strung and his redundant weightiness in ordinary, unremarkable scenarios tipped our spine out of balance.
Cup Final Cliché
Embed from Getty Images
If Fulham are to clamber out of the relegation zone, with 7 games to go, I feel this side has to ride each remaining fixture with the do-or-die attitude that saw us claw back a 10-point deficit, in our darkest period of the campaign. From an observational standpoint, the Whites do not appreciate the gravity of the task ahead and mentally, perhaps the Whites believed they'd done enough to snatch three points on the road against a club that rallied immediately after falling behind. We haven't been able to widen a winning margin for the duration of the season, we're unable to stamp our authority whilst in command so, in order to gain the results we desperately require to survive, establishing a narrative where we're forced to almost chase games is possibly the only plausible solution. I adore footballing clichés, and every game from now on is a cup final, so let's rekindle that everlasting psychology that's enabled us to triumph under the arch twice in 4 years.
I'm not imploring us to concede first, obviously, nor am I begging for passive, submissive game plans, I'm purely challenging the squad to adopt a persuasion that provokes and encourages a brave reaction, similar to Villa's enthused response. With Parker at the helm this year, Fulham have not been able to comfortably dominate games and in the ascendency, the Whites are nervous, tense and anxious. Our brand hinges on ball retention, grinding the opposition down and once we go ahead, we revert into a defensive, paranoid shell, reluctant to wield the cutlass. This was exactly the case against Villa, we were taken aback by Mitro's goal but up until that point in proceedings, we were relevant and good value for the victory, or at the very least a draw. Of course, the hosts regrouped and reciprocated, although we'd managed to keep them at an arm's length for nearly 80 minutes, so why does our strategy have to regress? For 90 minutes, I'm calling for Fulham to start on the front foot and finish with authority, we've the personnel to withstand changing tides, to smooth ebbs as the game flows but for Parker, I guess he's damned if he does, and damned if he doesn't. There's no ground-breaking formula and I'm not a professional coach, but losing in the disgrace of which we did at Villa Park was wholly accredited to a declining state of belief and this can surely be remedied tactically. Think progressively, you'll function progressively.