Five Thoughts: Fulham 0-2 Newcastle United
Written by Cameron Ramsey on 24th May 2021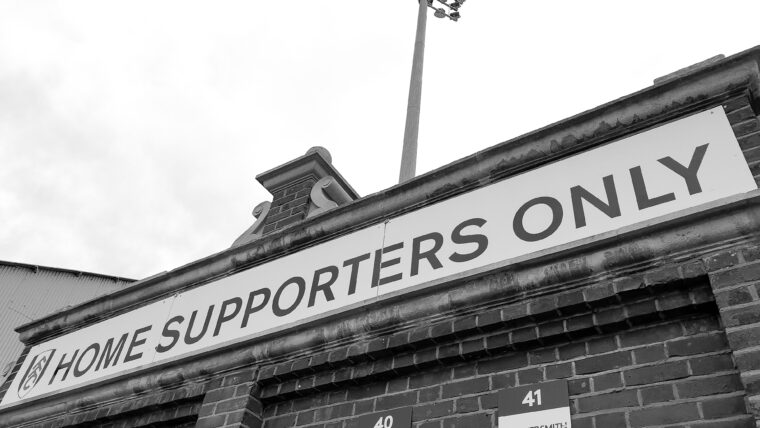 Clappers-in-hand, 2,000 enlivened Fulham fans, scattered across the Hammersmith and Putney End terraces, witnessed Steve Bruce's Newcastle United claim 12th spot in the standings with a 2-0 victory against Scott Parker's Championship-bound rabble. The loss was meaningless, a formality, however ending the season on a softened high would've been an alleviating vaccine for a torrid campaign riddled with injustice, falsehoods and outrage, but there would be no last-gasp hurrah, no sarcastic adieu, just a prolonged mewl of perpetual disdain and dismay.

Covid-19's hopefully facing its timely demise, society will return to a regulated normality before long and come August, near to full capacity sporting events should be in place. Over a year without uninterrupted live football, that's far too long to suffer through ever again, however I'm personally happy I didn't waste any hard-earned money travelling to and from inevitable shit-shows this season. This club needs to stabilise, to level itself out and the only way we're going to do that is through a few monotonous campaigns in the Sky Bet, and I can't fucking wait. Will Parker be in charge next season? Your guess is as good as mine but for now, as I pen our final 5 Thoughts of a catastrophic 2020/2021 schedule, I wish everyone that cares to sample these exhausted pieces a wonderful summer, adorned with beer gardens, mass gatherings, sunshine that sticks around for at least 5 hours at a time and European success. You Whites, it's coming home, thanks, then.
Parkerball's Very Boring
Embed from Getty Images
Zero attempts on target first half, zilch on the second, Fulham circumnavigated our curtain closer frigidly, a trembling side that's terrified of experimentation, disparagingly resigned and consigned to boring, insipid, tedious Parkerball. Nine home goals all season, just 27 netted in total, Fulham's 'attack' is, in definition, oxymoronic. We've been subjected to regressive, unoriginal offensive stratagems this season, Parker hasn't made practical use of the tools at his disposal although in his defence, those that have fronted our blunt strike force have also been hideously substandard in simple, routine goal-scoring scenarios. We had to remedy a rotten defensive department, structural discrepancies were ironed out but moving forward, even with boundless versatility, a lethal marksman in Mitro', the Whites were the very architects of their own downfall, as they so frequently are anyway. 9 goals at home, the fewest on record in Premier League history. Fucking hell. Our top scorer, Bobby Decordova-Reid, bagged his 5 for the campaign from right wing-back, which highlights just how absent we were centrally in the final third. Our structure's unbalanced, with a slackened game plan, and in a fast-paced, cutthroat, ever-changing Premier League environment, that spells inadequacy.

An onus on shape and solidity hindered another crucial necessity, being the ability to craft and dispatch opportunities convincingly and clinically, and there's simply nowhere to hide for Scott and his coaching staff. The Whites created, they dominated possession sternly, administering possession without difficulty but as for clawing back deficits, even widening leads in games gone by, we're atrociously unqualified and the stats paint that picture in perfect clarity. An overhaul's not realistically going to happen this summer, not wholesale anyway, but informed, intelligent changes must be implemented, capable alternatives must be sourced and cruelly, yet crucially, as we cannot continue as we are, heads will undoubtedly roll. Since we defeated Liverpool at Anfield, the Whites netted only 5 goals, amassing 2 measly points in the process. We've been relegation fodder since the beginning of March, however we'd we'd gambled and snubbed at multiple opportunities to clamber out of the drop zone. We had a team, on paper, that could've finished mid-table, at a canter, and because our identity's lost in translation, somewhere between methodical and mediocre, a flying visit to the country's top-flight was ultimately all we could bargain for.
Cav's Blazed Efforts
Embed from Getty Images
Moving swiftly to the next topic of interest, which is strongly associated with the above: if I witness Ivan Cavaleiro filling a matchday spot up top as a lone striker next season, I'm going to sell my eyeballs for cryptocurrency. He isn't the answer to our woes, he isn't a bagsman in any realm or dimension so, Scott, come on, stop mugging yourself off – it's not doing your tattered reputation any credible favours. We're relegated, rightly so, because we've players that can't finish their dinner when it's hot and Cav', being an experienced member, has been atrocious in front of the target. In fairness, in relation to Sunday's game, the 27-year-old started well, he weaved into dangerous areas but never managed to work the target and that 'close but no cigar' trend of his infected the second 45, introducing a nailed-on Miss of the Season contender. Threaded through by Fabio Carvalho, who really should've jinked into a striking position himself, Cav' had each corner begging, Martin Dubravka extended in vain and the Portuguese winger-come-centre-forward, or whatever the fuck he's supposed to be, blazed over from 14-yards, right on cue, rolling an equaliser in a spliff, bunning it, and flicking the cherry out like a little bitch. It's not that fucking hard, Ivan, we've been over this before, painstakingly. Get your massive boat and knee over the ball and stroke it in, there's no need to hack bread and butter chances to smithereens.

A penalty against Leicester City, a decent header against Tottenham Hotspur and a scrambled equaliser against West Bromwich Albion. Progressively, that's all Cav's been good for this year in a division he's no right to grace, and we were fleeced by Wolverhampton Wanderers for his signature, robbed of what, £15m smackers? And like Anthony Knockaert, a player I've no energy for, whatsoever, Cav' hasn't lived up to his overinflated price tag. Next season, in all due respect, he is nothing more than an impact sub, a last resort, because in a campaign where we needed senior figures to step-up to highly-strung expectations, the spoon-footed choker's plucked all the wrong notes. Three goals out of, let's say, 5,000 clear-cut instances. He's never really been a prolific marksman, nor is he a player to carry an entire squad although given the abominable nature of his misses, in scenarios where Fulham could've taken advantage, Cav' is a villain with much to answer for.
Blooding the Youth
Embed from Getty Images
The youth are our future, so they say, and in terms of Fulham's not-so-distant ambitions, Carvalho, as well as Tyrese Francois, among others that will undoubtedly make the grade, will certainly usher in a new era at Craven Cottage, one of promise and excitement, not despondency and disappointment. Carvalho started a third-consecutive first-team meeting on the right channel and his inclusions have substantiated the teenager's growing predominance as a prioritised spark of vitality, one we simply can't go without. The 18-year-old put in another terrific shift across our wayward front three, he was relatively ineffective, in truth, as he was shadowed out comprehensively, however further signs of potentiality, with intricate manoeuvres, as well as sensible distribution (discounting one loose pass), bolstered his budding status, tenfold.
Francois joined the action with 15 minutes to go, his first Premier League appearance, and though his cameo was again uneventful, it's great that these players are getting the game time their collective graft and enthusiasm deserves. The 20-year-old Australian's teetered on the brink of senior football for some time now, and with Sylvester Jasper also on the bench – unused but primed – blooding our academy's finest products is evidently high on the gaffer's agenda, with next season in mind. Tyrese and Fabio will now have a clearer idea of where they stand in relation to the campaign ahead, they've wedged open a gateway at Motspur Park and now, a profitable deluge of educated, competent youngsters will surely drown out the deadwood in our ranks.
Lookman's a Victim
Embed from Getty Images
A player that enraged and endeared during his loan spell in SW6, Ademola Lookman electrifying offerings fizzled out in the closing stages of the season after redeeming his bruised reputation and I genuinely hope the 23-year-old's bold enough to bounce back at Red Bull Leipzig, or yonder Jesse Marsch's refromed plans, upon his imminent return. A source of inspiration, diluted by Parker's negative offensive tactics, 'Mola's time at Fulham would've definitely definitely augmented his outlook on the professional game but the former Young Lion's willingness to improve and impact has certainly taken a volatile thrashing. Out wide, Fulham aimed to stretch the Toon and Lookman was a predominant outlet, albeit one that was containable and mono-dimensional. He lost his footing, he was marked out by Jonjo Shelvey and Emil Krafth, and as the game wore on, the winger became a wistful bystander, forlorn and motionless.

With 4 goals, 4 assists in 34 outings for the Whites, Lookman peddled a fairly modest return in a star-crossed set-up, flashes of genius illuminated the King Power, undetectable surges breached Manchester United's visiting rearguard but other than sporadic, twinkle-toed slaloms in possession, Lookman's another encouraging addition that's fallen drastically short of the required standard, all within the space of a few weeks, too. Unable to truly harness longevity and consistency, he's purely a victim of Parker's repressive tactics. I won't entertain that infamous penalty gaff in the East End, he dusted down and reached a competitiveness that demanded favouritism in a shoddy selection that lacked suitable depth in his position but that's merely circumstantial. He was the best of a very bad bunch. His stint under Parker's misguided supervision hasn't been disastrous, there's plenty of positives to evaluate, although it became apparent, towards the final games of the campaign, that Ade's eagerness to take matters into his own hands dissipated as the task for survival grew too impossible to achieve.
F*ck Off, Ruben
Embed from Getty Images
There was no proper farewell for Joachim Andersen, Alphonse Areola, Ola Aina or Mario Lemina, but we did get to say fuck off to a certain Ruben Loftus-Cheek, who more or less checked out as soon as he arrived from Stamford Bridge. What an injustice, we've had some excellent loanees this year and they were left in the dark. Seeing the likes of Marek Rodak, Tim Ream, Joe Bryan and Carvalho return and indeed retain their respective spots in Fulham's starting XI was pleasing to the senses, simply because it proves that we're trying to prepare for next term, personnel wise, so a few familiar loanees naturally made way to accommodate. Aina, a so-so utility man, Andersen, a Nordic rock and our Player of the Season, Areola, didn't feature but three temporary representative did. Lookman started on the left flank, we can accept that, Josh Maja entered from the bench but at half-time, Loftus-Cheek replaced Andre-Frank Zambo Anguissa and nobody could really understand why he deserved a final run out, in front of a fan base that loathes his farcical existence. We thought we'd seen the last of the pathetic excuse of a former England international, a saboteur sent by them, down the road, and when you've Joa, Ola and Alphonse out of contention, without an opportunity to lap up the crowd's appreciation, you can't help but feel insulted, conned by Parker, who stood by RLC throughout, despite the glaring fact he's fucking wank.
I wasn't in attendance, which I'm kind of gracious for, although my heart goes out to those that were. For the season's entirety, we've spurred on our ill-fated club from sofas, kindling rapports with new signings has been limited to social media posts, so sending off those worthy of an animated round of applause, to see them don the short one last time, would have been warmly and widely appreciated but the script read otherwise. Half the team buggered off down the tunnel before being hooked back by coaching staff, Tom Cairney and Mitro didn't even bother showing up *alarm bell intensifies*, but that's beyond the point I'm aiming to stress, really. RLC, compared to his stopgap teammates, has done nothing to endear himself to our fan base, and I'm thrilled to see the back of his bloated lethargy. So, in the spirit of goodwill and prosperity, I'd like to bid farewell and all the best to Alphonse and Joachim, who'll undeniably reach the very top of the modern game, a fond goodbye to Ola, 'Mola, Josh and Mario, your efforts have not gone unnoticed and a resounding "up yours" to Ruben, the 'world-class' flop that snubbed a full, uninhibited season without injury, whilst shamelessly disposing a half-arsed disinterest to our club's wellbeing.