Five Thoughts: Southampton 3-1 Fulham
Written by Cameron Ramsey on 17th May 2021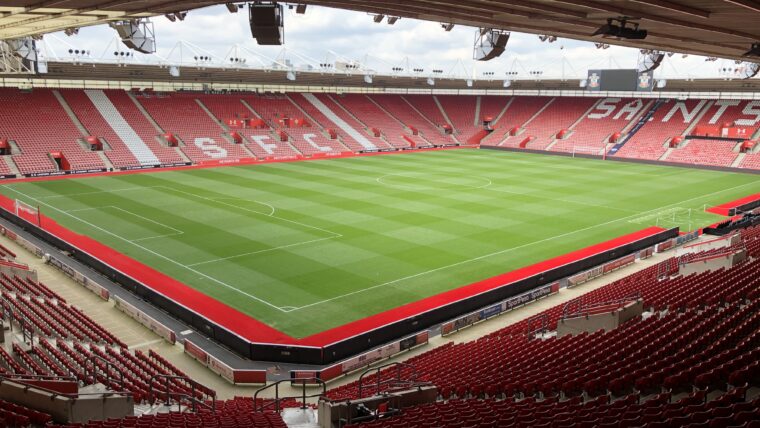 Fulham had only come out on top once in 31 attempts on the south coast against Southampton and they were left stranded, as per, by Ralph Hasenhuttl's Saints, who recorded their first back-to-back victories of 2021 with a routine 3-1 triumph. Scott Parker's future at the helm is riddled with conjecture, insecurity, and if he wished to make a powerful statement to the club's hierarchy, he went the wrong way about it. How deafeningly quiet must that dressing room be?

These articles, as much as I love producing them, are becoming increasingly repetitive because each week, no matter who we face, we are dog shit. I've never wanted a season to end more than the current, although I'm sure I've said that before, a thousand times over. Thank fuck we haven't been able to view these hapless debacles in the flesh. We've done the Premier League a disservice this year and what this club really needs to stabilise itself is a few eventless years in the Championship. We can't stomach this unorganised nonsense on a perennial basis, and we've still two games to suffer through yet.
Turgid Rhythm Resumes
Embed from Getty Images
Whatever happened to playing for pride and the badge on the shirt, eh? Relegation from the Premier League had already been settled on Monday evening, Parker acknowledged the circumstances and yet, against a Southampton side that have been in freefall since the turn of the year, the Whites refused to loosen the shackles, to shift out of neutral, to vaguely give a damn about mounting a positive reaction. The tentativeness, the turgid predictability, this is precisely where Parker should've been experimenting with our strategies and we approached the game as we always do: flat, disjointed and submissive. The defending for all three of the Saints goals was amateurish, we've totally forgotten how to have fun on the turf, we're expressionless, and that seriously doesn't bode well for the remainder of the campaign, and beyond.
We haven't hit the right notes this season and we're visibly exhausted. From early December up until our victory at Anfield, we established a practical rhythm, we were hard to break down, however our non-performance at St. Mary's completely contradicted the supposed ethic Parker's envisaged. The season's beyond repair, we've nothing to be paranoid of but Parker's set-up are anxious, perturbed by each passing matchday and we surrender under the faintest of pressures. Southampton weren't exceptional, they've had to swat off demons of their own this year, too, and the Whites comforted our hosts with a disinterested, pedestrian cadence. We may have racked up a few more passes, shading possession marginally, but there was nothing of note in Fulham's outing that imparts vindication or redemption for the fallibilities we've had to endure for 9 desolate months of top-flight football. Stop with the victim complex and let your fucking hair down, lads.
Carvalho's Cold-Blooded Debut
Embed from Getty Images
Scoring a belter on your full Premier League debut in a severely goal-shy first-team compliment. Fabio Carvalho couldn't have bargained for a better top-flight bow, expected defeat aside, although it wasn't just his crossbar cracker that caught the eye, because throughout proceedings against versed adversaries in Nathan Redmond and Mohammed Salisu, the 18-year-old advertised his burgeoning credentials exquisitely. Parker handed Carvalho a surprise start due to merit of what he can offer and though he was often outmuscled, understandably so, the England U18 international continued to construct and support insatiably and with the ball under his supervision, the diminutive winger's a silky-smooth operator.
Carvalho began proceedings out wide and gradually integrated into a central attacking role, a tweak that benefitted his sharp movement and intelligence in tight areas. The youngster was measured, perceptive, and with net-busting intent, he wrenched open his Premier League account in the 75th minute, relinquishing Southampton's lead to 1 goal. Fabio could've halted in the headlights as he darted into the 18-yard box, however his composure, poise and conviction represented an aspiring, cold-blooded assassin that's also dispatched 11 goals in 13 matches for our U23s. He spun, steadied and struck venomously. Our youth ranks at Motspur Park are bejewelled with exciting prospects and Carvalho's determined to make the grade. On various podcasts, we've spoken in length and depth about how and when these talented teenagers could be introduced and presently, the opportunities should be plentiful. Fabio's a beacon for the likes of Sylvester Jasper, Jay Stansifeld and Terry Ablade to follow, as there's a definite pathway to senior football and it's paved for the future.
Onomah's Welcome Inclusion
Embed from Getty Images
The legs on this fella. Josh Onomah has had to weather torrid spells on the physio's bench, again, this season and the road to recovery, as it so customarily is for the versatile midfielder, has been fraught, touch-and-go, but I think we can all hopefully agree that Onomah, in his element, is an asset to admire. In an advanced capacity, doubling up with Ivan Cavaleiro periodically, Onomah set out to stretch the Saints' brittle back four as frequently as possible and while we're painfully unobservant in the final third, the 24-year-old upheld a suitable standard of application. He's sporadically liable to heavy touches and maybe he attempts to bite off a little more than he can chew but he peddles a uniqueness, a dynamism that's rarely outfought and with further game time, he'll become a mainstay once more.
Onomah's afternoon wasn't necessarily a hard-hitting, blow the bloody doors off experience but it certainly eclipsed anything Ruben Loftus-Cheek could muster in a similar berth and that's satisfying enough, isn't it? I'm obsessed by planning for the campaign ahead, which we'll soon discover, and the very thought of a midfield trio consisting of Harrison Reed, Tom Cairney and Josh/Stefan Johansen is sexy as fuck. We all know what the former Tottenham Hostpur prodigy's capable of in the Championship and seeing him name upon the starting XI, within a strangely composed midfield department, was a welcome sight to behold. We should have excellent midfield options next season and Onomah's athleticism, fleetingly displayed against the Saints, will be an attractive advantage.
Ola's Unconventional Outing
Embed from Getty Images
Earlier, I'd rubbished Parker's reluctance to experiment with our strategy, however deploying Ola Aina as an improvised holding midfielder wasn't really indicative of a ground-breaking tactical innovation so, while we're perched on this particular item, I'm imploring Scott to quit with the nonsensical squad selections. Aina in the middle, it didn't work and quite frankly, it never will. I understand he was purely placed in such a capacity as we were light on options, Mario Lemina couldn't compete against his employers, although surely there's someone else that's a little more adept that could've deputised, Denis Odoi would have made a similar impact given half a chance. Now, in all honesty, Aina wasn't a bad shout, he's regularly deputised as part of a back three, so he should be aware of his central responsibilities but the 24-year-old was far from convincing.
Parker employed an odd defensive shape that seemingly drifted between a back four/back five at times and that, presumably, could've suited Aina, although I found the Nigeria international was sucked out of position all too recurrently, torn between sweeping and shielding, which impeded our control. Southampton's opener was pinpoint, sculpted by James Ward-Prowse's decorated dead-ball expertise, however Aina was partly at fault, as he allowed Che Adams, his man, to dip and divert within the 6-yard box, although that's just me being typically over-critical. Basically, Ola's favourably utilisable along the flanks but as an auxiliary holding midfielder, all for the sake of spiting Aleksandar Mitrovic, he's unconventionally problematic.
Prep the Personnel
Embed from Getty Images
Being competitive until the very end is necessary, safeguarding the tattered remnants of our beaten dignity mandatory and fielding the 'best' XI we have available is compulsory. It would be an injustice if we omitted certain members of the fold although flagrantly, some individuals have floundered in the spotlight. I'm talking about players that will not be here next term, and players that could very well be flogged. Josh Maja, Loftus-Cheek, Andre-Frank Zambo Anguissa, these are a trio of players that won't feature in the Championship, they'll be heading back to their respective parent clubs or they'll be vying for pastures new, so if we're to truly prepare for next season, why should we entrust them for the remaining two fixtures? We're in for a summer of turmoil, FFP could blockade a worthwhile transfer window and there's muted whispers of building a core group around the camp that got us promoted in the 2019/20 campaign, and that means more exposure Joe Bryan, Michael Hector, Marek Rodak and possibly Tim Ream.
Barring the American PTSD sufferer, is it ridiculous to propose a start for each against Manchester United and/or Newcastle United? We could be led like lambs to the slaughterhouse, although I'm not overly impressed by those that have competed consistently up 'til now, so why the fuck not? Bryan entered the action just after the hour mark and did an adequate job, other than aiding Theo Walcott's goal with a deflection. He whistled an effort wide of the mark from the edge of the box and I prefer him over Cav' in advanced zones – a left flank of Antonee Robinson and Bryan is not without its drawbacks, but it's a partnership that could promise proficiency. Hector's had time to simmer, hopefully, and Rodak would've absorbed a trick or two from Alphonse Areola. It'll be interesting to see what becomes of Neeskens Kebano, Anthony Knockaert and Aboubakar Kamara upon their returns but for now, with the permanent members we have at our disposal, I'm intrigued to see what kind of shape they're in. Of course, it's all too little too late, but my curious side's bored of loan inclusions, I want to see hope and resolve from the bolted-down furniture.