Five Thoughts: Fulham 0-3 Manchester City
Written by Cameron Ramsey on 14th March 2021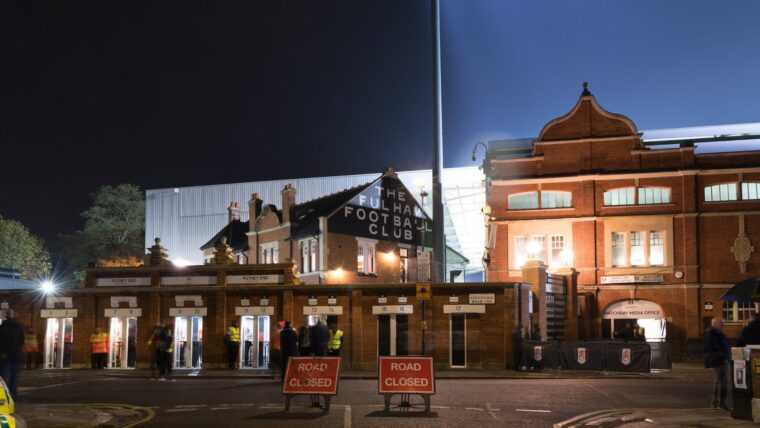 Fuelled by superstition, Fulham lined up against Manchester City with the ambition of withholding Pep Guardiola's runaway league leaders but, as the narrative indulgently scripted a routine 3-0 victory for the Citizens, perhaps Scott Parker will bin off that ghastly quilted overcoat of his and start afresh on Friday evening.

We could see this coming and we shouldn't give a single toss. The Premier League title belongs to City, anything other than a confidence-denting drubbing's a bonus and with nine games left, we can get back to business on the training field and set our sights on Leeds United, the world's greatest outfit, with invaluable lessons learnt from a forecasted defeat that will undoubtedly jolt us back into actuality. We're 2 points adrift, choppy waters have been traversed, safety is still very much attainable and this result does not change a thing.
Calling For Perspective
Embed from Getty Images
A narrow, unjust loss against Tottenham Hotspur, a historic victory at Anfield and a fully expected defeat at the hands of Europe's finest. Forgive me, but three points from three extremely treacherous encounters is, well, an outstanding return for a club teetering on the brink or safety and relegation, no? Losing 3-0 to a Guardiola set-up that was fervently determined to get back to winning ways is not a cause for concern, no team on the continent enters proceedings with the intention of running riot, so why would it be any different for Parker's Whites? We recognised the gravity of the encounter, we sized up our guests, we lasted 45 minutes and, ultimately, we succumbed to the division's deadliest squad bar none. 2 losses in 8 with 5 goals conceded, shit happens, a defeat by more than a 1-goal deficit was overdue but for the most part, I'd say we gave a very positive account of ourselves and we should only channel this minor setback constructively. 'Sobering' is an adjective that's been thrown around to summarise our 13th loss of the campaign, it indicates that we should have mounted a fiercer test but all things considered, with our sensible caps on, is that assessment fair? That was the exact definition of a "free hit" game, beating City was wildly unrealistic and we had to suck up and accept that on this occasion, we were going to be subordinate.
Circumstantially, we met a fixated City that were also wary of our upturn in form. Kevin De Bruyne and Raheem Sterling, amongst other intimidating mainstays, may not have been in contention but the personnel Pep fielded were still capable of mass destruction. The opening 15 minutes of the second half were frantic, it spelled imminent peril for the hosts and we couldn't dampen City's methodical press. Of course, following an outrageously stubborn, secure first-half showing, the way in which we discarded our composure after the interval was unsavoury, Parker's men usually navigate the second 45 minutes obstinately although for 5/6ths of the game itself, our modus operandi was resistive and unaccommodating. City have only lost 3, they've set and broken records and in all honesty, I'm satisfied with our resolve in the aftermath of an unceremonious capitulation. At 1-0 down, let alone 3-0, maximum points belonged to the Citizens, there's no denying that, and of game's of a similar narrative, Pep's boys put 5 past West Bromwich Albion, 4 past Wolverhampton Wanderers and 3 past Spurs. City's victories are not discriminative, an opposition's league standing or reputation is irrelevant and we, at the foot of the table, escaped a potential demolition with our identity, and goal difference in comparison to those around us, intact. It's a very small wake-up call, however it's certainly not an extraordinary result, if anything, it's a predictive defeat that subsequently restored the equilibrium for both parties.
Devising Our Downfall
Embed from Getty Images
We cannot kid ourselves here, though. City were going to manufacture deadly routines and they were going to work Alphonse Areola's goal mouth incessantly, and if Fulham had any shred of hope of surviving the visitors' inevitable onslaught, focus and composure at the back would've been paramount. The Whites' defensive line's been a genuine credit to the top-flight since the turn of 2021, mistakes have been sparse and connections have flourished but at some point, against elite opposition given the manner in which we persist to play out from the back, self-inflicted blunders will occur and for two of the Sky Blues' goals, we only have ourselves to blame. Joachim Andersen was thrown under a bus by Ivan Cavaleiro, the Dane couldn't gather the winger's suspect pass across the back and Gabriel Jesus pounced on the loose ball to round off the visitors' second. City's third, a penalty, was soft, but in that situation, the slightest of contacts would be enough for Ferran Torres to tumble. Why Tosin Adarabioyo chose to butcher a Cruyff with oncoming traffic, we'll never know, and in a vain attempt to capture his dispossessor, he staggered into the Spaniard's path and that hideous series of events was of his own unsightly creation.
John Stones' 46th-minute opener was unfortunate, the reborn centre-half stole a march on the Whites' defensive line and he prodded home, but those unwelcome lapses, those all-too familiar faux pas were not directly posed by City. Yes, City probed, they harassed, although we've the periodic tendency to be the architects of our own downfalls, Stuart Gray and his defensive coaching staff have schemed to restructure our shape and fortitude, but you cannot discount and prevent individual misjudgements. Wistfully, irrational impulses clouded our vision from reliable sources paved the way for the visitors to rubberstamp their control, the merest of slips would be enough for them to establish an unassailable foothold and we did the dirty work for them. I've never been more confident in a Fulham defence, whether we employ a back three or four, we exhibit a durability that will dig us out of the bottom three but against City, gaffs were amplified and gaps, devised by our own, were duly exploited.
City Quarantine Offenders
Embed from Getty Images
Being incapable of bagging multiple goals has, as we know, been an issue for the Whites for the season's entirety to date and against City, a haughty superpower with the division's safest defensive record, forging convincing offensive opportunities would be mildly taxing and as our lethal intent in the final third's languorous, to put it lightly, the Whites were comprehensibly cancelled out in front of Ederson's target. Snatching a snap shot, that's all Parker's men could feasibly aim to achieve and other than Joshua Onomah's charged down swipe, we really didn't assert ourselves whatsoever. Ruben Dias has been a revelation for City since joining in the summer from Benfica SL, Stones is enjoying the season of his career and Aymeric Laporte's grafting to return to his glowing best, and with a back three as robust and established as the Citizens, Fulham's chances were a a rarity, at a premium, and living in the perpetual fear of over-investment moving forward, we were unable to influence the game progressively.
Ederson's gloves remained box fresh, other than plucking broadcast crosses out of orbit, the Brazilian 'keeper was comfortable within his 18-yard box, business as per. Reasons to be optimistic in an attacking sense were scant, possession was shared fairly – or as evenly as it could possibly be in City's monopolisation – 444 passes were administered by the hosts to no avail and our detectable sequences were tracked and traced. Ademola Lookman began brightly along the left, shifting and scurrying inside and rotating across the front three, although Benjamin Mendy, and Joao Cancelo on the opposite flank, shadowed the 23-year-old dedicatedly and his lively movement was soon quarantined by City's athletic wingbacks. It was a similar story for Cav', too, but if we're going to weigh up his respective outing, he was virtually non-existent anyway. Aleksandar Mitrovic made a late entrance, he wasn't allowed to do much else other than play piggy in the middle so all in all, as we'd secretly anticipated, Fulham were characteristically prosaic and nobody can truly say they envisioned anything less from the Premier League's fourth-lowest scorers.
Reed's Hard Yards
Embed from Getty Images
It's absolutely coincidental, the very reason Harrison Reed's purred about every single week's because the diminutive anchorman's indispensable, a reinforcing linchpin within our spine, and operating within the most testing midfield environment he's had to inhabit in a Fulham jersey on Saturday evening, the Venetian gold instigator delivered another esteemed personal performance. With Mario Lemina by his side and Andre-Frank Zambo Anguissa roaming, Fulham intended to flood the middle of the park in order to counteract City's multi-faceted compliment. In an ideal world, Fulham's trio would coincide functionally, but this is earth and City aren't mugs, so our suffocative approach didn't quite go according to plan. Anguissa was the weakest link of the trio, the Cameroon international was visibly overawed by the game's intensity but Reed, an observant student of the duties, thrived in the physical elements and Lemina's efforts weren't far off his teammate's either. As a double pivot, their shared understanding's favourable but our £8m summer signing's our undisputed chieftain, churning out the hard yards for the betterment of his team.
Rodrigo Hernandez, backed up by Bernardo Silva, scrambled Fulham momentum centrally, the Spanish holding midfielder screened across City's back three and broke with powerful bursts. City combined effortlessly within the final third, dragging the Whites into hazardous areas, overloading and identifying weak spots within our composition but Reed's dedication was constant. The 25-year-old latched onto unattended runners, he slotted into our back four to support our structure and as City threaded passes into his vicinity, he snapped into action to obstruct and intercept. With the ball in his custody, Reed's a practical distributor, the simple option's regularly his preferred avenue because it's not necessarily his responsibility to uphold invention and risk, his job's to safeguard and regulate and he enforced his role to an incomparable degree for the umpteenth time this season. He's consistent, he's competitive, he's invaluable and he made his dogged presence known amongst the visitors' world-class resources.
Ruben's Lost Cause
Embed from Getty Images
Noises from various media outlets suggested midweek that the Whites are supposedly keen to transform Ruben Loftus-Cheek's temporary stint on Stevenage Road into a permanent stay and for the life of me, I really can't fathom why we'd even remotely entertain such a notion. The Chelsea loanee is being shoehorned into our matchday XI for the sheer hell of it, starting up top as an auxiliary false nine epitomises how desperate the club is to incorporate his deceiving qualities as frequently as possible, and when you've two recognised strikers in Josh Maja and Aleksandar Mitrovic on the bench, questioning Parker's rationale is almost unavoidable. Experimentation in the scoring department wasn't necessary, Maja's beginning to find his feet, and in a capacity where interchangeability's compulsory, Loftus-Cheek fizzled out of proceedings, a passenger once again, and as a proposed driving force moving forward, his overall enterprise was neutralised.
Built like a strapping leader of the line, the 25-year-old's striving to defraud his own reputation. With one goal to his name on the better side of SW6, RLC obviously isn't the answer, he's not going to remedy our goal-shy strike force so why is he trusted to front an attack that's deprived of reward? He doesn't make it into my chosen midfield trio, he doesn't muscle in ahead of Lookman, Bobby Decordova-Reid, even Cav' and Joe Bryan on the flanks, he's a lost cause that hasn't shown up and this squad, in our current predicament, doesn't have space for idle has-beens. I apologise if that resonates harshly, the player that travelled to Russia with England in 2018's being held captive by 2021's deceitful edition and if he's aspiring to make an impression on his parent club, to turn Thomas Tuchel's head, he's making a right old hash of flexing his credentials. To participate against Europe's cream, to warrant international caps, you have to turn up on occasions such as Saturday night, City's the calibre of opponent a player of his tendered ability's predestined to face as a matter of routine, and for a man that's held in such high regard by our neighbours, he's accused of duplicity each time he takes to the turf in Parker's system.