Five Thoughts: Everton 0-2 Fulham
Written by Cameron Ramsey on 15th February 2021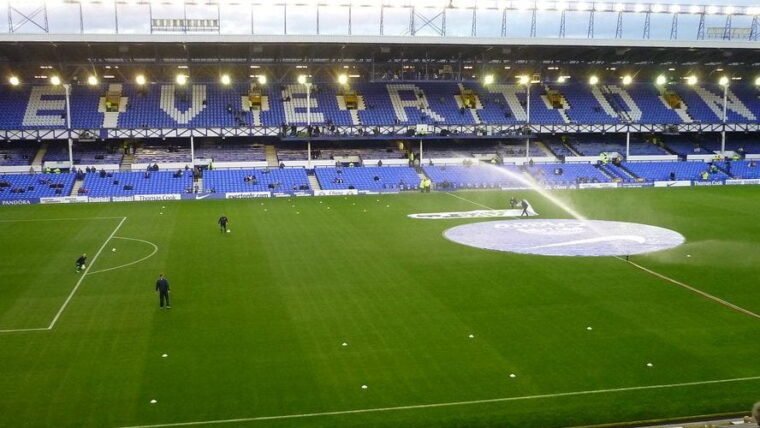 No win at Goodison Park in 22 worthless attempts? Carlo Ancelotti, mate, hold this freshly poured beer of ours, will you? The Italian sure knows how to clasp a paper cup of undisclosed steaming liquid but when it comes to compounding Fulham's long-standing losing streak, to press repeat on prosaic history, he's our guy. Valentine's Day isn't really for overcooked M&S steaks, wilting roses and singular points. We wanted a threesome and we bloody well got it with a clean sheet, too.

That's 6 points on the road for the Whites, two wins against Leicester City and the Toffees and building upon this freakish triumph as we head into a trio of season-defining meetings is essential, although it's important to take each occasion as it comes, without discounting the magnitude of the journey ahead. Turf Moor is not a very happy place us but if we can replicate Sunday evening's application, we'll cause Burnley, a glorified rugby team, all sorts of problems.
Enjoying Complete Control
Embed from Getty Images
Come on now, how enjoyable was that, folks? Of all the solid, cohesive outings the Whites have mustered this season, all for the sake of a blasted draw, that victory, our third of the campaign, was sweet, mesmerising and above all, wholly deserved. A win, once proceedings got underway, was never in doubt. Everton were flat, uninspired and impotently powerless, the Whites jammed a boot in the door and ransacked Goodison Park with a demonstrative completeness. Shading possession, racking up 545 passes, the Whites persuaded us all that they're genuinely cut out for Premier League football, Parker's work-in-progress, let loose against Ancelotti's tried and tested practice to full effect. How long this'll last? We can't be sure but for now, with crucial meetings lurking forbiddingly, we've got to revel in our achievements and we have to springboard from this victory.
Everton upped the ante in the closing stages, heaping pressure on our penalty area by slinging endless crosses and corners into the mixer, tempting dogfights, although other than a rare foray here and there past the halfway line, the hosts had absolutely nothing going their way and that's because their guests had the final say-so in every key instance. We met an out-of-sorts Toffees side and we flexed our supremacy for the duration, our press was clockwork, our passing phases were productive and our shape, man-to-man, was flawlessly formed to barricade the hosts' futile spells on the ball. I may be talking out my arse, but my understanding is that only one team in the Premier League has conceded less that Fulham in the last 13 outings – or something like that – and that is the current league leaders, Manchester City. Another clean sheet, rolled out alongside a purposeful performance and tangible confidence, oozing from every touch. At last, our system clicked into gear and now we have credible solutions and alternatives, as well as diminutive, unambiguous answers to burning questions of our suitability at this level.
Majacal, You Know?
Embed from Getty Images
Debut starts don't get much better than that, don't get it twisted. Josh Maja joined the club with big boots to a fill and he did the most to rid us of any lingering Aleksandar Mitrovic nonsense. That, that is what a striker is meant to do, in the right place at the right time and his work-rate, hold-up play and anticipation ultimately warranted a true bagsman's brace, equalling his overall tally for the season in 73 minutes. Two goals in Ligue 1 in 17 appearances, a double at Goodison, "Majic Maja" (said in Thomas Muller's comical Germanic tone), summoned a killer instinct, which, as we know, was formally extinct and, in turn, his audition for a starting spot will surely promise a starring role on Wednesday at Turf Moor.
Mitro's USP's his ability to hold up play constructively, although he lacks mobility, severely. Ivan Cavaleiro's attributes as a leading striker aren't necessarily refined or indeed remotely sufficient but he is athletic and Maja, purely observational, is a delicate mixture of both, meshing together intelligent movement with a compulsion to retrieve possession. We honestly thought Josh King was the answer to our goal-scoring dilemma, and though it's still early days in the grand scheme of things, we've stumbled across a young, aspiring hitman with a point to prove and a serious understanding of his responsibilities, and if we're able to marvel the bigger picture, just for a moment, I'll lose myself make-believe reality where the 'Naija Whites', spearheaded by Maja, fire us out of the relegation zone. Mitro' and Cav' will be wise to sweat on this, Josh's returned to the manor and is making both of them his side chicks.
Reed, the Landlord
Embed from Getty Images
Come and chat to me when you find a midfielder as complete as Harrison Reed, the landlord. I double dare you. Not one fuck was given as he laughed in the face of winless records and the next guy's overstated reputation, Reed steamed through pretenders and made them cough up a hefty toll in the centre circle and this isn't unusual, an anomaly, Reed serves up sturdy 8.5/10 performances as standard and against the Blues, he accrued full marks. Fulham's Mr Consistent, the 26-year-old stifled Tom Davies' influence and he denied Abdoulaye Doucoure the license to express himself, comparatively, Everton's accomplished, brawny, well-oiled midfield department was dramatically overshadowed by a man that stands at just 5'9″. Bless 'em.
The middle of the park was independently patrolled by Reed, incoming and outgoing shipments channelled through his supervision and his determination and energy was constant. I was wheezing just watching him. Deputised by Mario Lemina, Reed sanctioned punishment upon stray runners, clamping and compounding, and if Andre-Frank Zambo Anguissa's planning on returning to the starting fold at some point soon, the application process will be strung out, arduous and highly scrupulous. With Reed and Lemina locking the middle third down with an iron-fisted authority, I'd blissfully forgotten all about our Covid-stricken Cameroonian general, but when you've a "ginger Iniesta" and a Gabonese Prince turning heads and collecting overdue taxes from fraudulent ballers, surely we can be excused.
Fullbacks On Lockdown
Embed from Getty Images
We deployed a straight back four against the Hammers in our last outing and I have to say, I really, really like the way in which we can chop and change our defensive composition so smoothly. Coefficient as a back three, Fulham's revamped structure is just as secure with a traditional quartet and though Tosin Adarabioyo and Joachim Andersen astound so regularly, this week's plaudits ring out for Ola Aina and Kenny Tete. Our options, whether we appropriate wingbacks or standard, mean and two veg fullbacks are vastly competent and beneficially diverse and where these two men of the moment are concerned, equal measures of cut and thrust were administered to silence Lucas Digne, James Rodriguez and Richarlison and that is not a prospect for yellow-belly cowards.
The channels, with Aina and Tete signed on and settled, were just as secure as the central sector. Seamus Coleman escaped momentarily to crack the upright, but that was nothing more than a slight inconvenience. Aina bit back and Tete, warming to the task and hand, roamed his quadrant ominously, taking no prisoners with swift interceptions and calf-grazing impediments, in order to wrestle possession from unassuming assailants, AEW style. Antonee Robinson's superb moving forward – and this is at no detriment to the young American – but is noticeably over-animated, an exuberance that highlights his defensive nativity. Aina's ability's been examined this term, however he remained in command and on the break, being a winger by trade, the Torino loanee was exceptional and effective. He registered an assist, a sculpted one at that, so off the back of an enlightening outing, should we persist with Aina at left-back? His connection with Lookman's strong and he's not shy to advance with a motive and with that taken into consideration I, for one of many, am sold on the idea.
From the Gaffer
Embed from Getty Images
Post-match pressers, midweek conferences, perpetual conjecture, Parker talks up Fulham's primary objectives, our collective aspirations, and on an evening where three points were inconceivable, the Whites' performance was amorously uplifting. Parker has a team that's under no illusions of the mammoth challenge ahead if we're to mount a 'Great Escape 2.0' and if Scotty's going to guide us to salvation, leaders and disciples, both on and off the pitch, will need to sacrifice copious volumes of effort and courage unremittingly. Andersen clamours with statements of defiance, Ademola Lookman's personal redemption's cemented into every outing and unanimously, we're eager to right some substantial wrongs. Various results have gone against us this season, although our collective attitude's admirable, we're rarely turned over and if we do fall to a defeat, the eventual victors have to graft for the spoils, fighting tooth and nail, there are no freebies.
Upon Merseyside, an environment Fulham seldom prosper, our attitude was positive, our bravery inflated tenfold and our game plan was followed and executed seamlessly. Goodison's an imposing arena when it's packed to the rafters although the Toffees had not won a home league match since December 19th, 2020, and Parker obviously recognised a wounded animal in the hosts. The Whites were prepared to invest everything to snatch an unlikely dub on the road and our tenacity refused to dip or plateau. First-half opportunities passed us by, agonisingly, but we knew that if we continued to bang on the door, if we trusted the system, we'd shake that overbearing curse in the final third and true to superstition, we did. Everton couldn't replicate the Whites' unique perseverance, a patience that finally paid off in improbable circumstances. This is Parker's vision and when the Whites are attentively focused on the gaffer's design, we've the quality to achieve our goals.