Five Thoughts: Fulham 1-2 Manchester United
Written by Cameron Ramsey on 21st January 2021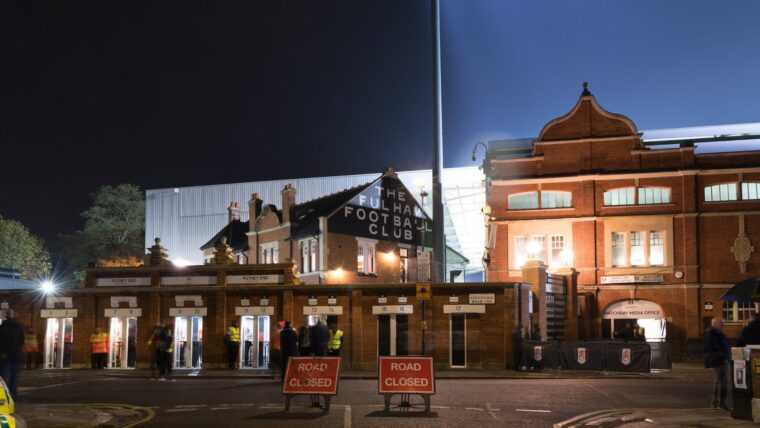 Scott Parker faced an old adversary in Ole Gunnar Solskjær on Wednesday night and it was his men that broke the deadlock in the opening stages. Fulham, under Parker's guidance, had never lost a game where they'd gone ahead but, similar to the 0-0 home record that stood for basically a decade, that accomplishment was washed away in the downpour.

I'm hearing echoes, boo-boys spouting 'Parker out' without reason and premise, so is the executioner's block calling for Scotty's neck? Like fuck it is. The positives eclipse the negatives, we could have entered our previous three outings in a state of peril and we would have faced humiliation, although with a refreshed outlook, and bollocks we should be proud of, our dignity is very much intact.
Manchester United, that's just the warm up. Two Premier League away days await us in the mould of Brighton and Hove Albion and West Bromwich Albion, and it's those two games where we'll really see how far we've come. The stakes will be high, our season will be made or destroyed in 180 minutes, but before we dance with the devil, we've the small matter of the FA Cup to deal with and dispatching a fellow relegation applicant, Burnley, will stand us in immeasurable stead. The 2020/21 campaign starts now.
Identifying Mitro's Lifeline
Embed from Getty Images
Fulham's makeshift attack comprises many contrasts. With 10 minutes or so to go, Aleksandar Mitrovic supplied the muscle up top, staving off United's central pairing as he so regularly does to any opposing partnership. He appeared energised, dropping deep to retrieve possession and once the ball had been fed to the channels, the discarded Serb made a beeline for the penalty area. He wasn't on long at all, although his uplifted attitude was pleasing to the senses and as he gradually works his way back into contention, his impact will become paramount again. Shoehorning Mitro into the starting XI has proven to be tricky, given we're currently employing an offensive duo, but I can't be the only maniacal whopper that actually feels a classic 'little and large' partnership could work a treat, or am I talking out of my arse, again? 
We've candidates, some more plausible that others, in Aboubakar Kamara, Bobby Decordova-Reid and Ivan Cavaliero, however there's only one genuine contender, the ever-improving and consistently electrifying Ademola Lookman, that's who. Ade' rarely shies from the backbreaking graft that's required to succeed at this level and within 5 minutes, he'd also enlightened us to his nerveless composure whilst homing in on the target. The winger isn't masquerading as a goal-getting imposter, his early opener, from his carefully timed run to the point of execution, was ruthlessly calculated. Much like his goal at the King Power Stadium, Lookman flaunted an assurance in his ability, steering home as any aspiring would-be striker should, with vicious conviction. The 23-year-old provides a spark that trips us out of neutral, a unique aptitude only he can seemingly replicate because on the flip side, there's Cav'. 
The former's a gifted live wire, whereas the latter's shamefully inept. If we aren't to enter the transfer market, we cannot rely on the Portuguese Anthony Knockaert, with his tunnel-vision tendencies, and overawed frivolity in elementary scoring positions. One header will not gloss over his deficiencies, which are plentiful when he's thrown into the mix as a secondary striker. For me, and many others, Cav' has been an infuriating disappointment, an inconvenience with an inflated price tag that's flagged under expectation. He is a slightly more defined AK47, but that's at no detriment to Abou's reputation, we already know he's nothing more than a glorified Smeg fridge with aluminous boots. This is all fictitious, hypothetical nonsense but it is provocative. The notion of aerial and physical adeptness beside undetectable movement, all within a system that still accommodates a back three, wingbacks, and a dynamic central midfield ensemble. Call me crazy, but this juxtaposed collaboration could definitely be done and it should be tested from the off against Burnley, post haste. 
'A' Grade Defence
Embed from Getty Images
Refusing to buckle and bulk on the fringe of our 18-yard box, our "triple A", or as it was aptly known before Tosin Adarabioyo wanted to be called, well, Tosin, held a resistant, organised line and against an in-form squad headed by Edison Cavani and supplied by Bruno Fernandes, longstanding discipline was fundamental. Tosin intercepted timely, Joachim Andersen conducted authoritatively and Ola Aina aided our counter attacks, whilst biting back as part of the trio. There's so much variation within our current back three, each individual quality compliments the next and that all important familiarity's going from strength to strength. 
We're a very long distance away from that flimsy, deductive Tim Ream/Micheal Hector coalition, that was often joined by a forgotten Denis Odoi. Before you start to reminisce of days gone by, do away with sentimentalism, it's not healthy, whereas this newly acquired spine of ours certainly is. Nothing pleased me more than seeing United stray offside because our structure was straighter than the school swat's tie. Not a hair was misplaced, and the goals we conceded can be forgiven, if you're the merciful type, that is.
They may have scored twice, the first being a goalkeeping error from Alphonse Areola and the second being an adulterated thrust from Paul Pogba, but United couldn't willingly dismantle our stringent shape at the back, and you have to take the opponent into consideration. In table-topping company, we held firm and we didn't surrender, white flag waving isn't a prospect anymore. Nomadic defensive dithering is an object of the past, and good riddance. Offensively, we're struggling to make ends meet but in the department that really required patching, we're excelling. Against Tottenham Hostpur, Chelsea and United, only 4 goals were shipped and that, all things examined, is a thoroughly welcome slippage to say the least.
Wingbacks Grab Attention
Embed from Getty Images
That's enough centre-half loving for one article, how about we promptly turn our attention to the wingbacks. Welcomed back to the starting XI, we'll begin with Joe Bryan. Ask yourself earnestly: is he within the same bracket as Antonee Robinson? Let's be honest, as a LWB, the witty social media icon's just as effective. We've been rightfully won over by Robinson's insistence on the break, and though Bryan was cancelled out moving forward, he safeguarded his flank manfully, slamming Mason Greenwood into the dark ages. Alright, his crossing could use some retuning but in the American's absence, we still have a deputy that embodies a worthy starter, and Robinson's place isn't set in stone.
Ousting Decordova-Reid from a berth that really suits him down the ground, Kenny Tete spent 3 months out with a suspected calf injury, although having featured in 4 games in 12 days, he's returned with a hunger, an eagerness, like a Hermes delivery driver on his last drop of the day. You ain't stopping him for shit, and he will clean you out if you're in his line of sight. Committed in every instance where a sliding challenge was even remotely feasible, he steamrolled his defensive duties, upending Luke Shaw in alternations that married brawn and flab unceremoniously. BDR is an all-rounder and completely at home at RWB, however Tete treats his domain in the same way a firing squad would regard the trenches – no prisoners permitted.
So, where our central personnel's improved, our wide selection's also been enhanced by faces of new, and faces of old. We're expansive, capable of hitting the byline fluidly and every matchday solution, Robinson to BDR and beyond, has the engine and capacity to compete competently. As a collective unit, I've no censorious reservations. We're not squeaky clean, the perfect advertisement, but we're well-equipped to withstand and resist across our defensive ranks and foundationally, we're built on sterner stuff. We were wondering how we'd cope without Robinson's readiness and Bobby's diligence and I'd say we muddled along very well indeed.
Matter of Class
Embed from Getty Images
All it took for the Red Devils to spoil the show was one masterstroke from a mercurial personality that was muted, somewhat, before he wrapped his weaker foot around a ballistic missile. Fulham huffed and puffed, and in the immediate aftermath a point would have been the fair outcome but now, in hindsight, the loss can be justified. Fulham carved inviting opportunities to restore parity in the second half but couldn't land that killer blow. We administered possession enticingly, it wasn't down to a lack of effort, the difference between us and them is straightforward: they have game-defining class, we don't.
It really is that simple. United's bejewelled with elite quality that doesn't need much goading to inflict assertion and if you give superstars like Pogba, Fernandes and Cavani the respect they demand, they can and will exploit keyholes that resemble chasms in their perspective. One lapse could be fatal, and with Pogba within striking distance, he punished. The Whites are an industrious outfit, a continual work-in-progress, but no matter how hard we worked and how many gallons of sweat we perspired, our cutting edge wasn't abrasive enough to turn a winning position into a comfortable, convincing lead. I hear it loud and clear, we were playing United and they were bound to react with two barrels, although converting our chances away has been a dilemma this season, and whilst we're forcing the issue, sticking it to the opposition, we're not cashing in on the impetus we establish.
Against a team like United, regardless of what form they may find themselves in, you're lucky to get a sniff and we squandered some seriously golden opportunities. Lady Luck and the footballing Gods evidently weren't on our side as well, and you do need a sprinkling of such fortuity every once in a while. Eric Baily's freak deflection proved this as it trundled wide of the mark by millimetres and perhaps, despite the effort, were destined to lose against a side that now hasn't lost an away game in 17 outings. Nope, can't fault the energy, the application, it's the trigger that's jammed and if we don't remedy this, if we fail to move up the sets, we're our own insidious enemy.
Ruben's Finest 45
Embed from Getty Images
It really was a game of two halves for Ruben Loftus-Cheek, a Jekyll and Hyde outing that presented a familiar languidness, as well as his finest 45 minutes in a Fulham jersey. A source of disgruntlement since joining the Whites on loan, Loftus-Cheek has been a shadow of his former self, the model that was selected by Gareth Southgate for the 2018 World Cup, and Fulham fans are right to be peeved and feel a little duped. He came to the Thames with a – pardon the subtle pun – lofty reputation although his overall performances have been shallow, swindling interpretations of his alleged 'world-class' quality.
I'd written a piece that blew copious amounts of smoke up his backside and up until the second half, I'd been hoodwinked. RLC has taken an age to get up to speed, far longer than the optimum, but something within the 24-year-old snapped, in the best way possible, once play resumed. One key thing, amongst others, we've begged for from Loftus-Cheek is enthusiasm, because when he's hitting the right notes with a spring in his step, he's virtually untouchable. United's midfield, in all its esteem, crossed paths with an awoken RLC, a driving force that had finally found his mojo, and as he glided through flailing legs and a floored World Cup winner, persistently, we witnessed the player that was revered so highly in his pomp, the true denomination of his skill set.
He could and should have done better with his two opportunities to pull us level, of course, but it's the intent that's gratifying. Opening his stride, shaking off the shackles, Loftus-Cheek ventured into margins, undeterred, to render Shaw ineffective, he charged from the depths of our half with the ball in his custody in order to break United's spell and, more to the point, he supported and supervised progressively, whilst incorporating an awareness that had been vacant. In the first half, RLC was predictably detached, apathetic to the task at hand. Parker must've threatened him with violence in the dressing room, because, ultimately, Chelsea's 'golden boy' approached his responsibilities like a man who's temple was being pressed by a pistol. If that was an overdue sign of what's to come, we have an unprecedented asset at our disposal.