Five Thoughts: Fulham 0-0 Brighton & Hove Albion
Written by Cameron Ramsey on 17th December 2020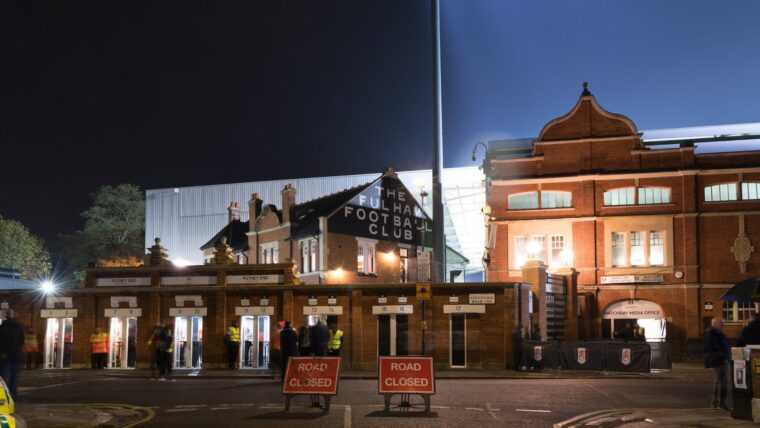 In 196 games, 3413 days all in all, Fulham had not drawn a game 0-0 at Craven Cottage but all good things, even if it isn't necessarily exciting to say the least, have to come to an end at some point in history, and though it wasn't the most illustrious of records, it's a statistic that'll be missed dearly for a sorrowful day, or two.

Graham Potter's Brighton and Hove Albion were struggling to find consistency before they departed the English Channel for the Thames and Scott Parker's Fulham had a gust in their sails, so it was rather befitting that neither club took the initiative in a game where tentativeness and tiredness factored heavily. Well, it's another mark on the board, and another paddle closer to reaching dry land, so crack a smile.
What else have we missed? AC Milan's interest in Antonee Robinson? No, you've heard that one before (thanks Matthew Upson), although up next for the Whites is Newcastle United, at St. James' Park, so may I remind you of Ryan Sessegnon's brilliant brace against the Toon a few seasons back? Neeskens Kebano's set to make a shock appearance and bag a hatty in his honour, you have my word.
Over-Taxed Exhaustion
Embed from Getty Images
Over-exerting ourselves against Liverpool on Sunday definitely caught up with us on Wednesday evening. With obvious exhaustion riddling virtually each and every matchday member, our effort moving forward was markedly laboured and our composure in possession, which wasn't helped one bit by Brighton's relentless high press, was scrambled and noticeably fatigued. A contrasting performance from what we lapped up against the Reds, Fulham simply couldn't groove into a consistent rhythm and from an offensive perspective, those that stood out against the Premier League title holders had to take a back seat as the visitors pursued a breakthrough strike.
Andre-Frank Zambo Anguissa, unparalleled so often and a pace setter, was regularly crowded out by a triple threat of Steven Alzate, Adam Lallana and Leandro Trossard and up against Yves Bissouma, I'd say the Cameroonian met his equal. Heavy first touches risked reckless challenges and Fulham were fairly fortunate not to end up with more than just one caution by the end of the night. Nothing stuck, our game plan failed to take flight, and the Seagulls sussed us out pretty sharpish. The Whites were disjointed from top to bottom, cohesively infirm and outfought, we'd overtaxed ourselves on Sunday and if Brighton could've taken advantage, we'd have capitulated under crestfallen expenditure both mentally and physically.
Squad rotation is essential at this level, but as we're beginning to familiarise a system, I could see why Parker didn't want to tinker with the blueprints too much. We have to habituate a common understating, attune a system that bonds practicality and mechanics but freshening up the squad shouldn't be excused in order to house a recurrent strategy that may or may not work on the day. We will have to adjust our matchday selection periodically to counteract an opposition's unique method and we have the personnel to cope with diversities, and as Parker's game management expertise evolve and mature, he'll recognise the importance of fielding the right squad for the correct occasion, particularly when debilitating weariness sets in like it did on Wednesday.
Captain Andersen's Troops
Embed from Getty Images
It really does go without saying, but I'll continue anyway, under immense pressure and insistence from the Seagulls, Fulham battened down the hatches, just, to rebuff Brighton's persistence in advanced areas, an organised resistance guided by a man that's fortified our creaky defence since his return from an initial injury setback, Joachim Andersen. Recording a clean sheet was a collective achievement, and a great deal of praise has to be bestowed upon the likes of Antonee Robinson for his urgent recovery runs to restrain Tariq Lamptey, and so on, although the great Dane called the line, held his nerve and marshalled the troops fiercely.
Danny Welbeck, at full tilt, had his moments but Andersen, as far as respective professional obligations go, stamped a firmer mark than the former England international. The Denmark representative closed the space between Welbeck and our danger zone swiftly and persuasively, and other than a disallowed goal, a header that crashed off the crossbar and a few superb stops from Alphonse Areola, Brighton were limited and restricted. That, in fairness, sounds like a lot of opportunities conceded but the visitors were immensely persistent and as we ultimately managed to record a clean sheet under the circumstances, I'd consider it a significant achievement.
Ola Aina covered tremendously as a makeshift sweeper, and BDR abandoned his offensive responsibilities to focus on his defensive work, but one player that hasn't been rightfully credited as yet is Tosin Adarabioyo. The way in which he's adapted to regular top-flight, after being let go by his boyhood club, is astonishing and commendable. The 23-year-old's gradually flourishing into a reliable, sturdy partner for captain Andersen and now, we've a central defensive pairing made for the top-flight. So, thanks again for the bargain of 2020, City, he's coming along quite nicely for a guy that's meant to be worse than John Stones.
TC For RLC
Embed from Getty Images
One selection quandary will rumble, don't you worry, for the duration of the campaign and it's a dilemma that will divide opinion and infuriate the masses regardless: is Ruben Loftus-Cheek genuinely above Tom Cairney, our captain, in the pecking order, or is the Chelsea loanee simply in the starting squad because of a rogue, hidden clause in his contract? Blame it on lethargy, if you will, maybe he isn't up to scratch, chiming at 100%, but RLC was completely off the pace in the centre of the park and up against Brighton's opposite numbers, he was a subservient being that couldn't impress himself upon proceedings. A makeweight between creativity and sensibility was absent, a vacancy that TC surely could've accommodated.
TC will actively tout for gaps, pockets and gullies between departments, RLC's approach is perhaps too linear for him to fully take effect in a congested midfield and it really showed. He couldn't carry possession through the centre, he was pushed to the touchlines and in shoulder-to-shoulder battles, the Chelsea favourite wilted. That, for a midfielder of his physicality, is mildly perplexing, to put it lightly. We haven't seen the best of Loftus-Cheek, not yet, but I still don't know how Parker intends to get the stammering playmaker firing at his finest.
Speaking of pulling the trigger, a sudden rush of blood to the head must've muddled his vision in front of the target because from that elemental position, you have to pick a corner, straight down Robert Sanchez's throat doesn't cut it when you're clean through, unmarked, with three points up for grabs. Cairney's our CEO of enterprise, which his teammates appropriate synchronously, but every season since he's been on our books, he always seems to dip and drift out of the manager's plans, although if we're supposed to choose between RLC and the Scotsman, my money's on the one that can score from range at the drop of a clapper. He isn't the explosive, but he's cunning, and were crying out, despairingly, for his tailor-made ingenuity.
Welcome Back, King
Embed from Getty Images
In all of my time on this spinning sphere of ours, I'd never have thought I'd miss good ol' fashioned hold up play quite as much as this. Fulham were missing a focal point, a meanness to counteract Lewis Dunk and company, and whilst Ivan Cavaleiro and Ademola Lookman are gifted sprinters, built for skipping beyond offside traps, Brighton's shallow line enabled them to halt our disjointed advancements, as we couldn't construct clear cut scoring opportunities on the parameter of their 18 yard box. A central exponent was required, a renowned target man from which we could proceed directly, a Trojan horse decoy in order to detect an alternative route, but who?
Aleksandar Mitrovic returned, like phoenix from the ashes, and his presence up top made a noticeable difference, albeit a marginal one, but it was a revitalisation that put Brighton's centre-halves to work, pronto. Mitro' showed for possession centrally, dropping into deeper areas to retrieve the ball, and that compulsion allowed Fulham to construct more meaningful phases, even of they were few and far between. Combining with Lookman, the striker nodded the winger into a prime scoring position with a deft cushioned header but Robert Sanchez covered his angles astutely. That, in itself, was one of the only rare moments we actually breached Brighton's back four, devised by the man of the moment himself.
We're not entirely sure why Mitro's warmed the bench recently, fitness problems are the reasoning, according to the club, but we can't afford to discredit an option that offers a dimension we can't replicate without him in the fold and when he's motivated, soaring on a level only he can produce, Mitro' is, let's not forget, our deadliest weapon. He's bound to rekindle his prolific form, a player of his stature will bounce back spontaneously and his purple patches usually comprise torrents of 10/10 outings. We've finally formulated an alternative approach if Mitro's indisposed, or out of favour for some arbitrary reason, but Fulham really doesn't hold the same weight without him. Welcome back, king.
Ugly Points Count
Embed from Getty Images
Allowing ourselves to run away with a fantasy would be foolish. Three points was most probably deserved against Jurgen Klopp's fortunate set-up but against Potter's, we were extremely lucky to emerge from the game with a point, the hardest, most unforgiving singular reward we'll clamour for this season, although sterner tests will undoubtedly follow. A victory was never in the offing, so we have to be eternally grateful that we rallied for the draw, because the ugly points count just as much as the spectacular and when we're effectively brawling for meagre morsels every time we take to the field, as we dangle precariously, this flat, tired share of the spoils has to be digested positively.
Reality is, we're a stronger unit nowadays, the Fulham of 5 weeks ago, even, would've pissed that point down the pan, however there's enormous improvements to our mentality, our psychology when things really aren't going our way, and that has to be observed and appreciated. Brighton were so close to finding a winner, they could almost touch it, although this side of Parker's was determined to spoil the occasion, to shit on the Seagulls' 99 Flake ice cream, and though we couldn't impose ourselves upon the game with certainty moving forward, our iron-willed refusal at the back was the perfect tonic.
Our cohesion dispersed between each department, vitality went wanting, but when we had to delve deep, and we ultimately prevailed honours even with a club that are also vying to kick-start their own season. Silver linings can come in all shapes, sizes, variants, and this will prove to be a very, very important result when the bell tolls. Remember, it could've very easily been a disheartening defeat, so before I sign off, I just want everyone to take a moment to gather a sense of clarity, perspective, because every once in a while we will have to suffer through these kind of disappointing, subdued performances but they're nothing to be dispirited by, not really. A point, no matter how it's gained, will still bolster our chances of staying put and if we have to surrender flare for unsightly fortitude, I'm satisfied.