Five Thoughts: Fulham 1-1 Liverpool
Written by Cameron Ramsey on 14th December 2020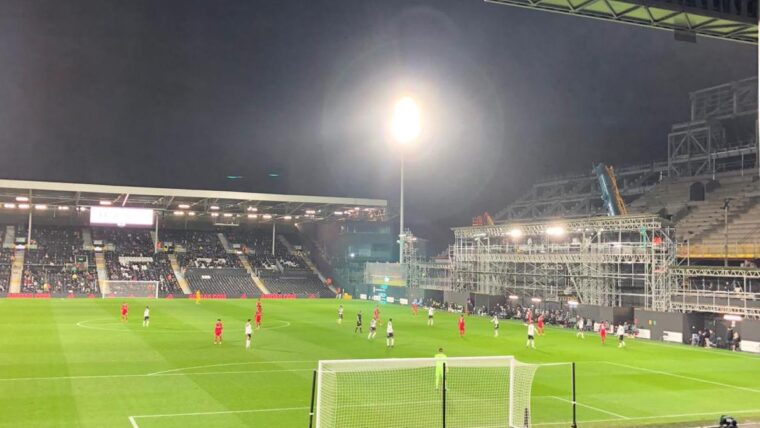 Jamie Carragher isn't a very good pundit and I hope this tremendous result had him spitting at civilians from his car window on the way home. Liverpool are the champions of England, quite literally, and they were humbled by Scott Parker's doomed Fulham, destined for the drop. Eat your words.

Whilst I'm at it, Jurgen Klopp is also a monumental prick. I apologise for the choice language, but you can't come out to an audience that watched Liverpool squirm and claim that Fulham were "lucky", when your lads fortuned from a gross lack of video intervention. He truly is an insufferable, classless con artist, not a shade on our "good looking", articulate gaffer.
Fulham prevailed from a string of three horrendous meetings with 4 points. That isn't relegation form, that smells like survival to me. Maybe I'm speaking way too soon, but I'm all about the vibes, so I'm gonna run with this feeling and stop at nothing. Next at the door, Brighton and Hove Albion. Keep that sofa warm, purchase that Waitrose own Victoria sponge, this season's kickin' off and now, everyone will want a slice of the action.
Togetherness & Tenacity
Embed from Getty Images
Parker's touted team spirit, a togetherness within the camp that differs wildly from the condemned atmosphere that poisoned our futile hopes two seasons ago, and as much as we wanted to believe in his outlook, talk is cheap, unless it's personified on the pitch come matchday. The gaffer talks of unity, positive attitudes, and at the beginning of the campaign I'd discarded his idealistic slant as drivel, utter nonsense, but from what I've seen in the past three weeks, against teams that should've hung us out to dry without remorse, this relegation-favoured club of ours is completely unrecognisable. We're here, we're resilient, and as Parker projects so ardently, we are prepared to do or die as a band of brothers.
Liverpool couldn't subdue our tenacity, our communion to the cause and this isn't sporadic, a spur of the moment mentality, this is an ethic Parker has brainwashed into his men, no challenge is too big, too impossible to undertake and overcome. We are the underdogs, eternally, but isn't that the very fabric that makes Fulham a convincing force to be reckoned with? The Merseysiders, Thameside, were under the impression that they could overpower the Whites, impound them, but they didn't anticipate the raw desire within. Snapping at heels, biting on the break, Fulham scaled a troublesome fixture with bravely, dauntlessly, and that intrepid morale stems from the tie clip fanatic himself, who battled endlessly in his playing career.
If we see this Fulham derivative every week from now on until May, we will pull away from the drop zone, leaving the stragglers in our rear-view mirror. We've an edge, an assertiveness that splits us from the squads that prop up the table below, and I genuinely believe that this set-up, with this outlook on life in the big time, will continue to learn, grow, and upset the apple cart. Is this the finished product? Not even close. We gave Liverpool a run for their money, jogging them back into reality with an abruptness that rattled Klopp's boys to fuckery, and if future opponent's fail to take us seriously, if their arrogance gets in the way of their rationality, they will be punished unceremoniously. This is Fulham, let's keep it that way.
Reid's Rocket
Embed from Getty Images
What I really want to know is where this sharp-shooting, prolific, defensive revelation of an imposter's come from. Reborn at right wing-back, Bobby Decordova-Reid has basically invented a position that only he can inhabit, his personal heat map indicates so, and whilst he's primarily deployed by Parker to shore up the right channel with a multifaceted application, the tireless 27-year-old's finely-tuned killer instinct in front of goal's remained a feature of his game and my gosh, didn't the Putney End's quivering goalmouth know about it.
Latching onto Ademola Lookman's cunning through ball, BDR readied himself to detonate. Cannoning off his right peg, the ball swirled across the target, passing Alisson at a breakneck speed and before the bearded 'keeper could even yelp in horror, our leading marksman, with many strings to his bow, had decimated the deadlock. Brimming with confidence, bathing in the form of his top-flight existence, "Descordova-Reid" registered his 4th of the campaign emphatically, you couldn't wish to assault the ball in a deadlier fashion and now he's got every striker in the division taking notes.
In retreat, camped in front of Ola Aina, the Jamaica international blockaded passing lanes along the right, smothering Andy Robertson and Sadio Mane, who barely limped out of first gear. Aware of his defensive accountability, BDR's concentration didn't dip and he was transfixed on the matter at hand. If he held his discipline, Liverpool would struggle to split through our stubborn shape, because he denied our guests with a customary work-rate that blanketed pockets that would've been vulnerable without his industry An embodiment to Parker's unified vision, BDR roamed his flank intently, setting the standard for all to follow, and whilst he was initially viewed as a useful rotational option, he's currently an invaluable mainstay with a unique aptitude, our encouraging, multi-functional Denis Odoi in the final third and beyond.
Keepers Cottage
Embed from Getty Images
If you're a keen lover of artistically outstanding goalkeeping displays, you'd have creamed your pants at the exploits on show between the sticks because both 'keepers, Alisson and Alphonse Areola, brought their very best to the Cottage. Liverpool's Brazilian first-choice is regarded as the best No.1 the Barclay's has to offer, however it Areola that duly received a raucous standing ovation from those lucky enough to witness his agile excellence in the flesh and, equally, from those that sampled the stopper's spellbinding mastery at home. Make no mistake, Areola is not a cheap Sergio Rico-shaped imitation, he's the real McCoy, which I imagine has nothing to do with crinkled crisps.
Throughout the game, Areola extended his expertise to thwart Liverpool but there was one stop in particular that plunged jaws to floorboards. Scrummed into a a prime, nailed-on scoring position, an unmarked Jordan Henderson unleashed from all but 10 yards or so, and an impromptu equaliser appeared inevitable. With the entire target at his mercy, Henderson's strike whistled towards Areola's right-hand side, Scousers shrieked in unison, although the Frenchman exceptional reactionary flick of the wrist halted the visitors' premature celebrations. A big palm, and in relation to the game's narrative, it was a massive, massive save. The Reds were surging, and if they'd have restored parity just after the hour mark, a ceaseless onslaught in the closing 30 minutes would have almost certainly ensued.
Beating away danger commandingly, organising his back line constantly, retrieving hoisted in-swingers with an unremitting fixation on the flight of the ball, Areola was poised, unperturbed, and as it's been for the duration of the campaign thus far, the Frenchman is without a doubt Fulham's consistent saving grace. On Marek Rodak's 24th birthday, Areola raised the bar to an elite height yet again and the young Slovakia international will surely acknowledge his teammate's unmistakable seniority. I seem to reserve a spot for Areola in every 5 Thoughts edition, it's gone way past the stage of favouritism. The Paris Saint-Germain loanee takes full responsibility for his actions, so my hands are subsequently tied in knots, knots that unravel themselves whenever Fulhamish's WordPress gets fired up for more keyboard bashing.
Lookman Deserves Hype
Embed from Getty Images
Another weekly shoo-in that's shrugged off his fair share of criticism recently, Lookman's accomplished outing against the Reds combined dynamism and tenacity, an energetic concoction with an everlasting potency and the visitors, though they struggled in vain, couldn't dilute the nimble attacker's unrelenting eagerness to press and probe. Once of Everton, Lookman seriously relished the prospect of hounding and haunting the Reds once more and all and for all the hype, exposure and expectation surrounding Trent Alexander-Arnold, the England international right-back's suspect defensive acumen was unmasked by the Red Bull Leipzig loanee's fleet-footed bursts and undetectable movement. The face of FIFA 21? Fraudulent.
Determined to chase loose balls, to hold up play under immense pressure, Lookman excelled in his offensive and defensive duties, safeguarding possession doggedly as support arrived and doubling up with Antonee Robinson to quell Curtis Jones and Salah along the left. The 23-year-old's diligence and both ends of the pitch impeded Liverpool's progression, coercing them into narrow cul-de-sacs where they had no option but to turn the convoy around, time and time again, and as much as BDR's unflagging yield's sparked a miniature revolution, Lookman's eager endeavour's reflected his reimagined teammate's flexible dedication and now, with sturdy, expansive wingbacks, our flanks are competitive, ambitious and aspiring. He freed Decordova-Reid for the opener, after all, so his impulsive ingenuity's not lost in translation amongst his colleagues.
His defensive understanding is developing rapidly and as an offensive presence, alongside Cav', he was a constant thorn in the sides of Joel Matip and Fabinho, versed patrolmen that laboured in their combined efforts to suppress Lookman. Dive bombing the chalky parameters, burrowing into advantageous areas along the byline, Lookman's reinstated impression was more than noticeable against Manchester City and now his significance is virtually indispensable. Mitro' honestly has his work cut out with rusty garden sheers if he's to dislodge Lookman and Cav's newly-formed partnership, a convertible versatility that has revitalised our impact on the break, accommodating qualities which the seemingly surplus Serb can't emulate alone.
Penalty Decision Bottled
Embed from Getty Images
WhatsApp groups popped off and all available social media platforms were split squarely down the middle as the Premier League's beloved 'top six' bias struck again with two contentious penalty shouts. One was given, the other dismissed, and there's no guessing to which team got spoon fed the officials' special treatment. The letter of the law states that a player's arms can't be above shoulder height and Aboubakar Kamara's, admittedly, were, although for a human to physically defy gravity, to levitate, they have to generate a certain amount of thrust and that, biomechanically, requires a certain degree of leverage from one's arms. Those are the rules, I'm aware of just how finite the margin between legal and illegal conduct is, but it's a crippling axe to the delicates nonetheless and I can't help but feel that the Whites were, well, robbed in plain sight.
The debate engulfing VAR will never cease. Is it or is it not a worthwhile, conclusive tool that we should trust, given that we can quite capably differentiate between reason and circumstance? Fabinho crowbarred himself under Cavaleiro and made visible contact with what would be the winger's standing leg. From each angle broadcast, there was more than enough evidence to suggest that Cav' had been upended by the Brazilian and if I'm not mistaken, that is the very definition of a penalty. It was minimal, and needed a lengthy break in proceedings to justify the outcome via VAR's condemning footage, but Andre Marriner's defining decision was ill-advised and groundless. As stunned as us all, even Graeme Souness dirtied the referee's illusory settlement, and he's a top-shelf chopper, so quite clearly the attention seeking official's verdict didn't quite add up. Some claim it wasn't a foul, others insist the opposite, and after reviewing the footage tome and time again, I can't begin to convince myself that it is anything but a nailed on spot kick.
Premier League referees want to be the star of the show. In the Championship, officials make disconcerting calls and judgements because they are, more or less, ordinary people that can and will make mistakes without the aid and get-out of video assisted refereeing. A ref will stick to their guns, they are in charge, and to have technology question your authority is ludicrously dishonourable, in Marriner's glazed over eyes, anyway. I doubt he would've changed his mind if he'd analysed AK47's misdemeanour, but the pitch-side 30 inch plasma screen wasn't even consulted and at first glance, as it happened, it wasn't necessarily clear and obvious. Kamara's arms protruded slightly, but they weren't flailing erratically, they were effectively glued to his chest and that should've been seen as a conscious effort to minimise his frame, whilst jumping as naturally as any living, breathing person's expected. I'm elated by the result, although I'm aggrieved by Marriner's adjudication upon game-determining instances that required acute measures of reflection, scrutiny and consideration.