Five Thoughts: Fulham 2-0 West Bromwich Albion
Written by Cameron Ramsey on 3rd November 2020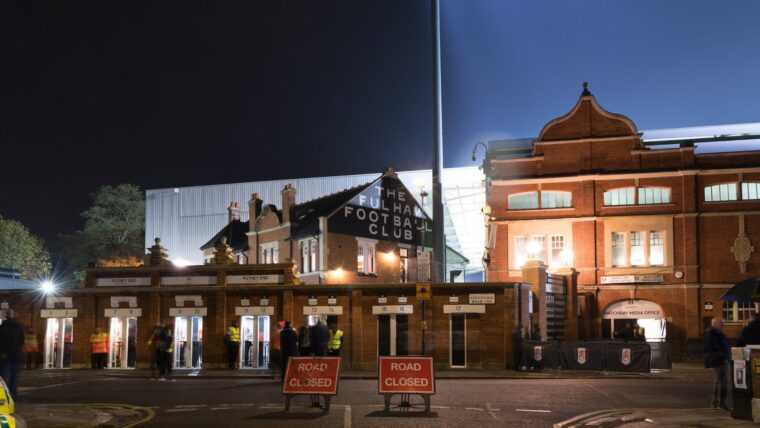 Three points, a clean sheet and nothing but good vibes, that's what Fulham's crunch victory over West Bromwich Albion is all about. We've been waiting patiently for Scott Parker's men to explode into action in the Premier League and on Monday, with Bonfire Night in the near distance, we were treated to a top-flight cracker.

The Baggies had reason to be optimistic before kick-off. With three points on the board, an away win in SW6 would hoist them out of the drop zone, however the Whites also had a score to settle. The visitors rattled the crossbar and fired wide of the mark by a matter of inches in the first half, but they were powerless in their futile quest to salvage reward, as Fulham came to life.
Every meeting will test Fulham and push them to their limits, and I'm under no false illusion that this win, as pleasing as it may be, is the answer to our woes. We've a troublesome road ahead in the coming weeks, a segment of games where we will befall hardship as well as fortuity but for now, we've earned the right to bask in the glow of this big, big dub. Sitting pretty in 17th, come on you Whites!
Hunting in Packs
Blood-thirsty, befittingly after Halloween, Fulham morphed into a new, frightening beast on the banks of the Thames against Slaven Bilic's endangered Baggies and the fast-flowing, cutthroat potential this squad possesses finally came to light. From start to finish, back to front, flank to flank, the Whites were enchanting and as West Brom mustered the courage to retaliate, we only tightened our grip. Screws turned, scruffs clenched, no resistive power imaginable could prevent the hosts from claiming three points and a first shut out of the season. Like evil villains glued to the crystal ball, we cackled as Parker's crazed cohort prayed upon our guests' distress, a rampantly satisfying torture, cruelly devised.
Hunting in packs, penning West Brom into corners with no escape, Fulham executed their forceful game plan with paramount perfection. Mario Lemina's eyes were fixed firmly on progression, Andre-Frank Zambo Anguissa – barring the odd unruly pass here and there – tampered with the visitors' composition and Tom Cairney's ingenuity was unrivalled. We'll laud TC's enterprise further in a little while, honest, but the engine room, as it should be, was the catalyst behind our offensive obsession, and once Harrison Reed entered the fray, our middle third was locked and secured whilst tolerating West Brom's malleable advancements. Defence coincided with midfield, midfield collaborated with attack, and with a unified understanding between each department, Fulham were too hot to handle.
That undying brand of attitude and firmness of purpose will alter our fortunes greatly as the campaign thickens. If we oppose every game from now on with the hungry, insatiable application we exhibited, we have a fighting chance in this division. Without getting too carried away, as it is only a triumph against fellow relegation elects West Brom, that 90 minutes was still very much worthy of the Barclay's, and each point, every singular shred belief is crucial. Despite what the critics and pundits say, there's life in this bedevilled club of ours and the quality within our ranks is equipped and prepared to draw swords against the very best. Prolonging the positivity is the only factor that will hold this camp back, but now we have solid grounds to build upon.
Embed from Getty Images
Mitro, the Creator
In one way or another, Aleksandar Mitrovic's presence will attract goals. He didn't beat Sam Johnstone himself, although he was convincingly involved in both of Fulham's first-half strikes and while his primary purpose is to bulge nets, his secondary duty is to supply, it seems. Midway through the opening 45, Mitro greeted Antonee Robinson's tempting cross from the left and he unselfishly hung a back-stick assist for Bobby Decordova-Reid's nodded opener. Interlinking with BDR on the parameter of the penalty area, the Serb served Ola Aina with a deft dab, and the Nigeria international rounded off the move with deadly acuteness. Two assists, that's an invaluable return for the hitman and it proves that he's more than just an arrow in the crossbow.
He won't have things all his own way this season, more often than not he'll meet his physical equivalent, but he's growing with that circumstantial challenge. He's grafting harder in order to guard the ball and that enables our system to construct meaningful sequences in the final third. Without a credible target man, we cannot establish ourselves as a genuine threat and his output, as common place as it may appear to the naked eye, set us apart from the Baggies when it mattered. Branislav Ivanovic and Semi Ajayi got touch tight and Mitro set pre-mediated traps, luring West Brom's defence into vulnerability.
Harry Kane, revered for his deadly exploits, is now Tottenham Hotspur's provider in chief and Mitro', cut from similar material, was the stitching between each vital instance that smothered the Baggies. He's due a prolific flurry, a striker of his calibre will suddenly stumble into form and though he's snatched at open opportunities in recent meetings, his relevance is prevalent and he's developing into an auxiliary playmaker, as he takes an impromptu break from the starring role. That, ladies and gentlemen, is not good news for the rest of the top-flight, because we now have an indomitable hitman with a refined perception of motive.
Fullbacks' Premier Impact
Throw down the red carpet for Aina and Robinson, if you please. Both fullbacks performed admirably along the right and left respectively, holding Grady Diangana and Matheus Pereira under close quarantine, leaving no guesses as to who were the premier duo on show. A prototype of what's to come, both need to improve in certain aspects although early signs are reassuring, because they're happy to commit themselves, taking full responsibility for their actions defensively and offensively.
Robinson manufactured another MOTM performance along the left, efficient and merciless, and his relationship with Ademola Lookman is becoming systematic. The 23-year-old has the pace and athleticism to prosper and he's keeping Joe Bryan out of the starting XI, which is testament to the desire and promise within the USMT representative. He's sensible in possession and supportive wherever required and his intimidating yield suppressed the Baggies' opposite numbers. He's rich in footballing intelligence and his final product's a wholesale hit.
We now turn our attention to Aina, who bounced back following a subpar afternoon against Crystal Palace nine days prior. Defensively, Aina's the weaker of the two but like Robinson, his work-rate is commendable and that atones for ultra-fine inadequacies. Moving forward, he's making a nuisance of himself and as he's perceived to be a winger by trade, sporadic offensive flare is a feature of his game. When you can spank a ball as viciously as he did on the half-hour mark, why be modest? It was intentional, from the moment he steadied himself his laces were trembling and now he's opened his account, I'm expecting even more investment from the former Chelsea prospect. There's plausible balance along the channels and we're becoming a stubborn outfit to break down and resist as a result.
Embed from Getty Images
Cairney's Finest Form
Oh, what a delightful sight to behold, Cairney picking the ball up in oncoming traffic and navigating out of one-way streets swiftly and effectively. Aspersions have rightfully been cast over skipper's dedication, he drifts in and out of form so regularly we forget just how spectacular he is but TC got back to what he does best in some style. The Baggies couldn't contain his eagerness to engineer, he was sharp and aware, and for what it's worth the 29-year-old – when he's in his stimulating element – is low-key the best No.10 this division has to offer. No bias intended, but only we can truly appreciate his unique aptitude and we're inclined to rave about it as and when we deem necessary.
Side shuffling swapped for clinical incision, his input split the divide between mastery and mediocrity. Settling and initiating the tempo with seamless precision, the game's entirety was inspected and approved by the overlooked Scotland international and his influence was enduring. Jake Livermore reverted to cynical lunges, Conor Gallagher wished he was back in Cobham and Filip Krovinović couldn't reflect our trend setter's bold dynamism. Poetic, symbolic of his artistry, Cairney produced some of his finest work on an occasion that demanded perfection.
Fancy footwork, practical insertions with the ball at his feet, TC clearly enjoyed himself within the centre of the park and like a proud parent, we revel in it. Amid the craftsmanship, he nearly lodged a third for Fulham with a sculpted effort, but it was not to be. The standout performer, Cairney reigned supreme and was virtually untouchable with various flicks, nudges and pirouettes, all expertly implemented to his side's benefit. As part of a double pivot, he's wasted. As a free-formed protagonist behind Mitro, Cairney writes his own script and plays by his own self-inclusive rules.
Andersen's Assured Debut
Propped up on the sofa with a flexicast, taking in last week's Champions League offerings, Joachim Andersen's social media posts suggested that the Danish centre-half would be out of action for at least a few more weeks yet, although to our delight, we witnessed the strapping 24-year-old make his Premier League bow alongside Tosin Adarabioyo and now we're baying for his next appearance to grace our screens. Defensive frailties have tormented our overall performances of late, although with Andersen banishing impending disasters with an elite sense of authority, Fulham held firm to record a highly coveted and confidence boosting clean sheet.
Ruthless in 50/50s, despite his debatable fitness status, practical with the ball in his custody and willing to lump it clear when necessary, Andersen did all that expected from a centre-back, without being needlessly expressive and excessive. For pace, he was caught out, but we can excuse that because he's obviously not 100% and his positional consciousness ultimately halted West Brom's counters. Competing against Europe's elite last season for Olympique Lyonnais in the Champions League, that experience is going to pay dividends and if we're destined for a season-long scrap for survival, we can count on the Dane.
Andersen conducted himself bravely in an unknown environment. He and Adarabioyo functioned with stability, reason and as a central pairing, they comprised an ideal blend of grit and guile. Centre-halves have to be comfortable under pressure, whilst asserting their command – Andersen brings both defining attributes to the table, a perfect debut, you could say, and I'm intrigued to see how he adapts to life in the big time after showcasing his exemplary credentials at half of his expected capacity.