Five Thoughts: Wolverhampton Wanderers 1-0 Fulham
Written by Cameron Ramsey on 5th October 2020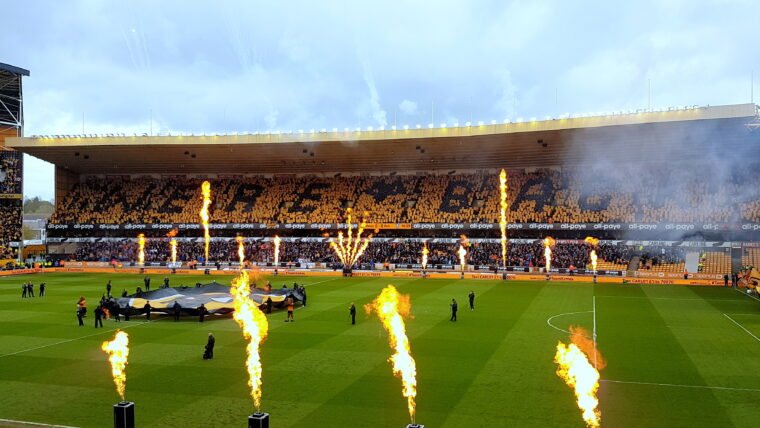 Improvements. That's the flavour of this write-up following Fulham's 1-0 loss against Wolverhampton Wanderers and though we're bottom, without a point to our name, we should be nicely satisfied with the camp's honest, resurgent reaction at Molineux.

Scott Parker's Whites are perceived to be the resident whipping boys and this goes out to Jamie Carragher in particular: Jamie, mate, you can't honestly say shit after your beloved Liverpool got pumped 7-2 by Aston Villa, so with a defence as shoddy as the Reds, are they also destined for the drop? "Erm" your way out of this one because from where I'm standing, Everton are the team to beat.
I've been less than impressed by Fulham's start, we've barely even limped out of the traps, although our combined display against Nuno Espirito Santo's aspirational set-up eclipses the humiliating gangbangs Manchester United and the hapless title holders endured on Super Sunday so with this in mind, even from a relegation candidate's perspective, the footballing world is laughing raucously upon Manchester and Merseyside and that, fundamentally, is the danger of opening your trap far too soon. Mic dropped.
Praise the Shape
Our collective shape in our previous three outings has been an stinging insult to the professional game and Wolves would've rightfully been licking their lips prior to kick-off but, miraculously, Fulham's overall discipline and organisation was strong and satisfactory. Muzzling Raul Jimenez and is offensive musketeers is a perilous ordeal, they terrorise even the most regimented of back fours although Tim Ream and Maxime Le Marchand, for the most part, handled and administered their respective duties with an ever-constant vigilance. A sturdy spine is paramount, if Wolves dislodged our central pairing, carnage could've ensued but as a unit, the Whites were a rigid, firm conundrum for the hosts to contend with.
Jimenez did get in behind, although it wasn't as frequently as he would have desired, that's for sure. Le Marchand is not who I'd hope to see on the team sheet, particularly in the top-flight, but I was pleasantly surprised by his defensive understanding against a selection of the Premier League's deadliest hitmen. Michael Hector's been a weak link, his irrational decision making has scuppered our chances in previous meetings and, whilst we certainly require further reinforcements, MLM gave a positive account of himself and his ardent cult social media following will be beaming from ear to ear. It took Wolves 56 minutes to breach the poorest defence in the league, after all, so that's got to be a massive plus, right?
On the ball at the back, the Whites stuck with their measured, patient approach and Wolves, though they pressed, couldn't ambush the Whites into careless, negligent mistakes. Wolves' goal was expertly dispatched by Neto, there's not a lot you can do with a strike that sweet, but the effort and determination was certainly apparent from a defensive perspective and that has to be appreciated. We weren't squeaky clean, we're still sitting ducks in the company we keep, although there's credible reasons to be chipper because our concentration and structure didn't diminish after going a goal down. If anything, we regrouped and refortified, against Arsenal, for example, we would've capitulated but that defeatist, subservient mentality simply doesn't work, not at any level, so it's about time we changed our attitude to losing positions, as we'll find ourselves there many, many more times as the season progresses.
Embed from Getty Images
Applauding Areola's Efforts
Upon his arrival, I penned a piece outlining how important Alphonse Areola will be to our survival hopes this season and I'd like to think his admirable performance did that article justice. We lost, of course, but without him between the sticks, the final result would have resembled a cricket score. There's nothing to say Marek Rodak couldn't thrive in this division, I'm very sure he'd flourish, however the Paris Saint-Germain loanee definitely exemplified his class and calibre at Molineux and as he acclimatises further to his new surroundings, as his relationship with the defensive department develops, his quick-fire exploits will act as a springboard for favourable results.
The Frenchman retrieved crosses and set-pieces with authority amid a congested penalty area, his communication aided our awareness both on and off the ball and when he was called into action, he delivered. A supreme double save in the first-half kept us in the game, his reflexes and reactions were razor sharp and, just before Wolves eventually netted the opener, he stood his ground to deny Jimenez after Le Marchand was overpowered by the Mexican striker. Those instances are game changing, point salvaging moments and the fact we fell to another defeat, when a draw was fully deserved, is an injustice.
This season, we don't want another rerun of the 2018-19 campaign where we chopped and changed our matchday stoppers indiscriminately. Sympathise with Areola, he's gone from Sergio Ramos and Raphael Varane to Ream and MLM, etcetera, in a matter of months but this is a challenge that will fine-tune his skill set. We will conceded multiple goals this term, that's a given, but from what I've seen of Areola thus far, we're in very capable hands and with his presence behind our back line, we should operate as a unified, functional unit.
Robinson's Accomplished Debut
A Premier League debut, what a daunting occasion. Antonee "Jedi" Robinson accompanied Joe Bryan along the left channel and, though he was a member of a Wigan Athletic squad that was ejected from the Championship last term, he swatted off the pressure of a first top-flight start with an accomplished performance. Acting as an overlapping left-back should (take notes, Joe), the hot-footed American motored his channel with an intensity that complimented the Premier League and now, with Bryan in an advanced position, I believe we've finally banished a left-sided dilemma that's raged for years.
Wishful, I know, but Robinson is that missing piece we've pined after. He explored his touchline with an energy that surpassed Ivan Cavaleiro's muted work-rate, a persistence that unsettled Nelson Semedo and his incisive, surging runs injected a vibrant purpose into our attacks. With the ball in his custody, the 23-year-old was forward thinking, progressive, but he didn't act illogically. Picking his moments wisely, Robinson contributed to Fulham's crafted spells in possession competently, without hindering his teammates in the same way Denis Odoi would with those impulsive bursts of his. For comparative purposes, Robinson is a better option than Odoi and defensively, he's a class above Bryan, too.
What I was really fond of, though, was the harmonious connection Robinson and Bryan clearly have between one another. Bryan isn't a naturally gifted left-back, although he is one by trade and that ingrained defensive intuition supported Robinson's inclination to drive forward. Forming an alliance, Bryan covered his colleague whilst withstanding Wolves' controlled sequences and on the break, Robinson assisted wherever possible with distracting movement and profitable interchanges. Bryan's a left winger and he starts every game in that berth from now on and as for Robinson, after Sunday's efficient outing, he's the only name I want to see along the left side of our back four from this moment onward, because his eagerness, enthusiasm and intelligence, in all aspects of his game, was wholly revitalising.
Embed from Getty Images
Dormant Killer Instinct
So, organisationally we were compact, our defensive willpower was commendable but offensively, when we required a little extra spark, we're still a work in progress. Fulham distributed 524 passes to Wolves' 478 and though the hosts only bulged the back of the net once, they carried a tangible threat on the break and worked the 'keeper with slick, convincing phases. The Whites prefer to dictate possession, which is a sensible disposition in the Premier League but there has to be an end product, a killer instinct. In the 67th minute, however, the narrative altered in the Whites' favour due to one highly necessary substitution.
We were still relevant, marginally, before Ademola Lookman skipped to the turf but like he did against Brentford from the bench on Thursday, the electrifying Red Bull Leipzig loanee pumped an intensity into Fulham's counter attacks and his swift, undetectable movement startled Wolves. Inspiring rapid transitions on the counter, Lookman weaved from traffic and triggered the Whites' golden opportunity. Threading Aleksandar Mitrovic into open space, the Serb' shuffled goal bound and nudged Aboubakar Kamara into a prime scoring position but the self-professed weapon's tame effort rolled harmlessly into Rui Patricio's gloves. If it were AK47 squaring to Mitro' we would have a point on the board and that's the critical nub of this particular subsection.
Lookman manufactured ammunition for our leading marksmen and in a rare moment where we carved our way into a routine striking zone, we stuttered under the weight of expectation. If we don't capitalise on these chances when they're presented to us so obediently, we deserve to be rock bottom. There's genuine quality within our ranks but to be painfully goal-shy and tentative in the conception of clear-cut chances is completely reprehensible. We rely on Mitro' in the final third and Abou's not clinical enough to be taken seriously, so we're extremely limited where natural-born finishers are concerned. Lessons will be learned over the coming fortnight and if there's one player to examine and emulate, it's Lookman. He's impacted games in cameo roles and has put Anthony Knockaert and Cav' to shame in the process, eclipsing the wasteful duo's accomplishments in just over an hour's worth of game time. The vibrant 22-year-old has fought his corner, he has to start against Sheffield United.
Primed Midfield Partnership
What is our best midfield partnership? That's a quandary Parker will have to mull over before our trip to Bramall Lane but in the Black Country, Tom Cairney and Andre-Frank Zambo Anguissa staked their claim with a cooperative performance that stayed afloat amongst Wolves' esteemed midfield department. Primed for action, TC and Zambo supervised Fulham's timely spells on the ball and buttressed our structure whilst retaining Wolves' advancements. As a pairing, it was cohesive and persuasive, an ideal mixture of creativity and athleticism and those qualities made it difficult for Ruben Neves and Leander Dendoncker to operate.
Anguissa oozes class and command. The Cameroon international bullied Wolves' middle men and was unfazed in possession – in truth, it's not really about finding a perfect double pivot, it's actually a matter of pinpointing who's good enough to join our adept midfield general in the weekly starting XI. Cairney's form drifts in and out of kilter sporadically but with showings such as the one he displayed at Wolves, how can we deny him the privilege once we meet the Blades in two weeks time? Efficient, methodical, the 29-year-old craftsman pulled Wolves out of sync and meshed our game plan together, spreading and steadying play with an observant sensibility.
Ultimately, with Zambo and TC orchestrating in unison, Fulham's stratagem was attractive and balanced. Cairney highlighted why he's still our head visionary honcho Zambo behaved like an aircraft carrier with the precision of an F1 car. Harrison Reed will offer an unparalleled defensive nous that only he can provide, Mario Lemina will bestow an aggression and Joshua Onomah will extend TC's enterprise, albeit with a rough-and-ready rawness. Transfer Deadline Day could bring us further additions, some of which may come to SW6 with the intention to start matches unconditionally but as it stands, as I write this paragraph, we've options that are clearly equipped to participate at this level, it's just a question of who and in what particular order of choice.