Five Thoughts: Fulham 1-2 Cardiff City (3-2)
Written by Cameron Ramsey on 1st August 2020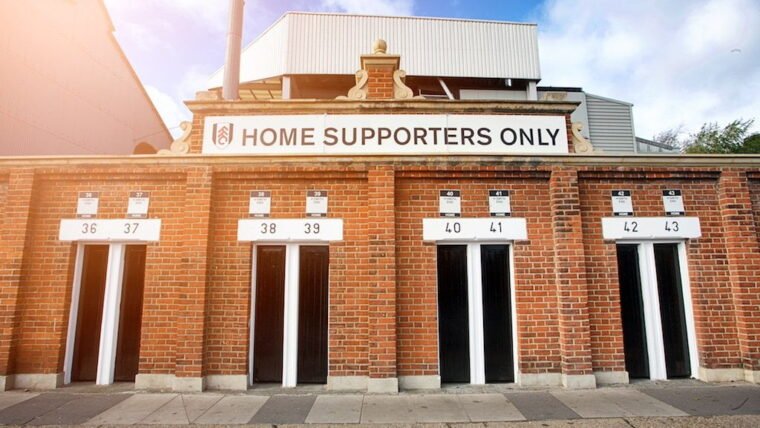 Cardiff City travelled easterly from Wales' capital to England's with one core motivation in mind. Humbled in their own back yard, Neil Harris encouraged his fold to take nothing for granted and to express themselves and to their credit, they conducted themselves superbly. 2-1 on the night to the Bluebirds, 3-2 on aggregate to Fulham, both squads portrayed their best and their worst in a riveting Play-Off semi-final face-off.

Played at a frantic tempo, Thursday's encounter hosted every emotion known to the senses. Despair was cancelled out by jubilation, doubt was veiled by optimism and whilst we lost, we won. That is all that matters. The Whites rallied under tension, Cardiff flaunted the cutlass but we are off to Wembley.
One more dance with fate, that's all that stands between us and the Premier League. Brentford will feel this is their time to evolve, although after a dismal 2017-18 campaign in the top-flight, we have a substantial score to settle. Questions will be asked, maybes and what ifs will be pondered upon but now, more than ever, living in the moment is golden. We're here, we've made it this far, so let's look forward to one last crack of the whip under the planet's most famous sporting arch. Come on you Whites!
Counting On Commitment
Under immense pressure, knowing that one slip in the closing stages could be fatal, Fulham puffed out their collective chest, locked horns and deflected Cardiff's incessant onslaught on our 18-yard box. A convincing force in the first-half, the Whites felt the heat after the interval and were taken hostage by the visitors. The Bluebirds had nothing to lose and found another level to their game, infiltrating and bombarding the penalty area with Sunday League-inspired long balls and lofty throw ins modelled on Rory Delap – doesn't sound effective in the modern game, although the Bluebirds are certainly masters of their policy.
Lee Tomlin turned home in the 47th minute after a corner pin balled in the 6-yard box and from that key instance onward, Fulham had a perilous task on their hands. Denying Cardiff burdened our philosophy, our defence has been unmasked many times this season due to similar strains and expectations to perform but cooperating as a unit, a stubbornly formed mechanism, we somehow, someway, survived to progress to Wembley Way once again. A mixture of heart, spirit and resolution thwarted the visitors, who paralleled our unyielding morale, although we dug extremely deep and did just enough to stifle our opponent's productivity.
Thursday evening was never going to be a gentle stroll through Bishops Park. Even before a ball was kicked the media, the fans, the engrossing atmosphere surrounding the encounter proposed a choppy, uneasy narrative. A rousing preview for the Sky Bet Championship, Fulham clamoured through adversity, much like we did against Derby County in the 2017-18 Play-Off campaign, to earn their place in the Final. It wasn't pretty, it wasn't comfortable, although after 180 minutes of gruelling football, we edged it. For a squad that's faltered, for a manager that's faced stinging criticism, Fulham, as a whole, advertised a resilience worthy of recognition and also a spot in the richest game in football.
Embed from Getty Images
Neeskens Strikes Again
The hottest attacker in world football turns heads and bulges nets in SW6 for Fulham. Rising from the fringes to the forefront of our offensive spearhead, Neeskens Kebano fixed another performance of regal supremacy to maintain our prevalence over two legs and his full, glowing potential has well and truly been awoken. Though he trudged off at half-time clutching an ice bag to his hamstring, the DR Congo international was the catalyst behind our cause and his inclusion on Tuesday evening will be essential.
Terrorising Leandro Bacuna, as he did in the first leg, Kebano roamed the left channel with a liveliness, a spring in his step that is completely unplayable. Rather than shirking a foot race, Kebano relishes one-on-ones with the byline in sight and in order to stamp out his influence, Cardiff stuck two men on him and in Aleksandar Mitrovic's absence, the 28-year-old was evidently the man the visitors were wary of. He's fashioned a capability to heighten the tempo in the flick of a switch and now he's incorporated a deadly prowess to his game, Cardiff were right to be cautious.
No more than 20-odd seconds after Cardiff lodged the opener, Fulham responded. Wasting no time to collect their composure, the Whites engulfed Cardiff with sharp interchanges and with tempting pockets to inhabit within the penalty area, Kebano made his move. Bobby Decordova-Reid whipped an enticing ball inbound from the right and from the opposite side, Kebano ghosted into a prime scoring position and with one deft flick, parity was restored. That's a new feature of his craft, he's now drifting into menacing zones from the flanks and as we knew he could be, he's a hazardously proficient deadeye in front of the target.
AK47's Explosive Outing
Our left side was where we were creating chances throughout the evening and entering the fray in place of Kebano, Aboubakar Kamara added raw intensity to our attack and Cardiff didn't know how to handle him on the break. Graced with blistering pace, AK47 churned up turf and charged with a threatening motive and if it wasn't for Smithies, the bamboozling Frechman would've laced a seriously impressive brace.
Abou' shifted in from wide and swung his right boot at ball, twice, and on both occasions, the Bluebirds' stopper derailed the makeshift striker's celebrations with two outstretched fingertip saves. The strikes were ferocious and the reward was justified but Smithies wasn't caught napping, he was primed and ready. Kamara stepped into Kebano's shoes and altered our offensive phases from sluggish to searing and if we're in need of an injection of power, he's our go-to option.
Over the years, Kamara's developed into a beneficial team member, banishing the days where gaffed first-touches and wayward efforts from advantageous vantage points. Built like an Olympic sprinter, Abou' nudged the ball into vacant quadrants and hared after it, leaving ill-equipped defenders trailing in his wake. Cutting inside, biding his time, the 23-year-old flashed in crosses – one of which was diverted behind by Curtis Nelson – tested the target and utilised the afterburners to stretch Cardiff's rearguard and without that impulsiveness, Fulham would've been penned into their own half for the long-haul He may not be a secret weapon but he's a destructive option, so I fancy an explosive appearance from the bench at Wembley.
Embed from Getty Images
Rodak's Defining Moment
He'd be disappointed to conceded two goals, any 'keeper would be, although Marek Rodak should be ecstatic with his distinguished outing between the sticks down by the river. Cardiff's stopper won notable plaudits and so did our Slovakian first-choice because without his match-saving agility, we would've surely fallen short of the mark. In both legs, in fact, Rodak's alertness preserved our foothold but in the second 45 at the Cottage, he showcased why he's the division's best in his department.
Lanky striker Robert Glatzel fired from close range, a goal and extra-time was imminent, but Rody dropped to the deck to rebuff the German's effort and seconds later, Will Vaulks unleashed a treacherous half-volley from just inside the 18. Clambering to his feet following his initial stop, Rodak sprung into action again to tip the Welshman's projectile away from his top right corner, a phenomenal double save that's simplistically ordinary by his peerless standards.
His distribution still needs a little TLC, perhaps he could command his box with a touch more authority at set-pieces but for reflexes, for point-blank reactions, there is nobody better at this level than Rodak. A sturdy 'keeper isn't a given, they're relatively hard to come by, but I'd say our academy graduate's the closest we've had to a complete goal mouth guardian since Mark Schwarzer. We've many players that are capable of scoring at one end, although we've only one individual that's qualified to spare blushes at the other. He's a remarkable talent and hopefully we've many more years of his dedicated services ahead of us yet.
One Final Dance
You've got to be kidding. A west-London Derby at the home of English football with no fans in attendance? I know we're still effectively within the Jaws of a global pandemic, but they could let us off for one evening, couldn't they? Brentford are the new kids on the block in terms of Premier League contention and they've earned the right to be where they are today. Take nothing away from the rivalry between both clubs, but the Bees will bring a style of play that's destined for bigger and better things, but it's up to us to negate their blueprints with our own infectious programme.
I say infectious, but that's only on the odd occasion and Tuesday evening will not cater for conserved patterns and muted spells on the counter – we must equal Brentford's enthusiasm if we're to proceed to the top-flight. Having said that, there's no clear favourite for me. Before Brentford switched on the style on Wednesday, they're lost 3 consecutive matches. Prior to our defeat against Cardiff, Fulham were unbeaten in 8 and now, with lessens learned, both camps will take to the turf with valid points to prove. A coin toss, or "toin coss" as Parker put it so eloquently to Sky Sports, but the odds are split straight down the middle.
Thomas Frank's the local villain, the snarky, arrogant Dane talks a good game but he also gets the very best out of his men, and they administer some of the most eye-catching football I've seen since Slavisa Jokanovic's promotion-clinching class of 2018. We have to tread carefully. Parker's fair assessment following Thursday's defeat was sobering and mature, he admitted our flaws but recognised our strengths, deliberating between each and every hindrance and advantage. We have work to do on the training field but Brentford's recent abject run of form would indicate that they also have cracks to fill, too. The Bees may hold the bragging rights where our previous meetings are concerned, but they're not impenetrable and these one-off showdowns at Wembley never follows a script.