Five Thoughts: Wigan Athletic 1-1 Fulham
Written by Cameron Ramsey on 23rd July 2020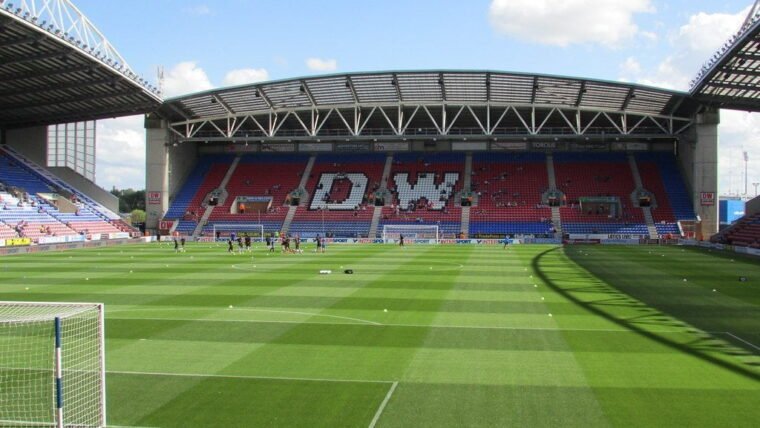 Following weeks of will we, won't we podcasts, articles and pub talk, which has only just returned to its rightful habitat, our fate is finally signed and stamped. The Play-Offs will not be the same without a potential day out at Wembley lurking in the shadows but it's a nano-competition that's just so, enthralling.

Paul Cook's a football man and his lads did him a solid with their performance – whatever happens to them, I sincerely hope they regroup next season and hit the ground running. Scott Parker's Whites needed a push start and a firm kick up the arse at the DW Stadium and a 1-1 draw is the very most we deserved. Casting other games aside to focus on ours for a split second, we were pretty darn awful.
Fix up, look sharp, Cardiff City slunk into the top six like a slippery fox in the night and they're chomping for an instant return to the big time. I've suddenly had a big rush of f*ck it surge through my veins and now I don't care about what could have been, what still might be, I just want our boys to bow out or reign supreme with dignity, wholesome, appeasing dignity. Our summer starts here, queue the raging hangovers, convene the White Wall from your sofa, viva el Fulham and get up you shaggers!
Parker Ball Stinks
Begrudgingly, I should be used to this by now, although I can't help but loathe the manner in which Parker approaches "must win" games. When winning matters, Fulham tend to fumble possession like a virgin teenager, face to face with the dreadful task off freeing those pesky bra straps. We had to rely on foes and relegation candidates to do the business on our behalf, so Wednesday evening's outcome was way out of our hands, but a win on the final scheduled matchday before the Play-Offs kick off would've sufficed perfectly. Credit and commiserations to Wigan, they really should've blown the Whites out of Greater Manchester with a convincing victory.
Parker's a real stickler for shy, reluctant football and I'm exhausted, our set-up is laden with electrifying offensive weapons and ingenious creative innovators but we're insufferably negative. For the most, the match narrative screamed West Brom away, another prime occasion to turn up the heat with a convincing performance, scuppered by tepid, basic patterns of play, accompanied by a sedate tempo that lulls us into a penetrable stupor. What does he really see in his squad's hesitancy? It's not progressive, it's not productive, it's wildly disconcerting and an insult to the brand we flaunted in a vibrant time that's wistfully passed us by.
This is his first full campaign in charge of a first-team fold and there'll be many more questions asked of his competencies, but for all the backlash he's received in relation to his strategic implementations, Parker really hasn't mastered any new tricks. We can't dictate games like we used to, we're incapable of reaching full capacity, and when we're searching, or scrounging, for inroads to expedition in our sequences, we're passive, alarmingly passive. An element of caution has to be observed against Cardiff, that's a given, but I'd love a hefty chunk of that constrictive care to be chopped up for the pigs. If we allow the Bluebirds to swallow us up like Wigan did, we're in a world full of self-inflicted shit.
Embed from Getty Images
Nowt Going Forward
I kind of touched on this in the above and I just want to excavate it further for the sake of deliberation and, most importantly, because it's completely ridiculous that a club with Fulham's imposing offensive weapons can't seem to find the back of the net. Yeah, we rattled home 5 against Sheffield Wednesday, but that was an anomaly and I won't be hoodwinked. I suffer with writer's block and it appears our attacking department does as well, although I still like to think my final product packs more punch than the drivel we assemble on the break, and I chat utter horse 24/7.
Anthony Knockaert, versed at this level, consistently trips over his own legs whilst weaving into absolutely nowhere and Antonee Robinson, the one-time AC Milan nearly man, stuffed the Frenchman in his pocket. One potential outlet, neutralised. Aleksandar Mitrovic, indomitably physical 95% of the time, couldn't get the better of Cedric Kipre and Leon Balogun, who held the striker under close quarantine throughout. Our only shining light going forward came in the shape of Neeskens Kebano, but he has his own section, so we'll skip him for now.
When we turned possession over with pastures ahead, we idled, a Sunday morning driver's attitude to swift, punctual counters and circumstantial urgency. Aboubakar Kamara was introduced too late in the day, Bobby Decordova-Reid couldn't adapt to the game's unbalanced cadence, it was far too easy for Wigan to absorb our delayed attacks but that's simply routine for virtually every opponent we've eyeballed, gingerly, this term. Throw us a frickin bone, we're starved of excitement and enthusiasm over here.
Mr Whippy Kebano
A few weeks back, Kebano would've been a very unlikely source of salvation but this, this is Kebano's world and we're blessed to be a part of it. Fleet-footed, oozing intent, the 28-year-old raised his sword and brandished it at Nathan Byrne and the fullback, though he tried oh so very hard, couldn't mute the energetic winger whatsoever. I had to catch my breath after Kebano moved possession, keeping up with his movement was near impossible.
Tracking back, naturally, probably isn't part of his repertoire and he didn't support Joe Bryan as much as he should have but let's be fair, Kebano would have been doing most of the defending if he was side-by-side with the suspect left-back, anyway. Surging forward, that's where we want to see the DR Congo international and he's been an invigorating phenomenon in our last two meetings. Makes you wonder why we hadn't seen a terrible amount of him before his start against the Owls. Incidentally, I'd said a few weeks back that Kebano's not equipped for a starting spot and that he's much better suited as an impact sub, the Erik Nevland of the wings – what the hell do I know, eh?
An impact, however, is exactly what he brought to the table in the 49th minute and I must say, I'm a massive fan of that bins-whacking technique of his. David Marshall clapped his gloves, glared the marksman down and froze as Kebano stroked a sumptuous free-kick into the postage stamp. One under, one up, he's got this dead ball wizardry on lock. Parity restored by a masterstroke, Kebano's miniature Renaissance in SW6 is making waves in our artless attack and Ivan Cavaleiro is right to look over his shoulder. Tumbling down the pecking order, the Portuguese winger has serious work to do if he's to knock king Kebano from his newly-claimed throne.
Embed from Getty Images
Inferior Without Reed
That red card Harrison Reed picked up against Wednesday definitely hindered us centrally because Fulham were poor and totally inferior without the Southampton loanee's astute defensive expertise. Our midfield trio of Harry Arter, Tom Cairney and Joshua Onomah was deprived of order and stability, attributes only Reed can provide, and Wigan weaved through our disjointed spine undeterred. Lacking Reed's positional awareness, Fulham's ill-discipline very nearly earned us a night in the stocks as the Latics flooded the middle of the park.
Water's wet and Arter charged after sole plates in his usual nomadic fashion and though Onomah's viewed to be an all rounder, the Republic of Ireland midfielder's immobility suggests he should camp in front of our back four. He didn't sit deep, he got carried away whilst closing the ball and that negated his colleagues' formative objectives. Arter partnered Cairney just ahead of Michael Hector and Tim Ream but one's got to stick, someone has to emulate Reed's influence and out of TC and Arter, the latter has to take that responsibility on the chin.
Stefan Johansen joined the party in the second-half but he was also two steps behind the run of play, so what of Kevin McDonald? Surely he's the direct replacement for Reed, being a defensive anchorman himself, but the Jagerbomb connoisseur is nowhere to be seen. The crux of this point insists that a calm, collected, conscious component at the base of our midfield trio reassures the back four and we were defensively shaken in Reed's absence. Barring his dubious dismissal, of course, the 25-year-old midfield guardian has been a revelation this season and his involvement will be pivotal in the coming week of high-octane football we have to savour.
Hail the Bagsman
No goal, no bother. Mitrovic endured a frustrating 90+ minutes at the DW but there is one plus from his censored outing, and it's a distinguished plus at that. With a haul of 26 Championship goals to his name, Mitro' laid claim to the 2019/20 Golden Boot, pipping Brentford's Ollie Watkins to the reputable gong by one solitary goal. Watkins put up a terrific fight, but you can't deny the Serbian's deadly dealings, he's been a prolific force in Fulham's discordant crusade for promotion.
Let's put his record into context: Mitro' participated in 40 second-tier meetings, accumulating 3,590 minutes whereas Watkins featured in 46 matches, accruing 4,156 minutes. There are levels to this game. Through injury and expulsion, Mitro' still came out on top of the pack, the division's leading bagsman and if we're completely honest with ourselves, we'd admit that he's far too good for us and those who reside in the Sky Bet.
The Bees finished above us on goal difference, but we've actually won something already, and I don't care how straw-grabbing that sounds. Mitro' is fully deserving of his top scorer status, we all saw it coming in August last year, and hopefully it'll prove to be the primer for the glossy coating we intend to slather on our season once August 4th gets marked off the calendar. Well in, Mitro', the fire you exude is bright, hot and appreciated by us all.