Five Thoughts: Fulham 2-1 Hamburger SV
Written by Cameron Ramsey on 29th April 2020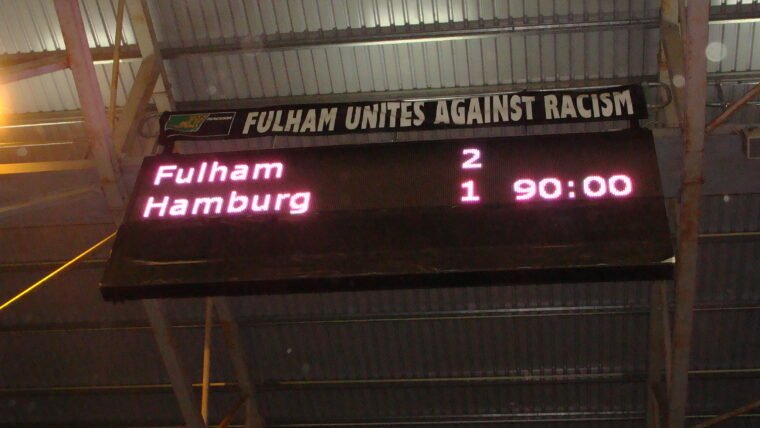 Shakhtar Donetsk, Juventus, VfL Wolfsburg. Fulham headed into the Europa League Semi-Final Second Leg, on the April 29th 2010, with a trio of scalps of the game's most accomplished superpowers under their belt, silencing pundits, wrecking reputations and inspiring a generation in the process. Next in line for the guillotine in SW6, Hamburger SV.

A Bundesliga mainstay at the time, Hamburg were the nailed on favourites to reach the Europa League Final before the two clubs met but after a drab 0-0 First Leg draw at the Volksparkstadion – the venue for the tournament's closing curtain on May 12th – the odds were dangling in the balance. This, needless to say, made for a frantic, frenzied skirmish on the banks of the Thames.
Bright-eyed on the stroll through Bishop's Park, bleary after John Paintsil's prolonged lap of honour, the 16-year-old me, back then, had never been engrossed by anything in the same way before and now, ten years on, it's still an evening in our club's muddled history that lives on vividly. We'll never forget what we'd achieved during that historic "European tour", an enchanting adventure that went right down to the bare wire as we crusaded the continent, painting it black and white without fear or caution.
Cam Ramsey and George Singer cast their minds back to that evocative evening where Fulham triumphed, yet again, on home turf in the inaugural Europe League campaign.
Astonishing Atmosphere Admired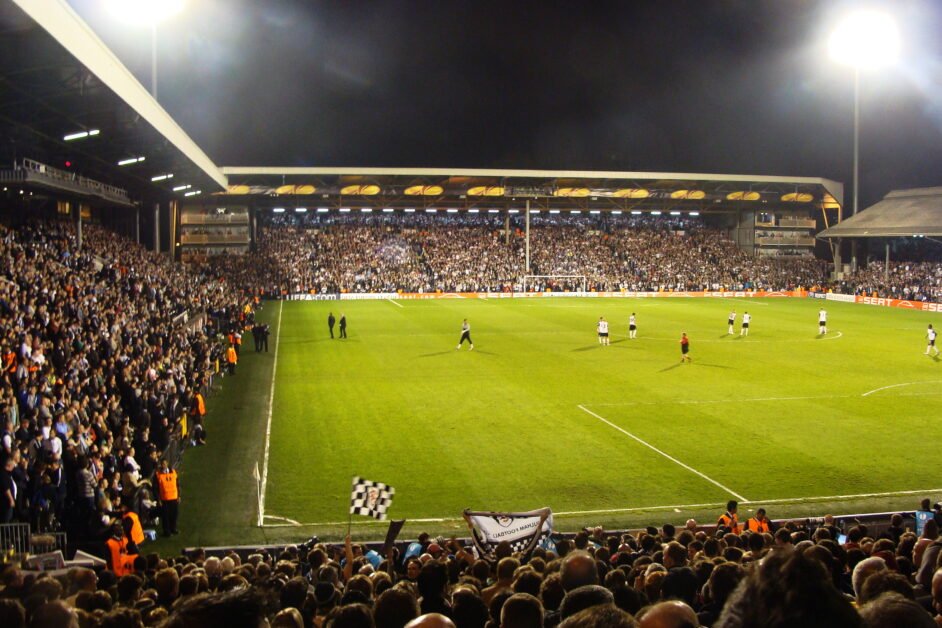 CR: Making the short journey from Surbiton to Wimbledon with my friends, David and Chris, something was stirring. I can't quite put my finger on it, but I'd never been that anxious. Only our day out at Wembley had equalled the energy and apprehension that weaved through my veins and everywhere you looked, you could see the electricity. It was palpable, infectious, and the gut-churning excitement only grew stronger as the floodlights came into view as we passed over Putney Bridge.
Somehow we managed to wangle a couple swift ones in The Durrel, I believe, and before we knew it we were engulfed by Hamburg's superb following on the way to Stevenage Road. A cacophony of Germanic chants collided with the familiar chorus of our own and within the classic confines of our spectacular old auditorium, the atmosphere hit fever pitch and it remained that way throughout. We'd already welcomed Wolfsburg's fans to the Cottage in the Quarter-Final but I've got to hand it to Die Rothosen's fan base, as they were genuinely magnificent and surprisingly tolerant of my childish jibes and digit flicking, as we were sat only a few rows away from them in the Johnny Haynes Stand.
As an advert for European fandom that season, I'd say Fulham hosted the best meetings. That's not because I'm obviously biased, it's because we never knew when or if we'd be in the company we kept ever again. I remember the roar from Hamburg's support when they went ahead, although I also recall a rapturous war cry from every fellow Fulham fan immediately afterwards. No dwelling, no dipped shoulders, we were riled in the terraces and ardently prepared to spur the lads on in the second-half. Shaking CC to its core, our faithful wanted one last date with destiny in Europe's secondary competition, to duel with La Liga giants Atletico Madrid and I deem that with a cause, when the occasion's right, we have the support worthy of such distinguished events.
GS: From the moment I walked out of Putney Bridge station on that Thursday night, it was clear that this was no ordinary game of football. Electricity pulsed through the air, and nervous chatter between strangers laid a bed of noise underneath the distant cheers of the Hamburg faithful. So often forgotten younger brother of our more famous siblings, this was the night all eyes were on our half of SW6.
Whilst "Stand up if you still believe" was the poster chant of our run, for me the moment that summed up the atmosphere was the sheer jubilation at the final whistle. Strangers embraced each other like long lost friends, the older generation thanked the younger for their chanting, and each player approached the Hammy End for a chorus of their own chant. Whilst the play-off run gave a similar high, for me this is a footballing moment that will never be topped.
Petric's Powerful Peg
Embed from Getty Images
CR: One of – if not the the tastiest – strikes I've witnessed at the Cottage came not from one of our own at the time, but a deadly marksman by the name of Mladen Petric, who would eventually ply his trade for the Whites in the summer of 2012. In the 22nd minute, the visitors were awarded a free-kick and the thought of an opener from 35-yards out seemed preposterous, but the striker's left peg had other ideas.
Mark Schwarzer could do nothing but claw at thin air as Petric's sculpted set-piece whipped and dipped into the net in front of a stunned Hammy End. Sat by the Cottage itself at the other end of the stadium, I had the perfect viewpoint as Petric stood over the ball and as soon as he made contact, it stayed hit.
At last, we had a semi-final on our hands and it was introduced with a red carpet pile driver. In a state of shock and awe, I slouched back into my traditional wooden seat and soaked up conflicting emotions. Then, in an instinctive rush of defiance, I sprung to my feet and clamoured inaudibly, exhaling as many motivational phrases I could muster, such as "f**k 'em up" and so on, etcetera. Hamburg may have drawn first blood, but they'd also awoken Fulham's characteristic resilience.
GS: Like every story, film, or even rollercoaster – every high must be proceeded by a low. Having faced so many quality players throughout our run, it was only inevitable that at some point a moment of magic would go against us. In the end, it was Petric, the future Fulham striker, who delivered this suckerpunch.
At the time, I squared the blame on this on Schwarzer's shoulders. He was such a presence in goal, and so formidable, it felt like he could stop any shot that came towards him. Therefore, it was such a shock when the ball rattled the back of the net, that no-one really believed it had happened.
In hindsight, this blame was of course harsh. I'm sure if the Croat was to hit 100 more free-kicks, he would hardly hit one sweeter than this. It took a few seconds, but once the Croatian had finished celebrating (his bow and arrow trademark is one I often recreate on the five-a-side pitch), the atmosphere had changed. We knew we had to score two, and the fanbase were ready for the fight ahead of us.
Dancing Davies Delivers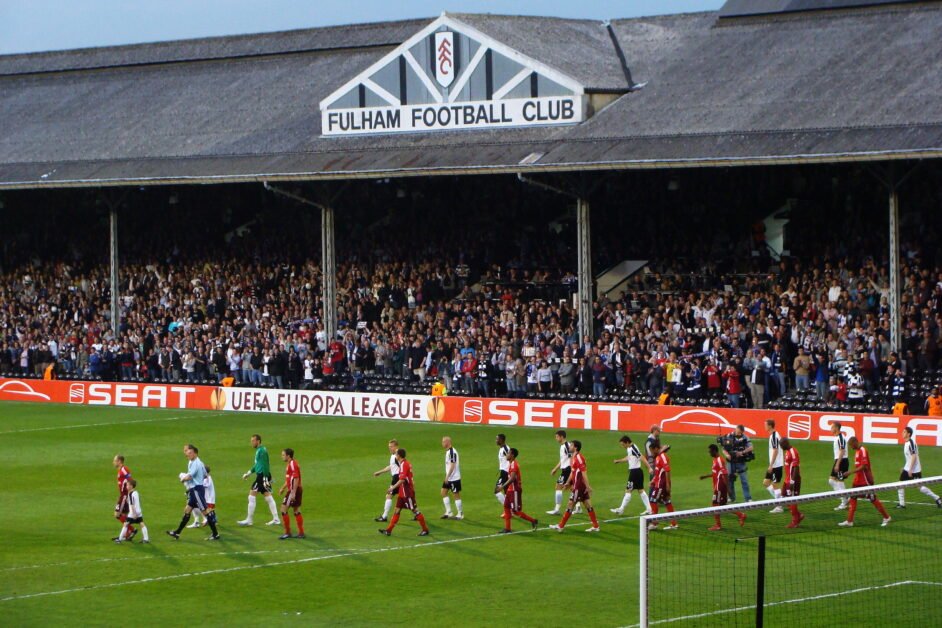 CR: The Whites were turning the screw after the interval and were gradually grinding our guests down with relentless high pressure tactics. Probing for an opening Danny Murphy detected movement in the final third and picked out Simon Davies with a calculated scoop. Confronted by one lone defender, Guy Demel, the Welsh winger took the ball under his spell and worked his magic as he bamboozled his way into a prime position.
Bobbing with the ball in close contention, Davies picked his spot and an onrushing Frank Rost couldn't thwart his opponent's left-footed dab. Euphoria coursed through the Cottage and Hamburg's dejection was visible. Davies is an unsung hero of the club and was so even in that era, his graft and enterprise was often overlooked, but there was nothing simplistic about his game.
"Digger" restored parity on the night, but Hamburg were still on track to progress due to the away goal rule. His ingenious juggling act revived our relevance in the encounter, though, and with just over 20 minutes of normal time to go, the fightback was well and truly on. One spark of audacious invention floored the Germans' methodical system and from that moment on, a meltdown was afoot.
GS: Whilst Bobby Zamora, Clint Dempsey and Zoltan Gera get the plaudits for their part in our Europa run, for some reason (despite his goals in both the semi & the final) Simon Davies never quite gets the praise I feel he deserves.
Shifted out to the left wing, to suppport Roy's inverted winger tactics, the Welshman was an ever-dependable cog in this machine. His semi-final goal showed him at his peak: a grafter, with a turn of pace, and close control to rival the best. Once he took the ball down, there was a sense of inevitability that the ball would end up in the back of the net.
The feeling at this point was a strange one. Whilst no doubt we were thrilled to get back onto level terms, we also knew that without a second goal this meant nothing. With somewhat muted onfield celebrations, perhaps due to the concern over a now-hobbling Davies, we knew we couldn't yet lift our foot off the gas.
Gera's Gratified Greatness
Embed from Getty Images
CR: A constant thorn in Hamburg's side throughout the encounter, Gera found reward for his persistence and etched his name upon Fulham folklore in the 76th minute. A sensation like no other, the Hungary international prayed on Der Dino's hesitancy to book the Whites a place in the Europa League final. Classic Mundials, knee-high socks, the bloke's made for the history books.
I simply couldn't believe it. As the ball skipped away from Demel in the danger area, "Zolly" swivelled from 6-yards and swept home, launching CC into sheer pandemonium. Limbs ahoy. The nimble attacker, relishing the ear-splitting jubilation bellowing from the terraces, fell to his knees and raised both arms, pointing skywards like a rock star in their prime, who'd just trashed the life out of an electric guitar solo.
Overwhelmed by raw elation, I regained my composure on the the deck, underneath a set that was at least 3 rows in front of where I was supposed to be. Unlike any mosh pit I've ever been involved with, nobody helped me up as they were either propped up against seats that weren't there's, or locked in an embrace with complete strangers. In any other environment, you'd have called the feds, but it was a shared assault we all enjoyed. We were on the cusp of a European cup final, behave!
GS: Having not followed the Juventus game like most (I couldn't get to the game, and I didn't have Sky, so I listened to it on the radio) – this is the moment of the run that sticks with me the most.
Replaying the goal in my head, it all happened in slow motion. The lofted corner arced over the first man, slowly dipping into the awaiting box. Chaotically pinballing between white and red shirts for an age, suspense grew. "Kick it in! Kick it in!" I cried. Cool and focused, Zolly Gera, a seemingly transformed man playing in the number 10 role, took two touches. One to earn a yard of space, and one to release the lid off the Cottage.
The moment that sums it up best for me is the look on Gera's face in his celebration. That mix of both disbelief and relief that we all felt, as our destiny was sealed. In fact, there's a poster of this moment on my bedroom wall, and the great Hungarian is looking down at me as I type this. What a man.
Marvelling Momentous Magnitude
CR: We've won league titles before, Reached an FA Cup Final, triumphed in Play-Off showdowns and laid our hands on a highly-coveted Intertoto Cup, but those accolades are of a different nature and importance. Our foray on the continent in 2010 is unique because we were the toast of the nation and the darlings of the tournament. No matter who you were, neutral, fan or foe, everyone wanted Fulham to prevail victorious. Well, Brentford and QPR fans being the only credible exception to that notion, but even they had a small soft spot, somewhere in their dark, vacuous souls.
It wasn't Manchester United, Chelsea or Liverpool plastering the back pages, it was plucky, inoffensive little Fulham. We sparred with the greats and landed our knock-out blows. We rose from the canvas and held our nerve, and though we were punching well above our weight, we were a dangerous force to be reckoned with.
No one will ever take that away. Craven Cottage was a fortress that held Alessandro Totti's AS Roma at an arm's length, conquered Darijo Srna's title-holding Donetsk, flattened David Trezeguet's Bianconeri, squashed Edin Dzeko's Wolfsburg and doused Ruud Van Nistelrooy's Hamburg. Will we ever grace that stage again? It's unlikely, but so were our redefining escapades a decade ago and, if one thing's certain, you should never write Fulham off.
GS: Looking young enough to get away with buying child tickets, I was lucky enough to get along to a lot of the Europa run for as little as £5. Watching us dispatch FK Vetra and Akmar Perm was great fun, however there was an acute sense that no-one outside of the stadium took any notice. We were just a 2nd rate West London side playing in a 2nd rate European competition.
However, with each win, and each European heavyweight dispatched, this slowly started to change. Paragraphs in the backpages grew into full page spreads. Footnotes in TV news became headline stories. As the cameras turned on us, Roy's boys delivered.
I hold no particular ill-will towards Liverpool, but I'm so glad Rafa Benitez's side lost their semi final. It meant that, just for a few days, Fulham football club were the only English side left in European competitions. We were flying the flag, we were the best of Britain, we had our moment in the sun.