Five Thoughts: Bristol City 1-1 Fulham
Written by Cameron Ramsey on 8th March 2020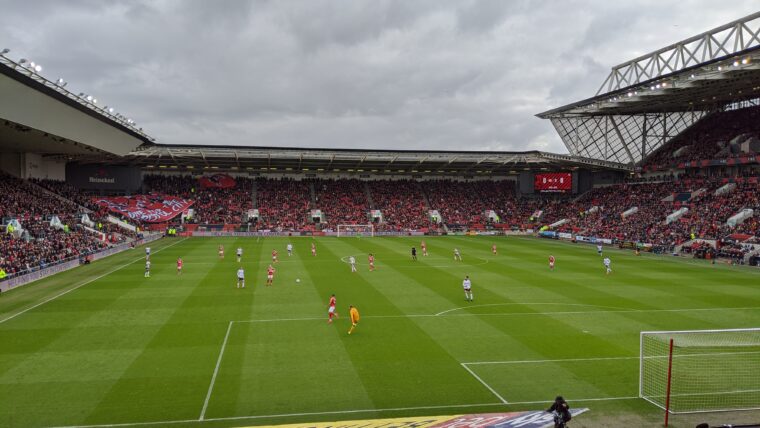 Upon revision and a good night's rest, I've concluded that a point at Ashton Gate is perfectly fine and necessary. Lee Johnson's Bristol City are within touching distance of the play-off places and, as he's a proud Fulham fan, he had his men fired up from the start to frustrate Scott Parker's camp.

Our support travelled in their droves and were in fine voice, silencing a patchy home following. A victory would have been fully deserved in hindsight but I'm elated by the way in which we rallied for the draw. Honours even? I'll take that.
We're 4 points ahead of Brentford, who are our next opponent, incidentally. Hounslow's very own Bees also have promotion in their sights and there's nothing they relish more than turning up at the Cottage. It's the biggest game of the campaign for them outside of their Chelsea supporting lives and it's a chance for them to close the gap. For the both of us, however, the hunt is still very much on.
Ticking Time Tom
All seemed lost after Nakhi Wells nodded the hosts ahead in the 70th minute but the Robins weren't expecting Tom Cairney to take the challenge by the short and curlies in the closing stages. Reborn again, TC was a predominant source of creation, conviction and certitude in the heart of Fulham's midfield and one flash of sheer brilliance on the parameter of Bristol's 18-yard box restored order and salvaged a critical point. Cairney's prized left peg's insured at an infinite rate and we're living off the hefty interest it generates.
Constructing the move that led to his 84th-minute strike, Cairney interlinked with Harry Arter from the right and jinked towards the penalty area, side stepping his way into optimum detonation distance. Time was of the essence and not a second was wasted, the 29-year-old picked his spot and caressed into the bottom left corner. Salivating salvation, served up by our enigmatic skipper without delay. Korey Smith and Han-Noah Massengo couldn't suppress the captain's enterprising exploits and as he snuggled into his infectious groove, Cairney's supremacy bled through every instance he influenced.
Metronomic, orchestral, Cairney was cruising at full capacity, administering possession and knitting attractive sequences together for the duration. TC's faded out of previous encounters and has also been hauled off early in various second-halves but he stood the test of time, swatting off the debilitating fatigue that's blighted his outings in weeks gone by. It's so satisfying to see Cairney return to his purring best, and his resurgent upturn in form really couldn't have come at a better sector, as the pointy end of the season comes into view. We heavily depend on his sculpted ingenuity and without his innovation, the Whites fall out of rhythm unceremoniously. Game changer, crowd pleaser, face saver.
Embed from Getty Images
Assessing Abou's Attack
There's no surprise that Aboubakar Kamara was selected to start by Parker and I was totally at one with the gaffer's shrewd decision. AK47's been a revelation of late, supplying last-ditch crosses against Swansea City and netting at the death against Preston North End to ensure the victory, so his inclusion was completely justified. Direct, undettered in his explosive advancements, Kamara regularly overpowered Jay Dasilva and was undoubtedly king of his respective channel. Nothing, other than stingers and a round 50 calibre bullets, was going to halt his frequent trips to the byline.
Kamara spearheaded the majority of Fulham counters and no one was willing to obstruct his path in order to stem his torrential flow. The Frenchman does lack elemental intelligence in the final third as he didn't always pick the best option whilst offloading possession on the fringes of the danger zone, but that's nothing new to us at all. We know he's intermittently erratic and periodically estranged to basic procedures on the break, but there is a deceptiveness in his locker that's unmatched. Within the madness, the brutish power, he is a committed team member, matured after last season's inexcusable episodes of selfish petulance.
Anthony Knockaert and Ivan Cavaleiro could definitely learn a trick or two from their reformed colleague. Rather than slowing the tempo and buckling at the sight of the touchline, commit your man and make his afternoon a living misery. Cav' dallied, Knockaert – despite being fresh from the bench – was indecisive as per but Kamara, he was forthright, energetic and undeviating. What could be more simple than nudging the ball 5 yards in front of you and scuttling as fast as your legs can handle? We don't need self-indulgent step overs and impermissible shoulder dips, we want unconditional intensity. Be more Kamara, chaps. It's that easy.
Dutiful Denis Delivers
Always on call, Denis Odoi sprung into action at left-back and held his own against a persistent Paterson and a lively Pedro Pereira. Dubbed "Mr Fulham" by many, we can always, without question, rely on Odoi to give everything he's got whenever he's involved and an assured performance from the highly adaptable utility man softened the hosts' hold on proceedings.
The 31-year-old didn't venture forward as much as Joe Bryan, but this goes back to what Dom Betts rightly said about the latter's hindering handicaps. Bryan cannot defend adequately enough and he's far more effective at the other end of the pitch. It's fact, not fiction. Odoi relishes random spurts with the ball under his supervision, but he's also switched on and eternally aware of his responsibilities at the back. He's seldom caught out of position and, if he is, he isn't left high and dry as he very rarely strays into uncustomary areas where he's compromised indefinitely.
I'm not saying he's a perfect purveyor of duty and discipline (his yellow card testifies this), but I'd prefer Odoi to remain our first-choice left-back, even once Bryan's back from injury. Bryan, for me, is a winger dressed as fullback, and I wouldn't be adverse to the prospect of the 27-year-old contesting Cav' for a matchday spot, I'd actually welcome it. Odoi operated to a sufficient standard against the Robins and I was pleasantly comfortable with his capable care and control defensively, and I'm yet to admit that about Bryan, at all, this season.
Embed from Getty Images
Choked Chance Creation
It's a lingering thought, I still don't think we did enough to really trouble Niki Mäenpää. Of course, Bristol is a very tough place to go to and I'm not discrediting a draw away from home, but we did choke at pivotal moments as we progressed and that's been more than apparent for quite some time now. Clear cut chances were few and far between and though we have some of the Championship's deadliest marksmen on paper, at least, we quiver on the trigger far too often.
When we shifted into promising areas, our final product was agonisingly amiss. 19 registered shots with just 5 on target. Bobby Decordova-Reid pulled wide of the mark, TC (before his sublime equaliser) dragged the wrong side of the sticks and Kamara couldn't land solid contact on appetising crosses. Fine margins in a relatively open game. We were the better team for large swathes but we failed to stamp our dominance whilst turning the screw.
Another viewpoint, which I'm sure we all recognised, was just how ineffective Aleksandar Mitrovic was. Marked out of the game by three men at a time, religiously, the Serb was imprisoned under close quarantine and wasn't allowed to make an impression in the final third. One sniff is all he requires and Bristol weren't willing to take a chance on that. It must be extremely difficult to have any true impact when you're constricted in such an invasive way, but he was a slight shadow of his usual self and the Robins got off the hook in that respect. I guess that's just how things go every once in a while, though, as it's understandably impossible for him to expel his absolute maximum week in, week out. No cause for alarm, it's merely an observation.
Penalty Pandemonium Prevails
This is up for debate. From the terraces, directly behind the dubious moment in question, I thought the 'keeper had claimed possession legally from under TC's feet but, under further scrutiny, there's definite contact before he clasped the ball. Was there enough to send Cairney tumbling? I'm not entirely sure. Was it a stone wall penalty? Again, I think opinions will be widely split.
It's hard to call in real time, but it's another potential scoring situation that we've been seemingly been cheated out of. Linesman are more or less good for nothing, meaning David Coote had a game-altering instance to adjudicate, all by himself. I've watched it a hundred times over and the more I do, the more I see the error in the referee's assessment. It wasn't clear as day, but it was fairly obvious.
I'm a lover of cliches and as wanky as it is, that's the nature of the game. We were fortunate against the Swans as the penalty we were awarded was also pretty soft. Mitro' missed, so perhaps justice had been served, but football has a funny way about it. Under differing circumstances, I'm sure Coote would have pointed to the spot, although as there was only seconds remaining, maybe his verdict was already conclusive. Refs have so much unprecedented power and they directly shape the narrative of the game and, with that, they also get bombarded with unholy amounts of stick. Thanks for guaranteeing a point, Dave, but we should have had an opportunity to steal it all.