Five Thoughts: Fulham 0-3 Barnsley
Written by Cameron Ramsey on 15th February 2020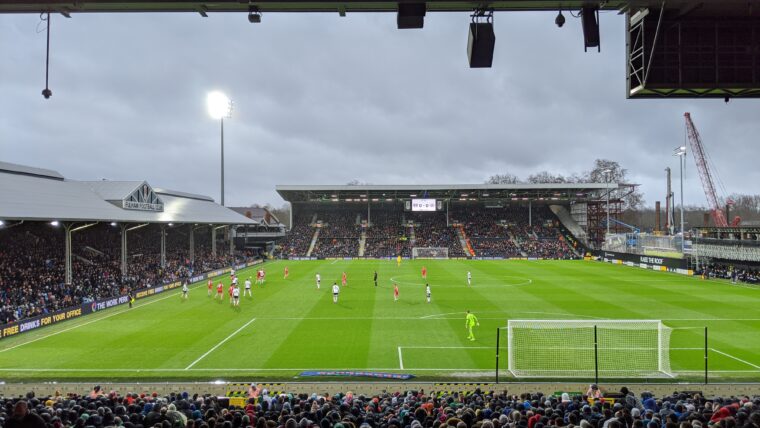 Fool us once, shame on you. Fool us twice, then the humiliation is all ours. Bottom of the table Barnsley, commanded by a bloke that dresses like a TK Maxx mannequin, did the double over promotion-chasing Fulham with an extraordinary 3-0 thumping down by the river.

Red weather alerts arose over the length and breadth of the UK but down in the capital on a hideously blustery Saturday afternoon, those severe warnings came in the shape of the Tykes' sinister scarlet jerseys, which engulfed and drowned out Scott Parker's surrendering Whites with a deluge of stubborn persistence.
How Barnsley are in the sorry position they are currently, I'll never know. They were magnificent. Gerhard Struber may clobber himself up casually, but there was nothing informal about his side's effort and endeavour. As for Fulham, you've a lot to put right against Derby County, because that was truly horrific. Somehow we're 3rd and that is absurd when you realise just how crap we actually are.
Flat Footed Forecast
Barnsley's tireless high press backed Fulham into a corner and the hosts couldn't rock off their heels to gain a toehold. Caught napping as ominous balls sailed over our heads, aided by the whipping wind, Conor Chaplin, Jacob Brown and Cauley Woodrow induced a pounding headache which Fulham's defensive line couldn't relinquish. The visitors coaxed the WHites into costly mistakes in order to retrieve possession and we simply let it happen. With bank heist meticulousness, Barnsley were fully deserved of the 3 points and were, in my eyes, the best team we've had the misfortune of facing at home this season. Sod the nasty conditions, their game plan ran like clockwork. Of all the incompetent defensive performances we've seen this term, the Whites' flat footed debacle against the Tykes was without question the worst. 3rd in the standings, ruthlessly gutted by 24th. Embarrassing doesn't even cut it, but I'll give it a good shot.
Tim Ream and Michael Hector have formed a fairly formidable partnership at the back since the Jamaican's mid-season emergence, but the immobile pair lumbered after Barnsley's expedient attack, that frequently gouged us open like the last can of beans in the cupboard. Our disorderly shape and non-existent discipline enabled Chaplin to weave through limp attempts to dislodge and a switch of play was always available if he'd travelled into a sticky situation. From back to front, right to left, the Whites were inept, crude and ham-fisted as they allowed the game to drift with Barnsley's merciless tide. Precisely as it was away at Luton Town on Boxing Day and also at home against Hull City, we were second best to everything and the thin strips of duct tape that's held our penetrable defensive line together gave up the ghost once more. Saturday's inexplicable defeat highlights the glaring fact that we're completely fraudulent and our league position doesn't actually mirror reality, or how it should be, anyway.
We've been bang average, run of the mill, for months on end and we haven't convincingly closed out a game since our 3-0 victory over Derby County, way back in November. In losing positions, we simply don't know how to react. As soon as Woodrow dispatched his 24th-minute penalty, our safety mechanism tripped and we plunged into meltdown. Barnsley took the Cottage by storm, literally, and held us hostage for the entire duration. It's never nice or uplifting to prepare for the worst, but it is wholly necessary because losses and perilous scares will occur. It doesn't matter if you're chasing promotion or languishing in the basement, you have to be ready for every given scenario and, blatantly, we're entirely lost when the opposition grabs proceedings by the scruff. Not having a viable alternative solution is a major dent in Parker's managerial armour.
Rodak's Repugnant Risks
Embed from Getty Images
Marek Rodak has been Mr. Dependable since he robbed Marcus Bettinelli's starting spot in October but this deplorable defeat is on his head. If Betts had conducted himself in the manner Rodak had done against Barnsley, the masses would want blood and, whilst we can't actually commit sacrificial murder to spill his claret, I want good, honest answers. In fairness, the only other game he's really appeared to be a liability for us was away against Middlesbrough, of course, but he's still not off the hook. Being a goalkeeper is unforgiving and they say you have to be crazy to be one at any level of the game and the 23-year-old was seemingly overwhelmed by those nagging voices that plague his train of thought and taunt his rationale.
Throwing cation to the wind, twice he felt obliged bolt off his line, needlessly, and twice Barnsley capitalised. With no communication with Ream for both instances, which is inexcusable, the young Slovakian foolhardiness gift wrapped the victory for the visitors, who didn't need a second invitation to pounce as it was. Ream should be screaming for Rodak to stay where he was, within the confines of his goal frame, and I'm baffled to think that mouths were firmly closed at those points, but Rodak should've definitely interpreted the situations better and the impending danger that lay before him. Even his usually proficient distribution, albeit in hazardous circumstances, was dreadful so, all in all, it's indubitably outing to forget.
There's nothing more that needs to be itemised on this matter, really. Without raising pitchforks and torches, Rodak should recognise he's the scourge of Saturday's catastrophe and he'll know that his overall performance was unacceptable to say the very least. Rodak has saved us many, many points this season and he's still rightfully our No.1 because of that, although there was no measure of method in the madness. It was just downright stupidity. What's more is that Jordan Archer's rubbing his palms on sidelines as he watches his colleagues implode, but surely we're not looking for further rotation in the shot stopping department just yet.
Diluted Dynamism Dismantled
Maybe we'll blame "Storm Dennis" for our incoherent approach play in the final third but for me, given it dates back a little while now, our insipid passing sequences and the sheer lack of dynamism is a default within our diluted DNA. Once a uniformed collective, capable of dominating proceedings with fluent, enriching sequences, now an unfamiliar ensemble with the cutting edge of a 30cm ruler, which isn't shatter proof. We don't know what we're meant to be anymore and, without an identity, we're destined to fizzle out as the season's importance grows. Fulham are actually in deep trouble and this isn't a knee-jerk, either.
Where Barnsley, a squad in the relegation zone, could shift out of tight areas to counter and create on the break, the Whites couldn't string simple phases together without succumbing to the blasted weather, supposedly. Patterns stagnated, our tempo slackened and we rode our depleted luck like a rubber dingy smashing against a cliff face. Carried up stream without a paddle, Barnsley dragged Fulham into the rapids, cutting our lifelines loose as we plunged towards the swell. They exacerbated the testing complexion with an iron grip, manipulating it to their advantage, and wouldn't allow Fulham to settle. Relating back to our downtrodden disposition with the game going against us, we're powerless when the opposition's in the ascendancy, even for a brief spell.
There are no excuses with the players we have at our disposal, though. We are unfortunately a team that relies on individual genius and as a collective, we're estranged. The Tykes, though they can still scramble out of the drop zone, essentially played as though they had nothing to lose, a free hit, with a togetherness and vitality. With promotion being attainable, why are we skulking through matches with shackles around our ankles? A bravery's been stripped from our strategy and if there's one thing you can say about Leeds, West Bromwich Albion, Brentford and those that are in contention, they give their all each and every time they step onto the pitch, win, draw or lose. We do not have that admirable ethic and we will suffer if we don't rekindle our devastating thirst for perfection.
Flying Frenchman's Foray
Embed from Getty Images
A scant shadow of himself at The Den in our previous meeting with Millwall, the only man who wanted to open his legs and draw swords against the Tykes was Aboubakar Kamara, who examined the final third for 25 minutes from the bench. An Olympic sprinter in a Fulham shirt, AK47 surged along both channels in search of a cross or an opening to exploit and Barnsley's fullbacks couldn't equal the Frenchman's frightening pace and tenacity. In a straight sprint, not many come out on top. Jordan Williams and Kilian Ludwig had never been pushed harder.
We know that Abou' isn't the sharpest shooter in our armoury, but we required somebody to take aim in the latter stages and, whilst the scoreline remained the same, the 24-year-old did inspect Brad Collins' awareness. His effort from outside the 18-yard box in the 74th minute forced a smart save from Collins, resulting in a corner and he also supplied Aleksandar Mitrovic and Ivan Cavaleiro with opportunities to hit the target themselves. Direct, energetic, unbearably physical, Kamara genuinely wanted to make something happen, and that's more than can be said about his despondent teammates.
Replacing Steven Sessegnon, Abou' made his entrance clutching a piece of paper, handed to him by the outwitted tactical minds in the dugout, and instructed those specific orders upon the squad. One can only imagine his respective duties read "run, shoot, destroy", but whatever he was told to do, I was thoroughly impressed. Underwhelmed by our submissive slant, Kamara introduced our attack with an intensity that had been absent, and he has ferocity in abundance. Irresistible from the bench, Abou's animation strikes nerve-jangling fear into tiring defenders and if he's given the right to be egocentric, he's a player of relative value and profit. He may sky 15 attempts, but someone's gotta take a chance, right?
Cairney's Conundrum Continues
The disturbing conundrum surrounding Tom Cairney's dipped devotion has featured sporadically this season and it's clear to see that things really aren't right in the captain's world at the moment, at least in footballing terms, that is. Tasked with muzzling Mike-Steven Bahre and his intrepid midfield cohort, TC was wildly off the pace and was subbed off in the 54th minute for Harry Arter. Unaware of support, particularly in the first half when he could have slipped Anthony Knockaert in instead of dribbling a tame effort at Collins, Cairney didn't establish an infectious rhythm and faded out of the game incongruously.
The 29-year-old is meant to be the beating heart of the midfield but he couldn't get the ball pumping at his usual rate. laboured with his first touch, TC was overawed by Barnsley's dogged midfield and he didn't recover. The once systematic relationship he shared with Mitro' is no more than broken and now he's just an empty vessel, bobbing aimlessly in the middle of the park. He's a vital component, a trend-setter that orchestrates operations but never has he been such a vacant spare part before.
Honestly, the skipper's been a half-baked version of himself this season, paling in comparison to the man we knew two seasons ago and even last term in patches. The odd left-footed worldie doesn't suffice for the foundational influence he's supposed to have upon the entire fold, both on and off the pitch. As club captain, he's the guy you're told to trust in difficult times and players are expected to follow by his example, but what use is that when he's basically admitted his flaws and deficiencies as a leader? Perhaps too much onus and pressure's crippling his judgement and character, but I worry for him and his future in SW6 as a trusted talisman.