Five Thoughts: Millwall 1-1 Fulham
Written by Cameron Ramsey on 12th February 2020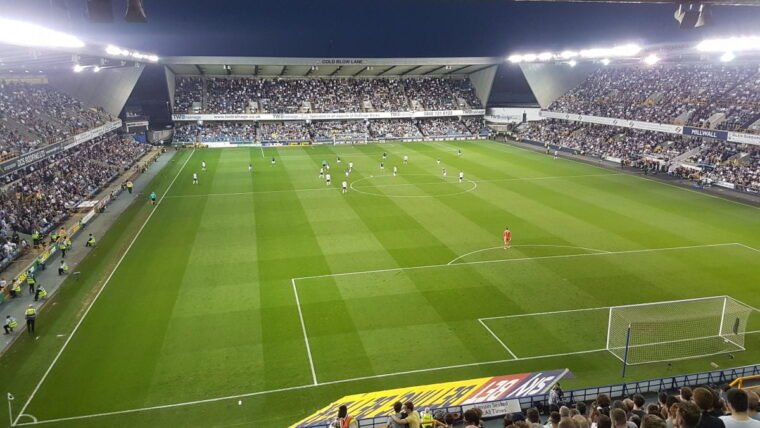 Tuesday night's fortuitous results meant that Fulham could seize 2nd in the standings if they managed to beat Millwall at The Den on Wednesday evening. They didn't. A 1-1 draw, away, on one of the shoddiest surfaces I've seen outside of Sunday League football is nowhere near a terrible outcome, but it is very "Fulhamish" indeed that the Whites didn't take the initiative when it was virtually dangled on a string before them.

Sometimes, though, you've got to give credit to the opposition and Gary Rowett's rigid collective are definitely deserved of a thumbs up. The hosts epitomised exactly what it takes to survive in the Championship and, as we're clamouring to clamber out of our current surroundings, perhaps we can learn a trick or two from the boys from Bermondsey, who fought 'til the death with no surrender.
Can the rim licking, Ramsey. For us, it's still a step, albeit a slight stumble, in the right direction and I'm also at liberty to remind you that we're on level terms with Leeds United, a team that had run away with an automatic spot in December, with a 12-point buffer between them and the chasing pack. Come now, the season's only just getting started, isn't it? Bring on Barnsley.
Offside? Outrageous Officiating
Some may argue that the linesman, Daniel Robathan, was simply giving the benefit of the doubt to the attacking team, but that's utter pish in my humble opinion and if I wasn't so level-headed *ahem* I'd mockingly jibe that Specsavers has a 70% sale on at the moment. That's the go-to taunt but for the linesman to need spectacles, he'd actually need a physical set of eyeballs in the first place. Two Millwall players, the goal scorer of the controversial equaliser Jón Dadi Bödvarsson and Alex Pearce, weren't just offside, oh no, they were camped in a neighbouring postcode as the ball was flicked onward, undeniably by the Lions' very own Tom Bradshaw.
Despite Fulham's ardent protest, the goal stood and from that instance on Robathan will always be associated with the incompetent gaggle of amateurs we have to put up with in the Championship. The judgement in the Premier League isn't squeaky clean, but we certainly get the shortest straws of the bunch in the country's secondary division. The respect referees and officials demand is unfounded because, more often than not, they're definitive decisions are farcical, absurd and outrageously despicable. You can't expect players, managers and the fans to take these fools seriously if they're nothing more than work experience buffoons, and I'm being nice.
VAR is not the answer, though. We, outside of the falsified supremacy of the Premier League, can celebrate goals without having to pause, we can berate contentious decisions and we can sample the organic nature of the game without being it sterilised by a van of four further blockheads who destroy the very essence of "living in the moment". Would it have prevented Millwall's equaliser? Of course, but it's the disputation in football, as well as the glory and heartache, that compels and captivates us because that's where raw perspective, impressions and passion originates from. Still, this won't stop me from booking the lino in for an officiating crash course for dummies.
Embed from Getty Images
Scoring Serb Starved
As Sammy highlighted in our previous 5Ts, Aleksandar Mitrovic doesn't need much more than a sniff, a second invitation to etch his revered name on the score sheet and in the 3rd minute, lurking within his native domain, he diverted the opener ruthlessly. He only had a matter of yards to pounce within but, latching onto Joe Bryan's in-swinger, the lethal Serb tucked home his 21st of the campaign with complete precision. On that note, did you know that grass is green and water is wet?
Hang on, after that game-altering moment, though, the 25-year-old was starved of opportunity and was shadowed from all angles by the rigid trio of Shaun Hutchinson, Jake Cooper and Pearce. Being the division's leading scorer, Mitro' was always likely to be contained and, as we opted for a tactless long ball approach for vast spells in the first-half, the lone striker was constrained in the final third, with no space and time to manoeuvre and manufacture. Mitro's evening was particularly taxing on a churned turf, also with Millwall's defensive trio in close contention, but when you're unmistakably the Championship's head hitman, that's an occupational inconvenience, rather than a hazard.
Mitro's ominous presence does make a monumental difference in front of the target, but we're still struggling to forge clear-cut chances to widen the deficit. Other than him, we don't really have a gifted, regular finisher, so we rely on him to bail us out time and time again. Ivan Cavaleiro bangs bangers but he only has 6 goals this season so far, Bobby Decordova-Reid has 5 and Anthony Knockaert has 4. Our attack, without Mitro', isn't consistent and against teams like Millwall, we're simply not bold enough to craft multiple chances and dismantle defences. We've frightening offensive personnel, capable of decimation. But all that's potent and progressive in our system revolves around our mercurial marksman.
Player's Puzzling Positioning
Assist served on a silver platter. Bryan's telepathic connection with Mitro' is a true blessing and I'm sure it won't be the last time the synchronised pair function off the same frequency this season. A sculpted cross, fashioned by the 26-year-old's cultured left boot from the right-hand side of the pitch, opposed to the left, proves that he can locate the striker from basically anywhere at any given time and the duo's fertile relationship (without innuendo) is innate, not choreographed.
Yes, a fine supplier indeed, but let's not allow that to mask over the fact he was grossly sub-par at the back in his primary position. Basically, I wasn't completely won over by his overall performance, far from it, in fact. With the ball played to feet, Bryan rushed routine passes and gave Mahlon Romeo far too much respect whilst he advanced along the left channel. A left-back by trade, his insecure defensive awareness overshadows his profitable offensive inclination.
Over-committed when closing on a treacherous surface compromised Fulham's shape and when he advanced with the ball, he ambled into danger and blind alleys, from which the hosts countered, leaving him stranded and out of position. He is so much better higher up the flanks than he is alongside his defensive colleagues but we've not got a dignitary deputy fullback. Denis Odoi is our favoured right-back, Maxime Le Marchand is, well, toilet, and Terence Kongolo is out for the remainder of the campaign. With no one else to turn to, we'll just have to make do with our unobservant, yet highly gainful Bryan, unless we fancy cancelling Jerome Opoku's loan stint at Accrington Stanley, that is.
Embed from Getty Images
Midfielder Makes Mark
Parker's favoured son, Joshua Onomah roamed the midfield department determinedly, searching for inroads to explore and pockets to exploit and he didn't ease off for a single second. He can't shoot on sight for toffee, although the revitalised 22-year-old gathered the ball on a bobby surface and tried to construct attractive and advantageous phases, even if there was ultimately no reward for his relentless efforts. Needless to say, he's got to be one of the first names on the weekly selection for me and I'm sure it's the same for many, many others, too.
Trusting his deceptively studied footwork, Onomah drove through the centre with courage, but he swiped at prime opportunities to work the 'keeper. Galloping into the final third, at one point during the match, Onomah collected the ball on the parameter of the 18-yard box but was oblivious to the support that had peeled off their markers. Instead of pinpointing a teammate, he ballooned the ball into the terraces but that was the only real head in hands moment for the young playmaker. The heat map doesn't lie, he was quite literally everywhere.
This is all part of his development as an enlivened first-team regular, however. Within testing conditions, Onomah chipped away against Jayson Molumby and Ryan Woods and was the encounter's prominent driving force. Tom Cairney has fancy footwork, Harry Arter's permanently incensed by everything but Onomah genuinely desires to prosper under Scotty's supervision and every time he takes to the turf in a Fulham shirt, he contradicts all the unjust negatives I'd spouted about him in the opening weeks of the season. There was always a powerhouse within him, it's just taken another gruelling Championship slog to unleash it. He has a manager that believes in him and I'm finally appreciating the gaffer's patience, as it's undoubtedly paying off.
Neeskens Needs Net
Seconds and inches away from claiming second in the table. 2 years since he last scored for Fulham, Neeskens Kebano could have been the unlikely hero we were begging for but that bloody goal frame got in the way, yet again. I don't think he could've come any closer to breaking that pesky duck's neck and there's not a player in the squad I'd like to see bulge the back of the net more than the super sub himself. For the few minutes he was on he gave his absolute all, and the least the universe could grant him in return is a sodding goal.
Flashing across the front post, the 27-year-old's arching glancer had 'winner' stamped all over it but he is well and truly lucked out, cursed even. He's our present-day answer to Erik Nevland in various respects but he simply can't find the target for love or money. As always his impact was positive, his application was direct but his shooting boots (or bonce) continued to miss the mark by a minuscule margin. It only takes a second to score, they say. Try telling that to him.
Of course, It's not the first time Neeskens has clattered the crossbar in the dying moments this season, either. Late on against Bristol City at home, the pint-sized attacker may have salvaged a point although the woodwork had other ideas on that particular occasion as well and, even before that, he was felled in the penalty area. Strewth. For what it's worth, Kebano is a secret weapon in the latter stages and I'm thoroughly glad he's back in the mix at some capacity. Keep going, Neeskens! We're all right behind you.