The biggest game in Fulham's recent history is almost upon us, and we thought it would only be right to cover it fully – so we put George Singer and Jack J Collins together to tell you everything you need to know about the opposition before our big day out at Wembley.
Their Recent Results
D: Aston Villa 0-0 Middlesbrough
W: Middlesbrough 0-1 Aston Villa
L: Millwall 1-0 Aston Villa
D: Aston Villa 1-1 Derby County
W: Ipswich Town 0-4 Aston Villa
Our Recent Meetings
Feb 2018: Fulham 2-0 Aston Villa
Oct 2017: Aston Villa 2-1 Fulham
Apr 2017: Fulham 3-1 Aston Villa
Oct 2016: Aston Villa 1-0 Fulham
Match Odds with Grosvenor Casino (In 90 Mins)
Aston Villa: 47/20
Draw: 2/1
Fulham: 13/10
Fulhamish Tip: Ryan Sessegnon to score and Fulham to win is 17/4 with Grosvenor Casinos
Before The Whistle with George Singer
It's almost here – the one we've all been waiting for! It's been 43 years of hurt, but the Whites of South-West London will finally grace the Wembley turf once again. The prize is, as Sky love to market, the most expensive one in football – all the riches that come with a place in the Premier League. The league's 3rd and 4th best teams face off against each other in what's sure to be a close affair. As we aim to get our 27th win of the season, against the Villains, what can the 38,000 Fulham fans travelling to Wembley expect to see?
Expected Villa lineup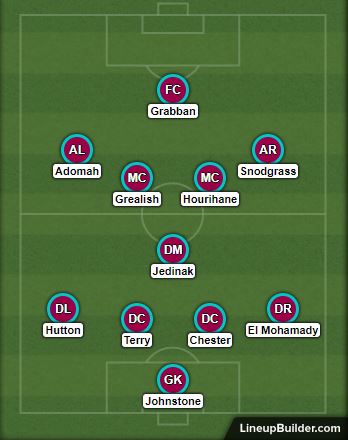 In a position not too dissimilar to our own, these days the Villa lineup pretty much picks itself. After an early season wobble, Aston Villa moved to a balanced 4-1-4-1 setup and have barely looked back. Full of household names, with plenty of experience, the XI above fit together like a jigsaw puzzle: each player complements those around him nicely. It's therefore highly unlikely that Steve Bruce will make any alterations to his settled side for such a critical game.
The only member of the above lineup who is a doubt for the game is Ahmed El Mohamady. The veteran Egyptian missed the second leg of their semi final with a hamstring issue, but is likely to be back in time to take his place on the hallowed turf. If not, he has a more than capable understudy in James Bree.
One of the main area of Villa's attack that really concerns me is their set pieces. In Robert Snodgrass, they own perhaps the strongest left boot in the league, which he's used throughout the season to whip deadly free kicks and corners into the box. Villa are hardly short of players who can head the ball in the back of the net, and they may view this as a potential mismatch to take advantage of. After all, Tim Ream and Denny Odoi are hardly the tallest players in the league.
On the flip side, there are some areas in Villa's defence which Fulham may look at exploiting. Playing in their 4-1-4-1, Villa aren't afraid of putting men behind the ball, particularly in the centre of the pitch. However recently, especially in their match against Boro, they've been operating with a very gentle gentle press. Even a Middlesbrough side, hardly blessed with central playmakers, found they could bypass this with a couple of one-touch passes. We can do the same, with far more potency, but we really need to force the ball forward into these dangerous central areas.
Plenty of stronger teams have managed to earn healthy wins against the Villans away from Villa Park, exploiting these areas, so there's no reason we can't repeat this.
How They Played in the Semis
Villa ground out an aggregate 1-0 win over Tony Pulis' Middlesbrough in the Semi-Finals, over two games which were slightly turgid – but in which the Villans showed that they could get the job done. Mile Jedinak's early header in the first leg proved to be the decisive goal, and two rock-solid defensive displays laid the foundations for their route to Wembley.
In that regard, Boro didn't really have a shot that troubled Sam Johnstone in the Villa goal, although the keeper should have been banned for the final after a late handball outside the box that was somehow misread by the referee as merely a yellow card.
Grealish remained the most likely spark, although Boro's Darren Randolph had to be at his best to eliminate Villa's threat on the counter on a couple of occasions – namely pushing Robert Snodgrass' goalbound curler onto his post and deflecting Lewis Grabban's flick round the post.
Fulham will have been most interested in the defensive fortitude that the Villans showed against Adama Traore, a decent shout for the trickiest player in the Championship. The winger was shackled by veteran Alan Hutton, and although the job he did is testament to his defensive ability, Villa's tendency to double up on Traore was only possible because of the Spaniard's inability to find the right pass and unleash the overload.
Fulham should take note, in that regard, that the only way to breach Villa's staunch rearguard is to exploit the spaces. With numerous attacking threats across the park, the way to unlock the door will be to play through that defensive wall using the pitch.
Men to Watch
This Villa team are blessed with lots of talent. In previous articles I've written about the strengths of El Mohamady, keeper Sam Johnstone and the lovely left boot of Robert Snodgrass.
Jack Grealish – George Singer
However – this time I wanted to call out the 'other' wonderkid in the league: Jack Grealish. The youngster is certainly eye catching. He refuses to wear shin pads, and sports a pretty hideous haircut, but he's also incredibly graceful on the ball. Calm and confident, he's the kind of player who looks like he has a lot more time on the ball then he actually does. He's not unlike Cairney in many ways: he distributes plenty of passes, and dribbles a lot for central midfield player. Skills they both, no doubt, picked up from time spent operating on the wing.
He doesn't always get the goals and assists, but he's so critical to their play. Everything in open play will go through him – and the midfield battle between him and TC will surely be one to watch.

Conor Hourihane – Jack J Collins
Before I get slaughtered here, hear me out. It's no secret that I'm a long-term admirer of the Irishman at the heart of the Villans midfield, but there's more than just sentiment in this pick.
In a Villa midfield based in front of the aging legs of Mile Jedinak or Glenn Whelan, Hourihane provides the energy and dynamism which allows the play to be linked between a solid back five and a fluid front four. In many senses, he provides a similar role to that which Stefan Johansen does.
Another way that Hourihane's game echoes our own Norwegian engine room is in his goalscoring ability. Even in what has been a 'poor' season for Stef by some standards, he's still chipped in with eight goals. Hourihane has five of his own, including a soaring strike in the Second City Derby.
If Fulham are to win this game, they need to dominate the midfield, and to do that, they need to shut down Hourihane, and stop him linking the play.
Notes for Slav
It's likely that Villa will look to sit back on Saturday, and look to stifle our attack. We've had issues recently with our midfield 3 not pushing high enough up the pitch, and Villa won't offer much space in the final third. To me, this is a game where we really need Johansen to step up, and use his dynamism to find the pockets of space which will appear – and provide a route to get the ball through the centre of the pitch.
A lot has also been made about how a large Wembley pitch may benefit our passing play. However, to make the most of this, we really need to use our quick players to stretch the Villa defence across the pitch. I wouldn't be against Abou Kamara starting again, like he did on the wing against Derby. His pace caused havoc all game, and he dribbled inside with the ball multiple times. I'd like to see him repeat this, moving the opposition fullbacks out of position and provide grass for Freddo and Targett to run into.
COYW!!
This article was written with the aid of StrataData, which is property of Stratagem Technologies. StrataData powers the StrataBet Sports Trading Platform, in addition to StrataBet Premium Recommendations.