Next up for the Whites is a crunch match against the Brighton at the Cottage. Can we spark an unlikely great escape and earn a desperately needed victory? Our man George Singer takes a look!
It's all getting pretty depressing really isn't it… Survival hopes are slipping away, there's little sign of new players coming in and the ones we do have on our books are getting arrested. Our chances of remaining in the Premier League for a second season dwindling fast – and anything other than a win will realistically consign our fate to another season in the Championship.
In a crucial encounter, what should we expect to see from the Seagulls when they migrate north to London to face us at the Cottage on Tuesday?
Recent results
September 2018 Brighton 2 – 2 Fulham
January 2017 Fulham 1 – 2 Brighton
November 2016 Brighton 2 – 1 Fulham
April 2016 Brighton 5 – 0 Fulham
August 2015 Fulham 1 – 2 Brighton
Likely lineup
So what does Brighton's recent form look like? In recent weeks they've had put in some good performances in tough fixtures, but have picked up few points. Their last two games have brought losses against both United and Liverpool, and the match before they let a 2-0 lead slip at the London stadium to draw against West Ham.
After a tricky period, they'll be eyeing up Tuesday as an opportunity to put daylight between themselves and the relegation scrap. In an attempt to earn a result, it's likely that Chris Hughton will deploy the following setup: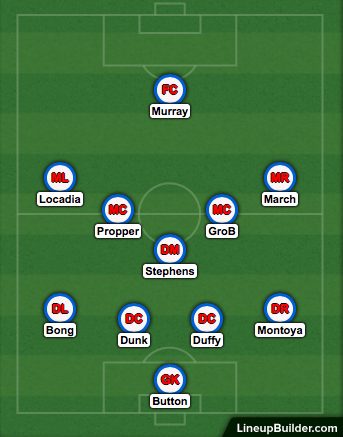 Inside the Brighton goal could be a familiar face in David Button, with the former White's favourite (well, maybe not…) filling in the gap left by Matt Ryan. However, with Australia being surprisingly knocked out of the Asian cup on Friday by the UAE, he may be back in time to be between the sticks on Tuesday.
The rest of the Brighton squad is surprisingly strong, and in particular I'll be keeping an eye on one of their recent signings: lanky Dutchman Jurgen Locadia. Joining from the Eredevise in the Summer, he's offered a new dimension to the Seagull's squad. His work rate enables him to contribute in both attack and defence; despite being a wide forward he's happy to drop back to act as a fifth defender when required. When in his more natural attacking role he pins opposition fullbacks back with his advanced positioning, or pouncing behind them on fast counter attacks.
This allows Glen Murray, the veteran striker spearheading the Brighton attack, to play a free target-man role and focus on collecting direct forward passes. He's also adept at finding pockets of space in the box to poach goals from, a role which was played to perfection in the reverse fixture in September.
Singer's corner
In an attempt to mix these articles up a bit, and perhaps trigger a change in fortune for the Whites, I'm adding a section where I give my thoughts on goings on in West London and opinions on what we need to change to make things better.
Let's not beat about the bush – the jump to the Premier League has proved to be too much for this squad. Despite our large summer outlay on players, there's been a clear gulf in quality between where we are and where we need to be. A home match against Brighton is one any side looking to avoid relegation should aim to pick up three points from – and yet I just can't see us winning the game.
Hindsight is always 20/20, however it's looking like our summer window will end up being a hugely expensive failure – and could financially cripple us in years to come. In comparison, Brighton are a side slowly making progress in this department, and we could do worse than try and emulate them. Despite the challenges of promotion, they've managed to supplement a strong yet simple footballing identity with fresh and young prospects purchased across Europe. They've kept the majority of their promotion side intact, and allowed new signings plenty of time to adapt into their own style of play.
Despite being one of the nicest guys in football, I believe Chris Hughton is a manager who probably has hit the limit of his ability. However, he's managed to work together with his upper management team (including Dan Ashworth – a Sporting Director with football knowledge and background!) to create and implement a long term football vision for the club.
This is exactly what we're lacking right now – a strong football vision running through all areas of the club. Whilst our statistical analysis of targets is improving, the lack of a football brain in recruitment conversations has proved to be our downfall. For an example, take a look at our midfield recruitment this summer:
Jean Michael Seri – who played next to 2 Defensive Midfielders in Nice
Frank Anguissa – who played next to Luis Gustavo, an expert defensive midfielder, in Marseille
Tom Cairney (Not a signing, but we did tie him down to a long contract) who played with two defensive minded midfielders in the Championship
And who are we playing in the defensive midfielder role this season? A makeshift centre back on loan. Whilst Calum Chambers is doing a surprisingly solid role there, I can't help thinking that this was a happy mistake rather than planned. It's certainly something that could have been remedied in the transfer window by a Sporting Director with a stronger footballing background.
Perhaps I'm being a bit negative, but I'd like to see some change in the board room in the Summer, with some extra experience being brought in to the structure to help us rebuild from whatever league we start next year in.
COYW!!