After a weekend break from Football, the Whites are back in Premier League action on Friday. A short trip East to Stratford awaits for a matchup against the mid-table Hammers, and George Singer is here as ever to give you the lowdown!
Before we get to the game, I have a bit of a rant to make.
With 12 games to go, and at least 7 points to make up on our rivals, things are looking desperate right now at the Cottage. The side is devout of confidence, rifts of discontent are forming in the ranks, and our natural creativity is being stifled by a stubborn negative manager. Something clearly needs to change, and fast, if we want to stop this spiral taking us back down to the Championship – however I fear it's already too late.
If I were in the Khan's shoes, I would have utilized this 2 week break to make this change. I struggle to see any value in continuing Claudio's employment; he's going to take us down to the Championship, and neither party would expect him to stay in the second tier of English football. As I mentioned on the podcast a couple of weeks ago, I would love us to find a young, compliant manager who wants to play football the right way. If Ranieri is just a stopgap until we find the right man, then fine. But, the faster we get someone in, the more time they will have to learn the squad and make informed decisions in the next transfer window.
This break, however, is now over, and the Italian is still in charge – and it doesn't look like he's going anywhere. Therefore, to me it feels like damage limitation becomes the priority. Irregardless of the league we're in, our facilities and location will always make us an attractive location for players to come to. Within the squad right now, we have exciting talent who could realistically stay and excel for at least one year in the second tier. However, they are currently rotting on the bench, and losing their passion for the club. TC, Sess, and Anguissa surely need to start getting more minutes. If we invest time in them now, they're more likely to stay. If we keep benching them, they'll push to move in the summer.
Right, rant over. On to the game.
Our opponents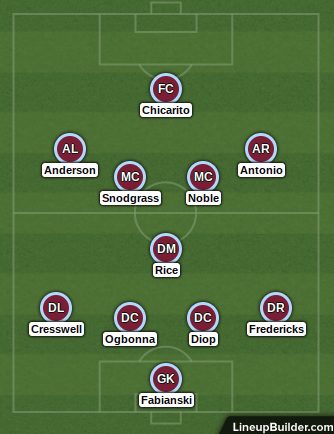 West Ham's current side reminds me of how we set up under Martin Jol in 2012. In those days, Murphy would hold the fort in the 6 role, with an attacking midfield setup of Duff, Diarra, Ruiz and Dempsey feeding the Pog. West Ham have managed to employ a similar system, with now-English Declan Rice playing the mature lynch-pin role in central midfield. Combine this plethora of attacking talent, with a strong set piece plan, and you have an opponent with serious attacking threat.
Unsurprisingly, considering his considerable pedigree, Pellegrini has managed to blend these attacking players into a defensive system able to keep key opposition men out of the game. Whilst no side averages less pressing actions per 90 minutes than West Ham, Pellegrini positions his men to passively cut out passing lanes to starve opposition playmakers and force them away from West Ham's goal. Their impressive draw against Liverpool was a perfect example of this – where they impressively kept Liverpool's attacking players relatively quiet for 90 minutes.
Between the sticks sits Lucasz Fabianski – potentially the most underrated player in the Premier League. According to advanced metrics, he's conceded over 6 goals fewer than the average Premier League keeper would, from the shots he has faced.
There's no doubt that this is going to be a difficult game for us. We're yet to win away from the Cottage, and there's little to suggest that this record will be broken on Friday. Therefore, I can only predict a West Ham win, giving them the double over us this season.
Facts and stats
One to watch
Felipe Anderson – Since signing from Lazio in the Summer, the Brazilian has taken to the Premier League like a duck to water. Sometimes tricky wingers from South America can struggle to acclimatize, however with 9 goals and 3 assists so far this season the left winger has thrived under Pellegrini's leadership.
Fulham vs West Ham head to head
Earlier in the season, Fulham fell to a disappointing 2-0 loss at the Cottage to the Hammers. In previous Premier League matchups, the Whites have tended to struggle, with West Ham winning 12 of the 21 Premier League clashes. 4 have been draws.
West Ham's recent form
West Ham are in relatively poor form, and are without a win in their last 5 games. This includes losses against Bournemouth, Wolves, and most embarrassingly an FA cup exit against AFC Wimbledon.
Current league table