After a momentum-sapping loss as Selhurst Park, Fulham find themselves 7 points from safety, and face a horrific run of home games against the big boys. With relegation looking more and more likely by the week, could we pull off the most 'fulhamish' of results to beat high-flying Manchester United? George Singer is here to give you the lowdown you need!
Let's face it – the last couple of years have been a really special period to follow our favourite quirky little side from West London. We've enjoyed a rollercoaster run in the Championship, 23 games playing sumptious unbeaten football, and a lovely trip to Wembley. But right now? Eugh. Just wake me up when it's over.
Whilst the Tinkerman is famous for making Champions out of relegation candidates, it would surely be the biggest miracolo of his long career if he was to stop our fall into the Championship. In reality, nothing less than a win on Saturday would be enough to give us a realistic chance of doing so. In our way are the Manchester United of the North, managed by the unbeaten Baby Faced Assassin.
Recent results
December 2018 Manchester United 4 – 1 Fulham
February 2014 Manchester United 2 – 2 Fulham
November 2013 Fulham 1- 3 Manchester United
February 2013 Fulham 0 – 1 Manchester United
January 2013 Manchester United 4 – 1 Fulham (FA Cup)
Likely lineup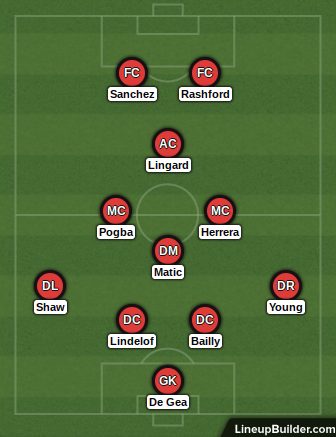 Since taking over the club back in December, Ole Gunner Solksjaer has made one major change to the way Manchester United play. It's not a change in system, or personnel, that he's enforced: instead he's released the shackles on the team that his predecessor had spent so long binding. No longer are they a side that look dull, devoid of confidence and defensive – now they are a swashbuckling counter attacking side, playing fast football with a smile on their face.
If we want to hit the back of the net on Saturday, we'll need to emulate what Simon Davies did all those years ago in Hamburg – and knock the ball past David De Gea. In front of the Spaniard, Solskjaer has rotated through his defensive options to find the setup he wants, however he'll likely stick with the same back 4 that earned a clean sheet at the King Power last week.
In midfield, expect Matic to act as the holding midfielder – mopping up play in the centre of the park to providing a platform for his midfielders to build from. In Ander Herrera and Paul Pogba, they have a duo blessed with both skill and high workrate, and will no doubt be a daunting challenge for Calum Chambers to keep quiet.
In front of the midfield are the 3-man strikeforce, who OGS has helped convert from flops to firing on all cylinders. They act in a fluid system, both dropping back to add midfield support and stretching defences with their counter attacking runs. Expect Jesse Lingard to push forward into a right winger role at times, and combine with fellow forwards Sanchez and Rashford. In particular, the young English striker has been in impressive recent form, repaying his manager's faith in him by netting 6 goals in his last 8 starts.
Singer's Corner
After a magnificent second half performance against Brighton, and all the momentum it generated with it, it feels like all our hard work was undone last week. Lining up with a back 5, against a notoriously defensive Crystal Palace, put us on the back foot from minute one – and once Milivojevic put away his fortuitous penalty Roy's side never looked like they were going to let us turn the tide.
Against Brighton we took some strong strides up the mountain of survival, but at Selhurst Park we fell back down to base camp. My heart says we could still turn it around, but my head thinks in reality it's game over.
To be honest, if we concede 17 shots to a Zaha-less Crystal Palace side, who only had a third of the ball, we don't deserve to be in the Premier League. Let's look at a quote from Ranieri when he first took over:
"As an Italian manager, the defensive way is the best method of the team. It is important to have a strong vision of how to work defensively"
So his main plan was to apply defensive structure. In practice, he's failed to do so. He's switched our system to add in an extra centre back, but has failed to supplement this with clear defensive plan for how they should work together. The below graph shows how relatively few defensive actions we make – and our equally poor success rate. Our now-light midfield gets easily overrun, and the back 5 never know whether they're coming or going.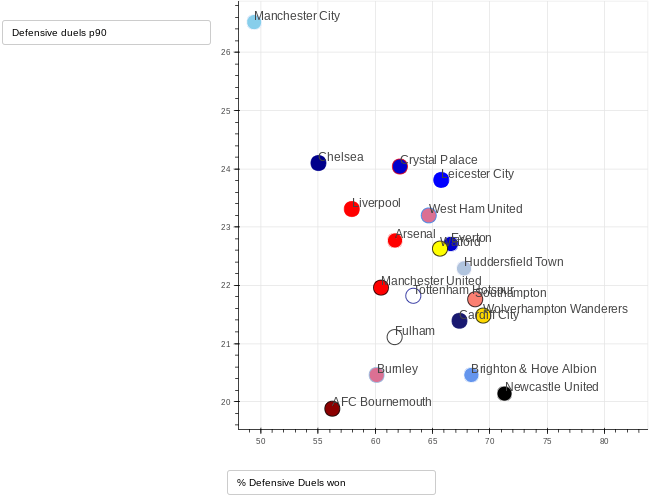 What's the fix? Well, in the short term, I still have high hopes for Anguissa. His defensive output is huge – and when supported by an anchorman he could be a really powerful option. However, in reality, is there a way to fit him, Chambers, Seri and Cairney into the squad? Clearly not – so we'd likely need to sacrifice one of the creative options, which Ranieri is now unlikely to do.
In the long term, I don't want to be negative but at this point I can't wait to get back to the Championship. More games, cheaper tickets, and weaker opposition. However, if we want to bounce back quickly, there's two crucial additions we need to make to the club: A Sporting director who has footballing background, and a progressive young head coach who lives the director's footballing identity. It's the lack of long term football planning input into recruitment, and bringing in a manager who doesn't suit the personnel, which has been our downfall this season. For this, Tony Khan surely has to be held responsible.
Data provided by data.wyscout.com
COYW!!