After a precious victory over Brighton at the Cottage on Tuesday evening, we're back in Premier League action on Saturday. Next up is a short trip to Selhurst Park, and we'll be facing our old friend Roy Hodgson and his Crystal Palace side. Our man George Singer is here to take a look at what we can expect from the game!
It's amazing the difference a win makes isn't it? At half time I was sitting in the Johnny Haynes stand, drinking a lukewarm Bovril, and felt resigned to spending next season watching us play against Luton Town. However, 45 magnificent minutes later, and it's all changed. Hope is starting to bubble up inside me. We couldn't actually do it, could we..?
Whilst there's plenty of permutations this weekend's results could bring, a win is likely to bring us within 3 points of safety – a situation that felt far-fetched just a couple of weeks ago. In our way is a Crystal Palace side starting to feel the pressure themselves too, and will be desperate to get some breathing space between them and the drop zone.
Recent results
August 2018 Fulham 0 – 2 Crystal Palace
May 2014 Fulham 2 – 2 Crystal Palace
October 2013 Crystal Palace 1 – 4 Fulham
January 2005 Fulham 3 – 1 Crystal Palace
October 2004 Crystal Palace 2 – 0 Fulham
Likely lineup
Despite overseeing a remarkable turnaround in Palace's fortunes, after Frank De Boer's goalless tenure, Roy Hodgson's side have slowly slipped down the table in recent weeks. After a draw at St Mary's earlier in the week, they now sit just 4 points from safety, and without an upturn in form may get sucked even further into the relegation dogfight.
Despite missing some key faces, Hodgson is likely to employ the 4-3-3 formation – something he's been favouring in recent weeks.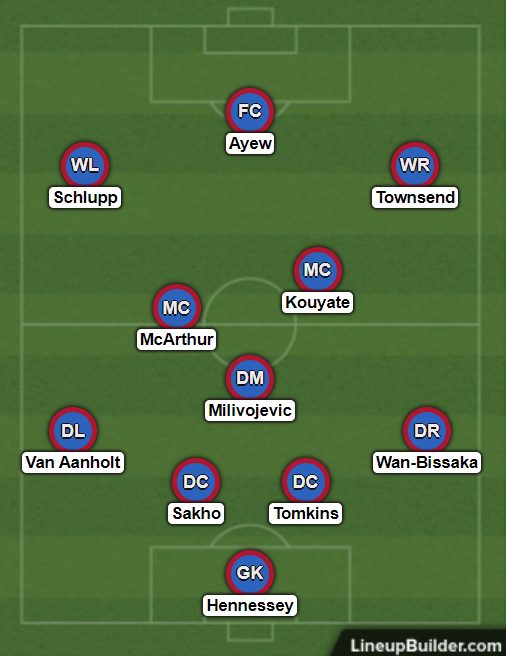 Hodgson will need to make a choice between now-fit Vicente Guita and Wayne Hennessey, with usual first-choice Welshman the most likely to get the nod between the sticks. Whichever gets the nod will replace Veteran keeper Julian Speroni – a significant boost considering the shocking game he had at Anfield a week ago.
In front of the keeper will be the same back 4 that Palace have employed throughout the season – who are all very comfortable playing with each other. Expect their fullbacks to push high up the pitch, as Van Aanholt and (notably) Wan Bissaka offer significant attacking threat with key passes and crosses.
In attack the notable absentee is Wilfred Zaha, who picked up two yellow cards against Southampton on Wednesday – a major boost for Ranieri's men. His likely replacement Schlupp is certainly no slouch however, and with Ayew and Townsend will make up a formidable physical attack. Their speed on the ball is a real weapon on the counter, and Ayew is one of the best forwards in the league at applying pressure to opposition defences when not in possession. New signing Michy Batshuayi, a deadline day loan move from Chelsea, becomes a new option for the Eagles – however it's more likely he'll start the game from the bench.
Singer's Corner
Whilst he's known as the Tinkerman, Tuesday showed why Ranieri needs to employ more tactical flexibility going forward.
It was clear from the first minute that our 5-2-3 formation was going to play right into Brighton's hands. They're a side who pack the middle of the pitch, and our two man midfield had no options to create chances for our isolated front 3. The only attacking avenue came through Seri, who only through his genius was able to spray balls out to our fullbacks. Despite their impressive workrate, they really struggled to generate quality chances, with their weak crosses being comfortably dealt with by Dunk and Duffy.
And then, 25 minutes in and two goals down, Ranieri made the change to the system he should have started the game with, bringing Tom Cairney on for Tim Ream. Combining this with bringing on Vietto for Schurrle, we moved into a 4-2-3-1 and the game was flipped onto it's head. The 3 men sitting behind Mitrovic provided a route from our midfield to our super Serb, and our players were able to play the passing style of football that they do best. Cairney, despite looking a little uncomfortable on the right wing, deserves heaps of praise for his ability to play the right ball at the right time, and surely is a must to start against Palace.
I have no issues at all with the 5-2-3. It certainly has it's place, and (despite not earning any points) brought some excellent performances against Chelsea, Arsenal and Spurs. However, Ranieri needs to learn when is the right time to deploy it, and when it isn't. Against the big boys, it'll allow us to sit back, soak up pressure and pounce on the counter. However, against sides that sit back, it leaves us hamstrung and without any real attacking options.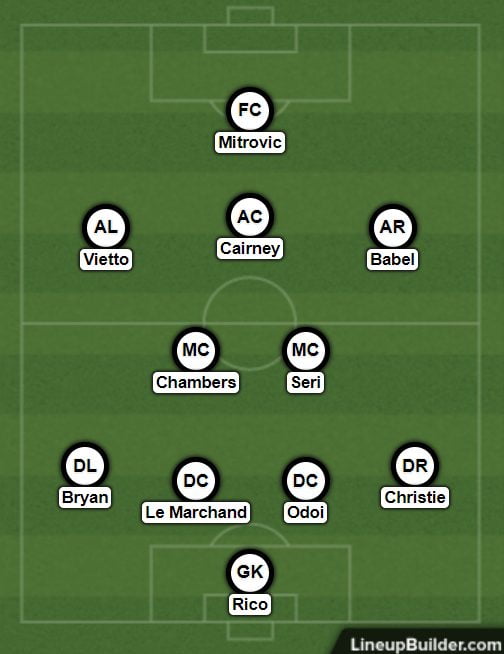 The Palace game is a huge opportunity for this side, and we can't make the same mistakes we made against Brighton. Despite their (bizarre) rivalry, they're a side that play a very similar style of football: pack the midfield, sit back, then hit on the counter. If Ranieri isn't stubborn, and can quickly learn from his mistakes from last week, then this could be the start of a crucial run results in our season.
COYW!!