It's squeaky bum time for Fulham now as we chase down Cardiff for that all important second automatic promotion spot. The straight race to the finish starts on Friday against already relegated Sunderland. Here's George Singer with a lowdown on the Black Cats.
Their Recent Results:
L: Sunderland 1-2 Burton
D: Reading 2-2 Sunderland
D: Sunderland 1-1 Norwich City
D: Leeds United 1-1 Sunderland
L: Sunderland 1-3 Sheffield Wednesday
Our Recent Meetings
Dec 2017: Sunderland 1-0 Fulham
Feb 2015: Fulham 1-3 Sunderland (FA Cup)
Jan 2015: Sunderland 1-1 Fulham (FA Cup)
Jan 2014: Fulham 1-4 Sunderland
Match Odds with Grosvenor Casino
Fulham: 2/11
Draw: 6/1
Sunderland: 12/1
Fulhamish Tip: Fulham to score over 3.5 goals is at 15/8 with Grosvenor Casino
---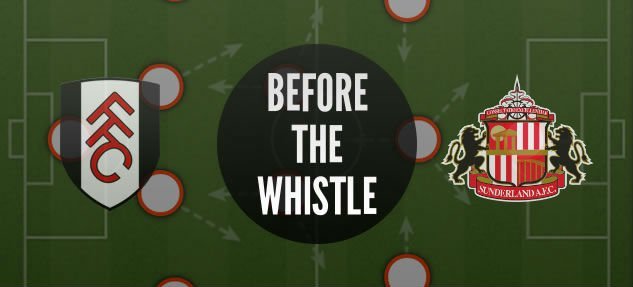 With the finale of the 2017/18 Championship fast approaching, all eyes from South Wales and West London will have be pointed towards the Cottage on Friday night. The hallowed turf will play host to a promotion crunch match, which will go a long way to determine whether the Whites spend a 5th season in the Champioship, or finally claw their back into the Premier League. An already relegated Black Cats side are the visitors, who will be looking for a good performance to build some momentum for their journey into League One.
Last time we played
The last time the sides met was back in December, on a cold afternoon in the Stadium of Light. The Black Cats faced the dreaded possibility of going the whole calendar year so far without a win at home, and this was their final opportunity to avoid the record. Surely it would be Fulhamish for them to do it against the Whites..?
In a close game, where both goalkeepers impressed, it felt like the match was heading towards a 0-0 draw. Bettinelli made some fantastic reflex saves, impressing in his return back to the first team, and papered over the cracks left by a poor defensive performance from his back 4. However, Josh Maja (making his debut for Sunderland) stole a yard in the box and finished well, to earn the Black Cats a valuable 3 points.
At the time, it felt like just another chapter in (what we thought was going to be) a pretty mediocre Fulham season. However, as we now know, Fulham haven't tasted defeat ever since that day, and now sit pretty with a 22 games unbeaten.
How will they line up?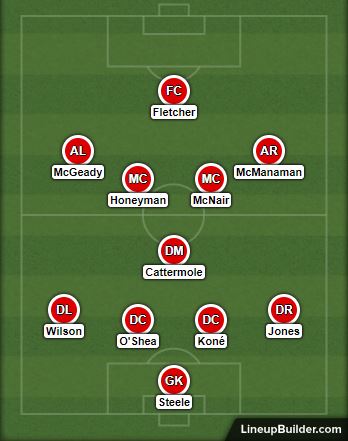 Since taking over, Coleman has preferred to pack the midfield in a 4-1-4-1 formation. It has provided a solid core to the team, and produced some pretty impressive recent results – including plenty of draws and a 4-1 victory at Pride Park. However, the points have come too few too late, and two late Burton goals last Saturday sealed their drop to League One.
As relegated teams often do, Cookie may use this as an opportunity to field some youth players, as he looks to see who in the squad is worth keeping in the Summer. Therefore, he may well swap some of the bigger names for some youth. This could either go two ways: an unexperienced side could be easy prey, or the players could see it as an opportunity to secure a place in the team next season and play with plenty of energy.
Who to watch out for?
In a troubled season, there haven't been many stand-out performers for Sunderland. In fact, excluding Lewis Grabban (who left in January for Aston Villa), no-one in the side has scored more than 7 goals.
However, they do pose some threat from their left wing combination, so that's who I'd be looking out for. Aiden McGeady (the Cat's top scorer) and Ovideo are dangerous players – and probably are the two of the silver linings within the team. They're comfortable crossing (completing 1.7 and 1 crosses per 90 minutes respectively – the highest in the team), and are equally capable cutting inside to shoot on their opposite foot.

Other players to potentially watch include lone-striker Ashley Fletcher, who often pulls out wide and works the channels well. This has provided space in midfield, for midfielder McNair to work in. The youngster from Northern Ireland has also scored 3 bangers from outside the box in the last 3 games, so if he plays he'll be brimming with confidence.
Notes for Slav
As with every game now, this becomes the biggest of the season. With Derby pulling an unlikely win against Cardiff, this is an invaluable opportunity for us to pile on the pressure to our promotion rivals. The Bluebirds travel North on Saturday in a tricky fixture against Hull, and a good result here will germinate the seed of doubt inevitably growing in the back of Cardiff minds.
As with the team we pick, surely there's no real debate here. Slav is only going to do one thing – and that's to stick with our strongest side which impressively took Millwall apart last week. I'd be happy with Piazon keeping his place on the wing, with his high defensive work rate being the perfect antidote to McGeady & Oviedo's threat.
Personally, I'd like to see some of our 'Plan B' players been given an extended runout, but only if we're comfortably ahead. Whilst top 2 is still very much the aim, there's no escaping that play-offs are a distinct possibility. Last year, a lack of a genuine plan-B cost us against Reading, so keeping AK47 and Neeskens warmed up will be key in case we need them against a tough 6th placed side.
Fingers crossed we can pull off another win, and our friends in up in Hull can do us a favour on Saturday.
COYW!!
This article was written with the aid of StrataData, which is property of Stratagem Technologies. StrataData powers the StrataBet Sports Trading Platform, in addition to StrataBet Premium Recommendations.