Fulham take on London rivals Spurs for the first time since dropping out of the Premier League in a tie which makes the Whites underdogs, but with a point to prove.
Whilst on paper Tottenham look the far superior side, and had been on a startlingly good run of form since November, this week the cracks have perhaps begun to show for Mauricio Pochettino's side, with injuries beginning to take their toll.
Danny Rose's absence in particular is one which stands out, with Ben Davies replacing him yet to show any of the same kind of scintillating form which had highlighted Rose as perhaps the pre-eminent full-back in the country. And with skipper Jan Vertonghen and talisman Harry Kane also doubtful, there is certainly room for Fulham to exploit if Jokanovic's side can click into gear.
Whilst the Whites' Championship position isn't perhaps where some feel it should be, the victory over Hull in the last round proved to many the point that fans had been pushing with such verve – whilst Jokanovic's silky passing style is sometimes shattered by pure physicality and ruthlessness in the Championship, it seems to fare better against teams who are expansive and football-orientated themselves.
The demolitions of Reading and Huddersfield at home in the Championship compound this idea, that against good teams who don't want to shut up shop and let the Fulham attack crash time and time again against a defensive wall, the Whites are able to find time and space to create.
Guy Mowbray highlighted Spurs' troubles on the road as well. "Since the end of September, they have won two of 14 away games – form that's put them out of the EFL Cup, the Champions League, Premier League contention (for now) and maybe the Europa League too." Whilst they didn't lose too many before the start of this week, they aren't as clinical on their travels as some would have you believe.
Pochettino has stated that he's going to rotate his squad around in order to try and coax a result out of his players after two consecutive defeats but with the strength that Spurs have in depth, this doesn't mean that any of the players they will be fielding are going to be anything less than Premier League quality.
Fulham will need to step it up if they are going to get anything out of this one, but by no means is it impossible.
Their FA Cup run so far:
3rd Round: Tottenham Hotspur 2-0 Aston Villa
4th Round: Tottenham Hotspur 4-3 Wycombe Wanderers
Our FA Cup run so far:
3rd Round: Cardiff City 1-2 Fulham
4th Round: Fulham 4-1 Hull City
Fulhamish's Starting Line-Up:
Bettinelli between the sticks is the big change for us, and considering Slavisa has confirmed it, we're feeling pretty confident on that front. We've plumped for Cyriac and Kebano as part of a scarily fast front three, who we'd like to see attack Ben Davies down the flanks like Sadio Mané did with such successful for Liverpool last weekend. Tomáš Kalas will hopefully return at the heart of defence, perhaps partnered with Tim Ream, who looks so much more assured with the Czech next to him.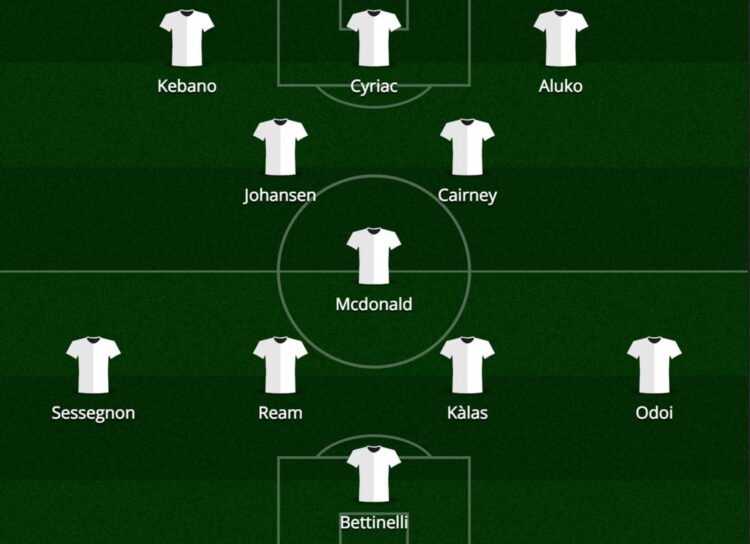 Key Battle
Soné Aluko v Ben Davies
This is crucial. If Fulham can get joy down the flanks, you can see Spurs becoming shaky, and lacking the firepower of Kane alongside the assured presence of Jan Vertonghen, there's definitely a case that a scalp can be made here. Davies was torn to shreds by Mané last weekend, with both goals coming from raw pace and trickery, and if Aluko can get the better of the Spurs full-back, Fulham will look to exploit that every time.
Fulhamish's Prediction:
On our BBC predictions, we plumped for 1-1, with a replay – but that was before Spurs' loss on Merseyside and their Europa League struggles. Pochettino has already stated that he plans on shuffling the pack on Sunday, and a sellout Craven Cottage could be the difference if Fulham get ahead. Slavisa's remarks that he's taking the competition as seriously as possible bode well, and with Spurs battling on three fronts, we think that the scalp might just be on. We're going for a late 2-1 Whites win, with Kebano making it a hat-trick of winners in a week.
Match reaction:
Don't forget to listen to Monday's episode of Fulhamish for all the reaction to the match against Spurs. Subscribe to the podcast on any of the following platforms (others are available):