The Fulham Review: September
Written by Cameron Ramsey on 6th October 2021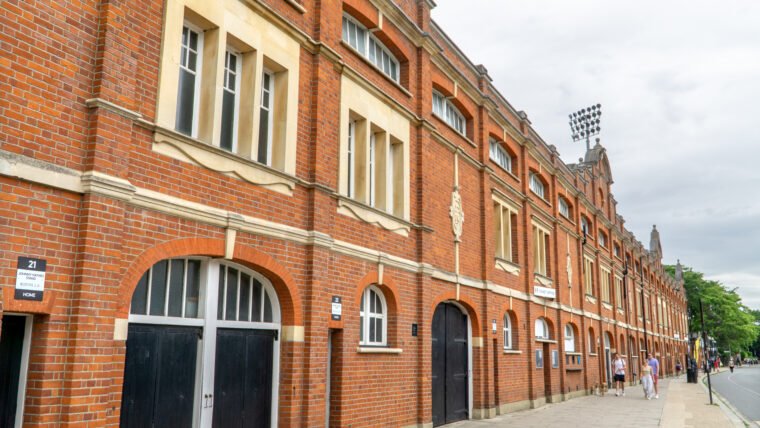 Cam's back with his take on the month that was – which saw some highs and lows for the Whites.
The clue's within the name. It's kind of like 5 Thoughts, just without the monotony of repeating oneself every single time Ivan Cavaleiro summons his inner Anthony Knockaert. The Fulham Review is a broader, more generalised look at all things, well, Fulham and they'll surface on your timeline once a month. What more do you need to know?
September's been extremely up and down; heartwarming revelations have been partnered, curtly, by ridiculously fragmentary performances and yet, a moment of clarity's necessary. We're 11 games into the campaign, we're fifth in the standings and the international break couldn't have come soon enough, frankly. We have to regroup; we have to give our heads a wobble; we have to move on.
Silva's foiled start
Embed from Getty Images
During August, the Whites weren't without their drawbacks, that's for certain. But September sounded the start of Silva's strategic unravelling; a blatant show of naivety against opponents that should've been comfortably swept aside and now, with a further defeat coming deplorably at the hands of Coventry City, teething problems have mutated into damningly detrimental deficiencies.
Our trip to Bloomfield Road on 11 September produced an abject performance, disjointed in all departments, however as the Championship's notoriously taxing, a division where effort and desire commonly eclipses talent and esteem, we'd convinced ourselves the 1-0 loss was nothing more than a minor blip. Irking, yes, but as the Whites trounced Birmingham City in the following fixture, our west coast mishap was swiftly excused as an anomaly.
On the 18th, Reading travelled to SW6 and capitalising on our previous victory was of paramount importance. Typically, up until our trip to the Ricoh Arena, that is, Silva's Fulham tend to create a multitude of opportunities and while we may have registered 25 shots in total compared to the Royals eight, only five were on target, and only one strike, of course, flew past an inspired Luke Southwood. Undone by Ovie Ejaria's spectacular brace, the Whites trudged drearily throughout the encounter, right up until the closing 10 minutes, when we suddenly recognised the significance of actually giving a shit. We rallied, somewhat, but as it so often is, our futile fight back was too little, too late.
It smacked of our 2-1 home defeat against Bristol City two seasons ago; we created but we just couldn't convert. This, so soon after a resounding triumph, was disconcertingly sinister; Silva's rosy complexion blemished within the space of a week, and though our form wasn't spiralling, we struggled to establish consistency in the meetings that led us to where we currently reside in the standings.
Discounting a brave Carabao Cup elimination, Fulham's application after exiting the Happy Shopper trophy on penalties has been wavering – Jekyll and Hyde – and if we dissect our penultimate game of last month at Ashton Gate, you'd come to the fair conclusion that Silva really doesn't know what he wants his team to be – not quite yet, anyway. Plenty of chances sailed our way in the second half, the woodwork was clattered and goal-bound efforts trickled agonisingly wide of the mark, however our overriding approach was tentative, unfamiliar, sacrificial.
The Robins' equaliser was offside, but who are we to complain, we failed to force the issue and press on from a winning position and how painfully Scott Parker does that sound? We goad opponents into retaliating because we can't kill games off frequently enough, and this is where our predicament gets very perplexing. Defiantly, at home to Swansea City, Fulham flicked the switch to clip the Swans' wings in the opening 45, a scintillating display, driven by Aleksandar Mitrovic's lethal prowess. 3-1 up at the break, Silva's men had exhibited a brand that's capable of blowing the competition into the Stone Age but then, in the second-half, our intensity waned as we pledged to protect a two-goal cushion. The task had already been completed, I get it, however Swansea were always capable of resurgence and from where I was perched, it seemed as though we'd run dry of alternatives.
Heading into our first game in October, which was a wash-out in more ways than simply the weather, our exploits amid a Mitro' hat-trick had been less than convincing, and I'm beginning to believe that we've been conned by the prospect of outrageously offensive tactics. It just isn't possible with the starting XIs we've recently fielded. We haven't gelled as yet, and Silva's done next to nothing to remedy our pronounced weaknesses, which have undoubtedly increased in severity since Josh Bowler pulled our pants down for the Tangerines.
Committing bodies to counter attacks tempts a reaction from the opposition, a team is infinitely more vulnerable if their advances are quelled with multiple players out of position, but if an attacking side is able to take advantage, to demonstrate a dominance that's deadly and resolute, the chasing collective can do nothing but close their eyes and brace for impact. Silva hasn't entirely grasped the art of an all-out offensive plan of action, we've witnessed the beauty of sporadic forays but it all boils down to stability, something the Whites haven't experienced in the 11 games we've played thus far. One hand strokes, the other slaps, so naturally, we've no clue where we truly stand in this title skirmish and Marco has no excuse. Navigating the Championship will be the Portuguese boss's biggest managerial challenge and to date, his short stint in Fulham's technical area has been shrouded and fraught, as well as deceptively electrifying in dribs and drabs.
Key absentees missed
Embed from Getty Images
Blame it all on these two for being missing, the swines. Relying on Denis Odoi to shore-up the right side in Kenny Tete's absence isn't necessarily ideal, although his inclusions haven't been disastrous, and nobody within the camp can trouble a defence like Fabio Carvalho. With two key members out of contention for what feels like an eternity, it's clear to see what we're lacking, and that's direct, innovative progression.
Tete's expansiveness moving forward is a unique weapon in his own personal armoury and without his constantly determined overlaps, the Whites' build-up play has gravitated predominantly towards the left channel, even if Denis supplied Mitro with a sculpted assist for the Serb's third against Swansea. The Dutchman offers a dedication stronger than that of those he faces on a weekly basis when fit, and if he'd been ready to face Ejaria, for example, the former Liverpool graduate wouldn't have prospered to the degree he did at the Cottage.
Domingos Quina isn't equipped for regular starts in the Championship and Bobby Decordova-Reid's effect upon proceedings is greater along the touchlines than it is in those congested central pockets Carvalho inhabits undeterred, so we all appreciate the gulf between the 18-year-old and those who've deputised to a lesser standard. Fabio grades his own papers.
The division's eminent starlet, Carvalho's influence has warranted reward, a ranking within the squad and a regard among the rest of the league that's admired for good reason. He commits his man in a manner that tortures and exploits, hanging on the last defender's shoulder or scheming in the thick of it all, the young instigator's intelligence initiates a razor-sharp edge within Silva's blueprints and when he's not involved, our final third expeditions fall flat.
We have to nurse them back to full health and if I'm not mistaken, both are set to resume normal operations after the October international break. We've been deprived of Kung-Fu Kenny's explosive adventure and Fabio's eruptive compulsion, and though we've a team blessed with adeptness, in spite of our unsightly imperfections, deprivations such as these have seriously dented our momentum and solidity as a cohesive unit and as much as I love Denis, I hope I don't see him take to the turf from a starting berth for many, many months from now.
The Gazza conundrum
Embed from Getty Images
On the flip side of longing for eventual returns, one player I think many of us have seen far too much of is Paulo Gazzaniga. I penned an article a few weeks back prompting a response from those that care to sample our content as to whether the former Spurs stopper should be dropped by Silva and that's the reality I'd wish for upon our meeting with Queens Park Rangers.
I can't work out if he's a decent 'keeper or not, although I'm close to formalising a conclusion and it's far from laudatory. His distribution's lackadaisical, he doesn't anticipate encroaching danger and he cannot command his penalty area, so if we take all of these factors into consideration, it's fair to suspect that his inclusions, on the surface, are grossly unjust.
Marek Rodak, in his two League Cup starts, conducted himself magnificently, even in the penalty shoot-out at the Cottage, the Slovakia international did all that was expected of him, but there's only so much a 'keeper can accomplish if their on-field teammates fail to reciprocate. Sharp, reactionary, vocal, he is being wrongfully overshadowed.
He's a trusted international representative, who's learning each and every time he travels Europe with his nation and at club level, in his rare outings, he upholds a sturdy level that's appreciated wholeheartedly by the fan base. In the Championship, the 24-year-old has sampled a triumphant environment and understanding what it takes to succeed is in his makeup. Gazza', in contrast, doesn't possess longevity where form's concerned, the Argentine's positive attributes, at this period of the campaign, are heavily outweighed by the insufficient.
It isn't illicit to crave a change between the sticks; Gazzaniga's hardly covered himself in glory, but perhaps he still requires a little more time and patience. He's an adequate shot-stopper and though this may shock and beguile, a goalkeeper isn't going to deny every strike that's rattled in his general direction from bulging the back of the net. I really don't want to smear his name with mud, I'm adamant there's an assured No.1 in there somewhere, beneath his measurable insecurities, however in the aftermath of what's occurred, I see no plausible reason why he should remain our first-choice.
Role Model Rhys
Actually, never mind Rody, we all know who's worthy of manning the 18-yard box and he goes by the name of Rhys Porter. Rhys, a fellow Fulham fan with cerebral palsy and epilepsy, has had to battle callous online abuse and discrimination, and in conquering the trolls and keyboard cowards he's encountered, he's now courage personified, with the entire nation awestruck by his bravery.
Appearing on BBC Breakfast, Rhys reduced us all to tears when he was joined on camera by Captain America, Tim Ream, who proclaimed that the teenager is "more of an inspiration" than any footballer and I couldn't agree more fervently. Rhys is raising money for Scope, a disability charity, he's confronting hate with compassion, and he's spearheading a strong, lionhearted message.
We all have his back. The club have included him in our squad roster on the official website, and rightfully so – he's celebrated with all of us in the terraces and he's even introduced a Fulhamish podcast. He'll never go alone on his journey to raise awareness and eradicate abhorrence.
Role models don't always have to be Hollywood A-list stars, a club-record talisman, they don't even have to be your 55-year-old dad, because sometimes, especially in this instance, a 13-year-old lad that plays in goal for Feltham Bees Football Club (as well as now the mighty Whites) is the perfect exemplar. Be nice, be inclusive, be exactly like Rhys.