Should Marco Silva drop Paulo Gazzaniga?
Written by Cameron Ramsey on 20th September 2021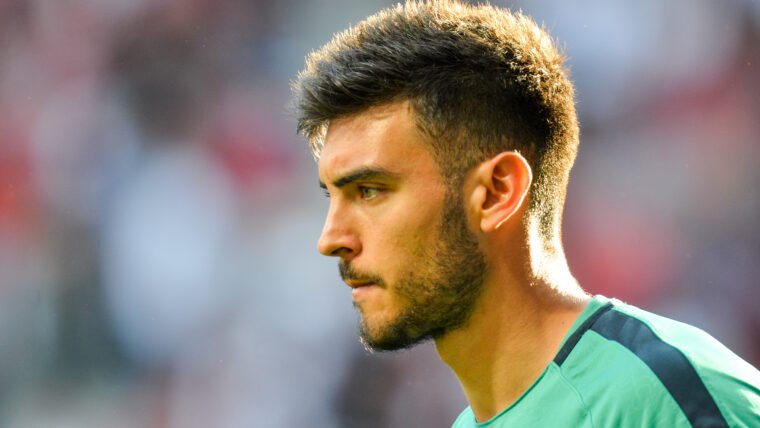 Cam looks at whether the clamour for Rodak to start against Reading has merit.
This, for so many supporters, is a burning issue, so let's cut straight to the chase: should Paulo Gazzaniga be dropped? On the surface, the Argentine's eight-game stretch between the sticks in the Championship hasn't been calamitous, although observationally, something's amiss, and as we've a tried and trusted 'second-choice' 'keeper in Marek Rodak, would it be proactive for Marco Silva to switch things up in the shot-stopping department?
Gazzaniga arrived on a free transfer in the summer transfer window and almost instantly, the former Tottenham Hotspur man was viewed to be our undisputed number one. A towering figure with Champions League experience, Paulo was certainly an intriguing acquisition, he'd understudied Hugo Lloris at Spurs and upon his sporadic outings for the North Londoners, he'd garnered a dependable reputation, albeit a surplus one, and we jumped at the chance to lure him to SW6.
Embed from Getty Images
Big reputation
He joined Fulham, presumably, to demand a starting spot, to endear himself to our expectant fan base, to safeguard us towards a siege for the title, but as it stands, midway through September, the jury's still out and there's plausible reason to argue against his starting status, as some would openly testify.
With two clean sheets and seven goals shipped, Gazzaniga has, indeed, manned the target competently, although if you throw a little perspective on his record, it's middle-of-the-road fodder in comparison to the nine 'keepers that are ahead of him in the clean sheet running. Birmingham City's Matija Sarkic is top of the tree with four shut-outs, only two more than Paulo, of course, however for a team that's tipped as marginal favourites to win the entire competition, our defence has to become watertight and that ultimately begins with the man with the gloves. Gazzaniga's gloves, though, haven't necessarily been the securest of tools, and neither have his adidas Predators, if we're being flagrantly honest.
At set-pieces, the 29-year-old isn't overly convincing as he attempts to rid his penalty area of danger. He claws at crosses, he occasionally misjudges the flight of the ball and toe-to-toe, particularly at corners despite his stature, he's often overpowered. Something just isn't sitting right.
We've seen him hurl himself from one upright to the next in order to deflect goal-bound efforts to safety, with a dead ball, he's able to pick passes and also find teammates past the halfway line with relative precision, he is a fairly reliable option, there's no denying that, but his pitfalls are prominent and unsightly to say the very, very least.
Embed from Getty Images
Technical glitches?
Goalkeepers nowadays are expected to operate as an auxiliary, deep-lying playmaker and rotating possession swiftly and effectively is paramount. As the Whites build patterns to relinquish pressure from the opposition, Paulo's trusted to dispense the ball pragmatically but first, he has to tame the bounce and quite regularly, he makes an unsavoury meal of simple scenarios. It's fundamental, take a touch and utilise the easiest escape route although periodically, he's prone to hashing elementary passes.
Less-than-fancy footwork should be the least of a 'keeper's worries, and it's a small blemish, although larger scars have been inflicted and Blackpool away is a prime example. The Tangerines could've pounced multiple times as a direct result of Gazzaniga's dodgy distribution but being beaten at the near post by a strike that was telegraphed, before it had even left Josh Bowler's boot, was a detrimental gouge in his armour. His capabilities had been questioned prior to our trip to Bloomfield Road and his outing on the west coast only amplified those faint doubts further.
Reading at home, Ovie Ejaria registered a sumptuous brace, worthy of winning any game, no matter the magnitude however, for the sake of this article, could Gazzaniga could've done better? Without clutching at straws here, Ejaria's first strike was sensational, his second could've been closed down a lot sooner. Maybe Paulo wasn't expecting the trap to be sprung so rapidly but he was dozing, flat-footed, and following Fulham's recent shortcomings, the South American's yet to have won me over, not when we've a terrific Slovakian waiting patiently in the dugout.
Embed from Getty Images
Return of the Rod?
We've all seen more than enough to have made our minds up, he's showcased his best qualities and his not-so admirable deficiencies, and perhaps it's unfair to drag his reputation through the mud after only a matter of weeks, but we've also witnessed changes happen in other departments for experimental purposes, so why can't we reintroduce Rodak?
It's not as if we're consistent at this juncture of the campaign, we're going through the motions of a revamp under Silva and remedying our flip-flopping form could rest on one final tweak. We know Paulo can pull ridiculous saves out of nowhere, we remember Marek's 2019/20 heroics and we've caught glimpses of his expertise in the Carabao Cup, so what's the harm in giving a recently capped Slovakia international the nod, in place of a man who could actually benefit from concrete competition for supremacy?
We don't name the squads, but we can voice our opinions and I'm seriously tempted by the prospect of restoring a forgotten custodian to his former mantle, and I see no lasting damage in hooking Gazza to accommodate that appealing possibility, to mix things up, for Marco to dip his toe in waters we've complete confidence in. So, what say you, readers? Do we stick? Or do we twist?