Why Marco Silva will be a good fit for Fulham
Written by Sammy James on 1st July 2021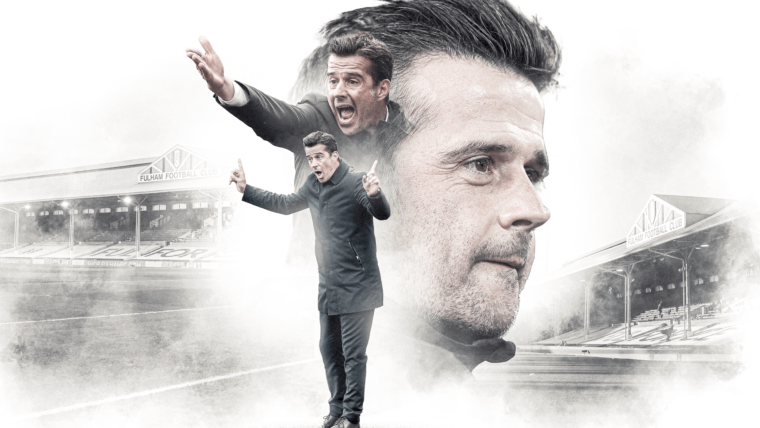 Sammy takes a look at the new boss at Craven Cottage, Marco Silva and dissects why he should be a success in SW6.
On Thursday, it was announced that Marco Silva has become the new head coach at Fulham FC. It's put a quick end to a slow burning managerial saga that pretty much started as soon as Fulham were mathematically relegated against Burnley on May 10th.
Whilst Marco Silva has been in the conversation (Jack even mentioned his name on Tuesday's podcast), he hasn't been one of the top names banded about, either by fans or bookies.
The other candidates
5️⃣ bookies favourites for the next #FFC manager

▫️ Chris Wilder
▫️ Steve Cooper
▫️ Neil Lennon
▫️ Slaven Bilic
▫️ Javier Pereira

Who would be your pick (if any)?

— Fulhamish (@FulhamishPod) June 28, 2021
Of the five listed above, my preference would have been Eddie Howe, although I would have accepted Javier Periera given his past links to the club. I'm interested to see what happens next with Javi, he tweeted recently that he's been given working rights to remain in the UK, and given that his managerial experiences in China are not going brilliantly (his side Henan Songshan Longmen are last in the Chinese Super League) maybe he would be interested in a move back to Fulham in a renewed shake-up.
Chris Wilder was the first choice of many, and he was wonderfully championed by our very own Charles Jones in this article here. Clearly, Wilder is a clever man – and as Charles points out, if his name was Cristiano Wildinho, who didn't have a broad Yorkshire accent, he would probably be rated far higher within the game.
One big unanswered question with Wilder though, is that he is famously wants control over the whole football club, including transfers. Like it or loathe it, Fulham are wedded to the Director of Football structure, and it's hard to see them wavering from that for anyone.
Previous Experience
So with Silva the new man in the dugout, what can we expect?
As I'm sure you know by now, his three most recent clubs have all been in the Premier League with Hull, Watford and Everton.
With that in mind, I've got the opinion of fans from all those teams for a guage on what we can expect
Hull City
Embed from Getty Images
Despite relegation, his job at Hull was hugely impressive. The Tigers were a complete shambles when he arrived in January 2017, and were staring relegation square in the face. From 19th position, he managed to get Hull to the safety of 17th with three games to spare, but sadly three defeats at the end of the season saw Hull sucked back in to the mire.
Whilst ultimately, Silva couldn't save them, for me getting them even close was a remarkable achievement.
Hull fan and broadcaster Dan Morfitt said: He'll have a season to hopefully plunder some decent loans for you. It can be a bit gung-ho or nothing but he needs a stable club and Fulham will give him that. We should've stayed up… All the very best.
Mixed reaction, but for me, that even under difficult circumstances, Silva is able to pull rabbits out of hats.
Watford
Embed from Getty Images
His time at Vicarage Road is controversial to say the least. After a blistering start, his attention was diverted by Everton who famously had a £10m bid declined by Watford, only to terminate his contract months later with an eventual £4m settlement
This for me is Silva's biggest negative. He showed a complete lack of loyalty to Watford as soon as a moderately better offer came calling.
Here's two opinions by From The Rookery End, a Watford podcast also partnered with The Athletic.
Mike Parkin said: Had Watford playing genuinely scintillating stuff before he decided he wanted a new job and downed tools. Won't find too many Hornets' fans with many kind words to say, but before he did the dirty he had us looking good.
Dave Walker said: Before his head got turned by Everton he had us playing superbly well and we were right up there in the table. His overall record speaks for itself, however.
Surprisingly positive reactions, but as expected, with the caveat over loyalty. On this one, part of me thinks that the scenarios are a bit different for Marco, and that he has surely had his fingers burned from having his head turned so drastically. If he takes Fulham up, and is then in demand, surely there aren't many clubs who could either realistically sway him or realistically want him?
After two years out of the game, it looks like he's on a mission to resurrect his career, name and image. Repeating the same trick twice would be a very risky game. Then again, as they always say, a leopard never changes its spots.
Everton
Embed from Getty Images
Once Silva made the daring move to Merseyside, there was one golden rule, 'don't fuck it up'. Whilst his first season was fantastically Everton; 8th place and out in the 4th round of the FA Cup, his second season was a disaster. Three straight defeats, including a 5-2 defeat to neighbours Liverpool left Everton 18th and Silva heading for the exit door.
Dave Downie, from the excellent Blue Room podcast gave his thoughts on Silva: I'm slightly different to most, I thought some of his ideas were very good, but think he needs a way of keeping the squad on side.
From chatting to Evertonians, I think Dave is certainly more positive than most, but again, it's an encouraging sign to me that the potential is there, as long as he keeps everyone happy. However, it's quite clear that is a challenge for Silva.
Can Silva produce Gold?
Embed from Getty Images
With just over a month to the season, Silva doesn't have long to get to work. He has some big challenges ahead to unite a dressing room that is understandably fraught after a second relegation in three years.
I'll admit, my first thought when I saw Peter Rutzler tweet that Fulham had provisionally agreed a deal with Silva, was that it was a bit of an underwhelming move.
However, with a bit of time to ponder, and maybe a sprinkling of foolish optimism, I think it's the right move, for the following reasons.
He will be desperate to prove himself and re-establish his reputation after a high-profile failing at Everton (a historically difficult club to succeed at)
He is capable of producing exhilarating football that's fast and direct, something we've missed at Craven Cottage under Ranieri and Parker.
As mentioned by Tom Barclay, he's a fan of Aleksandar Mitrovic. I also hope that Silva is a high-profile enough manager to potentially convince Mitro to stay.
He has worked under different Director of Football structures, including the Pozzo family at Watford, so will likely be comfortable with Fulham's slightly unconventional boardroom.
His assistant is Luis Boa Morte, a cult Fulham hero (and my all-time favourite player) – little more to be said than that!
Maybe this is me looking through rose-tinted glasses, but in my opinion, this is a good fit for Fulham, and one I'm hopeful can breed success and a swift return to the Premier League. All aboard HMS Piss The League!