Positives and negatives: Brighton and Hove Albion 1-1 Fulham
Written by Cameron Ramsey on 30th October 2023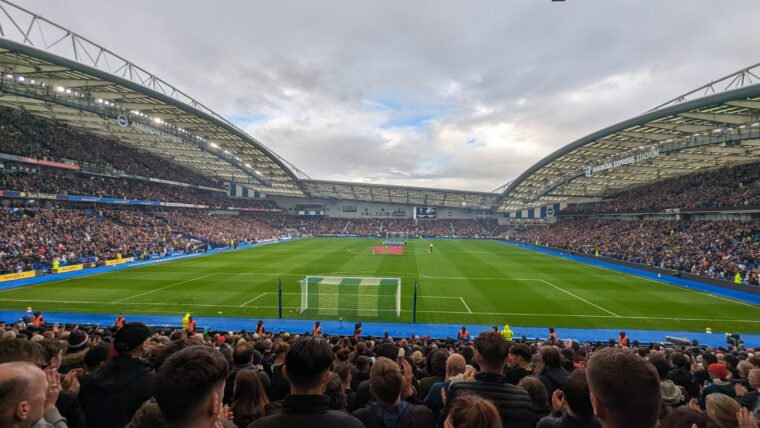 The AmEx stayed open for an hour or so after the final whistle and legend has it, CamRam drank all their beer. Didn't stop him from doing his usual rounds, mind.
Brighton and Hove Albion's weird, weird supporters will have you believe the Seagulls are superior but records don't fib, do they? In the Premier League, Fulham are unbeaten against the seasiders in seven outings and on Sunday afternoon, as the stats define, Marco Silva's Whites extracted yet more salty, salty tears from Roberto De Zerbi's entitled disciples.
They're becoming the division's top-ranking delusional fan base and I cannot wait for them to crash and burn. Anyway, it's another vital point in the planet's most competitive league, a draw we won't take for granted unlike some, and with Manchester United up next domestically at the Cottage, we have to enjoy moments like these because before you know it, they could become a distant memory.
Ready yourselves for protest, for hoards of tourists and away fans in the home terraces, next weekend we face a club of genuine stature, a superpower with London's largest fandom and our voices have to be heard. For now, though, we're 14th in the standings with 12 points to our credit and maybe, just maybe, Fulham will make a statement of their own on the pitch once matchday 11 comes knocking. You Whites!
Positives
Second half siege mentality
Every single emotion was experienced in just an hour-and-a-half's worth of unscripted drama. From blue-faced, foul-mouthed disparity to scenes that make it all worthwhile, Fulham's front-footed siege mentality in the second 45 in its entirety was magnificent. A reaction that spoke volumes in a stadium with next to no atmosphere, we'll have a bit of that.
The contrast in performance was uplifting, enthusiasm was reintroduced to our game plan and we answered difficult questions with action, animation that curbed Brighton's momentum and it's an attitude that has to become the norm. We weren't prepared in the opening half, we were massively off the pace and all was resolved once the second 45 got underway.
Silva must've given his men a monumental paddling. The effort and application on show was excellent, we anticipated Brighton's mode of attack and we counteracted it to perfection. Silencing one of the division's innovators was tough going, we knew we'd have to dig ridiculously deep but nobody could envision the fightback wagered by Fulham, a side Brighton's conceited fans label as "boring" and "anti-football".
There was absolutely nothing about our play in the second half that verified or reaffirmed such nonsense. Brighton were secondary, we regained territory and once we got the ball fizzing from one destination to the next, De Zerbi's acclaimed philosophy was impeded by Silva's stylish system. It wasn't a smash-and-grab shithousing like it was the last time we visited, we were far more involved and relevant once we'd given our heads a proper wobbling, nevertheless, it's a single point that feels just as satisfying as three because it proved that even in adversity, this team can find solutions and it will implement them.
Antonee Robinson claimed interception after interception, Calvin Bassey wasn't muddled when clearing, a spring was apparent in Andreas Pereira's step, we'll applaud others shortly but the big, big takeaway rests within our teamwork, our desire to restore order and if we continue to confront opponents without doubt or caution, we will ensure hard-earned results because there's always reward in bravery.
Iwobi's game-changing ingenuity
Neat and tidy footwork, improvisation that Brighton's couldn't foresee, Alex Iwobi warmed to the occasion alongside his teammates and once he'd weathered to the game's intensity, he was a prime instigator. A comfortable free-roaming playmaker, Iwobi weaved his magic when it really mattered, he'd sidestep and evade dispossessors throughout proceedings but his ingenuity in the build-up to our equaliser let's you know exactly why he should be be a definite starter.
The scoop, the turn on a sixpence, the awareness to pop possession to initiate a smart combination between Harry Wilson and João Palhinha, the former Arsenal prodigy manufactured an opportunity Arsene Wenger would drool over and the thing is, he can switch it on whenever he fancies. Our midfield's begged for creation, imagination, and Iwobi certainly left an impression on Silva's selection process.
Harrison Reed's work-rate is rarely matched, Sasa Lukic is gradually improving, Tom Cairney's better suited to 20-minute cameos although the Nigeria international's has something extra, a flare and fearlessness that unlocked Brighton's stringent defence and now, I and many others are left wanting more of the same, permanently.

Palhinha, purveyor of limbs
What is it with João Palhinha and sending limbs skywards? I ain't talking about the elbow altercation which, for the record, just isn't a red card, I'm talking about equalisers in the latter stages because the Portuguese midfield bailiff specialises in them. Palhinha's no-nonsense knack for tackling is usually the hot topic of conversation, he's completed the most successful challenges in the division and nobody even comes close to equalling or indeed bettering his imperious stats but on Sunday, it was his pinpoint finishing that had the masses clucking, a trademark J-Pally swirler that had beaten an airborne Jason Steele all ends up.
The shape on it was utterly sublime. He didn't need a glance at the target, as soon as he shifted the ball out of his feet it wasn't going anywhere else other than the back of the net and if the strikers in our ranks require a tutorial on how to stick it away, they'd be wise to take note of Joao's divine technique. It slapped like a snare drum, rainwater sprayed off the netting, it was footballing ASMR at its spine-tingling finest and Palhinha's a purveyor of away day pandemonium.
He really is an elite competitor. Palhinha surgically removes possession from the opposition, his chart-topping expertise cannot be taught and he occasionally chips in with some belters as well. We don't know what will become of Joao in January, or indeed the summer, but as long as he's clamping runners and thumping worldies, badge tapping and all, I will never complain. He said he was going to give 100% for the club and he is evidently a man of his word.
Muniz causes debate
This is a debate which'll thicken even further as we stray into the mid-season transfer window. We don't have an out-and-out number nine, an undisputed favourite at the pointy end of the XI and I don't think anyone's completely sold on either of our three available strikers. Carlos Vinicius wasn't involved as the Whites plotted up on the south coast, Jimenez began matters up top and was expectedly underwhelming, so that meant Rodrigo Muniz would grace the bench again and if his naughty little flick worked out the way it was supposed to, we'd surely have to start him on Wednesday evening, right?
The thing is, Muniz isn't a final third virtuoso, nor is he someone I'd like to have anywhere near a Premier League matchday squad but beggars can't be choosers, we're scraping the arses of barrels here and that is why I am so conflicted. The Brazilian was tasked to antagonise, he pressed with intensity, he attempted to distract Brighton's sitting centre-backs and even if he's a peripheral figure, a last resort, his impact was stronger than Jimenez's and I'd say he's climbed a place in the three-way pecking order for sure.
This time last year, the sight of Muniz in the top-flight would've given off all the wrong signals, it still does, but if he's willing to take command in a scoring department that's misfiring, we have no other option but to give him the nod. At least then – when it inevitably doesn't pay off – we've exhausted all possible options and alternatives. On Sunday, however, Rodrigo gave a fair account of himself and as Raul's nothing more than a spent force, he has to feature in some capacity when United come to town.
Negatives
A first half to forget (if you can!)
That pint and pie and half-time was nursed back in a shell-shocked concourse. The full-time result is the only thing that really matters here however, we can't hide from the fact our first-half showing, as a collective, was agonising. Brighton are an extremely well-drilled outfit, they've been transformed by De Zerbi's pragmatism and the hosts really should've put the game to bed before the interval. Nobody in flamingo pink was really up for it, we just didn't have a leg to stand on. Shameless, but true.
We couldn't string passes together without being undone by our own sloppiness, we were consistently outmanoeuvred by the Seagulls' punchy and accurate interchanges, we comprehensively outplayed in every sense and we can thank ourselves lucky that Brighton somehow didn't fire themselves into a greater lead. That is absolutely on them, though, because we were there for the taking, and nothing else. We aren't particularly good at beginning games quickly, with intent and confidence, and we soaked up an immeasurable amount of pressure as the hosts unhinged our static shape.
The first goal of the afternoon was swept home effortlessly by Evan Ferguson, we literally stood still as the young Irishman diverted from the edge of the 18 and it was an opportunity that came about because Raul Jimenez shrunk out of a 50/50 challenge. Play was overturned and within an instance as our defenders became bystanders, we were behind and deservedly so. The Whites were easily contained, manipulated with little defiance or retaliation, Brighton were very much capable of inflicting serious harm and we would've had no answer.
Singling out individuals isn't really necessary. We know Robinson's composure was disturbed, we didn't feed the channels enough and when we did, both Willian and Bobby Decordova-Reid were inactive, Timothy Castagne was resigned but it isn't worth a featuring paragraph for each player as nobody was solely culpable. As a team, we were painfully poor in the pissing rain, we have to treat each Premier League outing with respect and if we want to continue to pick up points against sides of European quality, we have to trust and believe in ourselves for the duration of the game, not only after the gaffer's given a bollocking at the break.