Positives and negatives: Crystal Palace 0-0 Fulham
Written by Cameron Ramsey on 24th September 2023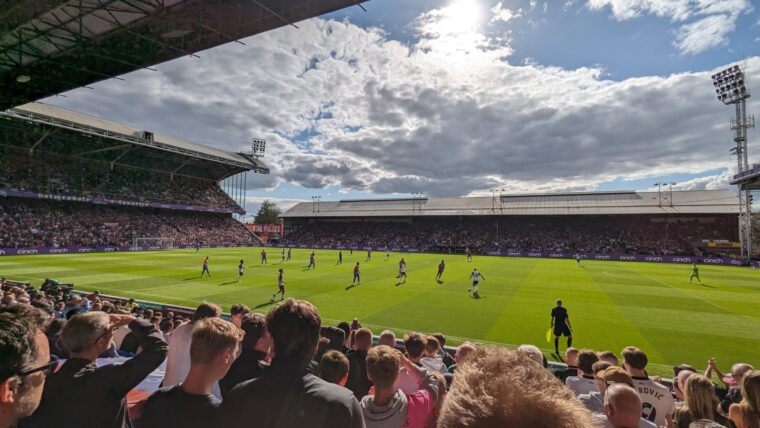 It wasn't a classic, we know, and now it's Cam's task to talk up Saturday's goalless draw as best as he can. We're being spoiled rotten here, eh?
There really isn't too much to unpack. Paul Tierney flew the flag for shite officiating, Crystal Palace's home support is unbelievably touchy, it was a game that truly earned its "last but in every way possible, least" billing in the Match of the Day schedule, but a point should never be scoffed at.
Roy Hodgson was back in the dugout for the Eagles, his side were without a few key players and he will certainly view shared spoils with optimism, so why shouldn't we? We're 11th in the standings, there's evident work that needs to be done but we should never discount a draw at Selhurst Park, or at any venue for that matter. There's a Sainsbury's bolted onto Palace's moody old stadium but in our world of Waitrose cheeseboards and Victoria sponges, every little helps.
Positives
Fullbacks on point
You really have to hand it to Timothy Castagne and our Player of the Match Antonee Robinson. Out wide against problematic wingers and fullbacks, our right and left flanks were guarded manfully and they were both prominent outlets throughout, on point, large and in charge. Their efforts were non-stop, their focus was trained and they weren't shy of asserting themselves offensively and defensively.
Deployed on his supposed best side, the right, of course, Castagne was on-call to deflect any impending issues, he was firm in challenges and in advanced positions, he was direct and driven. He flashed low crosses into the penalty area, they weren't to be capitalised upon but I can't knock his intent, and as Kenny Tete watched on from his vantage point in the terraces, he'll know very well that he has credible competition, a summer signing that can certainly dislodge him if he's given half a chance of doing so. There's no such thing as an off day, not that there was in the first place for the Dutchman, mind.
Jordan Ayew was shackled by Robinson, our American left-back tracked him step-by-step and once he'd cornered Palace's Ghana international, he robbed possession with cold-blooded conviction. Jedi's a getaway driver on the ball, once he's in contact he steps on it and if he doesn't eventually entangle himself in his crazed stride, there's simply no stopping him. He anticipated telegraphed passes, his interceptions were timed to perfection and on the charge, he was our primary source of danger.
Back-to-back clean sheets
Our full-backs weren't the only components that ensured back-to-back clean sheets, though. The Eagles rarely waged war on our 18-yard box, other than an Ebere Eze strike that fizzed wide of the mark in the first half, they were particularly quiet in the final third and that's because we didn't allow them to construct meaningful opportunities.
How can a side with minus five goal difference have the most clean sheets in the top-flight? Well, to a man, we were better organised and we were motivated, it was a combined effort and as everyone respected their individual roles and responsibilities and even if things aren't necessarily clicking in the scoring department, we weren't be taken advantage of because there were no weak links from a defensive standpoint.
All we're missing is that bite up top, that cut and thrust we're so used to under Silva but we'll touch on that a little later on. With Joao Palhinha shoring absolutely everything up in the middle in front of a central defensive pairing that are gradually forming an unmovable partnership, twinned with expedience and desire out wide and calm and composure across the board, we're a solid unit that's becoming increasingly difficult to dismantle and in the Premier League, foundational stability is significant and clearly, we're very well drilled both on and off the ball.
Subs made a difference
Silva's a stickler for sticking with his starting string until the latest available opportunity to switch things up but when he did, the lads he threw into the mix after the 76th minute made a telling difference. The gaffer made a trio of changes between the 76th and 80th minute and each of them were essential, Harry Wilson carried possession with purpose, Alex Iwobi schemed to forge openings for his teammates to explore and Carlos Vinicius's intent to press late on scrambled Palace's composure at the back.
We aren't entirely thin on the ground, our substitutions could easily and deservedly begin proceedings on a weekly basis and against Norwich City in the Carabao Cup, I expect all three of them to be named in our matchday XI. While they were introduced at the back end of the match – probably ten minutes too late – their individual impacts were well received, our energy levels were instantly rejuvenated and as Marco's set to experiment, they all pose genuine selection dilemmas and it'll be intriguing to see how we manage and rotate our first-team options in the not-so-distant future.
Negatives
Gotta stick 'em away
Sam Johnstone got down to make some top-rate saves, we can't discredit that, but in front of the target with clear-cut chances to break the deadlock, we were hugely wasteful and as we've only netted 5 goals in 8 games, firing blanks is becoming a regular theme and we have to find solutions. Obviously, being ruthless and single-minded is a must, especially for Raul Jimenez. His first key opportunity was as golden as they come and his second of the afternoon, as he was slipped in by Bobby Decordova-Reid (who probably could've let rip himself, truth be told), bared symptoms of a striker that isn't even sure of himself.
From that position, I want my number nine to blast the ball to buggery. Twat it across the target, at least force the 'keeper into action and Jimenez was caught in two minds. Andreas Pereira maybe should've been sharper at the back stick but really, I reckon he was expecting Raul to pull the trigger, as we all were. I expected Vini to begin before the team sheet emerged and though we've the Canaries up next, the Brazilian has to start against Chelsea in our next Premier League fixture.
Willian had two decent efforts of his own as well. The first was a typical shift and strike, it just lacked shape and swazz and the second was palmed away excellently by Palace's active stopper. Other than that, there wasn't a great deal of goalmouth activity, both teams were ineffective in attacking scenarios but this isn't about the Eagles, it's about us.
This was a winnable game, it's one where we should've claimed maximum points and yes, although a point on the road is a bonus in its own way, we have to appreciate that while we're performing well in certain areas, we're falling extremely short of the mark in others and converting pivotal chances is our main deficiency. I am not prepared to grizzle about it every single week. Shoot on sight, be greedy, just find the back of the net at all costs.