Fulham's greatest Premier League XI: as voted by the Fulhamish community
Written by George Rossiter on 10th August 2023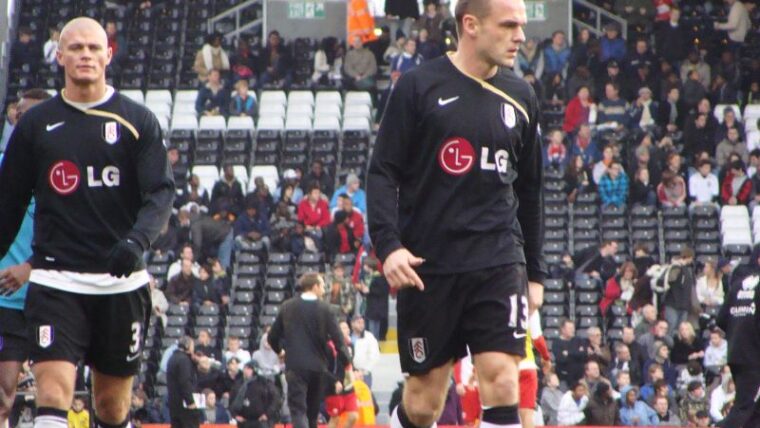 Our community on Telegram have been voting our our best XI – here are the results.
Members of the Fulhamish Community on Telegram were recently asked to vote on a poll for each position to make up a greatest ever team of Fulham players from the Premier League era. Each poll/position included four options, with players from the eras of Tigana and Coleman through to the stars that played under Parker and Silva. Here it is then: Fulham's greatest ever Premier League XI.
Goalkeeper: Edwin Van Der Sar
Voting results: Van Der Sar 53%, Mark Schwarzer 34%, Bernd Leno 13%, Alphonse Areola 0%.
Signing from Juventus in the summer of 2001 following Fulham's promotion to the Premier League, Van Der Sar was a real marquee signing who went onto have a hugely successful career. 130 caps for the Netherlands, 26 major honours including two Champions League winners medals and a reputation as one of the greatest goalkeepers of his era. The Dutch keeper's 154 appearances across all competitions for the whites, including 52 clean sheets and playing a role in the 2002 UEFA Intertoto Cup winning side, earned him a move to Manchester United after four seasons at the club.
Right-back: Kenny Tete
Voting results: Tete 54%, Steve Finnan 28%, John Paintsil 15%, Mortiz Volz 3%.
The second Dutchman in this side, Tete joined from Lyon in 2020 and has made a brilliant reputation for himself within SW6, while somehow seemingly still going under the radar to fans of other clubs. His ability as the perfect modern day full-back is probably what won him this vote over the likes of Steve Finnan. It's rare now to find a defender so incredibly talented in one-on-one situations but also able to run up and down his flank for 90 minutes, providing energy and creativity in abundance. In his prime at 27 years old, there is lots more to come from Tete if he stays fit.
Centre-back: Brede Hangeland
Voting results: Hangeland 92%, Tosin Adarabioyo 3%, Carlos Bocanegra 3%, Zat Knight 2%.
This was certainly up there as one of the easiest polls to predict on paper. Hangeland gained legendary status on the banks of the Thames across seven seasons at the club. The Norwegian is undoubtedly the best defender to grace the black and white in the 21st century. He'll forever be fondly remembered for towering headers in both boxes, his contributions to Fulham's run to the Europa League final, his partnership with Aaron Hughes, but most importantly his Magath-inspired injury solutions.
Centre-back: Tim Ream
Voting results: Ream 41%, Aaron Hughes 32%, Joachim Andersen 21%, Alain Goma 6%.
Ream beating Hughes to this vote may point to recency bias, but it also nods to the progress and resilience Ream has shown to prove to fans that he is capable of being a Premier League level defender for the club. Often put down as a player in that classic bracket of 'too good for the Championship, not good enough for the Premier League', Ream put any doubts about that to bed in an incredible 2022/23 season, which saw the American show consistency, calmness and leadership on a weekly basis against the best forward players in the country.
Left-back: Paul Konchesky
Voting results: Konchesky 42%, Antonee Robinson 36%, Rufus Brevett 12%, John Arne Riise 10%.
If Antonee Robinson goes onto have an established Premier League career with the club throughout the new contract period he has just signed, this position will be his. For now, it's Konchesky who wins the vote, largely due to his role in the 2010 Europa League side, which consequently earned him a move to Liverpool alongside manager Roy Hodgson. Beyond that European run, Konchesky's strike from 40 yards at Upton Park against his former club West Ham will always be remembered as one of Fulham's all time greatest goals.
Right winger: Damien Duff
Voting results: Duff 39%, Steed Malbranque 37%, Simon Davies 20%, Ashkan Dejagah 4%.
This was one of the most hotly contested votes in the group and caused great debate, including from myself, and I'm still offended that Simon Davies only got one fifth of the vote. Duff is a worthy winner though. The Republic of Ireland international was a wonderful footballer, who amassed 101 caps and scored eight times for his country across an illustrious career including spells at Blackburn, Newcastle and… them lot. Capable of playing either side, Duff continued to be an important player for the club from the Europa League run through to our relegation in 2014.
Central midfielder: Danny Murphy
Voting results: Murphy 76%, Papa Bouba Diop 18%, Steve Sidwell 5%, Sylvain Legwinski 1%.
Murphy is without doubt the greatest captain the club has had in my lifetime. He is the only player to lead a Fulham side into a major European final, and is the player that scored the goal that kept Fulham in the Premier League at Fratton Park in 2008. Murphy did so much for the club in half a decade that it almost feels wrong that he isn't spoken as much or as highly as other names from his era, players and leaders like him come around once in a generation.
Central midfielder: Joao Palhinha
Voting results: Palhinha 46%, Mousa Dembele 44%, Sean Davis 5%, Jimmy Bullard 5%.
The first thing I realised when deciding on a standard 4-4-2 formation for this team was that one of Murphy, Palhinha and Dembele would miss out…sorry Mousa. Like Tete and so many others in the current crop we have under Marco Silva, it feels incredible that a player of Palhinha's quality plays for the football club. Even in 2010, it was more a team that had come together under Hodgson, whereas Palhinha, Tete, Leno, Willian, Mitrovic etc now feel like genuine stars that we are simply not used to having bar the occasional Dimitar Berbatov. It's an amazing position to be in.
Left winger: Luis Boa Morte
Voting results: Boa Morte 47%, Clint Dempsey 38%, Willian 10%, Zoltan Gera 5%.
It's genuinely so cool to have Luis Bo back at the club; someone who knows Fulham and knows Marco Silva, the perfect combination (as well as his understanding of what it takes to beat Chelsea as a player and a coach). Boa Morte didn't get 28 caps for Portugal and a move to Arsenal in the late 90s for no reason; he was a brilliant winger who scored 54 times and assisted a further 25 across 250 appearances in a Fulham shirt before moving on to fellow London club West Ham in 2007.
Striker: Aleksandar Mitrovic
Voting results: Mitrovic 41%, Brian McBride 25%, Bobby Zamora 19%, Dimitar Berbatov 15%.
I must admit, this poll went up during the peak of the Mitro-Saudi saga, so it came as a slight surprise that he came out on top in a group of four incredible strikers. But it's on merit. The complete player the Serb has become under Marco Silva is a joy to watch as he continues to dispel opinions of him not being a Premier League player…despite hitting double figures for goals in the 2018/19 season when the club was relegated and played under three different managers. He is, and always be a Fulham legend, and he always be more than good enough for the Premier League.
Striker: Louis Saha
Voting results: Saha 92%, Barry Hayles 7%, Andrew Johnson 1%, Andrew Cole 0%.
Winner of the biggest landslide of a result in these polls alongside the Hangeland vote, Saha is remembered with great fondness by Fulham fans. Similarly to Van Der Sar, Saha was so good for Fulham across his four seasons at Craven Cottage that England's biggest club at the time, Manchester United, came calling and paid €17.5m for the French forward. After scoring 27 goals under Tigana in his first year at the club, the Championship winning season of 2000/01, Saha went onto score 26 times in the Premier League for Fulham, earning himself a reputation as one of the club's best forwards in years.
Manager: Roy Hodgson
Voting results: Hodgson 81%, Silva 14%, Tigana 4%, Coleman 1%.
I don't think there would've been any argument if Roy got every single vote here, I'm almost surprised he didn't. Unless some sort of Middle Eastern investment fund ever comes and puts so much money into the club that our ambitions completely change, Hodgson will likely be the greatest and most successful manager Fulham ever has the honour of having. From one of the greatest escapes the top division has seen to within a whisker of European glory in the space of three years, our Roy is a legend and deserves every success he gets.