Positives and negatives: Southampton 0-2 Fulham
Written by Cameron Ramsey on 15th May 2023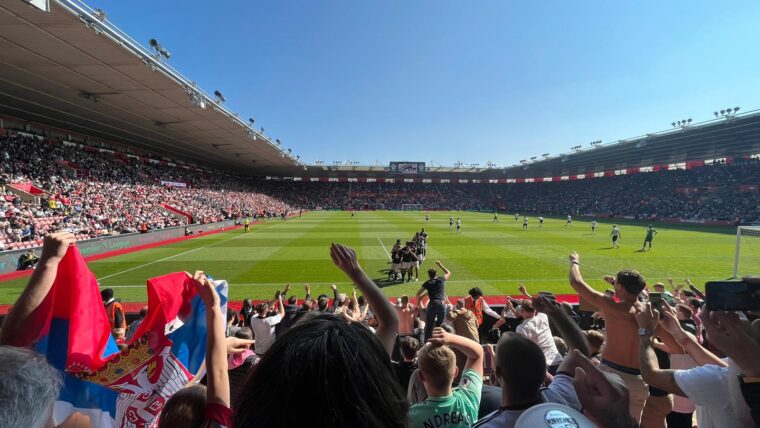 We do like to be beside the seaside, and Cam loves to write about three points and diving headers, as we'll soon find out.
On Saturday afternoon, Fulham recorded their 15th league win of the campaign, the greatest number of dubs we've ever accomplished in the top-flight, and in the process they banished Southampton to the Championship after an 11-year stay in the grandeur of the Barclays. Back-to-back victories and two points off our highest ever points haul; this Fulham team have set the bar extremely high and in all honesty, we're only just getting started.
Ruben Selles's doomed Saints didn't march in; they haven't all season long and now, with a little help from Marco Silva's efficient Whites, they're the first team to succumb to the drop and given their tame performance in a game they simply had to win, there's no excusing their collective indifference. They say there's no easy games at this level, but this was definitely an exception.
Next up is our last home game of the season against Roy Hodgson's Crystal Palace, a befitting tribute to our former manager's legacy. Once the schedule comes to a close, he'll surely retire his notepad once and for all having saved the Eagles from potential relegation, just as he did at Fulham 15 years ago. They've been safe for a number of weeks, whereas we've looked comfortable since the opening day. One last dance by the river? See you there.
Positives
As comfortable as they come
I don't think we've been so comfortable away from home this season. Perhaps Boxing Day's the only contender, but Fulham were in the ascendency from literally the first minute of play, and a victory seemed assured even when we were level at the break. It wasn't the most entertaining first half, however we had complete control from kick-off, Southampton chased shadows as we spread possession invitingly and a breakthrough was inevitable.
There really isn't much to say; Fulham were by far and away the better of the two outfits and for the first time ever, we've done the double on the Saints. That's another record in the Silva era. In truth, Southampton have been resigned to the drop ever since they crashed and burned at the Emirates a few weekends ago, they've nothing left to give and that was obvious. They may have had the ball in the back of the net, but Carlos Alcoraz was noticeable offside and other than that particular passage, they were irrelevant.
It was as routine as they come for Fulham; a clean sheet being the feather in the cap for Bernd Leno, but it ultimately stands for the entire squad. We were superior, we were dominant in each and every element, and we weren't even brilliant. We didn't have to be. Southampton's relegation isn't solely down to us, on the day, it was a joint effort. They handed us the nail and to put them out of their wretched misery, we simply drove it in, no fuss, no questions asked. We know the cruelty of top-flight football all too well, so there's no better executioner than one that has felt the same sorrowful pain and on this occasion, we didn't quiver over the trigger.
Vini's purple patch
Fielded from the start despite Aleksandar Mitrovic's availability, Carlos Vinicius's purple patch continued on the south coast as he netted his third goal in four games and with an overall tally of five for the season. The notion of Vini actually being a worthwhile secondary option has legs to it and I'm not ashamed to chow down on my less-than-flattering words, either. I will never mud a player's name again.
A great deal of attention's been granted to Vinicius at Motspur Park, clearly. Before Mitro's expulsion, and indeed for the first few weeks of, Vini's outings were typically thriftless. He was evidently targeted as a weak link because he was presumably instructed to operate as Aleksandar does but visibly, he just wasn't cut out for the rough and tumble that came with it. He isn't blistering by any means but he can shift quicker than Mitro, and that surely had to be utilised.
At Southampton, Vini provided a mobility to Fulham's attacks, he chased long balls out wide and he was rarely rooted in central areas, and that was enough to offset the Saints' defensive line. In the right place at the right time, as he so often is, admittedly, Carlos snaffled up a loose ball within the penalty area in the 48th minute, you could call it a staple finish from the Brazilian and as Fulham's faithful bayed for Mitro, he left his trademark calling card to pacify the masses. While I've been critical of him, rationally so, I'm made up for him and I am apologetic. He may not be the game's most exhilarating player but he's honest, trying, and that's the very type of player this club is historically famed for.
Reed's rousing determination
St. Mary's was once Harrison Reed's home. He graduated through the Saints' revered youth system, he'd taken the bold step to leave his boyhood club to join the Whites and upon his homecoming, his restless desire to be counted for introduced the game's opener, and Southampton's eventual demise. Reed was industrious, the middle of the park wasn't particularly congested and with clear horizons to traverse, he engineered progression and he stunted Southampton's momentum.
A willing runner with the ball, Reed shielded possession with an attentiveness that upholds him as one of Fulham's most trustworthy watchdogs. He was measured with his passing, his pressing was assertive but he wasn't overstimulated. He simply surveyed situations with certitude and his rousing determination brought reward. Southampton couldn't clear their lines effectively as Harry Wilson's overhit through ball skimmed into the penalty area and Reed exploited their hesitancy.
Intercepting a tame attempt to rid danger, the resulting blockage rolled to Vini and thus, the opener was bagged. Committed, impactful, our Ginger Iniesta's application was stubborn, he established himself as a prominent instigator of opportunity whilst respecting his core responsibilities and for that, we can thank Southampton for blessing him with the fundamentals, the building blocks which have been enhanced to the fullest by Silva and his coaching staff, daring overhead kicks and all.
It had to be Mitro
As Mitrovic stepped off the the substitutes bench, headed for the touchline, the away end stirred with unbridled joy and excitement. Famously banned for eight games, Mitro's long-awaited return to competitive matters eagerly anticipated; Serbia flags were purchased en masse by Fulham's adoring following and the loudest eruption on the day wasn't for his goal, it was for his big entrance in the 65th minute.
They came in their droves to see their king, back from exile, and the man of the moment didn't disappoint. A chorus serenaded every touch and before long, our beloved talisman was before his worshipping public, arms wide, as our second of the afternoon rest in the back of the net. He couldn't have reintroduced himself any better, he unsettled Southampton and Wilson's telepathic relationship with Mitro came to prominence to seal the hosts' fate.
Wilson's cross was delicate; it may have been slightly behind Mitro, but the Serb's improvisation was superb. He levered himself into the flight of the ball and he diverted with incomparable certainty. It had to be him. His stooping diving header was his 12th goal of the campaign, the most he's ever attained at this level and if he'd been eligible to participate in the months gone by, he could well have reached at least 20. His form was stable as we encountered Manchester United in the FA Cup, he knocked Fulham into the lead at Old Trafford and though his season hit an unjust intermission, it's so gratifying to witness him get back to what he does best: terrify defenders and bang in proper striker's goals. The fire never subsided and in the next two games, you better believe we'll stoke it up to a ferocity scalds until the dying embers.
Negatives
Exhausted by VAR
I really don't want to waste too much energy on this because I cannot be arsed but, come on: that's a penalty. No matter how you tart it up, the ball acquainted itself with Lynaco's hand and there isn't an explanation that deems otherwise. The ball literally changed its course because it deflected off said appendage, so what in the land of buggery were those at Stockley Park even watching?
Bunch of bloody amateurs. Thomas Bramall may not have had a clear line of sight but blimey, the cameras do not lie and neither do the protestations that followed immediately after. I am exhausted by the PGMOL's incompetence to source qualified officials, VAR isn't for every Premier League side, it's only exclusive to those that sling hefty backhanders and it needs to be addressed.
We can talk about natural/unnatural postures, intent or mistake, the bottom line is simple and there shouldn't be any hidden clauses. If a ball hits a hand, it's a handball, the clue is in the infringement itself, so the people that pick their noses at monitors with all the evidence have to stop dicking around because if anything, it's just embarrassing on their part. There's nothing accredited about these tossers at all, and I bet they all eat muesli with tap water as well.