Positives and negatives: Liverpool 1-0 Fulham
Written by Cameron Ramsey on 4th May 2023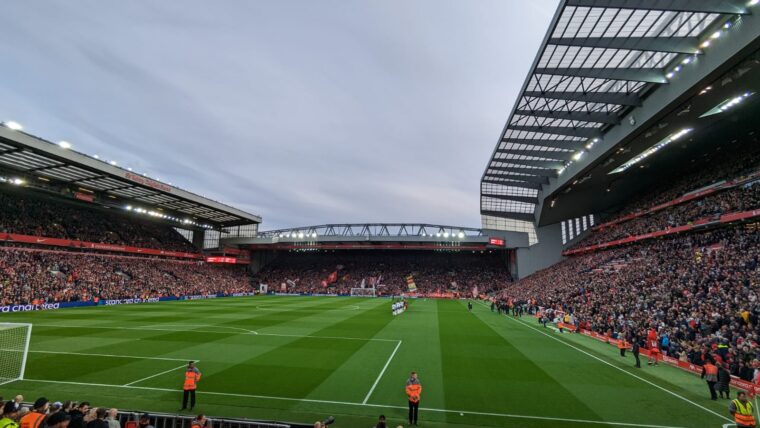 Back-to-back games against two of the country's bona fide superpowers, zero points, but who cares? Cam's got all the top talking points from Wednesday's L at Liverpool.
Well, the grass certainly wasn't dry on this outing against Jurgen Klopp's Liverpool, that's for sure. Probably still drenched in Spursy tears, Anfield was the setting for matchday 34 and the last time we visited the red side of Stanley Park, we masterminded a 1-0 victory. This time, the score line remained the same but it was a narrow loss that befell Marco Silva's Fulham however, we've reasons to be cheerful in the face of defeat.
We didn't bow down to the top four chasers; it wasn't quite the siege mentality we'd declared on the opening day of the season, but it was still combative; it was confrontational and as we know ourselves, it wasn't a sweeping Liverpool attack that won the game, we weren't ruthlessly swatted aside and while the game did house defects – some more detrimental than others – we've pros to take stock of and that, we shall.
Positives
Tom's old tricks
There's something pleasantly nostalgic about seeing Tom Cairney back in the starting line-up. A regular string-puller in Fulham's 2021/22 title-winning compliment, captain Cairney's first start of the current Premier League season couldn't have come on a grander stage, and while his legs gradually tired, he wasn't completely overrun, unlike his deeper lying teammates, and he was up to his old tricks.
It was always going to be a tall order for TC to outshine Liverpool's equivalents, muscling in for a duration longer than 20 minutes is seldom experienced, although there were glimmers of guile and ingenuity and when he was forced to track back in pursuit of the Reds' insistent ball carriers, he pledged harder yards than most. He popped balls into feet first time, he retrieved possession at the double and he interlinked progressively and logically with his teammates. Tom has trademarks and I'm satisfied that we can be reliant on them for the remainder of the campaign from both the bench, and from kick-off.
Lively on the left
Throughout the season, Willian's relationship with Antonee Robinson has gone from strength to strength, and on Wednesday evening, pitted against Trent Alexander-Arnold as well as the spine-chilling Mohamed Salah, our left-sided paring were far from subsidiary. With diaphragms that could stand the test of time in outer space, both Robinson and his Brazilian comrade stampeded the length of their respective touchline, full throttle, unfazed by their opposite's globally renowned reputation. The USMNT left-back overshadowed Salah to stunt Liverpool's joy on the break and Willian was always within touching distance to recover possession and bolt at pace.
There was very little respect or regard for welfare as Jedi jutted into challenges. They were forthright, instantaneous, and he didn't give his marker a moment to settle. Taxiing the ball at maximum velocity, Robinson was impossible to pin down and so was Willian, too. Venturing from within our own half, the 34-year-old burst ahead of markers which soon became onlookers, and the only way they could lasso him was by hook or crook methods. The left was lively, it comprised a constant source of offensive and defensive endeavour and it's a partnership I cannot tire of watching, because they function at a tempo that gets the heart pounding and the blood racing.
Is Vini evolving?
Galloping intently, weaving into golden positions to pull the trigger, offloading possession with a solid purpose. Carlos Vinicius's evening could've included two goals if it weren't for his compatriot, Alisson, and even though the striker couldn't restore parity, or indeed pull us ahead before Liverpool's winner, he was ever-present in the final third and his positional awareness, alongside his timing, was exceptional. rather than waiting for the ball to trundle into feet, Vinicius adopted mobility, he'd ditched his static façade and his movement unsettled Virgil van Dijk and Ibrahima Konate, who are no slouches by any means.
As Fulham scanned for openings, Carlos prowled with an objective. If he couldn't get on the favourable side of the defender, he stalked in anticipation and when he lengthened his stride, he headed the charge with impetus. This isn't the sluggish, uneconomical Vinicius I bemoan on a weekly basis, this was a number nine that looked like a proper target man, a stand-in that can make an impact – albeit profitless on this outing. So, in light of his weaknesses, is Vini finally evolving? Not every side will play with a line as high as Liverpool's, but if they do, they'll be wise to think twice and when it comes to snapshots, as he did against Manchester City, he can certainly work the target.
Cedric's fine shift
Groans could be heard from Merseyside to Putney as the starting XI illuminated phone screens. Cedric Soares being fielded ahead of Kenny Tete wasn't a rotation we saw coming, and it definitely wasn't something we wanted to envisage in the slightest but I have to say, the Arsenal loanee put in a fine shift and with Liverpool's fluent attack to subdue, Luis Diaz in particular, he played his part as required.
He took the edge off certain scenario, he was mindful of Diaz's sharpness, and he wasn't to be fooled. More often than not, Cedric came out on top in one-on-ones, he shielded the ball assertively and his distribution was measured. he didn't get forward as expediently as Robinson on the opposite flank but he did feature as the Whites set themselves up for spells on the ball, he was an outlet and a watchman and he invested himself to the cause on the night.
Negatives
What's Diop doing?
I'm speechless. I'm at a loss for words. What the actual f*ck was Issa Diop doing on the edge of the penalty area as Darwin Nunez homed in? Allowing Liverpool to charge down possession in such a perilous position is a cardinal sin, and the pathetic swipe at thin air as he suddenly sensed danger after a millennia of hesitation is just maddening. You learn these things on Saturday mornings when you're, like, four years old: if you're ever in doubt, lump it out, and quite clearly the Frenchman needs to revisit the fundamentals because he must have missed that particular session.
No matter which way you spin it – negligent VAR calls aside – Diop's brain fart cost us a point on the road, contact or not, and I know it means naff all, but it would've been a tremendous achievement to have kept a clean sheet against Klopp's men on Merseyside and it soured a display which really wasn't worth a loss. It's frustrating because afterwards, his performance was spot, shoulder to shoulder with Tosin. He stepped into threatening instances with conviction, he won some big headers in our 18-yard box but it just goes to show that in the Premier League, you cannot afford to switch off because you will be exploited and punished.
VAR strikes again
Diop's blunder brings us nicely onto a recurring negative in these articles: video assisted refereeing, and the morons that refuse to utilise it properly. In Cairney's post-match interview, he stated that Stuart Atwell, on-field and in charge on the night, claimed that VAR's decision to award Liverpool a penalty was actually incorrect, which indicates that Attwell didn't believe it was a foul in the first place. That's infuriating. VAR will intervene where necessary, penalty altercations especially, but if the referee is convinced that it shouldn't be a spot kick, why should they override the decision for reasons which are flimsy and unjust?
We've all sampled the replays of Diop's apparent coming together with Nunez and as clarified above, our man shouldn't have tempted the situation but truthfully, I'm not sure whether there's even a collision between the two. The tone was set within a minute of the game's start, though. The linesman failed to flag offside for a Liverpool player which was clearly a yard ahead of play, so you knew something wasn't sitting right and dodgy officiating was going to contribute heavily in one way or another. There has to be ramifications for these mistakes, for want of a better word.
Refs will bear the brunt of the criticism, but it's often VAR which is the instigator, and the PGMOL have some serious explaining to do and we are long overdue an apology. Typically, if the club badge doesn't fit, they don't give a single toss.
Not much else, actually
As stated above, Fulham's overall performance was worthy of more, a point at the very least, and I won't let casual passing and a swarmed midfield department muddy the waters. The thing is, we actually gave a compelling account of ourselves. The squad was missing three key components in Kenny Tete, Ream and Andreas Pereira and though we didn't capitalise on our goal scoring opportunities, we still caused Liverpool notable issues and we eventually established a durable foothold.
The game opened up towards the latter stages, the hosts were turbocharged as they attempted to pull away on the counter but we did enough to hold them, to limit them to a single-goal lead at one of England's unforgiving fortresses. So, as it was in our previous meeting with City, the Whites were defiant, pliable, but we simply lacked a killer instinct and there's no burning want or need for an in-depth autopsy.