Positives and negatives: Aston Villa 1-0 Fulham
Written by Cameron Ramsey on 26th April 2023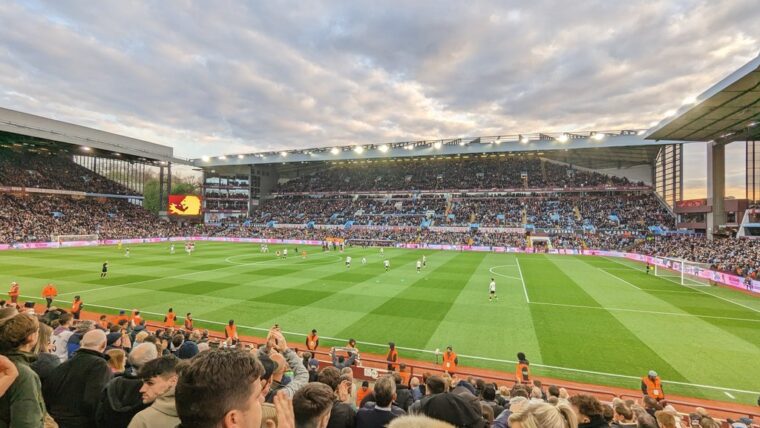 This is definitely one to brush under the carpet. Cam recounts our listless loss at a stadium that's rarely kind to the Whites.
Other than that 2-1 victory in 2014, the one where Kieron Richardson lamped it top bins, Fulham rarely prosper against Aston Villa at Villa Park and Tuesday's trip was no different. True to tradition, Marco Silva's Whites fell short; Unai Emery's in-form claret and blues were organised, in control, and it was a loss that was forecast long before the day itself.
This was Fulham's realest test since Brighton and Hove Albion. Emery has taken Villa from relegation fodder to European dreamers within half a year; they're headed for Europa League football and they've set a benchmark for clubs such as Fulham to follow as we bid to climb as high as possible.
Up next on Sunday is the small matter of Manchester City at home – gulp – but there's really no reason to be crestfallen. In reality, Fulham's loss at Villa means very little indeed; it's nothing more than another precious opportunity to learn the ways of the Barclays and we'll put these lessons into practice before long. We're still ninth (at least while writing this) and we're still on course for a resounding campaign where point tallies could yet be broken. Get up!
Positives
Watkins kept quiet
No player, other than that freak Erling Haaland, has scored more goals than Ollie Watkins in the Premier League since the World Cup, so keeping the trigger-happy striker quiet was top of the agenda. Watkins has 14 goals this season; his hot vein of form has bolstered his status among the division's deadliest hitmen and with power, pace and prowess, the England striker more or less has it all. Tosin Adarabioyo and the boys may say otherwise, though.
Tosin, Tim Ream, and whoever else our central pairing had camped around them and the attacker in question, they understood the assignment and they recited it flawlessly. Aware of Watkins' capabilities with his back to goal, Tosin and Tim glued themselves to the striker, every touch was scrutinised, they suffocated the former Brentford man and they limited his influence without straying. It was meticulous as well as rigorous and they needed to be dedicated.
If Watkins managed to swivel, his marker pivoted with him. If Watkins was awaiting a ball to drop onto his foot, it was cherrypicked by his chaperones and if Watkins let loose, his efforts were blockaded time and time again by defenders that wouldn't allow him a millisecond's peace. Nullifying Villa's top boy was essential, the Whites could've been subject to a ruthless pasting if they'd submitted but they rationed Watkins to scraps and despite Tyrone Mings's glancing header, I cannot fault Fulham overall defending against a team that can reduce the unprepared to smithereens.
Kenny's combat ready
Alex Moreno's relentless forward thinking has gotten him a reputation that lesser spines shudder to but Kenny Tete didn't believe to the hype. Not properly, anyway. Known for his piercing runs from deep, Moreno's a weapon Emery's made very good use of since the left-wingback's arrival from Real Betis in January although the Spaniard's cards were marked by Fulham's feisty Dutchman and as the game wore on, his enthusiasm faded.
Early on, Moreno seemingly had the better of Tete; he'd evaded our right-back's custody to tread the byline but Kenny's smarter than your average full-back and his intelligence soon told. He tightened up on Villa's flying number 15; his combativeness was offputtingly forceful and he was swift to intercept hopeful through balls which Moreno was vying to connect to.
There probably isn't a right-back in the division that's more adept than Tete. He's a conventional, old-fashioned nightmare for wingers to stumble across and he asserted himself against Moreno, a player that's designed to run opponents into the ground without mercy. We ended up on the wrong side of the scoreboard but Moreno will definitely think twice before he squares up to Kung-fu Kenny again.
Reed, the runner
He's absolutely everywhere nowadays. Patrolling the gaps and gullied between the back four and his advanced teammates is no longer Harrison Reed's primary duty; he's been granted permission to back-up Fulham's offensive procedures and while he's swinging crosses into penalty areas, he's geared to drop to lower altitudes as soon as the alarm's sounded.
Reed is now a multifaceted midfielder. He may not be be the most accomplished all-rounder, but he's a trier, the very definition, and he'd plenty in the tank to ensure rogue runners got clamped, and loose balls got seized upon. Alongside Joao Palhinha, Reed put in the strenuous legwork, his creative license has upgraded since the Portugal internationals arrival (three goals this season to date will testify), but he never forgets his roots.
Villa's midfield department is stately, and they were as meddlesome as ever. John McGinn antagonised, Jacob Ramsey upped the ante but nevertheless, they kept on checking the rear-view mirror for Harrison and his peddle-to-the-metal pursuit, and they were wise to do so. He'd scream into challenges unannounced, he'd leave them in a sobbing heap if they weren't braced for impact and moving forward, he's gradually tuning himself to the chicanery certain offensive scenarios demand. It doesn't have to be gung-ho all the time, but Reed likes it that way and so do we.
Negatives
Tentative football returns
We'd won our previous two games on the bounce because we flaunted a bollock or two; we threw caution to the wind but given the way we stepped off Villa, we were pissing in it if we thought we were going to get anything from our visit to the outskirts of the Second City. Our strategy improved slightly after the break but conclusively, our procedures were tentative, prosaic and even with Dan James haring off in search of far-flung up-field sledges, we were without a persuasive cutting edge and our bluntness guaranteed a relatively comfortable evening for Emery's men.
It was far from a disaster class, if we hounded Villa too much the likelihood of them picking us apart as they did against Newcastle United was genuine but we opted for the complete opposite and it made for a really, really awful game. One shot on target throughout the duration? That's actually pathetic.
We handed the Villains generous time on the ball, they were enabled to set the tempo because we were mindful of their potency, blasting through the lines is second nature to the hosts' revitalised tactics but we didn't utilise our pace, we were distracted as we tried and eventually failed to construct meaningful phases, which is stark contrast to the manner in which we've confronted teams in the past fortnight or so.
It isn't going to come off every single week, not with a makeshift attack with no actual focal point, but even when a recognised number nine in Carlos Vinicius entered the fray, we were just as clueless and careless in the final third so no matter what we tried on the night, we were always bound to be contained against Villa's drilled and mobile defensive ranks. We barely stretched Villa on the break, Vinicius couldn't hold up a bus in a traffic jam, it was too easy for them to constrict us and it's evident that they'd done their homework.
Winger injury woes
If losing Willian in the build-up to kick-off wasn't bad enough, seeing Harry Wilson limp off the field midway through the first half was hugely displeasing because not only did it alter our approach and initial game plan, it now poses implications for our upcoming fixtures against City and Liverpool. These are games where we need a full compliment, they may not necessarily mean much but we have to remain competitive and if we're without two of our most established winger and protagonists, the tasks that lay ahead have just gotten even tougher.
We could've done with both of them at Villa, our desire out wide was wanting but I'm more concerned about the bigger picture here. Obviously we've no clue as to how severe their respective injuries/niggles are, it's thought Willian's is a hamstring strain and I sincerely hope that Wilson's is easily treatable, because he's been a humungous source of flair and productivity since returning to first-team affairs and he is integral to our current set-up.
The Welshman was just beginning to find his groove, Willian's been superlative throughout the campaign so far, and while I'm sure their setbacks are nothing more than minor aggravations, I can't help but feel we would've caused the hosts greater headaches if our crocked duo were fit and ready for the remainder of matchday 32.
Out-of-sorts Solomon
Nobody quite knows what will become of Solomon once the season comes to a close. From netting five goals in five outings, the zippy winger's minutes have tailed off and with them, so has his output as well and at Villa Park – barring a customary foray between bodies – the Shakhtar Donetsk loanee was subdued and his contributions were sparing.
He's one player you look to for inspiration, for a moment of magic but he was functioning on a different wavelength, he didn't recognise support when it was available and when he attempted to move possession on within the final third, his distribution was misinformed.
Perhaps it was a side effect of limited game time, however Manor wasn't his all-action self on Tuesday evening, he was out of sorts, and I also get that being called upon moments before kick-off is far from ideal, but he really wasn't warm to the occasion and it showed as he was marked and muscled out of the game entirely.