Positives and negatives: Fulham 0-1 West Ham United
Written by Cameron Ramsey on 9th April 2023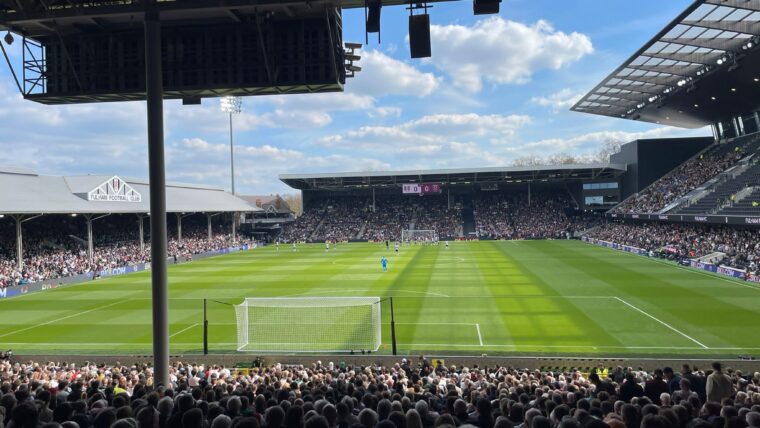 We haven't made that magic 40 point mark as yet and there's plenty for Cam to unpack following Saturday's banal loss at the Cottage.
Sorry, did "West Hands United" seriously grab 6 points off us this season? For a club that bleats on about how hard done by they are, they've swindled two victories from the Whites by way of blatant cheating and on a weekend where VAR and incompetent officiating's been thrust under the microscope, again, this latest defeat for the Whites fits the flavour of the bank holiday schedule shockingly well.
David Moyes's days are numbered at the London Stadium, banners baying for his exit were brandished in the away end but scolding statements were soothed somewhat as a Marco Silva-less Fulham cracked like a Cadbury's cream egg. A terrible team recorded their first clean sheet on the road since September against a side that really couldn't be arsed. That's the long and short of things but we'll elaborate, don't you worry about that.
How do we stop the rot? I mean, we're not going to go down (surely) but nobody can openly admit that they're satisfied with how we're fizzling out of games at the moment and if anything, we want to finish the season on a high, with plenty to shout about and optimism aplenty, right? Next on the agenda is a trip to Goodison Park to play another relegation straggler, a winnable game which'll undoubtedly write its own dramatic narrative. Onwards, people!
Positives
Tosin was pretty tidy
Perceived to be the weaker component of our spine on Saturday, Tosin Adarabioyo was reinstalled to Fulham's matchday XI in place of former Hammer Issa Diop and discounting a few minor discrepancies, the towering centre-back was actually our sturdiest defensive option and that shouldn't go unnoticed.
With Michael Antonio and a buggered Danny Ings to contend with initially, Tosin's afternoon's work was bound to be taxing but he appeared to be fairly comfortable in the company he kept. He tracked Antonio tightly, he came out on top as the Jamaica international struggled to shrug himself from Tosin's custody and in the air, typically, he was dominant and assured. He nullified the Irons along his respective section, varying factors of his skill set may still need to be refined but on this occasion, his actions were more than suitable enough to warrant praise.
He's always been a reasonably tidy distributor, he backs himself with the ball at his feet on the charge, too, and while solid performances aren't as frequent as they should be for the Manchester City graduate, he was alive to the differing dangers West Ham posed on the break and now we're left wanting even more from him because if he adds stability to his game, at 25, he and Diop could be a readymade top-flight partnership for years to come once Tim Ream eventually steps aside.
Leno's damage limitation
We've lost 4 Premier League meetings on the bounce but none of them are to Bernd Leno's detriment. Goalkeepers are creatures of consistency, clean sheets breed confidence but our recent slump hasn't dented the German's nerve or composure. It's a result that will irk Leno more than most, the Hammers rarely mounted meaningful phases of their own but when they did, the former Arsenal man spared further blushes and his dedication to damage limitation is encouraging.
He could've been a victim of Ream's hospital passing as the game whittled down to the closing stages, As Maxwel Cornet pounced on the American's mistake Leno held his ground to smother the Ivorian's effort, one-on-one, and his preparedness even in situations where the odds are stacked against him is compelling.
He isn't one for downing tools, his mentality is exemplary and he is a genuine leader within the camp. His animation, his conduct as the opposition sought inroads, he constantly marshalled his teammates and as he kept the score line to a bare minimum, bailing certain members of the team out of hot water, Bernd's application in difficult circumstances was significant because he's a guy we can readily rely on, even on the wrong side of results.
Negatives
Countless crosses wasted
What's the actual point in bombarding 18-yard boxes if nobody's gambling on the back stick or the edge of the 18? Clearing their lines was routine for the Hammers, Fulham hoisted 11 corners into their danger area to no avail, countless crosses from both flanks were blockaded by the first man or they were retrieved by an unruffled Lukasz Fabianski, Antonee Robinson couldn't complete a crossword, Cedric Soares was no better and even if their wanting pick outs weren't cut out immediately by West Ham's sitting defenders, they were always first to the loose ball because there wasn't a Fulham jersey in sight to force the issue.
There was no such thing as an overload, an onslaught as we slung endless blimps into the mix, Fulham bodies were few and far between as we developed play out wide and our crosses were hit in sheer hope and desperation. They were hurried and hashed and as we hadn't a capable target man to pinpoint, I'm baffled as to why we even employed our hapless match tactics in the first place.
Carlos Vinicius couldn't keep up with the run of play, Bobby Decordova-Reid was overshadowed and our midfielders were far too deep as the ball was collected by the Hammers' opposite numbers. Improvisation was lacking, we weren't bold enough to drive through central areas so we resorted to aimless, futile crosses and that, given the stature of West Ham's defenders, suited the visitors' operations perfectly.
Meaningless Parkeresque possession
The way we prodded play from flank to flank, in front of the Hammers without a cutting edge, was painfully Parkeresque. Not one player broke passing lanes, overlaps were scarce and with 78% possession, 659 passes compared to West Ham's 196, the Whites' passive, polite passages were detectable, predictable and now, more than ever, perhaps Silva and his coaching staff have to formulate an alternative plan of action because evidently, what we're entrusting currently simply isn't working.
Even with accomplished progressors such as Tom Cairney at our disposal in the second half, Fulham couldn't manipulate an Irons defence that were there for the taking. We administered play without incision, we weren't intrusive and a team that were comprehensively thrashed midweek were undisturbed and if that isn't a cause for relative concern, I don't know what is.
The Eastenders are fallible, they're a team in turmoil and they made light work of our thoughtless offensive procedures. We have to rediscover our early season enthusiasm, we have to devise a worthwhile solution and we have to introduce a devil to our methods. We held a lion's share for nothing, nada, and our inactivity with the ball is inexcusable because we have the personnel that can make the difference. Revitalisation, reinvention, we have to make possession pay because if we continue without a purpose, we're going to succumb to lacklustre defeats for the remainder and the gloss is going to chip off very quickly.
Andreas has to score
He may have been caught in two minds as Fabianski rushed from his 6-yard box but for me, Andreas Pereira should've adopted a shoot-on-sight policy, rather than attempting to round West Ham's 'keeper. It's a tough one to call, if he'd have successfully hurdled Fabianski, it was a certain tap in for the leveller however I can't help but feel a first-time effort would've been enough to restore parity because as Pereira latched onto Vinicius's neat through ball, his resulting touch was tame, telegraphed and the Polish stopper could read it a mile off.
Scoring a sublime opener at the Vitality last weekend, Andreas is a No.10 that still has to improve his output where chance conversion's concerned. He's renowned for his set-pieces, he's a finely-tuned playmaker that's created a fair sum of goal scoring scenarios but in Aleksandar Mitrovic's absence, we crucially need our forwards to step up with conviction and though key chances to find the back of the net were scarce for the Whites, the Brazilian spurned a bread and butter opportunity to rob a point in an encounter where we weren't convincing whatsoever.
Why choose Cedric?
It was clear to see that Cedric is a player that hasn't had much competitive match practice at all this season. Fielded ahead of a benched Kenny Tete, for whatever reason, Cedric's involvement was tentative, misjudged and his imperfections were obvious. The Arsenal loanee panicked in possession, he dived into challenges unnecessarily and as we've already touched on, his final product in the higher reaches of the pitch was massively ineffective.
Upon his first Premier League start for Fulham, the Portuguese full-back didn't introduce himself to the masses in the brightest of lights, that's for sure. He was roasted by Pablo Fornals, he wasn't aware of his positioning as the Hammers advanced and he was secondary in virtually every aspect.
Of course, this is a man that requires time and patience, but from what I've gathered of him in recent outings other than Saturday's showing, he could very well be past his best as he doesn't appear to be up to the task at all, and that doesn't bode well for his future at his parent club, either. He cannot start games if Tete's fully fit, it's illogical, as the Dutchman is without question the dependable option and his retraction from starting matters was both strange and defective to our defensive durability.