Positives and negatives: Fulham 1-1 Wolverhampton Wanderers
Written by Cameron Ramsey on 25th February 2023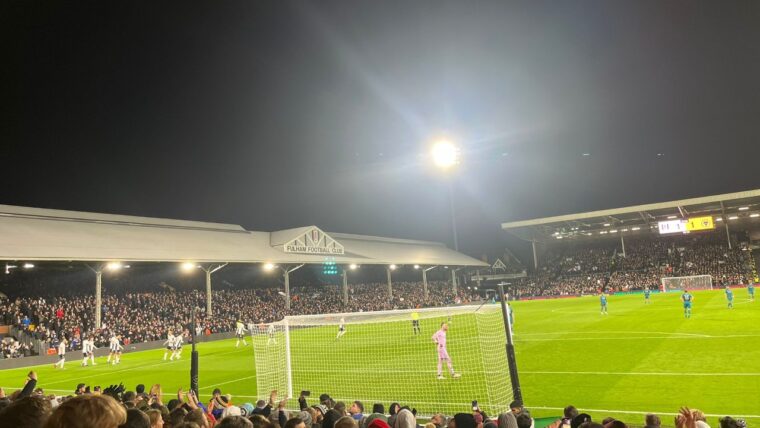 This week, "anti-football" gained another precious point and Cam's back on the keyboard to cover all bases.
This is a reality check and we didn't even lose. That speaks volumes. Usually, teams are brought tumbling back down to earth with a sorry 4-0 thrashing but Friday's 1-1 draw against Wolverhampton Wanderers should be enough to refocus Marco Silva's Fulham and that is testament to just how far his camp has come this season.
Julen Lopetegui's Wolves haven't established themselves as yet; they're still finding their feet amid the Spaniard's regime, but matchday 25 was a frank reminder that despite our overachieving position, we cannot invest anything less than 100% in the Premier League. We pressed on in the second half but blimey, we barely got out of the blocks in the first but rest assured, we will explore that imminently.
The main takeaways are uncomplicated: Fulham are sixth (at least upon writing this piece), we're one point away from attaining that 'magic 40' marker and we're eight (eight!) points ahead of the lodgers. This is a result we would've taken before kick-off, it's a game that always ends level anyway, so what else were you really hoping for, eh? As you were, the Whites are headed for a European tour and we're going to continue to shout about it obnoxiously.
Positives
Cometh the Manor
Get this guy in the starting XI immediately. We've seen more than enough of Manor Solomon to know he's a cut above, the real deal, and his impact once he was introduced after half time was instantaneous. The Israeli has an obsession for the spectacular, he's a ringmaster that has the masses hooked and his punchlines slap, quite literally. You don't have to be a cultured footballing virtuoso to know that Solomon is an extremely special talent, the 23-year-old wing weapon is exhilarating, with the ball at the sole of his Nikes he devised a spree of indignity upon Nelson Semedo and it was blitzing.
Those around me in H5 were mesmerised by Solomon; thousands rose to their feet in unison as he retrieved possession because he can influence the plotline within a sudden shimmy and shift, and when he dipped inside from the left in the 64th minute, Jose Sa's sheriff's badge was flapping frantically. He faked, he feigned, he fired the equaliser ferociously past Wolves' bearded stopper from the fringe of the 18-yard box, his technique sent the ball to swazz city on a one-way ticket and as it swerved into the bottom right, the Cottage went ballistic.
He'd done it again. That's three goals in three for Solomon and his exploits are always significant. I adore his insistence, his assertiveness when he isolates his marker, he's frighteningly quick-witted and he's aware of his responsibilities. Ahead of Antonee Robinson, Solomon tracked back to impede the likes of Adama Traore, he may have bounced off the baby-oiled Spaniard's glutes, but it was an extra body for Wolves to take on and his intentions were encouraging. The team needs rejuvenating; at certain junctures in the season Fulham have to rotate the squad to ward-off fatigue and cometh the hour, cometh the Manor. He's invested, he's engaged, he's a game changer that feels like a cheat code and while he's at the club, he will leave his mark whenever he's involved.
Diop and Ream's readiness
In the league, Fulham had registered three clean sheets on the bounce and Tim Ream, as well as Issa Diop, can both be attributed to our defensive solidity. Pablo Sarabia spoiled the trend in the 23rd minute, the former Paris Saint-Germain man rounded off an impressive move that left Fulham defenders stranded but after that setback, and indeed in the previous 22-or-so minutes, our central defensive pairing on the night cooperated superbly and it's a collaboration of both hunger and experience that's evolved into an idealistic alliance.
Bernd Leno can trust his anchoring centre-backs. They will both launch themselves into the thick of things to preserve and protect and with commendable blockages to deflect ferocious drives and daring bursts from deep to instigate a retaliation, Issa and Tim were cultivated and confrontational and they really are our firmest duo at the back. Raul Jimenez was gradually reined in, as was Diego Costa once he entered late on, Diop and Ream understand each other's habits and they are supportive of one another. It's a relationship which shouldn't work, they're polarising personalities but the strongest connections aren't always built on similar qualities.
Contrast is profitable if it's blended correctly, and between the Frenchman and the American, there's balance. Costa, the wily old shithouse, thought he could bustle his way through Ream and he was shown the door. Matheus Cunha, the stretcher sobber, attempted to dislodge Diop of possession and he was put back in his box, as one covered space, the other scanned for danger, the basics are solid and their shared judgement is mandatory. Wolves are still going through the motions under the stewardship of a new manager, they're a side that are containable, yet they're also more than capable of inflicting hurtful blows and now our central defenders have gelled compatibly, the visitors were limited to chancy snap shots as the game progressed because of Diop and Ream's readiness.
Second half resilience
Silva evidently shoved rockets up his boys' backsides during the interval because in the second half – admittedly with two fresh faces on the field – the Whites rallied to claw back a point, and in hindsight, a draw was undoubtedly the correct outcome for both teams. Almost as though the lessened intensity at the AmEx bled into the first half, Fulham were off the pace and could rarely string together meaningful passages of play without soiling the sheets. We were disjointed in possession, passes askew and we couldn't contain Wolves' swift interchanges on the break and we were fortunate to have only been one goal behind at the break.
Something had to change; our attitude had to be defiant and to our credit, we absolutely dominated proceedings in the second 45, a tale of two halves, and just when we thought our six-game unbeaten streak had come to an abrupt end, our resilience in taxing circumstances was exemplary. Silva's engrained a pliant ethic within his squad, we're adjustable, and while our collective energy's simmered, we still had enough within us to bite back and this can be hailed as a very decent point against Lopetegui's awkward outfit.
The entire squad was a yard behind. Bobby De Cordova-Reid and Harrison Reed (who was visibly knackered) made way for Solomon and Sasa Lukic respectively and with those substitutions, our outlook in a losing position was distinctively animated. The first half was a far cry from what was offered after the break, our phases on the break had impetus, our sequences on the ball were controlled and just looked instantly reenergised. Wolves were in the ascendency, they certainly carried a purpose as they homed in on our penalty area but despite their initial rule on match matters, they were still susceptible and we recognised that if we persisted, if we held a high press, gaps would form for us to exploit and as we didn't relent, we eventually pegged them back and rightfully so.
Negatives
Palhinha's inevitable banning
Well, it was always going to happen. Following a cheap chop in the 18th minute, Joao Palhinha was dealt his 10th caution of the campaign and his punishment, which is also ours, is a two-match ban and that means he'll miss two crucial league meetings against Brentford and Arsenal. It was clumsy, there was no need for him to scythe down Matheus Cunha but Palhinha's gonna do whatever he sees fit and necessary and more often than not, his abrasive undertakings tend to wind up in the referee's match report for unsavoury reasons. Navigating 90 minutes without being reprimanded was always going to be impossible but remember, he's still available for Leeds United on Tuesday, so silver linings etc.
I guess we've plaintively come to expect it from Joao; the lunges, the hardened shin splitting plunges, and while it's an inconvenience to have him out of action for two games, I can't help but cackle every time an opposition player eats dirt, reeling senselessly, in the aftermath of a Palhinha poleaxing. He isn't a patron of the dark arts, his expertise are far more sinister. I get that it appears as though I'm trying to champion the Portugal international's reckless discipline and for the record, I'm not, however I do appreciate a player that will hurl himself into combat regardless of the consequences, and sadly penalisations such as the one incurred on Friday evening are nothing more than an objectional by-product of his personal game.
This way, at least, we may have more than a brief glimpse of Sasa Lukic, our January signing's been used sparingly since his arrival from Torino and once he's weathered to the English top-flight, I'm certain he and J-Pally will forge a tremendously merciless partnership – for that to happen, though, Palhinha has to curb his enthusiasm somewhat, particularly when his opposite number's Achilles are goading him to blast them into an alternate dimension within the centre circle.
Vini ain't that guy
Netting the winner against Chelsea is all well and good, but honestly, Carlos Vinicius is quite easily one of the most infuriating strikers we've ever had on our books. He can dine out on his one and only goal for Fulham this season, give him freedom of the borough for last weekend's assist, however for a man of 6'3″ and a frame that suggests he's a mean handful, the Brazilian is deceptively feeble and I've never known a professional footballer with a heavier first touch.
In the air, there aren't many defenders that are better equipped than Craig Dawson, it was always going to be a tough test for Vinicius to overpower the former West Ham United centre-back, although there were many instances where he was painfully submissive, bullied into forfeiting possession, and as he can't withstand the slightest of pressures to hold up play, Fulham's offensive sequences dissipated as soon as the ball cannoned violently from his feet. He's lost in translation, we don't play to his strengths because, well, he hasn't many to choose from and he cannot operate as a lone number nine.
He may have nearly nodded us ahead at the death; it was a good header that maybe lacked a little intent, although it was the only time I can recall Vini rising more than 20cm from the deck to contest a header. With Aleksandar Mitrovic out of contention for the time being, Vinicius has been granted various opportunities to really make a telling impact, to reassure both the manager and the fans that he is definitely the man for the job when Mitro's indisposed but Carlos simply isn't that guy, and while I'm all for positive reinforcement, I simply don't think he'll ever reach the required standard. Sporadic glimmers are not enough and one goal with one assist in 548 minutes isn't a suitable return for a player that's supposed to be a capable second-choice in the top half of the Premier League standings.