Positives and negatives: Fulham 2-0 Nottingham Forest
Written by Cameron Ramsey on 12th February 2023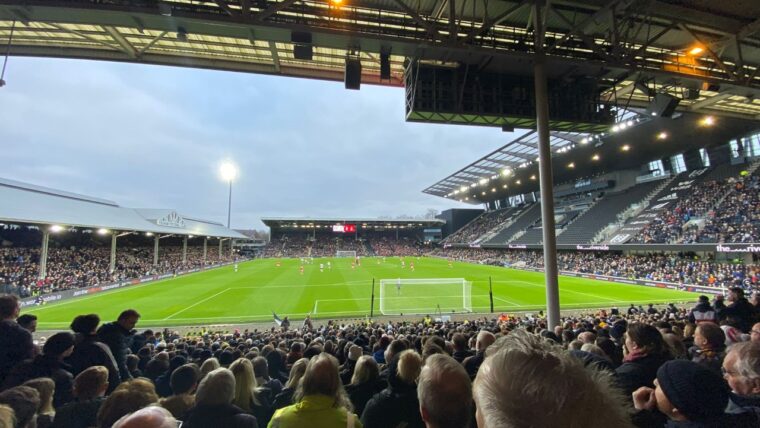 Deforestation by the banks of the Thames. Cam's got you covered when it comes to Fulham's 10th W of the season, a result that sets us apart from the imposters.
The Premier League table doesn't tell tall tales. Some 35 points on the board, a +4 goal difference and following our second victory over Steve Cooper's Nottingham Forest. The discussion surrounding Marco Silva's Fulham is flattering, and we're not even fishing for compliments.
The visitors' investments have been eye-watering; they've terrific individual talents – at least 560 of them – but their chemistry's still in progress. They encountered a team in the Whites that are all pulling in the right direction to achieve their ambitions. Survival isn't even mentioned in conversation; European tours are being touted and that, for a newly promoted team, is ludicrous.
Positives
All hands on deck
The festive period had been kind to Forest and upon their visit to the Cottage, they were a side that hadn't lost in the league since 27 December and they were gradually clambering out of the relegation whirlpool.
Forest hit switches from either side to shift play and our centre-halves, as well as our full-backs, had to be on their guard. Brennan Johnson scampered from Antonee Robinson, he's one of the only wingers in the Premier League that can withstand Jedi's athleticism but his compatriot, Tim Ream, was aware of the Welshman's turn of pace and he was always on call obstruct. The 35-year-old, alongside his eager French partner Issa Diop, was an astounding example of calmness and composure, his tackles were ruthless, his decision making was considered and Johnson was frequently sent to the off license as Captain America chopped and Cruyff-ed for the thrill of it.
Tim's relationship with Diop has evolved; there's an understanding between the two that's functional and if Forest had seemingly isolated either of the duo, the other was well within the thick of things and their stick-or-twist judgement allowed the Whites to nullify Forest's approach. At the heart of our back four, driving with the ball or condensing the channels, our centre-halves followed the narrative strictly and they reinforced Fulham's structure.
Our guests are known for their expedience on the break on on the left; Gustavo Scarpa could've prodded his side into the lead but Bobby De Cordova-Reid's gut-busting stampede for the Brazilian epitomised our collective perseverance and he clamped the floppy-haired skateboarder with a scissoring slide tackle, plucked directly from Kenny Tete's tried and trusted handbook. It really was a sublime prevention from our utility specialist and while our goals were greeted with elation, BDR's punctual blockage was just as satisfying.
As the game developed, with a lack of central midfielders to chuck into the mix, Forest's stranglehold in the middle third was conspicuous but it didn't deter Harrison Reed from doing his usual rounds. His tireless work ethic is admirable; glamour isn't his in his make-up but it's his prerogative get up in his opposite's face and even when he's a yard or two off the run of play, the Worthing wrangler's insistence flustered Forest's ball carriers and his exertions, as they always are, were constant.
Attack is the best form of defence, it's a cliché which Silva advocates and though our intensity tailed off midway through the second half, the Whites experienced a second wind and as Forest's advancements slackened, we regained our impulsiveness as we weren't prepared to rest on a slender single-goal buffer. It isn't possible to attack for 90 minutes at full tilt, it's expected that both sides will have convincing periods in the final third, Saturday wasn't to the contrary, and a team's underlying standard can be measured by what they do both on and off the ball, in the ascendency and under duress.
Fulham were pliant. They adapted to Forest's assertive gameplan and they cooperated systematically to resist and aggress. It wasn't a spotless performance, but we were the predominant pace setters, we were the sturdier unit and with woodwork whackers and Bernd Leno's rock-solid wrists, the Whites were distinguished and it's a victory that divides us from the clubs that are destined to circle the bottom three as the season whittles down to the wire.
Fulham are extremely good value for their position in the standings, we are stubborn, we are scrupulously drilled and we are only focused on ourselves. It's no fluke, Fulham are flirting with European football because we are genuine contenders, not rank outsiders or pretenders and as the media circus stroke egos in Hounslow and the south coast, the Whites are quietly going about their business whilst making concrete statements of intent.
Willian works wonders
We speak of Ream turning back the years and silencing naysayers but there's another old head in the ranks which is also performing at an exceptional rate. Willian, at 34-year-old, was Saturday's man of the match and it was without question his finest outing in Fulham colours to date. Renan Lodi knew what his fellow Brazilian was likely to do; the classic dip inside and shoot on sight sequence we've familiarised ourselves to, but even in anticipation, the Atletico Madrid loanee was helpless as our evergreen free agent shimmied into striking range and for our opener, Forest's left-back was humiliated and humbled and he'll suffer tremors and flashbacks each time he closes his eyes for foreseeable.
Just within the 18-yard box on the right, Willian's soft first touch tempered a loose ball and simultaneously, tendons were severed. There's being sent for a hotdog, and then there's being run through the meat grinder to become a human Rollover and as Lodi felt his legs give way, he knew he'd been roasted, rotisserie style, by a chef with his own spicy recipe for public embarrassment. "See ya", we mocked, and with Lodi wallowed in the mud, Willian unleashed a rising missile with his left that stunned all in attendance.
Transfixed on his technique, powering up, Willian didn't even lift his head as he slapped his laces through the ball, it recoiled from his Mercurial like a seriously pissed off viper and it screeched towards the postage stamp with venom. Lethal precision, dispensed by a versed pro that knows exactly where the goal is. Keylor Navas, a player of the same ilk as Willian, was well beaten . Right up until the 71st minute when he was replaced by Manor Solomon, Willian terrorised his flank and Lodi was subject to his dastardly deeds.
The step-overs, the give-and-goes, they were all too much for Forest's backtracking defensive line and he very nearly notched a superb second from long range, too. With a split second to take aim, Willian catapulted a 35-yarder and it bludgeoned off Navas's right-hand post, it was a far-flung kamikaze although the Costa Rican 'keeper – to his relief – was bailed out by his quivering goal frame. Two thunderbastards in one game would've been marvellous, but we're not the greedy type so one is more than enough.
You get the impression that Willian is determined to establish himself again, his renaissance on English shores has been remarkable and given the grade of medical and sports science that athletes are conditioned by, he could torment top-flight fullbacks for a few more years yet and I really, really hope he continues to do so in black and white for as long as his body allows.
Manor makes sure
This is going to be a humungous goal for Solomon as his minutes rack up in SW6. Returning from a major injury, Manor's been weened back into first team matters little by little, bit by bit, and with a genuine point to prove to Silva and indeed the fans, he couldn't have flaunted his credentials any better during his 20+ minutes on the field.
Wating no time, Solomon introduced himself to Forest's wide men and as he surged at high voltage, the visitors recognised that they were in grave danger and there wasn't a single thing they could do about it. La Croquetas, helter skelter pirouettes, Solomon's repertoire is designed to bamboozle but he isn't just a merciless trickster, he's also a perceptive team player that will dissect and construct with a militant purpose.
Many were sceptical of his final product, especially at the Stadium of Light where his finishing touches were mistimed, however the 23-year-old is, in fact, an accomplished dispatcher in front of the target and his poise in the 88th minute was unwavering. Andreas Pereira's ingenious reverse pass – his sixth assist of the campaign – zipped into Manor's vicinity and with the entire target to hit, unmarked, he waited for Navas to make the first move and he leathered our second of the afternoon with an unerring composure.
Scoring his first for Fulham and indeed his first in England clearly meant everything to Manor. It's clear that Manor's an outrageously tidy operator and as he gets himself up to speed with Fulham's system, he will be allowed to express himself to a degree that will harbour even more joy and reward.
Negatives
Mitro's gone amiss
Embed from Getty Images
This won't become a running theme, I'm sure, however for whatever reason Aleksandar Mitrovic hasn't been himself, not since our dub against Leicester City, and in the company of defenders he should sledgehammer to a pulp, the Serb was noticeably offbeat and in routine scoring situations, he was uncharacteristically wasteful. First touches cannoned off in Forest's favour, his movement was minimal, his form's taken a turn for the worst and no matter how invaluable he is to our system, he has to give himself a stern talking to because he'll know that he should've bagged at least a brace from bread and butter chances.
He probably should've done so much better in the first half as Navas palmed his strike away for a corner, he'd sat his man down with a neat faint inside, breaking Forest's line was painless but as it is from the spot with too much time, his effort lacked bite and conviction. That's a certain goal if it were Boxing Day, and he'll be the first to tell you that his contributions simply haven't been good enough of late, and it's a rut he has to leave behind without a second glance.
There was a delicious cross in the second half that should've been diverted as well but he wasn't on the same wavelength, he climbed too early, and while many may feel it's unfair criticism, nit-picking is excusable because in all honesty, I think we can all admit that something isn't right with our star hitman, and we only want it to be addressed and rectified as soon as possible. It would be wrong if his afternoon's work wasn't reviewed frankly, however I'm still adamant that a spike is impending and once he finally slams his 12th of the campaign, we'll see his tally rise into the high teens rapidly. With Mitro, barren spells often precede goal-laden flurries so I guess, having raised legitimate concern, we simply have to be patient and tolerable.