Positives and negatives: Fulham 0-1 Tottenham Hotspur
Written by Cameron Ramsey on 24th January 2023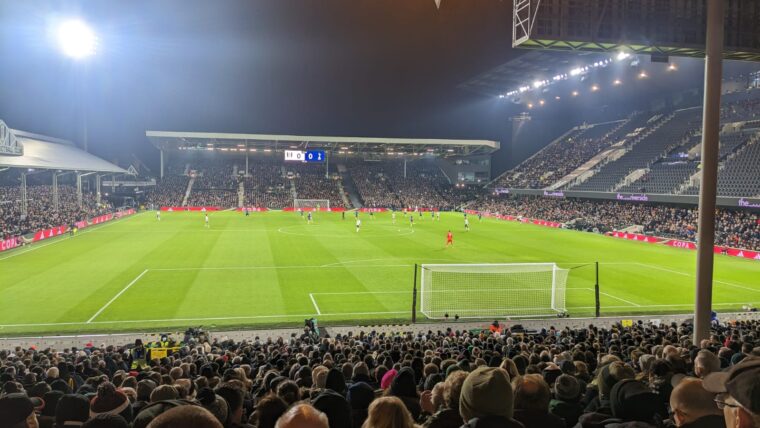 Roy Hodgson's Forever Fulham and Cam, as ever, has tapped up another piece that picks apart Fulham's eighth loss of the season.
Antonio Conte's a knock-off Jose Mourinho and his nauseatingly boring Tottenham Hotspur recorded their second victory of the season over Marco Silva's featureless Fulham. We shouldn't really be bothered by this defeat but Spurs were far from convincing and we simply failed to capitalise, and that's why this particular L hits different.
We're punching, while we dream of a European tour we've also got to be realistic and if we're going to sustain our position, we have to scrape out results against teams like Tottenham, because equalling or indeed bettering the sides that are in and around the top seven is determining and on Monday night, we fell short of the required benchmark.
Nonetheless, the Whites are seventh, we've lost our last two games by a single goal against teams that are either soaring or weathered to life at this end of the table and even though there was much to be desired in our performances on Tyneside and by the Thames, we're yet to be comprehensively beaten and when our form picks up, maximum points will follow. Get through Sunderland, prepare for 3 February, Chelsea away. That's the agenda.
Positives
Diop Issa starter
There isn't much of a discussion regarding our best centre-half pairing. Tim Ream is a shoo-in and his partner against Spurs, Issa Diop, should also be one of the first names on the team sheet because other than a hairy cross-field pass, the rangy Frenchman was aware and reactive when his readiness was examined by the Lilywhites' invasive attackers and he wasn't overawed by the occasion.
Muzzling Harry Kane and those that play off the awkward striker isn't straight forward, multiple problems can amass within a shoulder shrug and though the England hitman eventually shook the shackles to fire what would be the eventual winner, Diop was conscious to Tottenham's plan of action and he reacted accordingly.
We're wooed by Ream's steely courage on the ball, the American's a Cruyff advocate although his place in the starting XI, this season, hasn't been scrutinised, whereas Diop's involvements have always been questioned. Tim and Tosin Adarabioyo's collaboration last season was the bedrock to our title success, and heading into the current campaign they were the obvious choice but Tosin's fallibility has raised concerns, red flags, which is why he isn't a regular participant.
Diop joined with a reputation, a tattered one, but with clinical interceptions, banishing headers and a perception that anticipated and neutralised hazards, Issa's practicality has been praised and his aptitude is in demand. Stories have circulated surrounding Tosin's immediate future, he could be headed for the exit door before the month is up and while I still rate the Manchester City graduate, Diop is my preferred choice to shore up matters alongside Tim, and it isn't even close to being debatable.
More Manor minutes
Major injuries, as we know, should be treated and rehabilitated with utmost care and rushing Manor Solomon back into contention was never going to be considered. It would be illogical, nonsensical, but now the Israeli winger's been back on the training field for a few weeks, following a steady recovery programme, we have to test the waters, properly, and that means he has to feature for longer than 5 to 10 minutes. He came on for Kenny Tete in the 80th minute and almost instantaneously, his impact was inspiring.
Where Bobby De Cordova-Reid and Willian were reluctant, Solomon was confrontational. He scampered from congestion, he dolled out possession sharply, he got at his man and he also worked the target, all within no more than 45 seconds with the ball at his instep. For reasons unexplained, the Whites gravitated towards the left and periodically ignored the right, where Solomon was initially fielded. He was bypassed, however once he switched flanks Fulham suddenly started to crowbar Spurs' rigid back five, because he wanted to make an impression.
It's amazing what forward-thinking assertion can do and clearly, Manor will refresh a squad that is going to be sapped mentally and physically. Silva made changes after our enthusiasm declined, Solomon promoted an uplifting eagerness but if he's to play against Sunderland, his game time should be no shorter than half an hour and at Stamford Bridge, he has to start. No excuses. If we let this guy cook, he'll cause a ruckus and he'll spark a roasting spree upon passive fullbacks across the country.
Negatives
Fulham fall flat
With momentum and impetus, Fulham were by far the superior side for the opening half an hour or so but as the game whittled down to the closing stages, our approach staggered and we completely ran dry of variation and urgency. This was a game where the Whites really should've gained at least a point, Spurs were bang average but as possession crabbed from one flank to the other, without haste or incision, the visitors assembled collectively to shield Hugo Lloris's Hammersmith target and meaningful phases in the final third were at a premium.
Virtually on the stroke of half-time, Kane slammed Tottenham into the the lead, he's now the north Londoners' joint top goal scorer, ever, with 266 and one simple opportunity was all he required to seal the victory. Fulham, before the Three Lions skipper struck, were in the ascendency, we manufactured slick sequences but our end product was mistimed, panicked, and as Spurs regrouped Silva's men became ultra-cautious on the offensive, a team deprived of resolve and idea and I hate myself for saying this but it felt a little too Parkerish for my liking.
Our position in the standings is very well merited, we're a team that's openly assertive and fearless as we construct goal scoring scenarios although under little pressure, we needlessly yanked the handbrake at green lights and that is so unconventional for a side that usually floors it if points are in sight.
It wasn't as though Spurs even wanted the win more, Fulham were just apathetic. It wasn't great at St. James' Park and it was oddly indifferent at the Cottage. Key instigators were tentative, focal points were led astray and the game was ultimately lost because of a lapse, an omission of devotion and in the Premier League, Fulham cannot afford to switch off, fall flat or remain idle.
Tierney's dismissive neglect
It's an unforgiving profession, being a Premier League referee or official must be ridiculously gruelling as dogs abuse rains down from the terraces, as well as from the technical areas but in the public eye, mistakes and deficiencies laid bare, Paul Tierney's reputation should be bashed mercilessly and the clowns at Stockley Park or wherever they're stationed nowadays are also culpable. He and his colleagues were dismissive, blind eyes turned, and their lack of attention or regard was bordering on dangerously neglectful.
At pitch level, through bodies at full flow, I can understand why certain decisions are frequently misinterpreted however, Heung-Min Son's cynical stamp was brazen and blatant and if we're to respect the laws and nature of the game, João Palhinha probably should've seen more than just a caution because he was barrelling into challenges with reckless intent.
Son can do no wrong, he's such a nice chap, after all, but the South Korean was horrendously late, there was excessive force and Tete was fortunate to have hobbled away with nothing more than stud marks, rather than a mangled ankle. Son has previous, this is not his first rodeo but pundits will not accept the fact he's a vicious antagonist when things aren't going his way. In instances such as this, why can't VAR intervene? If player welfare and safety is paramount, why aren't players being punished and reprimanded for callous lunges that can cause serious harm and damage?
Dismissing nasty leg snappers is unacceptable, snubbing high boots is intolerable and failing to comply with the elementary basics is weak, it's mediocre, and that's a smeared image of the Premier League which has been smudged by ill-equipped, unfit referees that suffer from deranged power complexes.