Positives and negatives: Fulham 2-1 Chelsea
Written by Cameron Ramsey on 13th January 2023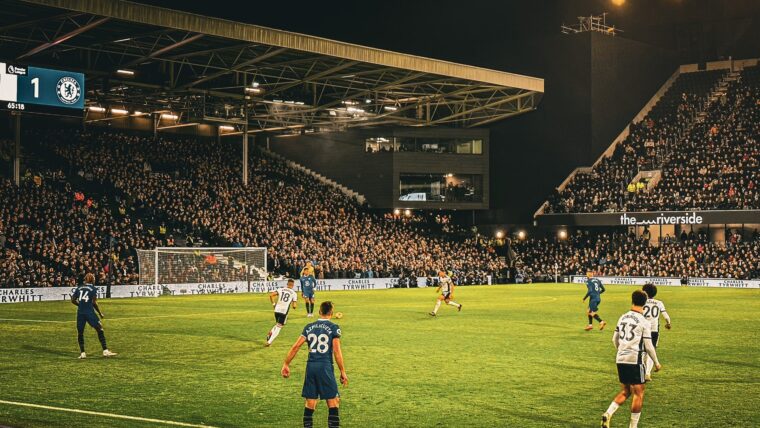 It's indescribable; Fulham get one over the tenants and Cam puts together an article he thought would never exist. Drink it in.
No, no it wasn't a dream, it actually happened. Marco Silva's Fulham, consisting of free agents and bargain buys, finally defeated a Chelsea side riddled with riches after 16 years in waiting. What a night, what a result, what a team.
Waking up the morning after was pleasantly relieving, even with a well-earned skinful to nurse off. Graham Potter's Blues fielded a debutant, a multi-million loan signing in Joao Felix, and even he had seen enough of the PE teacher's ineptitude. He'd rather have a cold shower than toil through that tripe, and as he stormed down the tunnel, out of sight, Fulham's attention turned to retribution.
This was every bit as satisfying as our fabled 4-1 drubbing of Juventus, it was just as exhilarating as last season's 7-0 finale but there's serious weight to this particular victory because it was against them, the churlish, arrogant throng of thugs we sadly share a postcode with. Well, January 12th, 2023, will be famed as the day Fulham had the last laugh, as Chelsea tears spilled into the Thames. Blue flags inserted up orifices, that's the bottom line.
Positives
West London is ours
I am utterly speechless. This is a result we've craved for so, so long. Fulham have stunned the Premier League this season, we've come out in top in epic encounters against the finest teams England has to offer but this triumph, this dethroning is gargantuan and it means everything. This is the game everyone had their eyes fixed on, it's a fixture that jumps off the schedule and this time, the Whites broke the curse.
Chelsea gloat of two Champions League trophies, dirty money enabled them to snatch top-flight crowns but Potter's Blues have capsized, and it's Silva's Whites that did the tipping. Setting the tone was paramount, we had to overcome nerves and once we settled into our rhythm, galvanised by an atmosphere that sent tingles and shivers, Fulham staged a revolt, ushering in a new dawn to compound Chelsea's pitiless downfall. We're six points ahead of them, we're within touching distance of the top four, it's a crazy world but the one we're living in right now is beautiful.
Pubs reverberated, the streets were enriched, three points were anticipated and it evoked emotions that are seldom experienced. Seats were used purely for youngsters to gain a clearer vantage point, the atmosphere fizzed with energy, with expectation, and though we've enjoyed many a memorable night under the lights at the Cottage in recent months, Thursday's game echoed an all-or-nothing knock-out fixture and once the final whistle sounded, euphoria surged through the masses.
At their lowest, Chelsea had their dignity stripped by a team that are better drilled, by a club that are better run and as pundits tout European football in west London next season, it isn't them down the road they're involving in debate and conversation, it's Fulham. Embrace it, we outplayed and outfought our obnoxious lodgers, ruthlessly turfing them out on their backsides and now, at long last, we can proclaim, louder and prouder than ever, that west London is ours, and as Stamford Bridge crumbles in the distance, we'll build it up in black and white.
Vini for victory
He may not know it yet, but Carlos Vinicius has just unlocked a new chapter in Fulham folklore and it is centred around nobody else but him. Collectively, Fulham were immense however this man, the understudy near enough everybody discarded, had the opportunity to etch himself upon this magnificent club's history and with his first official goal in our famous jersey, he achieved the inconceivable.
Stepping into Aleksandar Mitrovic's shoes is unforgiving, comparisons will always be drawn, aspersions will be cast, but Carlos slipped them on and went stomping on Chelsea's crippled prestige. His hold-up play was close to impeccable, there was no such thing as a lost cause if he could help it and he occupied Thiago Silva and Kalidou Koulibaly – two of the games most respected centre-backs – without fear or insecurity.
Without Mitro, Fulham were without a focal point, or so we thought. As a lone striker, Vinicius was thrust into the deep end, he hadn't inspired in outings at the London Stadium and elsewhere, but it's obvious that he's grafted tirelessly on the training field to refine his skill set and it really shows. He was strong in shoulder-to-shoulder duels, he was carefully constructive in possession and in the danger area, he stole a yard to divert with conviction.
Asserting himself, making his presence known, that's all we asked of Vini and he responded resoundingly. Opening his account would've played on his mind, it's a bugbear for any striker and surely there's no better way to enact his trademark celebration than at Chelsea's expense. Household hero status: justified.
Willian writes headlines
It simply had to be Willian. Facing his former employers, the Brazilian shimmied and shook his way into the spotlight and with a deft drop of the shoulder and a useful deflection, the reborn game changer influenced headlines as his Hammy End opener spun beyond Kepa Arrizabalaga.
He's remarkable, Willian's upturn in form has enhanced Fulham's attack and with a spring in his step, he completed another marvellous shift, reaffirming his standing as an elite competitor that refuses to languish on the has-been scrap heap.
Chelsea fans were wary, and rightfully so. After all, they know all too well what Willian can inflict upon lesser opposition and his influence was typically astounding. He's bought into Silva's plans, he's here to force the issue and with every passing minute, he's evolving and he's completely invested.
Willian understands his purpose, he appreciates his worth after a difficult few years and his appetite for fulfilment is Fulham's gain. He exudes excellence, intelligence and resolve, these attributes would've been mastered in Cobham but at Motspur Park, with a freshened enthusiasm and lease of life, Willian's resurgent originality, amplified by Silva, rendered Chelsea redundant.
All hail Leno
Big save Bernd featured in another momentous Fulham dub and yet again, we can rave about Leno, the bargain of the summer, because in the heat of the moment, under fire, the dauntless German was focused and primed to deflect Chelsea's net-bound efforts.
His showreel of ridiculously assured stops is growing game by game and while he couldn't do anything about the Blues' freakish equaliser, he took matters into his own hands, quite literally, and now many are hailing him as the best stopper we've had since Mark Schwarzer, and it's fully merited.
Angles covered, reflexes on point, orders barked, Leno is a 'keeper that's been in intimidating derby day situations before and he wasn't fazed, not even in the slightest. We've a stopper that can guard targets at the very top of the game, that's for definite, and he wants to help the Whites get as far up the ladder as possible. Fulham isn't a stepping stone, it's a project he values and he is a prime contributor.
Chelsea's goals may have dried up but they weren't starved of opportunity at the Cottage. Felix let loose, Kai Havertz took aim but Leno charged them down and flicked them wide of the mark. This season in a single game, no 'keeper has made more saves than Bernd's nine on Thursday. Infer what you will, but those numbers are rarely obtained by others because they'd have conceded multiple in the process. and with Leno behind our back four, attentive and alive to what's unfolding ahead, the Whites are safe and secure.
Pereira's perfect peach
Nine million British pounds have never looked so bloody good. Andreas Pereira is feisty, he's inventive and that far-flung swing of his, the one that crafted Vini's winning header was an out-of-this-world peach. Throughout, Pereira instigated, he dipped and dived from tight spaces like a Top Gun fighter jet and even when he was running on empty, he maintained a tenacity that wreaked havoc.
In the final third, he's ever-present, everlasting and his impact's always significant. A glance was all he required, from 40 yards the ballistic Brazilian unleashed a samba-seeking missile and it cruised to its unmarked destination perfectly. That's a cross of exemplary quality, the technique was finely-tuned and the more you watch it, the sexier it gets.
His movement whilst being squeezed was also jaw-dropping. On a sixpence, Pereira gyrated from onrushing assailants and in an instance, the Whites were on the break and he was the spearhead. Technically sound, respectful of instruction, Andy-P is a model professional and stability, a place to truly call his own, is only going to elevate his potential.
Behind Vinicius, Pereira's impression was pronounced, his relationship with his deeper-lying colleagues was persuasive, as an attacking midfielder he acknowledges his responsibilities but as a teammate, he pushed boundaries to his camp's benefit and with that, he's developing into a player that can virtually do it all on demand.
Negatives
Nothing, nowt, nada
Not a sausage. I'm usually one for finding something to grumble at but really, there's nothing to pick holes in other than a few skittish moments in the early stages of the first half. It's worth bugger all. Other than that, Fulham were superior, they were in the ascendency and I'd like to repeat this before I sign out: from Shepherd's Bush to Putney Bridge, west London is clad in black and white and there's nothing anybody can do about it. 3 February, dog track, evening kick-off, let's do it all over again.