Positives and negatives: Fulham 1-2 Manchester United
Written by Cameron Ramsey on 14th November 2022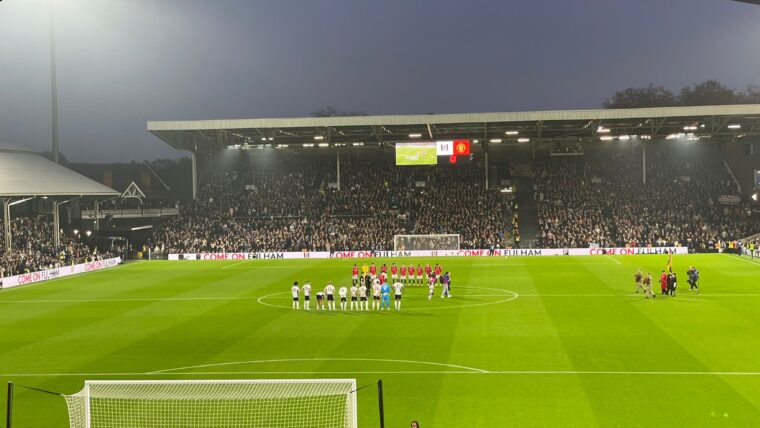 Cam reflects on a painful Remembrance Sunday defeat for the Whites, a result that should've been oh-so different.
Courageous, valiant, deflated. Marco Silva's Fulham encountered Erik Ten Hag's Manchester United before the season's intermission with a score to settle, but as it was against Manchester City, there was no reward for a collective performance that warranted so much more than an unjust defeat.
Fog lingered and heated disputes flared between home supporters and undercover United fans among the terraces; tt was a real winter warmer at Craven Cottage and despite the defeat and the manner in which it came, the Whites are ninth with 19 points and we've equalled our best ever start to a Premier League campaign at this juncture, 15 games in.
Our next competitive outing is on Boxing Day at Crystal Palace, a team that have faltered and flattered to deceive given the squad at their disposal, so for our sanity over the weeks ahead without club football, we hope you all enjoy the World Cup and we also wish you and yours a very merry Christmas, albeit a slightly premature one. Up the Fulham!
Positives
Palhinha's endless applause
Embed from Getty Images
There aren't many defensive midfielders in the game that can do what Joao Palhinha does on a weekly basis. I lost count of how many times the Portugal international overturned possession – he was unrelenting. Palhinha is not your normal, everyday midfielder. He's a truly unique enforcer of authority, beyond comparison, and he was easily the best player on the pitch by some distance.
Rudely interrupting United's choreographed passages, Palhinha rested at nothing. From urgent interceptions to full-blooded slide tackles, our hardy number 26 was an issue the visitors couldn't shake and it's clear that he's performing at a level that surpasses both that of the Whites and indeed the Red Devils. He's the closest thing to flawless Fulham we've had since Mousa Dembele and his ability's boundless. Without Harrison Reed, Palhinha had to eat up the midfield and he snacked on United's equivalents – even revered serial Champions League winners like Casemiro. Joao and his sheer persistence drowned out trouble before it had even been plotted.
No player has raised bums from seats quite as much as Palhinha this season, barring Aleksandar Mitrovic, perhaps. He's revolutionised the medium of hard-but-fair tackles and he couldn't have warmed up for the World Cup any better. We have a player that can genuinely waltz into any Premier League starting compliment, a custodian that's a grand master of his craft and he is the envy of opposing fans and midfielders, countrywide. Now, over the next month, he can show the planet why we at Fulham are madly besotted by J-Pally, the man that makes the uglier side of football appear extraordinarily beautiful.
Cairney's divine creation
Tom Cairney accompanied Palhinha in the middle of the park in his first start of the season, and as expected, the dependable playmaker complimented his animated partner superbly. Cairney supervised possession practically; he combined creation with preservation to prolong Fulham's spells on the ball and as Joao kept watch, the 31-year-old was expressive as well as impactful.
As Fulham constructed sequences, TC regularly peeled off his marker unsettle United's composition and while he may not be the most mobile, he made lung-busting runs to draw the Whites further upfield. Particularly along the left, Cairney helped Willian and Antonee Robinson overload Tyrell Malacia's quadrant and that's where and how he devised our 61st-minute equaliser.
Striding ahead of Willian, faster than he's probably ever shifted before, Tom screeched a cross between bodies to locate Dan James within the six-yard box and it just goes to show that whether it be in the Championship or against one of the globe's heavyweights, TC can still manipulate proceedings to Fulham's benefit. He was 60 seconds short of a full 90 minutes, but for a player that supposedly can't endure a full match anymore, our resident architect – even with heavy legs – was an invigorating source of vitality.
Dan's scripted outing
Embed from Getty Images
If anybody was going to come off the bench to pull Fulham level, it was always going to be Dan James. It's a classic narrative: former United player that's yet to impress for the Whites gets an opportunity to reacquaint himself with his old employers and, get this, he does so by opening his goal scoring account. It may not have stood for much come the final whistle but at the time, as he crashed the ball past David De Gea, it meant everything to both James and his doubters, myself included.
James had not endeared himself to Fulham's support before yesterday, but evidently with a point to prove, the Welsh winger showcased why he was once on United's books. Before Sunday evening, Dan had baulked at one-on-one sprints, he'd shrunk at head-to-head showdowns, but Luke Shaw was simply no match for the rapid attacker once he'd burst into full flow. James zipped into promising positions, he anticipated counter attacks and all-importantly, he finally converted from close range, having arrived in the penalty area almost undetected.
We all want James to kick on from here and for him to do so, all he has to do is commit to searing surges. That, in principle, is why we took him off Leeds United's hands for the season, to get at backpedalling defenders without hesitation because if he begins to trust himself again, with that scorching pace of his, he'll resurrect his reputation. There's a very long way to go, but I'm glad he got one over the Red Devils and hopefully, this'll be the beginning of his revival.
An unrestrained Robinson
Over the coming weeks, like several others in Fulham's set-up, Robinson is going to frequent our TV screens as he turns out for the USMNT in Qatar, and those that aren't necessarily accustomed to our flying left-back are in for a treat. Supercharged, reformed from the liability he once was in yesteryear, Robinson is designed for top-flight action; his athleticism demonstrates that theory alone, and United couldn't keep up with our fullback's gutsy exertion both with and without the ball.
The 25-year-old was fearless as he burnt the left channel, once he reaches terminal velocity there's no telling how his legs will rest but it does make for cracking entertainment. Neither Malacia or Anthony Elanga could restrain Robinson moving forward and in retreat, if United's runners had slipped his custody, he was in hot pursuit to throw down the stingers.
Antonee never ceases; he was piercing on the break and merciless as he backtracked, and when he administered possession to Willian or further afield, his intentions were always progressive. His attitude's been transformed by Silva. He's confident, earnest, and though he may have been wrongly accused at the Etihad, he's now a compatible performer that's scarcely at fault. Both of United's goals arose along the right, because they were flummoxed when they were faced with Jedi, a warrior that will literally stampede through players if you dared him to.
Negatives
Another late loss
Embed from Getty Images
For the second matchday running, Fulham's efforts were soiled with virtually the last kick of the game. It was gut-wrenching as Garnacho slammed an injury-time winner past Bernd Leno and it echoes the sickening feeling we all experienced as Kevin De Bruyne bribed a penalty at the death last week.
Twice in the space of a week, both teams from Manchester have stolen maximum points from the Whites in the most nauseating circumstances imaginable. United had a handful of clear-cut opportunities and they capitalised when it mattered and with seconds left, Fulham folded for reasons that are unexplainable. You have to question our mentality; it happened against Arsenal, City and now United. Regardless of how resilient we are for 85 minutes plus, we implode when we should be swinging the axe.
We can't continue to be a victim of our own fragility. United offered next to nothing throughout the second half; we were well on top and we lost control with the finish line in plain sight. Maybe a squad without Mitro, Reed and Kenny Tete was a factor, perhaps De Gea's inspired saves dampened our enthusiasm, it's a mystery, but something certainly isn't sitting right once the fourth official displays additional time.
Fulham went from all hands on deck to panic stations within a single switch of momentum, they had one more phase of play to see out before the game was brought to a close but our attention to detail dissipated unceremoniously and we were already at a point of no return. We've a team that can inflict pressure, individual players that can rewrite results in our favour so after the World Cup, at Selhurst Park, I want us to be the dominant side that turns the screw in the closing stages, rather than being the inevitable losers that entice an adverse, damaging reaction.