Positives and negatives: Nottingham Forest 2-3 Fulham
Written by Cameron Ramsey on 17th September 2022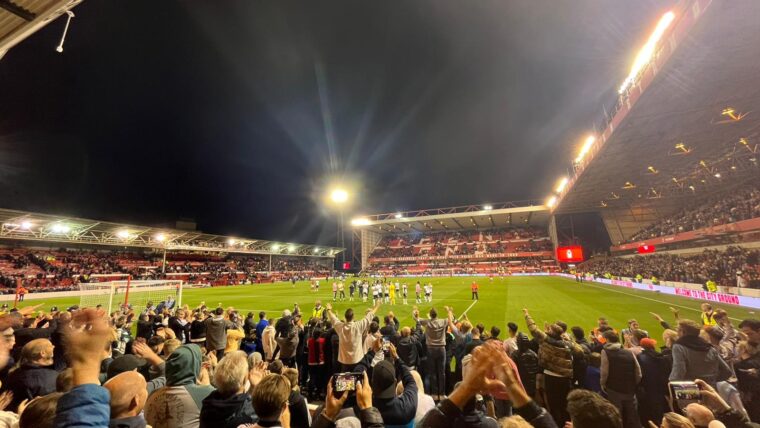 Marco Silva and Steve Cooper carried wreaths onto the pitch to commemorate Queen Elizabeth II's passing, black armbands were worn, and as a cluster of arse hats from the home end tarnished the minute's silence, Fulham simply had to honour our late monarch with a barnstorming victory. It's really what she would've wanted and we didn't disappoint.
Cooper looks like a bloke that's just escaped from a headlock but we have to credit his team somewhat – they didn't submit completely and it made for a thrilling Friday night spectacle. Forest have 1000 players to choose from and while it may still be early doors, their start to the season stinks of Fulham 18/19 and I worry for them. Still, now the boot's on the other foot, we're entitled to lord it over our unfortunate opponents because we're super Fulham and we adore a big dub at the City Ground.
Positives
Six mental minutes
Embed from Getty Images
Well, that escalated quickly. For 54 minutes, without being particularly assertive, Fulham were 1-0 down and it appeared as though we desperately needed a major reaction, a minor miracle, if we were going to spoil the hosts' evening. The Whites dictated the run of play, although we refused to take risks, it was far too sensible and Dean Henderson was rarely tested. That was until Tosin Adarabioyo climbed highest to nod his equaliser past the Manchester United loanee, his first Premier League goal, and from that game-defining corner, the following 6 minutes were stupidly busy and two quick-fire shrieks from yours truly nearly brought my wife into labour. Honours even, Fulham had the bit gripped firmly between their teeth, Forest were shell-shocked, ransacked, a rampage was brewing and the determination, the invention, the audacity that provoked our fight-back will keep us in the planet's most demanding division.
From a goal down to two goals up by the hour mark, the Whites were soaring and that's the Silva effect, a hallmark of how he's transformed the club. We triumphed from a losing position, we refused to sit back on a point and we denied Forest the breathing space to recuperate after being pegged back. That would never have happened in the 20/21 campaign. This Fulham side is built differently, it's defiant, it finds solutions and it doesn't give up. Defeating Forest, a side flirting with the drop zone already, was imperative and while they reduced the gap to a singular goal, Fulham's courage to shut out Cooper's men, to dampen a resurgence was astonishing and it all culminated from 6 dizzying minutes where limbs flew as wildly as our game-winning strikes. To prosper in the Premier League, taking chances as they emerge is essential and Fulham certainly aren't allowing the opportunity to succeed in the English top-flight to pass them by. The Whites are exciting, the Silva era's in full swing and now, on a high, it's onwards and upwards in style, the Fulham way.
Falling for João
You're falling madly in love with João Palhinha and there's not a damn thing you can do about it. The badge-smacking Portuguese battering ram was as sturdy as ever in the centre of the park, he offered tutorials in hard hits, crafty tackles and that also stands for his prowess in front of the target, too. Palhinha sticks it on his marker, he's a prison warden that doesn't show an ounce of mercy and as Kenny Tete rolled a ridiculously inviting ball into the roaming midfielder's path, just within the D, pandemonium ensued. The 27-year-old let rip from 25-yards, his effort arced ferociously towards the target and that's when we realised we'd somehow signed a man that is designed for the spectacular. He can score bangers, he can hold our midfield together almost independently, Palhinha is elite and he's doing the business, absolute bits for the Fulham.
I don't know how we persuaded JPally to join us, managerial connections aside, but with every minute he features, he's gradually becoming the club's darling, a pillar of ambition, and if he's purely replicating what's spoken of on the training ground as he takes to the turf, I cannot wait to see what else he can offer when he's well and truly accustomed to the Premier League. He couldn't contain himself after assaulting Henderson's net, he leaped into the arms of his adoring subjects and the harsh reality is that he'll now miss Newcastle United at home on October 1st. He was walking a tightrope anyway, we predicted he'd gain his 5th caution of the campaign so far as a result of an over-invested lunge, but not for unbridled passion after summoning a swirling thunderbastard. The thing is, I wouldn't really want João to tone things down, he's clearly an animal that savours confrontation, his heart beats for conflict and when he's transfixed on parading his superiority, he's honestly the midfielder we've always longed for and he is undoubtedly one of us. How does that Tequila chant go again? Definitely haven't been humming it non-stop all weekend.
Reed finally bags!
Embed from Getty Images
It happened! It really, really happened! After two-and-a-bit years with the club, 110 games without gracing the score sheet, Harrison Reed bust the bet in the 60th minute to open his Fulham account and given how clinical his half-volley was, we're all asking the same question: what took him so bloody long!? We know what Reed brings to the table, he's our midfield watchman, his engine's turbocharged but all that's lacked from the Ginger Iniesta's all-round game was a goal and what a resounding way to break that long-standing duck of his. Arriving late in the penalty area, Harrison timed his run expertly as Bobby Decordova-Reid squeezed his pullback across the danger area and with a simultaneous stride and a slap of the laces, our third of the night was guaranteed. The technique behind his goal is outrageous, if he hadn't adjusted his posture, full flight, he would've shanked it into the terraces but that's exactly how a football should be treated. Spanked, ruthlessly.
I was half expecting chariots of fire to cascade from the night sky, Reed scoring is almost apocalyptic because it's been coming for quiet some time although it's never arisen but thankfully, the only eruption was from the following masses as our relieved No.6 revelled in the moment, his moment to really steal the show. Nobody deserved to bag the eventual winner more than Reed, his patience has been astounding and so often, his efforts usually fly under the radar because we're so used to his remarkable professionalism, he's arguably our most consistent performer and now there's a feather in his cap. If this is to be his first and only goal for Fulham, the importance of his pinger will always be significant. Reed, not the other one for once, is a match winner for the mighty Fulham at long last.
Captain America deputises
This isn't a false alarm or one of those lucid early-morning dreams, no, it's true, Fulham won a top-flight game with Tim Ream filling in at left-back. Slap yourself on side of the face as much as you like, the 35-year-old centre-half guarded his flank in Antonee Robinson's absence with dedication, he blockaded Neco Williams and Brennan Johnson to stem Forest's flow and we even saw the veteran overlap in the final third, particularly in the latter stages, to pin the hosts into the corner flag with the victory in sight. Dropping regular 8/10 outings is a measure of just how far Ream's come under Silva's stewardship, his presence has been reimagined and it seems he's equipped to thrive in any given circumstance.
A dependable component of Silva's defensive line, Ream is willing, ready and able to compete wherever his expertise are needed and in the midst of impending disaster before kick-off, our very own Captain America championed that all-important can-do attitude and he made light work of his unfamiliar duties. It's easy to forget that Tim actually played at left-back during his time at Bolton Wanderers – he was their player of the season in that capacity, in fact – and for a stalwart that isn't blessed with blistering pace or the typical attributes a modern fullback may stockpile, his understanding of the position was studied and after proceedings came to a close, Silva proclamations of the defender were glowing. Ream will do whatever's necessary to stamp his authority, wherever it be beside Tosin or in a differing position, he's prepared to perform to the highest degree possible and as Jedi's fitness status is unknown, as well as Layvin Kurzawa's, we can always rely on Tim to plug the gaps and raise the standard.
Two fine full debuts
Embed from Getty Images
Silva had to adapt his line up accordingly and the gaffer's rejig welcomed both Willian and Issa Diop into the starting XI and upon their full Premier League debuts for the club, our two summer signings made atoning impressions from what was first broadcast. We witnessed Diop take to the turf in Fulham colours at Crawley and the less said about that calamitous outing, the better. Willian, on the other hand, had been training with the team for a few weeks in order to regain his fitness and the Brazilian's initial appearance in north London was fairly nondescript. However at a second glance, with an opportunity for our opinions to be rectified for the better, we saw a 34-year-old has-been turn back the years out wide and a West Ham United outcast emerge from the shadows with confidence, and there's surely much more to come from the duo respectively as they integrate further.
Marshalling our back four alongside Tosin, Diop planted his feet and halted alarming patterns before they developed further. The French centre-half was vigilant, he recognised danger and with cunning interceptions as well as deceptive shimmies on the ball, he disarmed Forest's offensive charge without even breaking a hot sweat as many lesser defenders would. He has swagger, he advanced progressively with the ball and he's sure of his ability whilst under fire. The sorry version of himself he unceremoniously portrayed in the Carabao Cup is simply no more. History. Fin.
Perched on the right, occasionally venturing infield, Willian echoed his former self as he foraged for avenues to exploit and while he may not cover ground as briskly as he once did, the former Chelsea and Arsenal winger still caused substantial issues. There's no doubt that Willian will burn slower nowadays, he isn't the explosive fast fuse of yesteryear but in the now, in Silva's evolving system, the attacker was evergreen and he influenced a series of key instances whilst the Whites broke free from Forest's traps. He scurried goal-side, he awaited support in the build-up to our second of the evening and in general, with and without possession, Willian was tidy, flickers of samba style shone through and he will set an example which his teammates will be wise to follow over the coming weeks and months. Second chances are always permissible and crucially, Issa and Willian redeemed themselves and they were both expressive of their qualities.
Negatives
Cook's dismissal denied
What do they even watch at Stockley Park other than funny cat videos on YouTube? Video Assisted Refereeing is a farce, it's good for very little and it isn't implemented properly, at all, when actual scrutiny and consideration's required. There is no way Boly would've made it across to Willian if he wasn't felled by Steve Cook, there was no concerted effort from Forest's centre-half to dispossess Willian within the remit of the law and no matter how you dress it up, Cook's caution should've been a straight sending off.
Willian stole a march on Cook, the winger was ahead of the former Bournemouth defender and as he darted towards the penalty area, Cook cut across Willian's path, caught the wrong side of his target, and the contact was condemning. He was the last man, Willy Boly only recovered because of Willian's upending and in relation to decisions which have warranted reds previously, Cook got off the hook very lightly indeed. The game's parameters are misconstrued, obviously many infringements come with controversy but there's a tool in VAR that's designed specifically to differentiate between honest mistakes and stonewalled scenarios where dismissals are deserved. It's a running trend for Premier League officials to make at least one major gaff each game they take charge of, and there was no exception to that derisory custom on Friday night.
Soft goals shipped
Embed from Getty Images
I'd only have bleated on about Forest's goals in greater detail if we'd dropped the dub but as we didn't, I think it's only fair that we unpack them without being overly critical, if it's possible. Having said that, though, the defending on Fulham's part was elementary and it shouldn't be repeated anytime soon. At set-pieces, Fulham are well-drilled but the opener, courtesy of a telegraphed flick across the penalty area, was dispatched because our man-marking – or lack of – was hideously mismatched. I mean, Bobby Decordova-Reid versus Taiwo Awoniyi, that's actually hilarious and it was prayed upon. Fulham stood as Forest pounced, undressing the sequence is basically pointless but we really should do better.
The hosts' second of the night culminated via a swift turnover, Fulham had hardly been tested structurally but as the Garibaldi countered, our awareness was scrambled and it was Tosin who was ultimately culpable. Instead of ridding a low cross from the right, the centre-back's vision blurred and he back heeled the ball into the mixer and Lewis O'Brien punched it home from close range. It was casual from Tosin, he's usually switched-on to his surroundings and it's not as though it was an alien scenario for a defender to encounter, either. Basically, next time, Fuham must launch themselves at detectable corner kicks and they must twat clearances into the floodlights. It's a simple science and if it's respected, it works.