Positives and negatives: Fulham 2-2 Liverpool
Written by Cameron Ramsey on 7th August 2022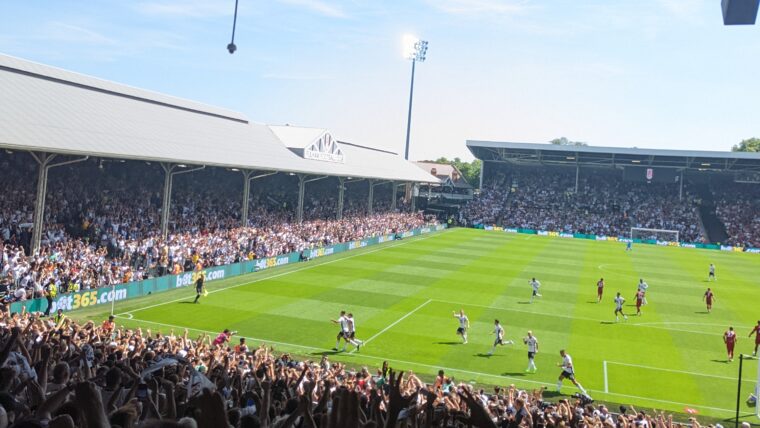 Premier League football is back, baby. Cam returns to recap an exceptional result that nobody saw coming.
The opening day of the 2022/23 campaign couldn't have gone any better, really. Under beating hot suns down by the river, Marco Silva's Fulham spoiled Jurgen Klopp's visit to the capital with a performance that proved the Whites are ready for the gruelling schedule ahead and we, as we already know, are in very capable hands.
Liverpool travelled to SW6 with three points being more or less guaranteed. 12:30pm kick-offs aren't always kind to the Whites but daringly, the hosts rallied to ruin 12-fold accumulators and boy, was it a thriller. Silva still wants to see more signings come through the door, perhaps we don't have the required depth as yet but if Fulham continue in the same rebellious vein, a season of sheer excitement is surely upon us. Points shared, salty Scousers, it's the smaller things in life that satisfy us the most.
Positives
Fulham were unbelievable
Embed from Getty Images
The best team in Europe, if not the world, was comprehensively outplayed and outfought by lowly little Fulham. Silva's Whites took the game to Liverpool from the very first second with an intense high press, the visitors found it difficult to quell the hosts' determination, and if we approach each game with the same attitude, safety won't be an issue.
Before kick-off, camped in Putney bars and on the streets, Fulham fans and Liverpool supporters alike anticipated a walkover; Klopp's Reds were going to run amok and compound the Whites to a ruthless pasting. But collectively, to a man, Fulham were the overriding force to be reckoned with. Liverpool didn't have things all their own way and they simply couldn't establish a convincing stranglehold because Fulham refused to grant them the resect they so readily demand. The media branded this encounter a mismatch, a free-hit, and an occasion Fulham can count themselves out of although in reality, it was the newly-promoted Championship champions that held the headlines hostage.
Klopp snarled and scoffed in his post-match presser. He berated the playing conditions and contested that his side underperformed, but in hindsight as he sips his Sunday morning coffee, he'll surely appreciate and recognise Fulham's overpowering dominance. Liverpool effectively dropped two points not because they were undercooked; honours remained even because the Whites didn't allow them the time and space to flaunt their praiseworthy superiority.
Andreas Peirera led the charge, Joao Palhinha steadied the narrative, our debutants clearly understood the assignment, and household names such as Bobby Decordova-Reid and Neeskens Kebano endorsed a defiance that constricted our guests' lunchtime comfort. Each and every player is deserving of credit, some outings stood out more than others, admittedly, however upon our return to Premier League matters, faced with the toughest of tests imaginable, Fulham showcased a version of themselves that persisted with focus and dedication and they weren't to be swallowed up. Fulham weren't just combative, they were honestly unbelievable in every department and they seriously frustrated a team that are bona fide favourites to lift multiple trophies this season.
Mitro hushes critics
Tell me, how does it go again? Aleksandar Mitrovic can't do it in the Premier League, he's a one-trick pony that's predictable and containable. But those who've upheld such ridiculous opinions are looking extremely stupid and now we're obliged to rub their noses in it. With Virgil van Dijk to navigate, our record-breaking striker laid down the letter of the law and with the revered Dutchman tucked in his back pocket, the Serb dispatched a clinical brace to hush his misinformed critics. Fired up, fixated on causing a ruckus in the final third, Mitro set about his day's work with diligence and commitment, he resembled a man that was compelled to redeem his top-flight reputation and nobody can argue against or dispute his goal-laden capabilities.
A towering header at the back stick ignited proceedings, Trent Alexander Arnold was powerless as Mitro climbed highest and midway through the second half, having been felled in the penalty area, the 27-year-old slammed home a spot kick to reaffirm his command. Neither van Dijk or Joel Matip could wrangle Aleksandar, he was assertive in close contention, he was aware of his position in open space and he posed substantial problems from the get-go.
Mitrovic is going to be a handful this season; centre-halves are going to be examined by his bullish industry and if footballing royalty cannot restrain and suppress a player that apparently isn't worthy, then what hope do other unwitting defensive pairings have? I fear for centre-backs across the country, Mitro is a predator not many can tame and when he senses even the slightest measure of doubt, nobody is safe. He demonised the visitors' back line, and it certainly won't be the last time he condemns opposing defences to an afternoon from hell. Better the devil you know.
Robinson bust a gut
Having to mark Mohamed Salah is not a prospect intended for the fainthearted. Venerated as one of world football's finest attackers, Salah has confronted numerous full-backs on the elite stage, and on Saturday afternoon, Antonee Robinson had the privilege of shadowing Liverpool's Egyptian phenom and I have to say, our American left-back conducted himself tremendously. To nullify Salah's offensive activity, Robinson would have to remain sharp, and once Salah believed he'd stolen a march on the run of play, Jedi was in hot pursuit. The powers Robinson possesses were supercharged along the left, he snuffed out impending danger proactively and with the ball, the mobile fullback rotated possession calmly and constructively.
It's strange, but Robinson's better suited to the Premier League than he is the Championship. He's an athlete; his engine's finely tuned for the non-stop rigours of top-flight football and in esteemed company, the former Everton man made his presence known. Silva's gradually transformed Antonee into a relatively trustworthy component, I've no doubt he'll fall short of the mark at some points this season but he was unfazed by Liverpool's fluent advancements and he was undeterred when he was asked to contribute to Fulham's attacking ventures. Of course, there were plenty of outstanding performances to pick and choose from but for me, there's no better example than Robinson because for all his flaws and deficiencies, he stuck to his guns against a side that could've ripped him apart. His dignity's intact, my personal impression of him is softening and he can hold his head up high knowing he left everything on the turf.
Tim passed the test
Embed from Getty Images
Another player who allegedly isn't cut out for Premier League football is Tim Ream. Throughout the summer, Fulham fans have pined after genuine quality to waltz through the gates at Motspur Park and while Ream arguably completed his best season in Fulham colours last term, the veteran American is always overlooked when top-flight football beckons. At 34, Ream is supposedly well past his best years, but against Liverpool proven goal-getters Roberto Firmino and Darwin Nunez, Captain America held his own and limited the Reds to a shallow premium of clear-cut opportunities. As ever, under immense pressure at times, Ream and Tosin combined to relinquish the visitors aerial threats but it was Tim that really impressed. After all the conjecture surrounding his importance, he was conscious to the weight of the task at hand and while I'll openly agree that we definitely require reinforcements, he portrayed some of his best attributes and his influence was undoubtedly settling.
With the ball, Ream studied the pitch for sensible inroads and outlets and he was rarely rushed. He manipulated the tempo at the back and he prompted Liverpool to chase shadows, and when he had to cover ground to defuse awkward situations where rogue runners had broken free, he showed a remarkable turn of pace, even by his standards. Ream has been here before, this isn't his first Premier League rodeo and though you can't necessarily teach an old dog new tricks, he's certainly wise to the hardships of top-flight football and perhaps at a lessened capacity once another centre-back is purchased or once Shane Duffy acclimatizes to Silva's demands, Ream could still be a fairly important piece of our relegation-battling puzzle. You should never disregard Tim, because as he demonstrated against a heavyweight superpower in Liverpool, he can still put more than a persuasive shift in when we need him to contribute.
Negatives
Not today, thanks
Considering we all thought a draw was basically impossible to achieve in the run-up, how could I possibly pick holes in a performance that dramatically exceeded our expectations? We're off the mark with a hard-earned point and we got Klopp chomping like a starving cannibal. Negatives? Not today, thanks.