Positives and negatives: Sheffield United 4-0 Fulham
Written by Cameron Ramsey on 9th May 2022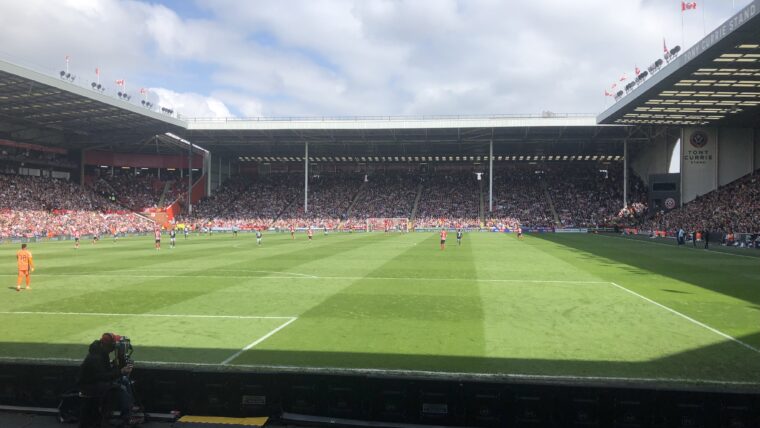 Ladies and gentlemen, it has been a blast and a genuine pleasure. In our closing positives and negatives edition of a riveting 2021/22 schedule, Cam tries to mask over a heavy defeat on a day of mixed emotions in Sheffield.
We could be far more scathing in the aftermath of a pretty incriminating 4-0 paddling but honestly, who gives a shit? Nothing was about to urinate on Fulham's title procession, the supporters travelled in droves adorning Hawaiian shirts, inflatable flamingos and a feel-good factor that couldn't be suppressed. The atmosphere in the away end was defiantly celebratory, the football was dross but the concourse was rocking, and with a sell-out crowd present at Bramall Lane, the promotion party was in full swing.
Flares and flash bangs were ignited, each and every touch was greeted light-hearted sarcasm, Marco Silva's Fulham were humbled on the turf but in the terraces, the visitors refused to be silenced. It has been a campaign that eclipses those that I have ever known, the Europa League campaign is fond, winning at Wembley for the first time is pertinent however this season is wholly unique because we mastered a division that is unforgivingly cutthroat and we did so with 90 points, 106 goals scored and a striker that smashed multiple records to smithereens. The players are exhausted, we're exhausted, so revel in the summer break, reminisce on what has been and gone and remember: the Whites are going up to the Premier League as champions, not runners-up. We came, we conquered, we go again as an indefinite member of the English top-flight.
Positives
Embed from Getty Images
Fullbacks were fine
We shipped 4 goals, at the back our collective efforts were half-arsed, but where Kenny Tete and Antonee Robinson are concerned, I was relatively satisfied with their respective exploits and the more I see them both in the matchday selection, the more I'm warming to the prospect of their weekly involvements in the coming Premier League season. Tete attempted to initiate bright offensive phases along the right, Robinson was expansive and alert on the left, our fullbacks were perfectly fine in comparison to what was mustered by their teammates and the result, for that matter, is not detrimental to their personal reputations.
Jedi has been an antagonist this season, he hasn't always illuminated himself in the most flattering of lights, especially in these articles although admittedly, he's raised his standards in recent weeks and he tended to Ben Osborn attentively. The American occupied his flank with an objective, to stretch and to secure and he conducted himself accordingly. Likewise, on the other side of the park, Kenny locked horns with Enda Stevens and he also forced the issue progressively, even if his contributions weren't capitalised upon by those in more advanced areas. Neco Williams hasn't participated consistently in the final weeks of the campaign, and that has enabled Tete to reassert himself upon Silva's plans and almost identically, though Joe Bryan has played his part, Robinson hasn't dented his regard and eminence as a suitable top-flight athlete and maybe, just maybe, these two defenders will be the first names on the teamsheet come early August.
Carvalho's everlasting impression
Intricate footwork, scurrying runs through suspect defensive lines, Fabio Carvalho has been a pleasure to marvel this season under Silva's supervision and as he faced the following fans at full-time, while patting the badge in appreciation, the sobering realisation of his imminent departure dawned upon us all. We're not ready to say goodbye, but this particular Motspur Park product is undeniably destined for a stage greater than he could ever imagine and he is going to cause a stirring ruckus. One that vied to press offensively, Carvalho inhabited the final third intently and no matter what the result may have been, the 19-year-old starlet always makes an impression and his Championship imprint has been astronomical.
He didn't alter the score line in South Yorkshire, but he did carry a purpose as he attempted to carve open the hosts' organised shape and with 10 goals and 8 assists in the Championship as a teenager, during his first professional campaign, Fabio's proactive influence has been profound. We have seen various academy graduates leave for world-renowned superpowers of the game, clubs that will enhance and develop their burgeoning virtuosity and with Liverpool allegedly being close to securing his signature, the void Fabio will leave behind will be difficult to fill. Exhilarating, expressive, Carvalho is a natural-born entertainer, a youngster that has audiences hanging in suspense and we have witnessed, first-hand, why he is a name to remember. He's sampled the distaste of relegation, the adulation of table-topping supremacy, and wherever his promising future will eventually reside, Fabio will always be cherished unconditionally by Fulham, the club that sparked his wildest dreams.
Negatives
Hector's hardly magic
Let's face it, Michael Hector was only given game time so we could ironically belt out the 'magic hat' song. A forgotten figure, Hector was a hero during our 2019/20 promotion campaign although he's been used sparingly by Silva this term for reasons that came to prominence at Bramall Lane. The Jamaica international's performance was cursed, not spellbinding, and if you were to actually throw a brick at him, there'd be no heading the fucker back, that's for sure, and that also stands for routine passes and rudimentary aerial battles as well.
Alongside Tim Ream, Hector was lost. He couldn't adapt to the intensity of Sheffield's attacks, he was frequently isolated as the Blades broke, he just doesn't compliment Fulham's blueprints as Tosin Adarabioyo and now, following a season of sporadically underwhelming outings, the 29-year-old's fragmented stint in SW6 is surely nearing its end. On the ball, he was panicked, off the ball, he was two steps behind the run of play, overall, Michael was distinctly unconvincing and we can't reserve a top-flight squad spot for him next season. He embodied a player that was merely making up the numbers, central defensive options, as Tosin was unused, were at a premium and he remedied absolutely nothing whatsoever. For what could've been his last game for the club, Hector was an unsightly encumbrance and I've no qualms in bidding him a lukewarm farewell.
Seri was spent
Embed from Getty Images
A pace setter pedestrianized in Sheffield city centre. Jean Michael Seri has been tireless throughout the season, whenever he's featured he's strived to dictate proceedings to a custom-made tempo however on the closing day of the campaign, duties already discharged, the Ivorian was subordinate and his inexpedience enabled the hosts to establish a storyline that gradually killed off our 30-year-old maestro. Flickers of his usual brilliance weren't doused entirely, he did manage to slip his teammates through periodically but in a preservative sense, in a taxing capacity, JMS was a spent force and it really showed.
The Blades plotted to smother Seri's involvement, they pursued in packs led by Sander Berge and once Mika had been overpowered, they waged invasion. Seri was culpable to a degree, his negligence in possession gifted the hosts their second, he was visibly fatigued within a midfield pressure cooker and his inclusion in the negatives is only justified because we rely on him to hold things together, rather than fumble his responsibilities. The game was of very little significance to the Whites, maintaining a competitive edge after laying claim to the title was always going to be a tough ask and Jean Michael was obviously feeling the strain of what has been an extremely draining run-in to the finish line.
Gazzaniga's hapless afternoon
Our regular first-choice stopper, Marek Rodak, may have suffered his fair share of calamities this season but following Paulo Gazzaniga's hapless afternoon against the Blades, one can see why the Slovakian's been favoured by Silva. United hooked multiple in-swingers into our penalty area, we failed to detect their movement in front of the target and even while our defensive composition was flimsy at best, Gazzaniga barely made an effort to rid the hosts' aerial advancements and it all boils down to positioning and communication, which was wanting. Rooted to his goal line, Paulo was statuesque as Sheffield assaulted his goal mouth, passing the buck to his slackened defensive colleagues is plausible but for what it's worth, our Argentine stand-in was voiceless and unanimated, and he shouldn't be anywhere near a starting XI, Championship or indeed Premier League.
Perhaps there wasn't really much he could've done to prevent the deluge of goals that drowned us out of the encounter. They were all fairly conclusive finishes that may have beaten most, although his reluctance to encourage a higher line, his flat-footedness and his seemingly unfamiliar relationship with those ahead of him certainly contributed to a heavy loss, and it only inflames the demand for a sturdier 'keeper to be acquired in the summer. It was never an opportunity for him to exemplify himself as an outright No.1, his head dipped when we conceded, he discarded his angles and he couldn't recover his composure. A hologram between the sticks, captured in 4K.