Positives and negatives: Fulham 0-1 Nottingham Forest
Written by Cameron Ramsey on 27th April 2022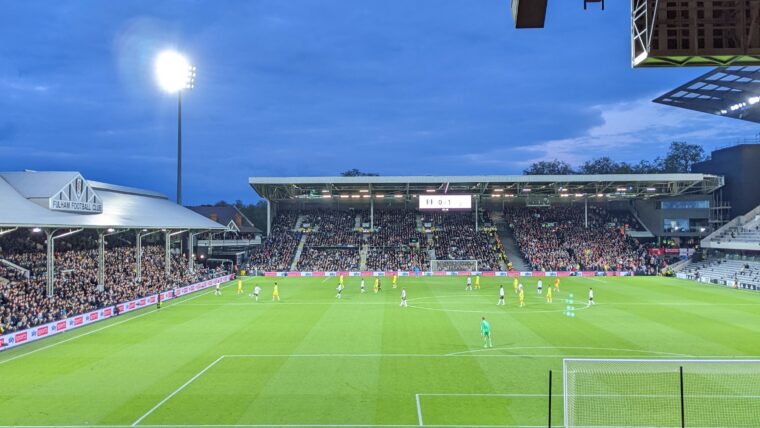 Stumbling towards the title, is it a cause for concern? Slowly but surely, we'll get there. A self-explanatory loss, elaborated by Cam. We move, one game at a time.
Steve Cooper has transformed Nottingham Forest into the Championship's in-form outfit, a Slavisa Jokanovic-inspired renaissance that has taken them from the foot of the standings to the penthouse and though our guests delivered our third loss in five outings, we can't be crestfallen. The Tricky Trees are a genuine force to be reckoned with and we crossed them at a juncture of the season where they weren't going to submit to any side, not even the champions elect. Keith Stroud's the dinkiest whopper in existence, but not even he can be blasted because he actually got the vast majority of his decisions correct and for that, I'm not going to explore his adjudication further because it was fine, in my unqualified opinion, anyway.
I've forgotten we're already technically a Premier League team, which is great, I suppose, but come Bank Holiday Monday, can we actually do what we're odds on to do and win this exhausting competition? This trophy ain't ours yet, and now Marco Silva has to devise a cunning plot to outwit the Championship's Manager of the Year, Nathan Jones. Luton Town are angling for a spot in the Play-Offs, so the 2nd of May is going to be another sweaty day of judgement and I cannot wait to be a nervous wreck once more. Supporting Fulham isn't healthy, however as we all know, the best things in life are hazardous to your health, especially the prolonging of champagne showers and bus parades through Putney.
Positives
Embed from Getty Images
Seri's a certain starter
knitting convincing sequences together, counteracting Forest's advancements, bridging defence and attack simultaneously, the hardest yards were covered by Jean Micheal Seri and the Ivorian's attitude cannot be overlooked. An intricate composer of play, Seri's intended function is to fine-tune the tempo, to introduce a pragmatism in our approach, but as proceedings ebbed into the visitors' clasp, the 30-year-old had to expel a steely stubbornness and his contributions were enforced exceptional. Harrison Reed ventured as Fulham attempted to find a breakthrough and Mika remained vigilant from a deeper vantage point. Forest regularly countered through central positions, their fluidity threatened to sever our shape but Seri plugged gaps and intercepted potential moments of jeopardy, his insistence to preserve, rather than produce, was exemplary and completely necessary.
Another wantaway who's bought into Silva's plans and invested in return, Seri's underlying qualities have developed dramatically in the Championship, and the division's non-stop rigours have enabled him to put them to practice frequently. He's a visionary by trade, although he's honed skills that are essential to survival in the English game and he exemplified his transitional expertise superbly against Forest. Jean Michael isn't a bit-part component, he has to start our remaining fixtures because he is such an influential orchestrator that demands respect, because he is a cut above the rest. We have many metronomes, players that dictate and innovate, and Seri's the idealistic mix of them all, a distinctive marriage of intuition and boundless variation.
Williams proves worth
There aren't many games left for Neco Williams to impact Jurgen Klopp's plans for the upcoming campaign. If he's to feature regularly for his parent club, he has to thrive in his temporary surroundings and on Tuesday evening, the Liverpool loanee played a prominent role along the right. In possession, the 21-year-old right-back forayed purposefully, he attracted attention and flaunted a gutsy courage to propel his side into favourable areas out wide and at the back, crucially, he watched his step to stem the Garibaldis' offensive surge. He wanted to tweak the storyline, a fullback's duties are demanding, fitness and resolve are paramount requirements and the Wales international was a ceaseless participant, right up until he was replaced by Kenny Tete in the 77th minute.
Williams was carrying a knock, he was limping upon his exit and he wasn't particularly pleased to have been hooked. The next few weeks are going to decide Neco's immediate future. He will want to play every single minute, match involvement is critical to his chances of potentially succeeding at Anfield and with Tete being deployed more routinely than he had been in recent months, one eye of Silva's is clearly fixed on next season and Williams, in that case, is right to have reservations. Williams has elevated his capacity during his spell in SW6, he consummately silenced Jack Colback and equally, he also examined Scott McKenna's attentiveness. He's progressed dramatically, a name has been made for himself along the banks of the Thames but if his heart yearns for the Mersey, the next 180 minutes of football could amplify his reputation substantially and he has to impress uncompromisingly, as he did when Forest came to town.
Negatives
Forest's faulty winner
I would've loved to be a fly on the dressing room wall at half-time. There would've been some fairly strong words imparted between Marek Rodak and Tim Ream because for the game's eventual winner, the two men in question conceived a clanger that will end all clangers that have gone before. Ream should've gotten rid without a second thought, Marek didn't read the situation, it was a disastrously misinformed turn of events that stunned all in attendance, it was, in its own lamentable way, an excruciating comedy of errors that has to be wryly laughed off, because if you don't grin and bear it, you'd probably twat a few fist-sized holes through the plasterboard. A Forest victory would've cranked up the heat on the promotion race unfolding beneath us, AFC Bournemouth needed their rivals to drop points, and Fulham shit the bed, live on Sky Sports.
Both Ream and Marek sharpened up after their shared calamity, big saves were made alongside observant defensive instructions but the damage had already been done. Losing isn't the issue here, it was a game that could've gone either way before kick-off although Forest rarely mounted persuasive phases of their own and it is so, so Fulhamish that we, a team that had multiple opportunities to restore parity, couldn't finish the job in our penultimate home meeting. I don't really know who's at fault for Forest's freakish goal, the blame will surely be shared but either way it's a red-faced embarrassment that will be difficult to scrub from our stained retinas, and I've already wasted half a bottle of Toilet Duck.
Silva's snubs and subs
Embed from Getty Images
We've been here before, I'm sure of it. For clarity, I want it to be known that Rodrigo Muniz and Aleksandar Mitrovic do not work as a partnership up top and Neeskens Kebano is streets ahead of Bobby Decordova-Reid along the touchlines, so why does Silva get his substitutions so terribly wrong when we're chasing games? For the record, there's definitely a promising competitor in Muniz, he's a striker that's geared for the spectacular but he really isn't ready for consistent game-time just yet, not in the Premier League, anyway. He puffed out his chest, opened his stride and virtually cancelled out Aleksandar's already subdued presence, the 20-year-old doesn't seem to fully understand what he's supposed to do as a supporting striker, and it's as though Marco's living in blind hope that, one day, a magic switch will be flicked to form a practical connection, but a fruitful partnership just isn't going to blossom.
The Whites upped the ante during the second half, Forest defended for their lives and though an equaliser appeared imminent, our guests ultimately held out to steal the spoils. Decordova-Reid is not a condemnatory culprit, but when it came to challenging his marker, he regularly opted for the easy way out and we needed an injection of intensity. a fresh-legged Neeskens would've caused unprecedented havoc, he would've mirrored Harry Wilson's undeviating efforts and it's occasions such as Tuesday's encounter when you realise just how vital the DR Congo international is to our system. We've seen enough, Neeskens has to feature from the start because his impulsive tendencies establishes an offensive balance, the Whites aim to hit hard and fast and he is an everlasting catalyst. BDR is too tentative to compete out wide, and to not even consider a switch in personnel, which was imperative, is extremely short-sighted from Silva.