Positives and negatives: Derby County 2-1 Fulham
Written by Cameron Ramsey on 17th April 2022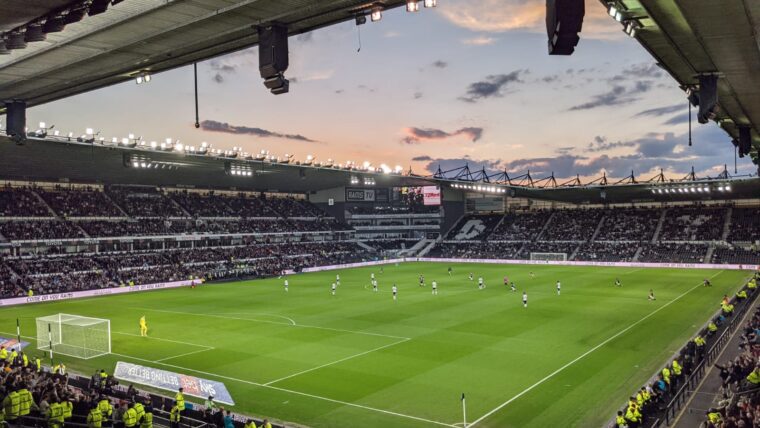 At least we're getting our losses out the way early in readiness for the Premier League, eh? Here's Cam's breakdown of our loss at Pride Park.
Good Friday? My arse. It's easy for Fulham fans to get carried away with our latest defeat, it was a loss that scuppered a party in Derbyshire, after all, and while it may not affect the standings, at all, where the Whites are concerned, we're still allowed to be disturbed by our evening's work and critique, we shall.
Wayne Rooney's Derby County were ruthless when their opportunities materialised, their position at the foot of the table is not indicative of their ability as a squad and Marco Silva's boys have seemingly checked out early. I've no doubt that the Whites will gain promotion on Tuesday, and we'll also end the campaign as champions, but there is still a lot of football left to traverse and this defeat has to warrant a sincere reaction. It's the first time we've lost two games on the bounce this season, poor patches befall every club at some point, but enough is enough.
Positives
Embed from Getty Images
Fabio Carvalho
One player that's dropped off since the announcement of his proposed move to Liverpool is, of course, Fabio Carvalho. He hasn't influenced games to his sought-after standards in weeks gone by, and with the end of the season coming into view, one could imply that his focus may well be elsewhere. It's just a hunch, and it didn't prevail at Pride Park because crucially, the 19-year-old sensation was a constant catalyst for the Whites and he even opened the scoring with a finish of pure killer instinct. Deployed ahead of Harrison Reed and Tom Cairney, Fabio was free to roam across the final third and his insistence to feature predominantly meshed Fulham's passing phases together with intrigue.
Combinations were devised, with the ball in his custody he probed with eagerness, Derby were antagonised by the Portuguese dynamo and his unique intelligence on the left-hand side of the Rams' danger area gifted Fulham the lead in the 20th minute. Interlinking with Bobby Decordova-Reid, Carvalho breached Derby's rearguard and with a perfect first touch to set his posture, he steered a calculated strike into the right-hand side of the net. Clinical, unerring, Carvalho hushed his doubters and illuminated his reputation as an authentic star of the future once more. Lasting the duration, Carvalho's impact eventually waned as Fulham regressed, but of all the representatives on show for the visitors, he was the driving force behind his team's advancements. Fabio's flashes of flair and panache was a dilemma that Derby had to solve, although when the teenager burst into animation, full flow, he was well within his unstoppable element.
Negatives
Silva's Parker mask
We have to be damningly honest, Silva's game management in Derbyshire, and indeed in recent meetings, has been shamelessly naïve. With promotion cooing, Silva underestimated Derby's defiance and from a observational perspective, given the manner in which we failed to fully stamp our dominance, Fulham were disillusioned. One goal to the good at half time, 45 minutes from securing a return to the top-flight, the Whites stepped off the throttle in the second half and the hosts stole the initiative. We invited them to set the tempo in the early stages, an equaliser emerged within the first 5 minutes and while we did have our fair share of chances to change the narrative, our attitude was flagrantly indifferent once we'd conceded. Connections between the defence and midfield were out of sync, out wide we were reluctant to bypass Derby's fullbacks and subsequently, we fooled ourselves into an abject performance once again. The first half was comfortable to an extent, we'd gained the upper hand and were in control but as the game progressed, our intensity simmered and we couldn't recover. We don't know how to cope when we're pegged back and while losing, we violently jab the distress button.
The Rams didn't give up, they know that they are as good as gone but why bow out of the Championship disgracefully? They wanted to cause an upset, to put Fulham's promotion-clinching champagne on ice for another matchday, and there is a distinct difference between turning up and showing up. To turn up, you're merely making up the numbers but to show up, you have everybody's attention because a statement's been made. Friday night should have been Fulham's, the inevitable beckoned, however we allowed the spotlight to deviate and we were soon secondary to the occasion. Silva was tactically outwitted, we struggled to find a resolution and as he's done in games gone by, in a strained attempt to smooth things over, he used his substitutions credulously. As soon as Rodrigo Muniz was introduced to partner Aleksandar Mitrovic, a pairing that's seldom prospered, you could literally hear the bottom of Silva's strategic barrel being scraped. Jean Michael Seri and Neeskens Kebano should have been thrown into the mix sooner, BDR isn't direct enough to assert himself out wide, it was an outing that desperately required a plan B and like his predecessor, Silva doesn't actually have a credible alternative procedure and if he does, he's implementing it horrendously. Stylistically, Silva is planets apart from Scott Parker, although his preparations for Derby were similarly undercooked and while promotion is fated, Fulham have to understand that their season is far from over.
Not Mitro's evening
Embed from Getty Images
With the score line dangling in the balance before the hosts slammed home their second of the encounter, Mitrovic had various chances to fire Fulham into the ascendency although with tight calls and near misses aplenty, the prolific Serb's night under the lights was dimmed. Curtis Davies and Eiran Cashin knew what they were up against, they were prepared to suppress Mitro by hook or crook although our 38-goal hitman did shrug them off repeatedly and with balls flung into his vicinity, hanging in the air, genuine opportunities arose. Aleksandar connected to crosses with intent, headers propelled with certainty but the 27-year-old wasn't counting on Ryan Allsop spoil speaker-box celebrations. Allsop's saves were smart, he was alive to Mitro's company and he wasn't to be beaten.
It was agonising for Mitrovic, given another evening his efforts would've altered the score board and his misfortunes were defined midway through the second 45. Carvalho struck the upright from an obscure angle, the ball ricocheted into Mitro's path and with the goal at his mercy, he diverted instantaneously. Wheeling away, relieved to puncture Derby's fightback, the Championship's top scorer thought he'd notched his 39th of the campaign but an eagle-eyed linesman was on call to halt the attacker's revelry. It was excruciatingly close, in real-time Mitro's positioning appeared legitimate but sadly, he was adjudged to be offside and it correct. Mitro's performance was jinxed, he inhabited the penalty box purposefully, although his final product was incomplete. He may have bagged a hattrick Derbyshire if it wasn't for inspired goalkeeping and meticulous officiating and come Tuesday evening, he'll seek to set the record straight indefinitely.
Defensively found out
During the first half, Fulham held a relatively organised line that kept the hosts at bay, but heading into the second 45, as Derby's confidence inflated, the Whites were found out defensively, from one flank to the other. A running theme formed along the left where Joe Bryan was twisted inside out by Malcolm Ebiowei, an 18-year-old that sized up our left-back and goaded him into clumsy challenges throughout. Bryan's outing wasn't defensively pretty, and if Derby were to claw themselves back into the game, isolating Joe may have been their ideal mode of action. Ebiowei was a constant threat, but contrary to expectation, Rooney's men targeted the opposite channel to restore parity, and it was Neco Williams and Tosin Adarabioyo who couldn't intercept Lee Buchanan's low cross that fed Luke Plange. Out wide, Derby questioned the Whites' fortitude and Williams, who was markedly off colour, was equally vulnerable as Jason Knight scrutinised the young Welshman's positional awareness. For Derby's equaliser, Fulham didn't detect Plange's simple but effective movement across the 6-yard box, the striker plotted himself behind Tim Ream to round off a sweeping move that developed from deep into Derby's own half.
Resisting counter attacks has been a massive fallibility for Fulham this season, a symptom of our system is to invest bodies offensively and as possession was turned over by Liam Thompson, we were out of shape and susceptible to being punished severely. Perhaps we didn't anticipate Derby's directness, the gulf between our defence and vacant midfield was extensive and Thompson utilised the uninhabited space expertly but fundamentally, it's a phase that should have been quelled. Neither Neco or Tosin cooperated sufficiently to stunt the hosts' first and for their second in the 73rd minute, Adarabioyo's evening was tarnished even further. Derby began to pull together convincing sequences on the parameter of our 18-yard box, their combinations were swift and they pinned us back into pregnable areas and as Tom Lawrence lashed a cross-come-shot goalbound, Tosin blundered. Plange occupied another threatening position between our two centre-backs, he manipulated Tosin into falsely committing himself and his presence alone scrambled our composure. As a unit, with Derby pressing, the Whites fell apart and the Rams could've inflicted further bloodshed. The hosts were dynamic as they weaved towards the target, our communication broke down periodically and our bearings were lost. Fulham have the best defensive record in the Championship, we're a side that's regarded as pragmatically organised but at Pride Park, we were the antithesis of self-control.