Positives and negatives: Queens Park Rangers 0-2 Fulham
Written by Cameron Ramsey on 4th April 2022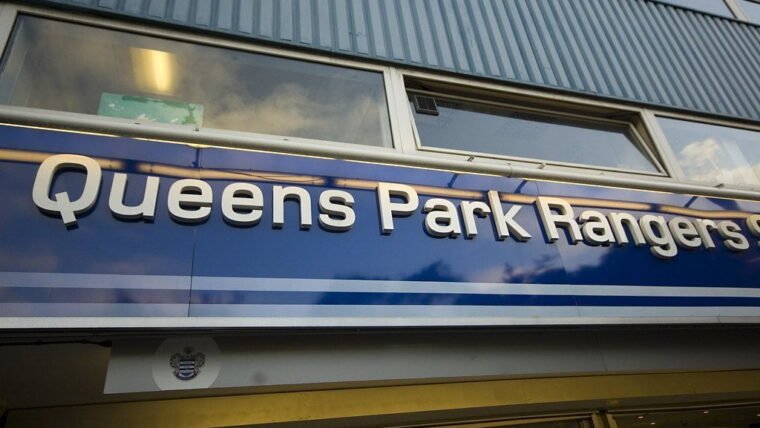 Cam looks at all the talking points from yet another derby day victory, and perhaps our most important one to date.
A brave, somewhat stupid man sat in the home end in a Fulham shirt and he was elbowed in the face. Pyros are now a formality of following the Whites away. Hugo Oliveira's first touch is a thing of beauty. Loftus Road is a shed. Marco Silva's table toppers made the short trip across West London to shithouse Mark Warbuton's Queens Park Rangers and we're thrilled to announce that it happened again. QPR losing to Fulham without a whimper, it happened again.
The Hoops haven't gained three points against the boys by the river since October 2016, a league run that spans 7 Championship meetings and they've tasted defeat in the last 5 consecutive fixtures. There are levels to this game and as it always has been, QPR are irrelevant. Chelsea got a twatting from the best Sunday League side in Hounslow, Fulham reacted supremely following a few shaky performances, all is well on the bright side of SW6 once more and now, we look ahead to Wednesday. 24 points to play for. Let's get it done.
Positives
Embed from Getty Images
Mitro's back at it
Prior to the March international break, Aleksandar Mitrovic cut a jaded figure up top, forlorn, disinterested, although the Championship's chief bagsman returned to club matters with an impactful brace to silence an already muted home support. Initially, Mitro's involvement was relatively subdued, however the cold-blooded executioner was merely warming to the occasion, heavy touches tightened up and his ominous presence soon paid dividends. Rob Dickie masquerades as a solid centre-half, a shambolic imposter, and his subservience was soon compounded by Aleksandar, who asserted an offensive intelligence QPR's defensive line couldn't withstand. Fabio Carvalho picked out Mitro perfectly for the game's opener, the Serb's simplistically effective movement across the 6-yard box was all too complex for the hosts to detect and as the game progressed, his piss-boiling expertise took centre stage.
A cocksure Mitro tends to write his own headlines, he's a showman compelled to entertain the masses and in a game where emotions could've flared, Mitro was in his element. From press-ups on the touch line to overly-invested physical confrontations, the 27-year-old was relishing every minute of his fruitful afternoon in Shepherd's Bush and with a maniacal grin, spurred on by an expectant away following, he dispatched his 37th goal of the campaign from the spot without remorse. A lengthy pause didn't distract the striker's focus, and as he rattled low into the bottom left, the School End exploded. Revelling in the aftermath, arms aloft, Mitro had set the record straight, with Guy Whittingham's haul of 42 in his line of vision. This could very well be the beginning of another red-hot streak for Mitro, and in the next 8 games, we could witness an influx of goals that etches his name into Fulham and Championship folklore indefinitely.
Harnessing Harrison Reed
Competing against Harrison Reed's persistence must be an undesirable chore for opposing midfielders. With a heat-map that blanketed the entire playing surface, Reed was a standalone highway interceptor, pulling rogue runners into the hard shoulder to restore law and order. It's actually exhausting watching him dart from one checkpoint to the next, but it's light work for an engine of his supercharged capacity and the Hoops' 3-cylinder equivalents simply couldn't escape his enforcement.
Harnessing Harrison's non-stop specialties has been a strategic mission for Silva. His energy is unrivalled, Marco's experimented with Reed's primary objectives, alternating between a holding No.6 and a more advanced No.8, and we're reaping the rewards. He isn't astoundingly productive, he still hasn't notched his first goal for the club as yet, but that's not why's he's deployed. There aren't many players in the modern game that safeguard as intently as Reed, he's endearingly known as our Ginger Iniesta and honestly, I believe he could put in a serious shift in FC Barcelona's star-studded midfield today, and he'd accumulate resounding 8/10s every week, too. His efforts regularly fly under the radar because he does the basics so naturally, whilst being ridiculously technical, and it's that blend of modesty and intricacy that is so, so invaluable.
Joe Bryan
I seem to have an unhealthy infatuation with our left-backs and I'm not ashamed to admit that in Antonee Robinson's absence, Joe Bryan's application was more than sufficient enough to warrant a spoonful of appreciation, and that's what I'll serve. It's common knowledge that my opinion of Jedi is less than flattering, and that's often the case when Bryan's hurled into the spotlight although at Loftus Road along the left, the bit-part fullback was fully committed, and the hosts were subsequently floored out wide for the majority of the encounter.
Observant, impulsive, Joe cordoned off his respective territory and ventured forward with purpose, emulating Neco Williams' endeavour on the opposite flank, meaning the Whites' balance was evenly measured from back to front. Positional awareness has never been a strength of Bryan's, he's often engrossed in supporting offensively, rather than ensuring defensive solidity but he was seldom bypassed by Moses Odubajo, who was faced up and restrained routinely. Robinson will most likely return to the starting line-up again on the 10th, however I was satisfied with Bryan's outing against the Hoops, and I'd like to see some continuity in his form as well.
Tim Ream
Embed from Getty Images
Give this guy a lifetime contract, I don't even care if he doesn't get selected next season, he's been terrific. Lately under Silva's instruction, Tim Ream has unlocked a standard and accomplishment that has been enormously reassuring and alongside Tosin Adarabioyo, as per, the American stalwart initiated sequences and counteracted unwelcome pressure faultlessly. In possession, scanning for sensible avenues, Ream mediated patterns of play carefully and his attention to detail whilst anticipating Rangers' advancements was also unflinching. In short, he was fucking awesome, and he has been for the entirety of the current campaign.
Nobody values clean sheets as much as Tim. There's genuine sincerity in his performances, he's a man that doesn't tolerate half measures and if mistakes are made, which they invariably are, he is first in line to analyse and iron out his flaws. We've a central defender in Ream that is trusting of his own ability on the ball, we've a perceptive watchman that screens and deflects both aerially and on the deck and more than ever before, we've a genuine, almost personal rapport with him, too. His remaining time in SW6 could very well be at a premium, but at 34 years of age, Tim still has aspirations to make the USMNT World Cup 2022 squad and on a day-to-day basis, in order to realise that ambition, he has to showcase the very best version of himself and at the Kiyan Prince Foundation Stadium, he comprehensively proved his worth to our title challenge, and to his international prospectus.
Negatives
TC's amateur dramatics
This'll probably get ripped apart, because it's more of a general observation than it is a deplorable negative, but amid neat passing passages and nimble footwork to evade oncoming danger, Tom Cairney loved a little whinge as he flopped to the turf under very little contact. Fulham were in complete control throughout, there were only 5-or-so minutes where the hosts built up a convincing head of steam and as TC schemed, he he tempted retaliation. Cairney's a sculptor of opportunity, we know he can comfortably look after himself when push comes to shove, however he tried to buy set-pieces with amateur dramatics and his petulant reactions when Gavin Ward allowed play to continue were frankly embarrassing.
Like I say, it's only very, very minor and yes, it feels like a cop-out to even pinpoint it but for the sake and dynamic of these articles, I have to pick the bones out of something and Tom's arm flailing is what I'm reluctantly running with. I'm bracing myself for "that negative's bed" from teenagers on Twitter, but there wasn't one person within at least 10 meters of me that didn't bemoan TC's needless softness and this is not to slight his overall performance, either. He was typically alive to his options, he carried possession well, as usual, but I don't want to see a man of 6-and-a-bit feet tall cry about being challenged and tackled fairly.