Positives and negatives: West Bromwich Albion 1-0 Fulham
Written by Cameron Ramsey on 16th March 2022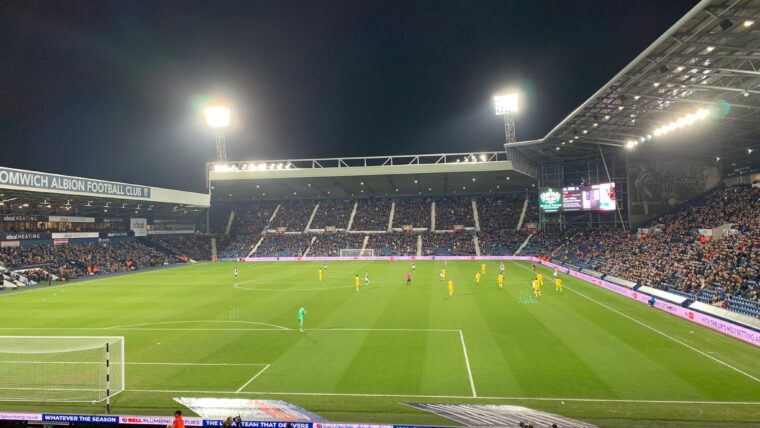 Take a long, deep breath and glance at the league table. Cam will try, begrudgingly, to make sense of Fulham's sixth loss of the season, simply so you don't have to trouble yourself. Feeling better?
Maybe we saw this result coming. Steve Bruce's West Bromwich Albion had only won 1 game in 9, however they were stirring, so what better opponent to redeem themselves against than table-topping Fulham, eh? The Baggies were energised, Marco Silva's men were sapped of impetus, a prickly evening at The Hawthorns was always forecast. 

In reality, West Brom aren't middle-of -the-road fodder, despite what the standings may project. They're a wounded animal, mistreated by Valérien Ismaël, but Bruce is feeding them up and we crossed them at the wrong place, wrong time. This isn't a fixture to get hung up on, or stew over, we just have to put it behind us, lift chins, recharge and go again, determinedly. Our next outing is April 2nd, Queens Park Rangers at their place. See you there for a gritty west London showdown.
Positives
Embed from Getty Images
Marek Rodak
This man is the only representative worthy of sincere praise and recognition. Marek Rodak was a standalone watchdog between the sticks and I feel for him. All that hard work, undone by his on-field teammates' reluctance to put in a meaningful shift. Rodak stopped the score line from fattening, his positioning was firm and perceptive, he took ownership of his under-fire penalty area and he clamoured for a reaction. Throughout the first half, Marek was thrust into the spotlight as West Brom broke and we are so, so lucky that they have the division's worst conversion rate.

As the season's progressed, having been Alphonse Areola's understudy last term, Marek's matured as a commander, a custodian of his respective duties, and he flexed his No.1 credentials with a series of accomplished stops. On the deck, his distribution may need to be refined, although at The Hawthorns he was also instructed to forge sequences from the back as swiftly as possible and he administered play with a purpose, an expedience his colleagues couldn't replicate. You appreciate just how integral competent 'keepers are when problems occur outside the 18-yard box. Rodak's efforts were remarkably assured and he is not to blame for this distasteful defeat. He was incensed as Callum Robinson swept the winner into his bottom right, diligence and awareness from his back four dissipated at the very worst moment and we share the Slovakian's disdain for half-arsed nothingness. 
Negatives
Squad beyond exhaustion
There were some visibly heavy legs and tired mind out there on Tuesday night. West Brom sprung from the traps and harassed every move the Whites laboriously made, they hijacked the run of play systematically and Silva's men, jaded and outfought, had no resolve or solution. The opening 45 minutes was undoubtedly the worst I've seen this Fulham side toil. With an xG of 0.00, which basically means no shots on target and barely any goal mouth action at all, the hosts dictated proceedings and we trudged after shadows, subserviently, peripherally. Our humbling at the Ricoh was our lowest point before now, but at least we managed to work the target somewhat whereas against the Baggies, urgency, even the slightest semblance of rudimentary effort, was non-existent.

Silva clearly has his favourites. He has found his ideal starting XI, a cohort that has pulled ahead of the chasing pack by 11 points but the Championship schedule is rigorous, unforgiving, and with a minor pile-up of away games in the previous week, squad rotation would've eased exhaustion within the camp. His hand has been forced due to injuries, but we've a collective with depth and experience at this level, and even fringe players such as Tyrese Francois have performed suitably on a sporadic basis. We were so close to a much-needed international break, a period where we can regroup and refocus, I just feel those in contention on Tuesday were fixated on matters elsewhere, away from the pitch, as mental strain is just as damning as physical overexertion. We return brightly after campaign intermissions, we did so when Queens Park Rangers visited SW6 mid-October, so we have to trust Silva and his backroom staff, as I'm sure they'll do all they can to soothe any aches, niggles and doubts the team may have, heading into the business end of the season, which can make or indeed break prospective champions.
Aleksandar Mitrovic
Embed from Getty Images
This probably isn't too much of a big deal, although I really want to know why Aleksandar Mitrovic felt obliged to saunter and sulk, instead of laying down the letter of the law? He was self-indulged at Oakwell and against the Baggies, he cut a very disinterested figure and it's not as though he was irrelevant or insignificant. Mitro spends the majority of the game meddling in the midfield area, he's insistent on devising offensive patterns himself, but when play eventually came his way, he couldn't really care less. His touches were weighty, he surrendered when his markers engaged and he thrashed at the one and only golden opportunity Fulham had to draw level, and it's a scenario where he'd usually assault the back of the net. Hid body language was detached, perhaps it's down to fatigue and I suspect so, but something really isn't right.

There's no argument, Mitro is the deadliest striker this division has seen, a predator at the very top of the food chain, however it's fairly worrying when a goal machine of his fatal prowess is subdued. His contributions were almost artificial, as though it was an inconvenience to be fielded, and I'd hasten to suggest that, now he holds the modern Championship goal scoring mantle, he's starved of motivation and incentive. Silva's transformed Aleksandar's functionality, the Serb has terrorised defences nationwide in the hunt for supremacy but perhaps, given what he's already achieved with 2 months of the season left, he's checked out early. This surely isn't the case, but now it's up to Marco to galvanise the clinical hitman once again, because Mitro's enthusiasm has never been of greater importance to our final charge for the title. Two offbeat performances and I'm already shouting the odds – maybe it is I that needs to chill out instead. 
Robinson's regrettable assist
I wasn't going to pinpoint Antonee Robinson, at all, before he literally assisted his clapped namesake, but here we are. Up until he completely shit the bed, Robinson actually conducted himself adequately, a few suspect moments here and there, but nothing out of the ordinary and nothing that caused major concern. I shame myself for thinking that he was a changed man, because it soon became apparent that he is still the same lamentable left-back we've come to loathe and I swear, on my life, that he's won a cereal box competition to play a game he'd never heard of. Footballers, paid an unholy weekly wage to be a ridiculous cut above, do not do what he does so discourteously, the guy is taking the piss out of proper professionals and that freakish swipe into nowhere other than a direct opponents stride bears muffled match-fixing undertones. There's no reasonable explanation that will convince me otherwise.
People are fighting Joe Bryan's corner but first, the outcast back-up actually has to make the squad sheet. We haven't a truly dependable left-back, one that is conscious and compatible, and if Robinson's Silva's preferred option, we really are screwed. Many have mixed emotions where Jedi's concerned, there's reservations over his potential but I think we can all unanimously agree that we've seen more than enough of the 24-year-old to conclude that he is a sorry excuse of a fullback. We are in dire need of reinforcements this summer, and I'd have no qualms in showing Antonee the exit. He's just gotten engaged, so congrats for that, but I really wish he was better at popping elementary 5-yard passes into feet than marital proposals, which he only has one shot at, rather than countless.
Neco Williams
At the Liberty Stadium, Neco Williams completed what was arguably his best club performance to date. The Liverpool loanee was calm, intelligent and massively productive but, as nobody's invincible, I just want to say that in the Midlands, our preferred right-back option's application was shaken, maleficent and unsophisticated. Of late, Williams has functioned cohesively within Silva's system, he's shored up the right side soundly whilst supporting offensively although he couldn't settle at The Hawthorns, Conor Townsend wouldn't allow it, and from the get-go, the 20-year-old hacked at routine passes and was frequently caught out of position as Fulham pushed bodies forward. Williams actively curtailed our game plan, the Whites couldn't grab a solid foothold and when he featured, we stumbled upon slippery patches.
Since joining on a temporary basis from Jurgen Klopp's esteemed set-up, Neco's been a revelation but it's easy to forget that he is a relative novice of his trade, and that he's going to learn some tough lessons at our detriment. It's precisely why he was shipped out for the remainder of the campaign, his employers wanted to know if he'll sink or swim with regular first-team football and at against the Baggies, his head was barely above water. Invariably, for a young man that's vying to equal and surpass Trent Alexander Arnold's standards, these things are going to happen. Williams arrived with a motive, he's side-lined a Dutch international in Kenny Tete, and that's the measure of his underlying quality, of which we've all witnessed. Ultimately, though, he was out of his depth on this occasion, he was swarmed and overwhelmed by West Brom's persistence and I've no doubt that in the fallout, he'll realise his limitations and condition them appropriately.