Positives and negatives: Barnsley 1-1 Fulham
Written by Cameron Ramsey on 13th March 2022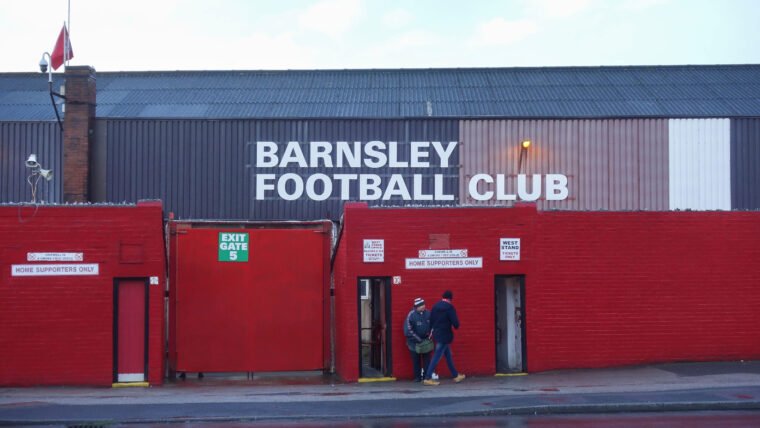 12:30 kick-offs on Sky Sports are never exceedingly favourable, but Fulham's draw with Barnsley is nothing to get overly peeved about. Cam seeks to be the voice of reason.
We can pick this result apart, and we will, but in the clichéd grand scheme of things, it's still an extra point on the board and AFC Bournemouth, with two games in hand, are still 12 points behind. Barnsley will do everything they possibly can to maintain their Championship status; the odds are growing slimmer by the second but Poya Asbaghi's Tykes weren't to be rolled over without a good ol' fashioned dust up.
Marco Silva's Fulham last suffered defeat away from home at Coventry City at the beginning of November, a run of 12 league games on the road which is, I believe, a new club record, so even in the wake of a less than riveting afternoon at Oakwell, the Whites continue to usher in new dawns.
Does this share of the spoils really matter? probably not. Are Fulham as good as promoted? Yes. Yes we are. I like to tackle each game as it comes, but it's going to take a monumental fuck up for us to fail with 10 games to go, and if a 1-1 draw, away, jolts us back into a comprehensive vain of form at The Hawthorns, I'm sure we can let this very, very minor hiccup slide. Roll on Tuesday!
Positives
Embed from Getty Images
Wilson's cool whip
I don't want to bash Harry Wilson for being the guy that regurgitated the miss of the season, so I won't, that much. What I will do, however, is rhapsodise the winger's gorgeous equaliser, a left-footed, feather-light expulsion that burrowed itself into the back of the bin, defining his acute impression upon proceedings in one simple shift and strike. Our Welsh right side has been tremendous of late, and Wilson has bagged yet another goal we'll watch on repeat, constantly, until the next beauty's zinged between the sticks.
Fabio Carvalho invited Wilson to test the target just within the penalty box, and similar to Neco Williams's readiness at the Liberty Stadium, the 24-year-old primed his posture instantaneously and unleashed a worldie of his own. Bradley Collins hadn't a hope, Wilson had weighted his strike flawlessly, he couldn't have placed it any better if he had the opportunity another 100 times over. I still don't know how he botched his last-ditch stooping header, it's a real egg-on-face moment that he, and we, will not forget for a very long time but crucially, Wilson is relishing a period of the season where productivity and fruition is his business. With three assists and two goals in his last four outings, Harry is a figure of intent that will contribute ambitiously when those around him are faltering.
Captain America's battle scar
Full-blooded is one way to put Tim Ream's performance on Saturday lunchtime and the battle scar he picked up at the death is not for the faint-hearted, either. Ream wasn't at his dazzling best in south Yorkshire, but when the Whites cried out for an unflinching hero, someone that will literally heave themselves, head-first, into conflict, Captain America spared blushes sacrificially, all for the greater good for the cause and his people.
As half-time beckoned, Morris could've dinked his second of the afternoon, the ball trundled towards the goal-line but as the home support rose to their feet in anticipation, Ream intervened. Outstretched, headed for the upright, Tim studded the ball off the chalky line, superhumanly, soothing Fulham's anguish immediately. His dedication never waned. A stalwart with an authority to uphold, Tim continued to safeguard and protect selflessly, and in the name of ridding danger and preserving territory in the final few moments of the game, he collided with Domingos Quina to win an aerial ball but subsequently, his efforts were maybe a little too rigorous. Floored in the aftermath, the 34-year-old suffered a stomach-churning gouge to his forehead, a split of flesh that needed immediate attention, but he wasn't to be discouraged. Ream is made of tougher stuff, he never bottles responsibility and he will, without question, set an example regardless of the bruising consequences. For Fulham, Tim will risk it all.
Antonee Robinson
Well, look who's gate-crashed this pleasingly select shindig after completely forgetting what he's employed to do, midweek in South Wales. That's right, Antonee Robinson was readily available at Oakwell and miraculously, he didn't shank mistimed touches into the terraces, assaulting unwitting onlookers in the process, and he didn't stumble under the sheer strain of his own abnormal pace.
Starting fast, shock horror, Jedi isolated Callum Brittain and spurted into open space. With time to flick on the afterburners, he brushed attractive crosses into feet and he flashed appealing switches into the penalty area, as a progressive fullback, his application was serviceable and necessary. Robinson has to be the most bipolar player we've ever known. He's frequently underwhelming but then, suddenly, his offerings are practical and accomplished, and I genuinely don't think we've witnessed the very best, and indeed the very worst, of his ability yet. He isn't defensively sound, he was periodically outwitted by Remy Vita and Brittain but he atoned instantly, and he was driven to carry possession as far away from his 18-yard box as possible.
Touch of Tom
Embed from Getty Images
Replacing a stale Jean Michael Seri at the break, Tom Cairney's objective was to enliven Fulham's listless game plan and to his credit, our resident metronome remedied our defectiveness to an extent where even he, a sculptor of opportunity, thrust himself into combat to overturn possession in his team's favour. Cairney's influence wasn't particularly extravagant, but it was profoundly necessary, because when play had to be tempered and loose balls had to be addressed, TC was on call to dig his heels in, stubbornly.
Nowadays, with the options Silva has at his disposal, Cairney has to exhibit a functionality, a well-roundedness that flatters and for 45 minutes, including injury time, the 30-year-old regained control and hustled, consistently, to silence Barnsley's key instigators. Weaving away from congestion, distributing with a motive, TC enhanced Fulham's relevance in proceedings and he forged the sequence that comprised Wilson's wonder-strike. He interlinked effectively, he prevailed in shoulder-to-shoulder tussles, he installed a magnetism within the Whites' midfield department that was lacking in the first half and he is still exclusively invaluable.
Negatives
Unexceptionally ordinary afternoon
Blame it on the playing surface, but it doesn't really tell the whole story. Fulham couldn't bop the ball across the ligament-severing turf with vitality because there was a flagrant detachment in our approach, a subdued collective slant that was detected and inflamed by the Tykes, who relinquished our muted intensity to hold us at an arm's length until the closing moments of the encounter. The Whites were conspicuously ordinary, without oomph and fervour, and while we may be the favourites for the title, and though we may have a convincing buffer at the summit of the standings, Silva's men were unexceptionally average against a relegation-threatened side that were running on pure bravado.
Underdogs will always retaliate, they will engage in confrontation and with Fulham spurning multiple opportunities to assert themselves, the hosts gradually established a strategy that counteracted the Whites' advancements. It was ponderous, indolent, but the Championship is a highly uncharitable environment and we can't rely on hand-outs. Realistically, no game at this level is a free hit or a lucky dip, we have to turn up, focused and devoted for the dub, every single matchday and if you aren't 100%, teams will take advantage unceremoniously. We aren't going to win them all by 7 goals, we're going to be aggravated by lesser opponents such as the Tykes but in antagonistic storylines, all we have to do is restore parity in the narrative and I guess, in hindsight, our impassive efforts were enough to save face, and a crucial point, on international television.
Bobby's butchered efforts
If, for example, Ivan Cavaleiro had butchered the opportunities Bobby De Cordova-Reid did, there would be an uproar of discontent. The Whites didn't torment the hosts with intensity, but chances to stick the ball away did surface and BDR, in primary striking positions, had his fair share of the spotlight and he was grossly wasteful. This is a man that is supposed to be in fine goal-scoring fettle, although his poise and execution was woefully amateurish.
From sledging into the stands to adopting hashed techniques, Bobby couldn't make his finishing touches stick and he's an attacker you'd bank on hitting the target from the vantage points he occupied. He offered versatility, a measured enterprise in tight spaces but when he pulled the trigger, often unmarked or undeterred, he panicked and lashed at basic, bread and butter opportunities that he'd normally bury, coldly. With a calmer head, he would've worked Collins, although with more time than he may have recognised whilst chasing a response, he was thriftlessly unnerved. If BDR could retake the chances he splurged, however, he'd dispatch them without hesitation and I know he'll rue them immensely.
Mitro's self-indulgence
Embed from Getty Images
In the early stages, Aleksandar Mitrovic combined with his teammates beneficially. the Championship's runaway top goal scorer ventured deep to conduct and construct, he offloaded logically but as the Whites' desperation to draw level increased, so did Mitro's hero complex and his self-indulgence, particularly whilst being obstructed by countless defenders, allowed the hosts to reorganise and deflect Fulham's advancements. It was an abject afternoon for Aleksandar, he's scarcely outfought at this level but his insistence to change the narrative, single-handedly, was a hindrance.
Wrangled by Mads Andersen and Michal Helik, Mitro retained possession for longer than he really should've and with options in clear space, he couldn't offload before being robbed. There were various instances where he could've slipped teammates into striking positions but he was oblivious, and while his collaborative understanding has developed, his intransigence in advantageous areas undermined the purpose behind Fulham's offensive phases. 35 goals is an unreal return, of course, but his record-breaking expertise made him Barnsley's prime focal point, as it is with every given opponent, so with all eyes fixed on him, Mitro had to adapt his game and displeasingly, he didn't.
It's the other Robinson
The ponderous pause between the supposed infringement and awarding Barnsley a ghost penalty, it reeks of indecision and Tim Robinson should know that he's a snivelling fraudster that isn't validated in his hesitant position of authority. Usually, it's the other Robinson that attracts a deluge of criticism but in the early kick-off, the game was marred by Antonee's feckless namesake, a saboteur that doesn't have the bollocks to make the right call, or even challenge his colleagues in order to iron out vague transgressions indiscriminately. Plaster Robinson's mugshot across town, muddy his name on social media, he's a crooked deserter of reasoning and he is the epitome of everything that's wrong with the EFL's officiating standards.
The fiasco leading to the hosts' contentious penalty was smeared with plausible reasons to halt play. I have no idea what the fuck Tosin Adarabioyo was trying to achieve by taking a physical Carlton Morris for a dance but he was being held by Barnsley's striker, and even as Morris folded to the deck, he still had a fist full of jersey. In real time, as Tosin attempted to get goal-side, contact could maybe have been assumed but upon closer inspection, there wasn't a foul, at all, and it's clear that Morris was biding his time before simulating an entanglement. How the referee, linesmen or 4th official didn't have a better view of the matter, or opinion, is bemusing but wholly expected. Nobody who's seen the sorry state of affairs is in agreement with Robinson, it was an atrocious call and to make things worse, he ignored an actual foul on Rodrigo Muniz in extra time, just before Wilson headed wide. Inconsistencies, inadequacies, this game had it all and I'm sick to death with alleged professionals and their overt incompetence.