Positives and negatives: Cardiff City 0-1 Fulham
Written by Cameron Ramsey on 27th February 2022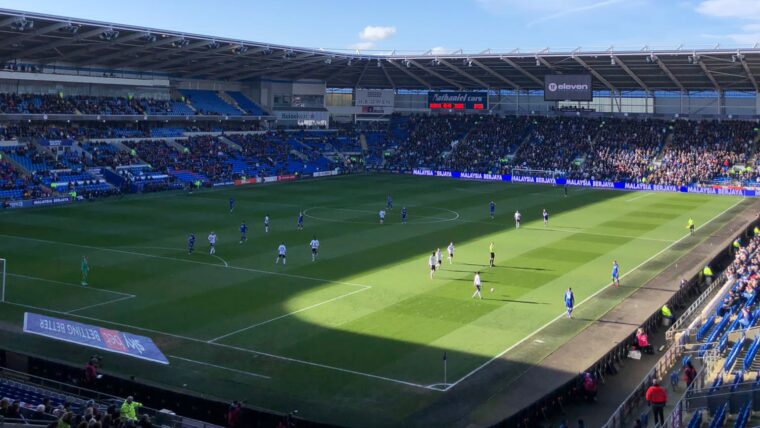 Saturday afternoon satisfaction across the border. Cam Ramsey has Fulham's tense triumph covered for your viewing pleasure. Stick that kettle on.
If we win our games in hand, we will be 16 points clear of third place. AFC Bournemouth have two games in hand, they're 9 points behind and with 13 games to go, the challenge for the title is seriously heating up and this is what we're here for.
Accompanied by the Wealdstone Raider, Fulham's support were in fine voice and they shoved Marco Silva's men over the line to guarantee a victory and, as we'll appreciate during this article, this result is one that is highly pleasing and profitable. Mission complete, moving onto Blackburn Rovers, and we'll be prepared to cut them out of the automatic promotion picture for good.
Positives
Embed from Getty Images
Mitro's lethal tutorial
We all know how the song goes. Harry Wilson was enabled to lift his head from a tempting crossing position, unmarked, and the Wales international duly feathered a sumptuous ball into Aleksandar Mitrovic's territory at the back stick. Inch-perfect, Mitro ghosted from his man and butted past a sprawling Alex Smithies and that, ladies and gentleman, is all the sensational Serb required to alter proceedings in customary fashion. One clear-cut opportunity, one victory-assuring goal to take his ridiculous overall tally to 34 goals in 31 games. Incidentally, it was also Wilson's first assist in six games, and he's now sitting pretty with 12 assists to date. If Wilson is allowed the time and space to wrap his wand around the ball, he'll inevitably cause havoc and having a striker like Mitro to accommodate with tantalising crosses must be an absolute pleasure.
Our inspired Serb isn't graced with searing pace, he may not be the most nimble of ball carriers, either, but his movement and positioning in simply elite. When perceptiveness is bolstered by indomitable strength, a lethal No.9 is born and in world football, there are only a handful of would-be record breakers that fit the same or a similar mould as our 27-year-old hitman. He operates as an auxiliary midfield option when possession has to be tempered, he distracts and occupies both sitting central defenders and in the 18-yard box, his enlivened instincts peril opposing goal mouths. Aleksandar exhibited each of these peerless qualities accordingly against the Bluebirds, a goal-getter's tutorial that demonstrated the importance of remaining active in every given instance.
Harrison Reed
Involved in Mitro's goal, conscious of Cardiff's reluctance to squeeze and clear their danger area, Harrison Reed's accomplished outing in the middle of the park kept Fulham ticking over dynamically, and the Ginger Iniesta's animation until he was replaced by Josh Onomah in the 75th minute was tirelessly beneficial to our control. Inclined to retrieve, Reed distributed with a punchy purpose and and off the ball, his boundless energy obstructed inroads to constrict the hosts' listless creativity, and he refused to relent.
We'll explore our midfield selection in greater depth soon, however for me, as his vitality's unrivalled, Reed is the first name I'd include within our midfield triangle. The 27-year-old stimulator established a balance within the Whites' central operations, he's now a vigorous box-to-box instigator that cooperates with our forwards and defenders transitionally and he's another that makes simplicity appear intricately instrumental. Determined to leave his mark, ambitiously and robustly, Harrison shadowed the Bluebirds' creative options intently and he supervised our spells in possession responsively, taking cut-and-thrust matters into his own hands when order had to be restored.
Tosin and Tim
Embed from Getty Images
They both have their fair share of howling moments when they're humbled and humiliated but in Cardiff, Tosin Adarabioyo and Tim Ream were rock-solid despots of authority. Safeguarding the Whites towards a victory and a coveted clean sheet is a bonus for our central defensive pairing, but if we dig a little deeper into their collaborative performance, we'll recognise the value in their hardened, do-or-die deeds that denied the hosts a route back into a fiery encounter that was delicately poised in the closing stages.
Communication is paramount, players have to understand one another in order to maintain organisation and between them, Tosin and Tim functioned with compliance and command, hurling themselves into the thick of the action to suppress and protect at all necessary costs. Aerially imperious, measured on the deck, full-blooded in their individual challenges, our centre-back partnership prevented the hosts from staking a claim, their bodies morphed into makeshift battering rams to blockade and beleaguer, and as Fulham discharged their borderline dominance, they continued to endorse a shared judgement and implementation of their forceful commitments.
Grinding out dubs
Single-goal leads are the toughest to preserve away from home, and this particular triumph on the road, as it was on Humberside, Peterborough and beyond, is exactly why this team is designed to reign supreme come the end of the campaign. For average, run-of-the-mill sides like Cardiff, games such as Saturday offer them an opportunity to express a ruggedness against an outright promotion favourite, and if we were to quell the hosts' enthusiasm to discourage, we had to expel complacency from our approach. Cardiff embody the Championship perfectly, they're physical, cynical, and they aren't fazed by an opponent's reputation. They are anti-football to the bone and Fulham, amid compelling passing phases and devastating counter attacks which are staple factors of the club's reformed DNA, had to snarl defiantly to grind out an intensely-fought dub.
To a man, the Whites refused to be overpowered and we eventually ratified our confrontational conviction as a combative unit. As the minutes passed, Cardiff expectantly regrouped and late on, they set siege on out penalty area, pushing Aden Flint-shaped lumps into the mix and bombarding the penalty spot with hopeful long balls that had to be banished without hesitation. It was unpleasant, unattractive, a repulsive advertisement to Sky Bet football but we had to adapt to Cardiff's underhand policies and our resistance under pressure furthers our league-winning credentials. Saturday's endeavour represents Fulham's adjustable doggedness, and it will resound as a massive, massive three points once the season's settled.
Negatives
Thugs with tempers
When thugs can't play football properly, they resort to senseless violence. Cardiff are an irrelevant sporting embarrassment, and they employ brain-dead scumbags that can't handle being horrendously shite at a game they shouldn't be participating in. Will Vaulks attempted to snap Fabio Carvalho in half at every given opportunity, Flint's a stud-wielding goon with a javelin for a nose and Perry Ng confused a grass pitch with an MMA octagon. Ivan Cavaleiro was assaulted, Ng knew exactly what he was doing when he slammed his forearm into our winger's face and what's worrying is that Cardiff's weirdo fan base are condoning their idiotic defender's indiscreet act of viciousness.
The occasion was stained by the Bluebirds' hacking misconduct, they intended to inflict harm upon our boys and retrospectively, Ng should be banned until further notice because he is an actual weapon. Tempers may flare, blood may boil over but thrusting limbs into the faces of oncoming players is despicable. All rivalries aside, I hope Cardiff get relegated, and I sincerely hope we don't play them again for at least another decade unless it's in the 3rd-round of the League Cup. Bunch of bogans.
Midfield went missing
Embed from Getty Images
With 15 minutes of regulated game time to scale, Reed made way for Onomah, as we know, and our midfield department subsequently went AWOL. Our midfield options have split opinion, we have a diverse range of styles to pick and choose from but I saw no sense in partnering Josh with Nathanial Chalobah, simply because they're both as horizontally languid as one another. Now, cutting a relaxed figure isn't a defect, so to speak, but when we have to up the ante with expedience, neither are equipped to carry momentum and in actual fact, they both stifled our stability to the point where the middle of the park was completely bypassed.
Perhaps Reed was exhausted, it wouldn't be a surprise, but I was less than impressed when he was subbed off to spare Chalobah. I thought Chalobah was ineffective in possession, his touches were heavy and once he's spun by an attacker, he's hopeless in retreat. Chasing the run of play, especially on the back foot, is not his specialty. Onomah, for that matter, is no better. With both in contention for the closing stages, the Whites were unsteady, we opted to hoof balls clear, rather than employ the middle third, because Nat' and Josh aren't bold enough to withhold and restrain with urgency. Singularly, their leisurely methods can be effective if they're complimented by a Reed or Jean Michael Seri but together, it's a recipe distress. You've tried it out, Marco. Don't do it again.