Positives and negatives: Fulham 2-1 Peterborough United
Written by Cameron Ramsey on 24th February 2022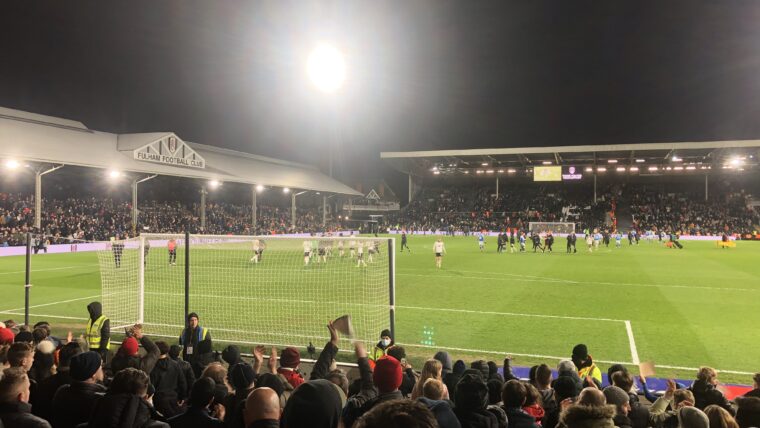 Can we just create a time machine and revisit Wednesday night all over again? Well, it's a no on that count, although Cam Ramsey will try to tell the tale of how goals were netted and esteem was solidified as best as he damn well can. Let's drink it in.
Back to winning ways with a trio of noteworthy outings to reflect on. The 23rd of February, 2022 will resound as one of those 'where were you' occasions and there really wasn't a better place than H5 to take in a classic Sky Bet meeting that altered the archives in a big, big way.
Celebrating Paul Parish's 70th with a party hooter was a privilege, Simon 'Digger' Davies graced hallowed turf once more and Fulham were presiding until things got fairly sticky in the dying embers. The game more-or-less had everything you'd want from a late-winter run around by the river, and while I tend to prattle on about anything and everything, I was transfixed on one smouldering Serb, a prince of possession, and a certain left-back that simply wouldn't rest. Run that bath!
Positives
Embed from Getty Images
Aleksandar the Great
Beneath the floodlights, destined to secure an exalted spot in footballing folklore, Aleksandar Mitrovic became the highest-scoring player in Championship history after slamming home a brace against Posh, propelling his season's total to 33 goals in 30 games. Astonishing. Fixated on firing his side towards a victory, first and foremost, Mitro's combativeness perturbed the visitors, he was going to dictate in the final third and from 12 yards, having been felled ungracefully, the game-defining virtuoso was on the brink of unbridled prestige and distinction. The atmosphere within Craven Cottage intensified, an anxious chill washed across the spectating hoards, eyes trained on our No.9 as he waited in the foyer of greatness. Poised, prepared to preside as a pioneer, Mitro detonated and his relief, synonymous to ours, was euphoric. Savouring his moment in the spotlight, our Serbian phenomenon had achieved supremacy once and for all, and now there can be no deliberation. Discounting his goals to date, Fulham would still have 48 converted goals, which is four more than Huddersfield Town, and 27 more than Barnsley. He is surely the deadliest assailant the Championship has ever known, a lone bounty hunter with Ivan Toney's scalp in his clasp.
His evening wasn't finished there, however. A sweeping move was concocted by Fabio Carvalho, who sliced and diced his marker with a razor-sharp inside chop, and with Neeskens Kebano cruising unopposed, the 19-year-old released his teammate along the left. Peterborough were stretched, Kebano feathered an exquisite cross into the mixer and prowling predatorily, bustling through bodies, Mitro connected cleanly and Steven Benda's right hand wasn't firm enough to prevent the decorated hitman's second. Power, conviction, sovereignty, all obtained within 62 minutes. Guy Whittingham's illustrious haul of 42 is in serious danger of being comfortably surpassed, because with 14 matches left to traverse, Aleksandar is circling, menacingly, and his appetite for veneration is yet to be satisfied. Emblazoned as a true trailblazer, Mitrovic's reputation is one to be feared, appreciated and honoured with a crown adorned with tears of anguish from his disdainful foes, and tears of exultation from his adoring allies.
The Seri show
Following his return from the Africa Cup of Nations, Jean Michael Seri has stood aside for Nathanial Chalobah, another robust midfielder that's complimented Silva's vision, and though the two players in question harbour similar traits to an extent, they are both uniquely beneficial to Fulham's transitional identity. Chalobah, like Seri, is designed to devise and destruct, although as we rediscovered on Wednesday evening, the Ivory Coast international exhibits an industry that ensures measured control and defence-splitting magnificence. Partnering Harrison Reed, JMS was licensed to thrill and in his element, luring and ambushing Peterborough's midfield equivalent, the 30-year-old prescribed possession authoritatively.
Populating pockets, directing Fulham's passing phases and disrupting Posh's momentum, Seri slotted back into Fulham starting XI harmoniously, his energy enlivened our approach in both halves of the pitch and with Reed occupying a more advanced role, distracting attention, the innovative pacemaker was the architect that customised the victory with his own haughty stamp of approval. Auditing Peterborough's game plan, scanning for defects, Seri examined our guests' fortitude whilst upholding a commitment to his own progressive obligations, and just when we thought we'd uncovered a ruthless disciplinarian in Nathanial, Jean Michael reinstated himself with a pronounced performance, drizzled with vitality, dexterity and command.
Antonee Robinson
The Antonee Robinson we all know and often loathe was nowhere to be seen in matchday 32. The American must've been kidnapped and replaced by a capable, praise-worthy doppelgänger, because if that was indeed Jedi and not an impressive imposter, for whom we'd actually prefer to keep hold of, he has shot up immeasurably in my estimation. Observant, typically fleet-footed, Robinson was impassable along the left channel and constructively, as a regular outlet for play to frequent, his studied distribution reinforced Fulham's grip upon an encounter where he excelled and exceeded expectations, which commonly wallow face down in the mud.
Anticipating Peterborough's advancements, Robinson intercepted multiple attempts to detour our defensive composition, both aerially and on the deck from the visitors, and neither Joe Ward or Josh Knight were spared from his sanctioning exploits. A man possessed, he tore after doomed runners furiously, stopping them dead in their tracks like a set of stingers in a high-speed chase, and while his footballing ability may still be debatable, the 24-year-old's emphatic athleticism and redefined awareness constrained Posh's success in the final third.
Negatives
Embed from Getty Images
Caught on counter
Four minutes of additional time were held aloft as regulated time ran dry, and as Jack Marriott rifled a net-buster past Marek Rodak in the 89th minute, the closing 5 minutes were less than comfortable. Benda denied Harry Wilson with a determined charge down and instantly, with Fulham stranded, Peterborough countered. Tosin Adarabioyo couldn't halt Callum Morton, Tim Ream was torn between closing and dropping off, and with Marriott threaded through, ball rolling across his body, a ferocious response cut Fulham's lead down to a singular goal. It was too easy for Posh to pounce, various goals we've shipped this season have arisen in similar scenarios, and for the sake of retaining a two-goal buffer, in order to relieve unnecessary pressure, I'd like to see a professional foul before the plot thickens.
Peterborough's opportunities were few, the Whites coped with their detectable offensive strategy, but in one relatively expansive breakaway, a situation that should've been dealt with firmly, they stirred the narrative and spoiled a prospective clean sheet. Withstanding counter attacks is a weak point for the Whites, too regularly we're sidestepped and punished against the general run of play and it's a real mentality dampener. On this occasion, however, it was nothing more than a consolation, although it does echo previous imperfections which were routinely exploited and if I'm honest, I'm only complaining now because I hate seeing us gift shite teams soft goals in positions where we're readily equipped to impede impending jeopardy. Fix up.