Positives and negatives: Reading 0-7 Fulham
Written by Cameron Ramsey on 12th January 2022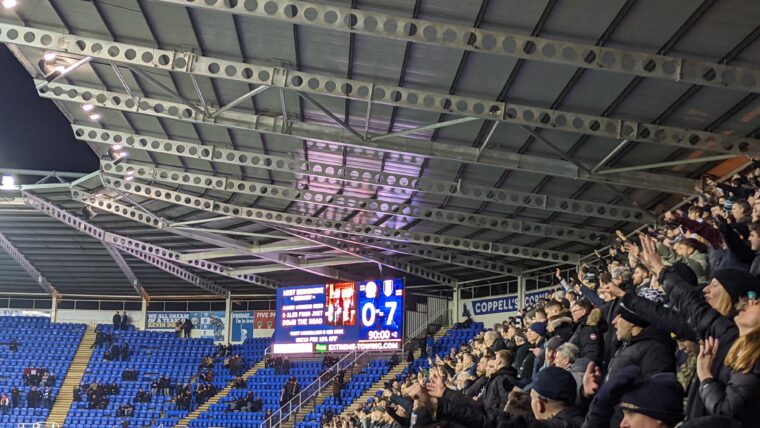 We know you want to relive Fulham's latest romping over and over again, so Cam will do the honours. Go on, get on with it!
There was no regal parade for Reading. The Royals were dragged to the stocks by the ears and pelted with seven critical blows to the gizzard. Marco Silva conducted with orders of carnage, his men ambushed Veljko Paunović's quivering weaklings and to our delight, banishing the memory of 5 listless league games without a win, the Whites began 2022 with an emphatic bludgeoning.
The only plus for the hosts is that there were only 55-or-so of their own in attendance to recoil in disgust. What an utterly pathetic club. We get bashed for clappers, pleasantries, cheese boards and port, but for an actual sporting establishment to pardon 3 blokes with drums, in a vacant shell of a stadium, in the hope they'll rouse an atmosphere is hysterical. Andy Carroll scored two fancy goals that were swiftly ruled out, a 'yoof' broke a chair, and Reading is literally one gigantic Burger King. With three points and a paddling, this article's going to be a self-explanatory one.
Positives
Embed from Getty Images
Record breakers, history makers
This one's destined for the archives, and I doubt very highly that it'll ever be equalled again. Fulham became the first team to win 7-0 on two separate occasions within the same season since Liverpool in 1895-96. An age-old record, smashed to smithereens in Berkshire. Incidentally, Fulham's colossal thumping was, in fact, Reading's heaviest home league defeat in their 120-year history, too, so revelling in the aftermath of such a wholesome tanking is all the sweeter still.
Across Europe's top five leagues, with the EFL included for good measure, Fulham are the continent's highest-scoring outfit with 58 converted strikes, one goal more than Bundesliga monopolisers FC Bayern Munich. Domestically, in England's second division, we are simply unrivalled with a goal-difference of +39, as we are 18 goals better off than the current league leaders, AFC Bournemouth. These are crazy statistics for a team dwelling in arguably one of the planet's toughest footballing environments, and it's a brand of football we have never witnessed before in SW6. Jean Tigana's distinguished class of 2001 were ground-shattering, however this Silva-devised variant is shifting tectonic plates.

Tangible team spirit
The manner in which we rampaged offensively was audacious, the score line for that matter, of course, was startling, although what was most inspiring about Tuesday evening's outing was the tangible unity and spirit within the entirety of the squad. Even at 6-0 up, soaring, each on-field member surged towards the following hoards to soak it all in, together, thumping badges and embracing their incredible achievements, shoulder to shoulder. Silva's reintroduced a feel-good factor, the camp could've lost sight of their devastating potential following a dire December return, a mutiny may have sparked, but all hands are evidently on deck.
Teams that prosper are harmonised, they win together and lose together, there are no grey areas with ethic and attitude, and this collective of Silva's shares a common objective. Attuned to the fans' expectations, the Whites rested at nothing, heisting possession with an unnegotiable stranglehold, compelled, fully focused, entranced on inflicting a massacre. Royal blood was spilled, Fulham circled their wounded adversaries and showed no mercy. Brothers in arms, the Championship's barbarous crusaders pillaged as those from the banks of the Thames bayed for remorseless slaughter.
Embed from Getty Images

Tom Cairney
Danny Drinkwater would be wise to revaluate his profession, Josh Laurent's best to take up evening woodwork classes and John Swift is living a sickening lie. Reading deployed three supposedly capable midfielders and not one of them was bold or skilled enough to suppress Tom Cairney's clockwork, bespoke tour de force. We can be under no illusion, with TC in the starting line-up, Fulham purr in the same way an alpha lion gurgles at the sight of juvenile springbok grazing in the long grass, blissfully unaware of the mauling they're due to fall foul of.
Conscious of his surroundings, our midfield metronome selected his passes with a progressive purpose, elegantly weaving his genius into proceedings and with feigning dips of the shoulder, the 30-year-old made a mockery of his sorry markers, as they toiled in his shadow. Luring and antagonising to a rhythm Reading simply couldn't anticipate, Cairney tempered the tempo and oversaw the Whites' groundwork with a glint to his eye. Since 2015, various managers have strived to assemble squads around our maestro's ingenuity and that still stands today, or at least it should. When he's fit and fixated, Tom is the difference between mediocrity and superiority, and during the run-in to the end of the campaign, his dizzying wealth of experience and ability will be pivotal to our success, as ever.
Wilson's dynamite

Enlivened along the right flank, interchanging with Neeskens Kebano periodically, Harry Wilson terrorised Reading's fullbacks to within an inch of sanity. Wilson was involved in Fulham's first six goals of the evening, scoring two and assisting three, and in between his game-altering enterprise, the agile winger pitched in defensively to bolster Fulham's hardened shape and solidity. Treading the chalk or venturing inside, the 24-year-old's application was practically flawless, and Silva's unlocked an impulsiveness in the dexterous attacker that promises Man of the Match performances.
Welshmen that are good ballers are often referred to as "wizards". It's regularly exhausted, the whole "Welsh Wizard" label used to be reserved for Ryan Giggs, Gareth Bale, but given the odd goal against, let's say, Forest Green, even run-of-the-mill compatriots such as Jonny Williams garner the same epithet, but Wilson's endeared a title of his own, and it's absolutely deserved. He's a "Starman", he's fucking dynamite, and with 8 overall goals alongside 9 assists, he's the division's chief production extraordinaire.
Embed from Getty Images
Kenny Tete

Duck broken, Tom Dele-Bashiru, bodied, Kenny Tete completed his duties in ferocious style, a swashbuckling rendition of himself, an out-and-out right-back that is still unquestionably an international-standard combatant. There surely isn't a fullback in the Championship that's more complete than the Dutchman in a protective sense and, now he finally has a goal to his name in Fulham colours, his offensive aptitude's been rewarded. Reacting instantly to divert Aleksandar Mitrovic's goal-bound header within the 6-yard box, Kenny rightfully savoured his 30 seconds in the spotlight in front of an adoring away following.
Having shaken off his injury setbacks, Tete's settled himself back into Silva's set-up following a few suspect games prior to our impromptu festive interval, and now he's attaining his true capacity. Ever-present on the break, resolute on the withdrawal, Kenny was an auxiliary assailant in the furthest reaches and at the back, where he really comes into his own, the 26-year-old slammed down the shutters without a single fuck being given for the welfare of his direct opponent. He's bullish, he's willing, he's a beast that eats unassuming wingers alive for the sake of a cheer, or a jeer.
Mitro's chart-topping conviction

24 league goals, 6 assists, 23 games. The numbers do all the talking, and the chat's seductive. Mitrovic pinned Reading's feeble centre-halves firmly against their own will, an assault on the hosts' rearguard that should demand an ASBO. The indomitable Serb was unforgivingly brutal. In the final third, Mitro gravitated around the run-of-play, eager to contribute towards the Whites' carefully composed sequences and when split-seconds to slip teammates in behind the Royals' dishevelled back four appeared, he manufactured clear-cut scoring opportunities constructively, proving that he is more than just a chart-topping punisher.
He embodied aggression and endeavour, loose balls were charged down and parried fumbles were thusly crashed home. 'Keepers always go the same way as his penalties, Luke Southwood nearly palmed it free from his target, however Mitro's conviction from the spot encapsulated his 90 minutes. The 27-year-old was determined to conquer, to swing the scythe, to provoke a reaction and Tom Holmes chomped at the bait. Putty in his hands. Reading's irked centre-half had enough of being a dead defender, he puffed his chest at Rodrigo Muniz and his balls shrivelled as Mitro's brow lowered. He'll have no shit-talking in his house, and if his authority's tested, he'll flex on guys with speaker-box celebrations and a stare down darker than midnight.
Negatives

Jedi's dark side
In a game where his teammates averaged ratings of 9s and 10s, Antonee Robinson dropped a stinking 3, even with an assist to call his own. The USMT international has his legs stitched on each morning, there's no other explanation as to why he's so, so dysfunctional in simple, basic situations. If he couldn't cover 90m in 2.3 seconds, I'm convinced he'd be playing on Clapham Common with the rest of us on a Sunday morning. He's supposed to be a Jedi Warrior, or some bullshit, but all I am when he's within 20-yards of the ball is, well, worried.
Marek Rodak bailed him out with a ridiculous save on the deck, after the creaky left-back shit the bed in the one portion of the pitch where he really shouldn't, he slashed at routine passes, customarily, and with the penalty area to barrage from the left, free from deterrents, he regularly spooned crosses behind his attacking peers, stunting momentum. Carroll and Reading identified Robinson as a weak link, a chink in our armour, and he was endlessly targeted and swindled. Somebody's got to throw Joe Bryan a friggin' bone, he was excellent against his former club in the FA Cup and though there's not really much to choose between the pair, it can't get worse than this.