We must invest in the January transfer window
Written by Drew Heatley on 21st December 2021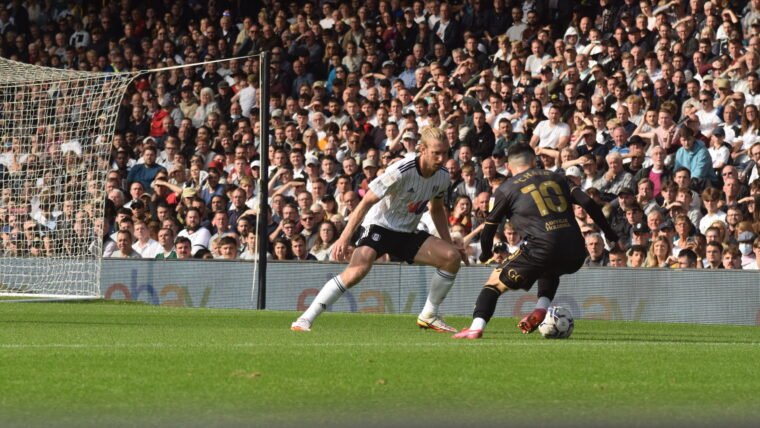 Drew responds to Dan's urge to hold back in January – he says the time to act is now.
Last week, Dan described the January transfer window as "a 3am kebab". I'll admit – it got a roaring laugh out of me. But his urge to "just enjoy it" forced me to pick up my pen. Because there's no two ways about it: the time to act is now. And after last night, I wonder how many disagree with that.
One and a half windows
Dan was spot on when he pointed out that we've been hamstrung by a lack of time during our last two pre-Premier League transfer windows. This time round, it's pretty likely there'll be no such issues.
Let's have it right straight off the bat. Despite last night's disappointing defeat, Fulham are still favourites to win the Championship – at 20/43 in fact. That's ahead of Scott Parker's Bournemouth at 17/5 and West Brom at 13/2 (source of odds).
Embed from Getty Images
That gives us two transfer windows before the 2022/23 Premier League season kicks off. OK, we can call it one and a half as we're not promoted yet. But either way, we need to maximise the opportunity.
I'll be honest; research shows that, certainly recently, Championship winners don't do heavy business in January. Looking back five years, Norwich spent pretty much nothing (surprise), Leeds and Wolves did their business in the summer, as did Newcastle.
But the Canaries pay the price of their inaction every single time, while the others aren't (rightly) stuffed into the dreaded 'too good for the Champ, not good enough for the Prem' pigeonhole.
Our problem area
Some may say left-back, but, for me, our biggest long-term issue is centre-back. Tim Ream is having an incredible season in the autumn of his career – and look, I'm here for it. As we all are. But we're in danger of becoming misty-eyed, and I'm just waiting for the first person to say "he's earned the chance to prove himself in the Premier League". Tim's 34 years old. I'm sure, deep down, he even knows he shouldn't be our first port of call next term.
"But we have six centre-backs in our squad", I hear you cry. Tosin's recent suspension showed us that, despite numbers on deck, there's a dearth of quality. Hector did well in his place, for the most part, but beyond that, we're in a pickle.
Embed from Getty Images
Silva doesn't trust Alfie Mawson, and at this point his career revival clearly lies outside of SW6. Terrence Kongolo is proving a costly mistake, and one of Tony Khan's biggest missteps, while Denis Odoi is as much of a long-term answer as Tim himself.
One thing the past Championship winners have done is start shedding the dead wood. We should do the same and look for a centre-back of genuine quality, who, if not a definite starter, is someone who can push both Tosin and Ream each and every week, and slot in without disruption. It's a must.
We've done it before
Take our 2000/01 record Division One winning season. We played the campaign with rotating mix of Chris Coleman (before his career-ending injury), Andy Melville and Kit Symons in the middle of defence. Not to mention we had Simon Morgan, Alan Neilson, plus youngsters Zat Knight and Mark Hudson all available should we need them. But that didn't stop us from paying £4m for Alain Goma from Newcastle in March 2001, just two months before we lifted the trophy.
Embed from Getty Images
We saw the opportunity to prepare for the future and we took it. Goma may have only played three times as we cruised to the title, but he featured 33 times in our maiden Premier League campaign, helping to keep us up and lay that crucial foundation for our 13-year stay. He stayed for five years, playing more than 100 times, before retiring. It was a crucial piece of business – and something I hope we recreate next month.
Much is made of our scouting network and analytical thinking. We must use every data point available to spot the plugs for our gaps. And there can be no substitute for literally living through the past mistakes (and in the recruitment team's case, making them). We have a good chance to make it third time lucky and create a new Premier League dynasty. Let's not waste it.